Sun, Sun, Sun… thank you for returning to the beautiful city of Denver.
We missed you terribly in the past couple of weeks and this weekend your return brings along the re-opening of Water World!!!
Water World was supposed to re-open its gates last weekend, (May 23rd 2015), but we got word of its delay due to weather conditions and we eagerly awaited to announce the new opening day of this season… this Saturday, May 30th 2015!
Water World is one of America's largest family water parks and is located just 15 minutes north of downtown Denver and sits on 64(!) landscaped acres. Water World features the largest variety of attractions (49) in America, from Wally World for the little ones, to Voyage to the Center of the Earth, the ultimate family water adventure.

Water World has more family tube rides than any other park in America.
Plenty of picnic areas are available, from covered pavilions to landscaped grass areas. They also feature 3 separate Children's Play Adventures, including the Big Top Family Fun Zone.
**For 2015, get ready to experience the next generation of water attractions with their newest attraction, Warp Speed!**
Tickets
Full single day passes are about $45 for people taller than 48″/ $40 for  40″-47″/ $12 for seniors aged 60 and over.
Mid-day single passes (1:45pm-6pm) are cheaper.
Children under 40″ are FREE.
You can also purchase two day tickets and save some money and if you purchase online you get a discount as well.
Season passes are also available and you can read all the pricing and information for those here.
Park Map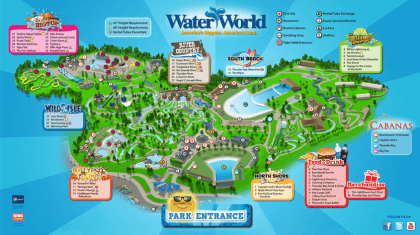 *Click here for the interactive map
Welcome back summer and welcome back Water World!
Water World
8801 N. Pecos Street, Federal Heights,  80260
Open Daily (weather permitting) from Saturday, May 30th 2015
10am – 6pm