Fall is here! Is it just us or is this the most magical time of the year? As temperatures drop and the aspen leaves turn yellow, it's time to bring out the seasonal beer, cozy sweaters and all things pumpkin.
Thankfully, Denver has all of this — and more — to make sure you maximize your fall this year. Complete as many items as possible from our fall bucket list to take this pumpkin-filled season to the next level!
SKIP AHEAD TO: One-Time Events | All Season Long
One-Time Events
Drink a German Beer at Oktoberfest
September 20–22 + 27–29 | 2100 Larimer Street
The last two weekends in September are packed with fall fun along Larimer Street — including live music, a costume contest, German-style food, games and activities, and of course, lots and lots of beer.
September 27–October 5 | Various Locations
For nine days, there will be more than 160 beer-related events happening all throughout Denver, from tap takeovers to beer and food pairings, and everything in between; see the full event schedule here.
October 3–5 | Colorado Convention Center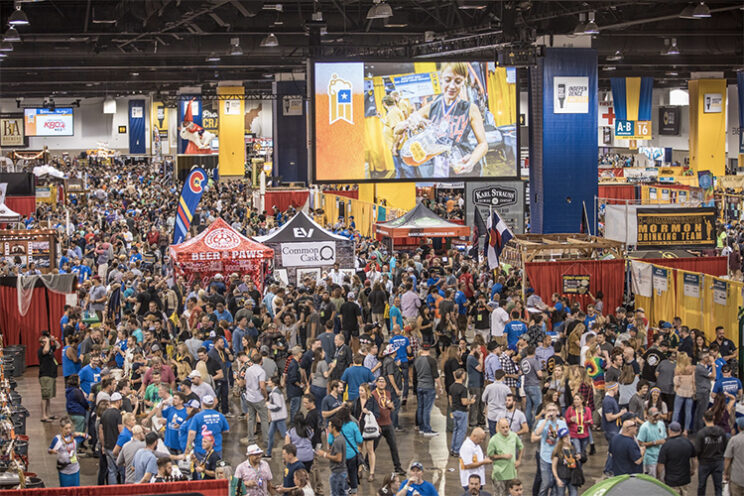 Photo courtesy of Great American Beer Festival
Denver Beer Week culminates with the Great American Beer Festival, the largest beer competition in the country, featuring hundreds of breweries from around the world at the Colorado Convention Center.
Transform Into a Zombie at the Zombie Crawl
October 5 | Skyline Park
Dress up as the undead, roam the streets of Denver, and steal incredible deals while you party at various zombie parties around town. Conquer the "Organ Trail" if you dare!
October 5-6 | Four Mile Historic Park
Four Mile Historic Park is hosting their annual Pumpkin Harvest Festival, featuring live music, food trucks, pioneer games, a pumpkin patch, and more old-fashioned fun!
October 6 | Balistreri Vineyards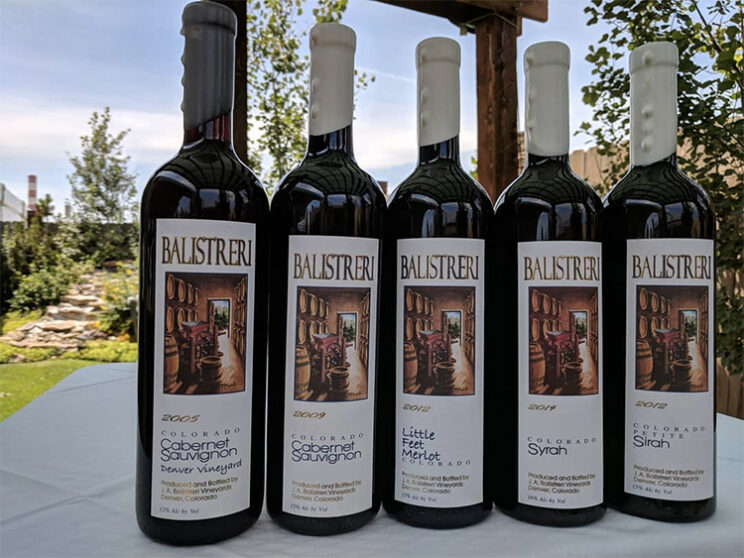 Photo courtesy of Balistreri Vineyards
Balistreri Vineyards throws an incredible harvest party each fall, this year releasing over 20 new wines, including their 20th vintage. Your ticket includes a commemorative wine glass, wine tasting and plenty of food and desserts.
Eat Farm-to-Fork Food at Harvest Week
October 6–10 | The GrowHaus
Gather around the table at The GrowHaus, nicknamed Denver's "urban growasis" for a pop-up culinary collaboration showcasing 35 of the city's best restaurants as a tribute to Colorado's bounty.
Drink a Beer at the Zoo
October 10–24 | Denver Zoo
Nightlife meets wildlife at Taps and Tails, featuring beers from Denver's best breweries, farm-to-fork fare, live entertainment and much more, culminating with Animal Onesie night on October 24!
October 11–13 | Denver Botanic Gardens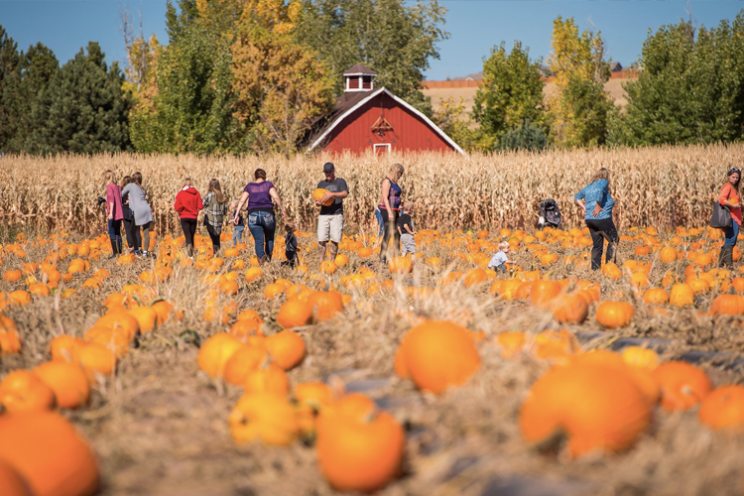 Photo courtesy of Denver Botanic Gardens
The 700-acre Denver Botanic Gardens Chatfield Farms is hosting their Pumpkin Festival, which includes a day filled with fall activities for all ages, including a 10-acre pumpkin patch!
Visit a Local Art Gallery During Denver Arts Week
November 1–9 | Various Locations
This nine-day event is a celebration of all things art, featuring more than 300 events at local art galleries, museums, theaters and concert halls, many of which are discounted; see the full event schedule here.
November 28 | Washington Park
Back for its 46th year, this annual Thanksgiving tradition draws more than 10,000 people for a 4-mile run/walk to support the community, including our education, health and financial stability.
November 30 | Various Locations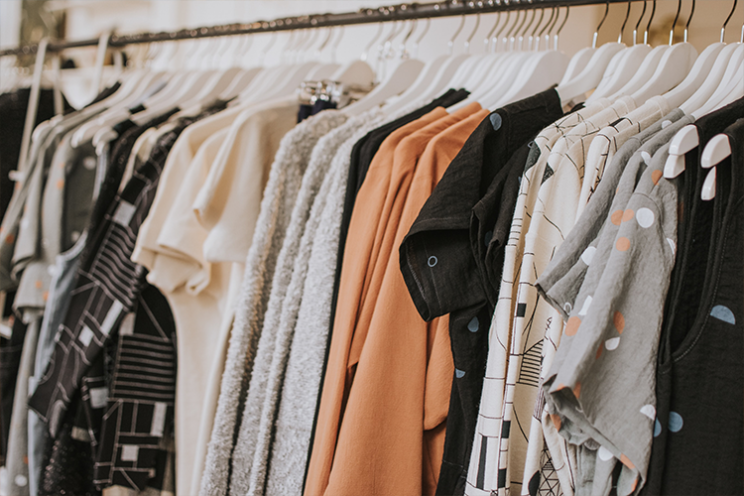 Local is best! This Small Business Saturday, show your support for small, independent shops in Denver, many of which will be offering deals and discounts.
Visit the Denver Zoo for Free
November 4 + 8 | Denver Zoo
On Monday, November 4 and Friday, November 8, the Denver Zoo is offering free admission for all! See the other free admission days in Denver you can take advantage of before the end of the year.
All Season Long
Get Your Home Ready for Fall With Some New Decor
Check out some of our favorite home decor stores in Denver to outfit your home for fall with warm tones, cozy textures and other fall looks!
From September 27 through November 2 on Fridays, Saturdays and Sundays, Elitch Gardens transforms into a haunted theme park, becoming Colorado's largest Halloween event!
Catch the end of Red Rocks' concert series, which extends through October, or simply take in the awe-inspiring views at this popular Colorado landmark. Embark on a hike along the surrounding trails to admire the fall foliage and unique rocky landscape.
Order a Pumpkin Latte from Thump Coffee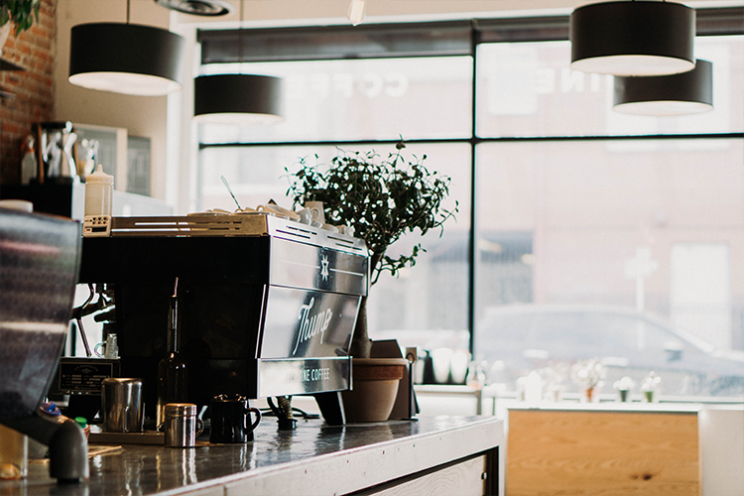 Skip the Starbucks drive-thru and get a delicious pumpkin latte from Thump Coffee — or opt for their pumpkin spiced chai or white chocolate pumpkin latte!
It's back! Try Sushi Rama's uniquely delicious Pumpkin Dragon roll, made with kabocha tempura, marinated kelp, cucumber, and pumpkin, topped with avocado and honey glaze.
Conquer a Corn Maze
Get lost in a corn maze this fall — at Harvest Farm in Wellington, Fritzler's Corn Maze in LaSalle, or Anderson Farms in Erie.
Pick Apples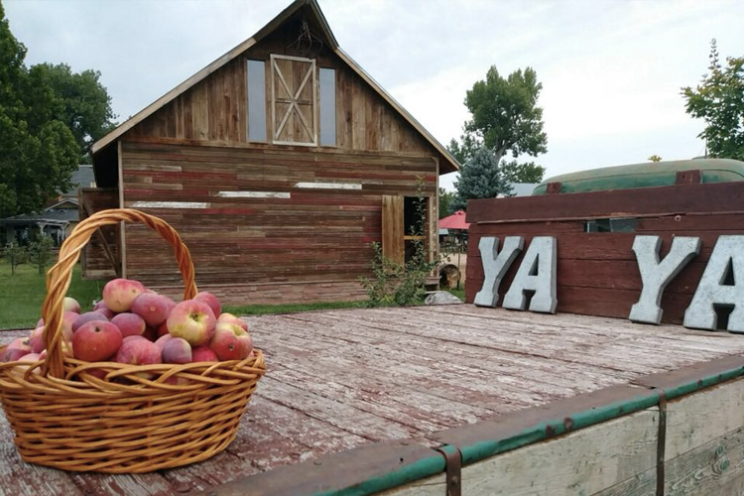 Photo courtesy of Ya Ya Farm & Orchard
It's apple season! Pick your own apples just down the road at Nelms Farm in Golden — or take a quick day-trip to Ya Ya Farm & Orchard in Longmont or Happy Apple Farm in Penrose.
Get in the Halloween spirit (pun intended) by going on a ghost tour with Nightly Spirits; choose from the Denver Ghost Tour Pub Crawl in LoDo, the Denver Ghost Tour Pub Crawl in SoBo, or the Ghost Tour for All Ages.
Watch a Broncos Game
What is fall in Denver without the Broncos? See a home game in person or head to a local sports bar to cheer on our city's favorite team. See the full schedule here!
See Fall Foliage on a Nearby Hike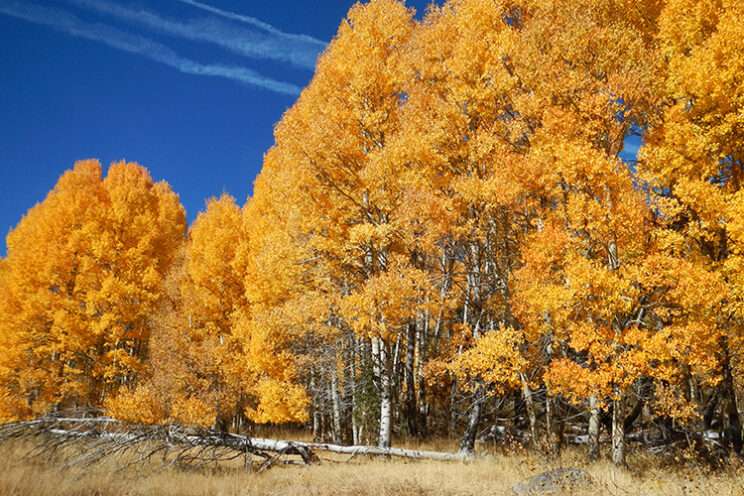 Colorado comes to life this time of year, with aspens transforming into a brilliant bright yellow hue. Witness this jaw-dropping display by hiking on a nearby trail!
Bike Along the Cherry Creek Bike Trail
Bike along the 40-mile paved Cherry Creek Bike Trail, stopping at these destinations along the way!
You may have walked through Cheesman Park with your dog or thrown a frisbee on the grass, but did you know this historic park is thought to be haunted? Stop by this Halloween to find out for yourself!
Go Kayaking at Confluence Park
While the temperature remains fairly warm, rent a couple of kayaks from Confluence Kayaks and float along the South Platte River with friends.
Go on a Hayride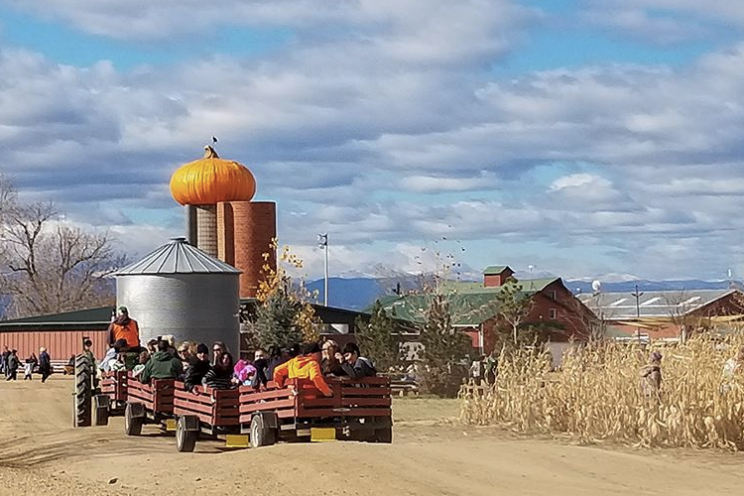 Photo courtesy of Anderson Farms
Hop on board the most fall-like mode of transportation — a hayride — at Cottonwood Farms in Boulder, Berry Patch Farms in Brighton, Anderson Farms in Erie, or Colorado Pumpkin Patch in Castle Rock.
Get Spooked at Riverside Cemetery
Established in 1876, Riverside Cemetery is Denver's oldest cemetery — making it the perfect place to get spooked this Halloween!
Situated in the heart of RiNo, Bigsby's Folly is a chic, industrial wine bar with a variety of small bites. It's the perfect place to sip wine on a rainy evening this fall!
Scream at a Haunted House
Face your fears at 13th Floor, the best haunted house in the city, featuring a variety of thrilling attractions, including The Other Side, Tales of the Unknown, and Clown, plus mini escape games and a "Shriekeasy" bar.
Visit Larimer Square
Denver's oldest and most historic block, Larimer Square, comes to life during the fall and winter as visitors tuck into cozy restaurants and bars, shop for holiday gifts in local shops, and enjoy the twinkling lights adorning the street.
Eat in a Former Mortuary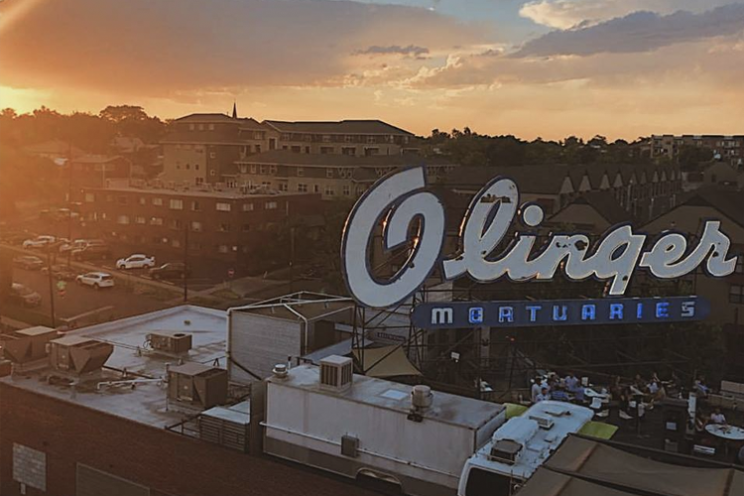 Photo Courtesy of Linger
Step inside Linger, a former mortuary in LoHi, for global small bites, delectable drinks, exceptional city views, and decor that doesn't shy away from the restaurant's quirky history.
From May through October, the Union Station Farmers' Market sets up shop each Saturday from 9 a.m. to 2 p.m. on the Denver Union Station plaza. Get your seasonal fall produce straight from the source!
Discover a Speakeasy
Cozy up inside a secretive Prohibition-era speakeasy this fall. Some of our favorite under-the-radar speakeasies in the city include Green Russell, Williams & Graham, Millers & Rossi, B&GC, and Retrograde. But shh… you didn't hear it from us.
Savor Brunch
In our opinion, brunch is the most important meal of the day. Order a hearty breakfast and a round of mimosas (or opt for a hot coffee instead!) at one of the best brunch spots in the city.
Try the Autumn Ale from Breckenridge Brewery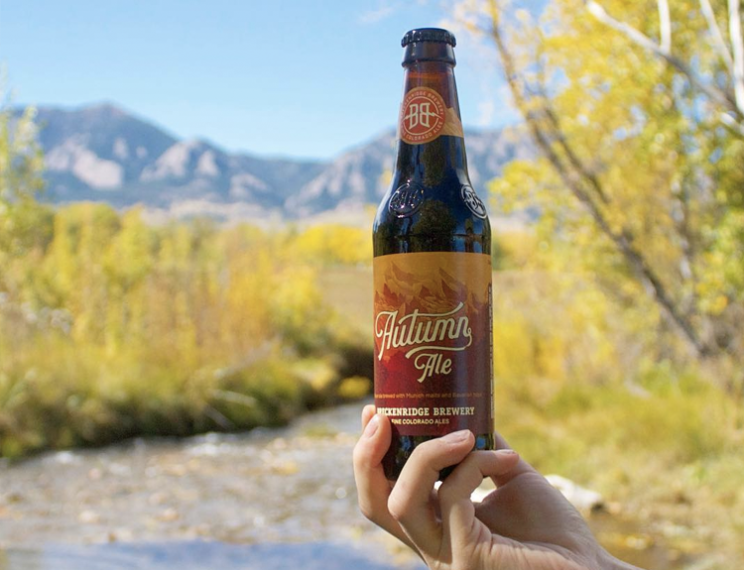 Photo courtesy of Breckenridge Brewery
Whether you're at their brewpub in either Breckenridge or Littleton, or you get a six-pack at the grocery store to enjoy with friends at home, you must try the Autumn Ale from Breckenridge Brewery. This seasonal brew combines the malty goodness of a German lager with the clean crispness of an American ale
Shop For a Cozy New Sweater at a Local Boutique
Pick up a new cozy sweater to make it through those cold fall days! Some of our favorite local clothing shops include FM, Steadbrook, Hailee Grace, Lawrence Covell, SHEA, Soul Haus, Common Era, Blush, Moda Man, Ruby Jane, Melrose & Madison, Lady Jones and Abstract Denver.
Take a Trip to the Stanley Hotel
Colorado has a number of real haunted places, the most famous of which might be the Stanley Hotel in Estes Park. Make a trip to (or even stay the night at!) this well-known hotel that inspired Stephen King's The Shining.
Happy Fall!
Tag us on Instagram using #TheDenverEar to take us along on your fall adventures!