Every year on the third Sunday of July, America celebrates "National Ice Cream Day", and to celebrate this (very yummy) 'holiday', we are listing the top five LOCAL ice cream shops in Denver you should know about!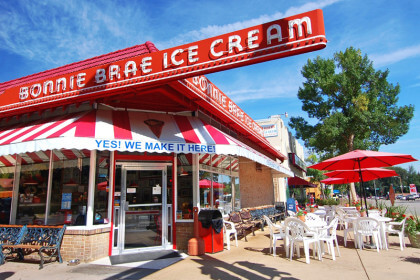 Bonnie Brae Ice Cream is a local ice cream parlor that has been around for over 21 years! It is a run by four local owners (Ken & Judy Simon and Cindy & Bob Pailet) that have a sincere care for their customers and the ice cream they sell. They have over 100 flavors that are in constant rotation and they make all their ice cream at their shop.
Bonnie Brae Ice Cream
Sunday – Thursday 11am to 10:30pm
Friday & Saturday 11am to 11:00pm
799 S University Blvd, Denver,  80209
---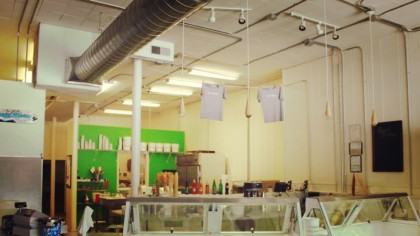 Sweet Action Ice Cream is a local ice cream parlor that feels very "retro" yet is modern at the same time. The Ice cream is made by hand with Colorado ingredients. Their signature slogan is "Hello My Name Is…" and it is associated with their flavors and drinks. You can find extremely unique flavors such as: Colorado Margartia, Lemongrass, Salt + Pepper Almond, Vegan Carrot Cake and more. (If you aren't as adventurous, you can always find well known flavors such as chocolate).
Sweet Action Ice Cream
Sunday–Thursday 1pm–10pm
Friday & Saturday 1pm–11pm
52 Broadway, Denver 80203
---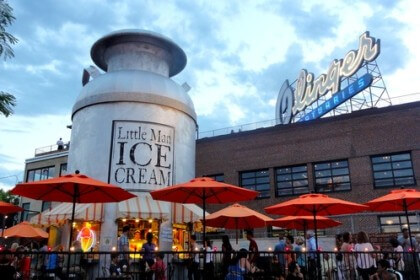 Little Man Ice Cream is an ice cream parlor that is inspired by the vintage Coney Island hot dog-shaped stands. The parlor resides in a 28 ft tall, 14,000lb. cream can(!) Their ice cream is made locally and they pride themselves with producing one small batch at a time to ensure their ice cream's quality. They also produce local events for the community that include live music, slam poetry, movie nights and more. The nicest part of this local parlor (apart from their great ice cream) is their "Scoop for Scoop" initiative – For every scoop of ice cream that you purchase, they match it with a scoop of rice, that is hand delivered to developing countries!
Little Man Ice Cream
 Monday – Thursday 11am – 12am
 Friday 11am – 1am/ Saturday 10am – 1am/ Sunday 10am – 12am
2620 16th St, Denver 80211
---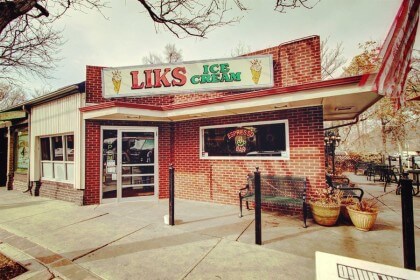 Lik's Ice Cream in Capitol Hill has been around for nearly 40(!) years. It was once known as "Lickety Split". The name has changed but the local neighborhood feeling along with their great ice cream has not. The owners, Jay & Leslie, have conjured over 300 flavors and now they even sell them wholesale!
Lik's Ice Cream
Daily 12pm – 10pm
2039 E 13th Ave, Denver 80206
---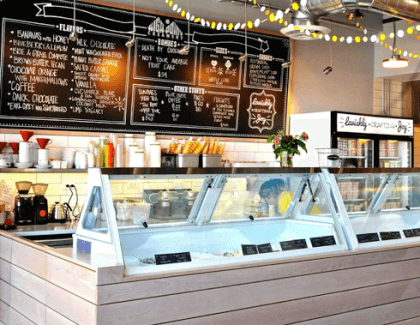 High Point Creamery is a new ice cream parlor in the Hilltop neighborhood in Denver. Locally owned, (Erika Thomas and Chad Stutz), this great ice cream parlor perfected it's ice cream by assembling a team of world class ice cream chefs and using the finest and freshest ingredients. They are known for their "Ice Cream Bombe",  a molded ice cream dessert that has its origins in Victorian era France. They make it as following: layer of ice cream, let it harden, then add another layer, let that harden, then top it off with another layer of ice cream. They then freeze it and slice it as a cake!
High Point Creamery
Monday – Thursday: 12pm – 9:30pm
Friday – Saturday: 11am – 10pm
Sunday 11am – 9:30pm
215 S Holly St, Denver 80246
---
With these five great local ice cream parlors we are sure you will enjoy a very delicious National Ice Cream Day!