"Spring is nature's way of saying 'Let's Party!" Robin Williams
28 COLORADO SPRING FESTIVALS TO ATTEND THIS YEAR!
Events ordered in chronological order
#1 THEBIGWONDERFUL BEERFEST WINTER PARK
When: March 30, 2019
Where: Winter Park Resort
TheBigWonderful BEERFEST Winter Park will feature 10 local Breweries and Cideries that will line up at the base of the slopes, pouring unlimited samples for thirsty skiers and snowboarders all day long. Enjoy live bluegrass from The Lil Smokies and Woodshed Red during BEERFEST, and shop local at 30+ Colorado makers featuring a wide range of outdoor apparel, locally made jewelry, hot sauces, and more.
#2 STEAMBOAT SPRINGALICIOUS FESTIVAL
When: April 1 – 14, 2019
Where: Steamboat Ski Resort
Steamboat Springs will celebrate the close of the winter season with the Steamboat Springalicious Festival 2019, a multi-week festival that includes many fun events such as the Cardboard Classic, Splashdown Pond Skim and several free music concerts.
#3

TASTE OF VAIL
When: April 3 – 6, 2019
Where: Vail Village
Taste of Vail is the nation's premier spring food and wine festival held at iconic locations throughout North America's most popular mountain resort showcasing the finest chefs in Vail and the nation's top vintners. Taste of Vail showcases more than 30 of Vail's finest chefs and restaurateurs alongside the owners and winemakers from nearly 50 of the countries' top wineries.
#4 TULIP, FAIRY & ELF FESTIVAL
When: April 7, 2019
Where:Pearl St, Boulder
Downtown Boulder's Tulip, Fairy & Elf Festival 2019 is a celebration of the spring season, and features the vibrant Tulip Fairy, along with pint-sized fairies and elves, that parade around the Pearl Street Mall 'welcoming the tulips'. The event includes live stage performances, face painting, free activities for children and more.
Psst… Rain date is set for April 14th.
#5

P

ALISADE INTERNATIONAL HONEYBEE FESTIVAL
When: April 13, 2019
Where: Palisade, CO
The Palisade International Honeybee Festival is a non-profit, community driven festival created to bring awareness to the honeybee crisis through education and the arts. Their goal is to increase public awareness of the impact of bees on our food sources and the wide range of benefits of bee products.
#6 MILE HIGH 420 FESTIVAL
When: April 20, 2019
Where: Civic Center Park
The Mile High 420 Festival celebrates the cannabis culture in Denver. Headline entertainment includes artists T.I & Jermaine Dupri. It will also feature a local music stage, free CBD products from booth sponsors (this year it's Royal CBD), and is presenting some of the best performers from around Colorado that will feature some of the best in the biz
#7 SABROSO CRAFT BEER, MUSIC & TACO FESTIVAL
When: April 28, 2019
Where: Fiddler's Green Amphitheatr
Sabroso Craft Beer, Music & Taco Festival headlined by The Offspring, is a day filled with craft beer, tasty gourmet tacos, Lucha Libre style wrestling and live music. Featuring four hours of craft beer tastings of over 100 craft beers, including some of the best local favorites.
#8 DÍA DEL NIÑO AT THE DENVER ART MUSEUM
When: April 28, 2019
Where: Denver Art Museum
Enjoy free admission, family-friendly programming, and live music and dances that celebrates children from around the world at the Denver Art Museum with their special Día del Niño (Day of the Child) Festival.
#9 TASTE OF PEARL
When: April 28, 2019
Where: Pearl Street Mall, Boulder
Downtown Boulder's Taste of Pearl showcases the talents of some of Colorado's most renowned restaurants & chefs. Taste of Pearl is celebrating its 10th anniversary pairing 15 Boulder restaurants with 15 Colorado wineries/distilleries. The tastings will be hosted in 15 of downtown Boulder's best boutiques and galleries.
#10

CAÑON CITY MUSIC & BLOSSOM FESTIVAL
When: May 1 – 5, 2019
Where: Cañon City, CO 81212
The Cañon City Music & Blossom Festival celebrates the spring season and features the largest school band competition in the state, a craft fair, a rodeo, a free Kid Zone, and concludes with a parade down Main Street.
#11

C

OLORADO GOVERNOR'S ART SHOW & PLEIN AIR FESTIVAL
When: May 3 – June 2, 2019
Where: Loveland Museum/Gallery
Events hosted by the 2019 GArtS include the Gala, a Plein Air Festival, art demonstrations at the Loveland Museum/Gallery, and specialty art sales which will include glass and jewelry artists. Funds raised through the sale of art at the Show are given to a wide variety of causes and groups, both locally and internationally, and for art scholarships for local students and Rotary Youth Leadership Camp scholarships
#12 NORTHGLENN FOOD TRUCK CARNIVAL
When: May 10 – 12, 2019
Where: Northglenn City Hall
The Northglenn Food Truck Carnival will include some of Denver's best gourmet food trucks set against a traditional carnival with amusement rides, midway games, fair concessions and roving entertainers. Also enjoy the Big Top stage with eight bands representing Colorado's best Americana and Bluegrass Music.
#13 DENVER BACON AND BEER CLASSIC
When: May 11, 2019
Where: Broncos Stadium at Mile High
The Denver Bacon And Beer Classic will take place at Broncos Field at Mile High and will feature over 30 original bacon dishes, 100+ craft beers, music, contests, games, and more.
#14

UPSLOPE GET DOWN
When: May 11, 2019
Where: Upslope Brewing Company
Upslope Brewing Company's 6th Annual Upslope Get Down is a free spring musical festival that features beer, food trucks, games, art, a Kids Zone and more. The festival will take place at the the back parking lot of Upslope Brewing Company's Flatiron Park Brewery with a day full of live music on three stages.
#15

SPREAD THE WORD MUSIC FEST
When: May 17 – 19, 2019
Where: Multiple Locations in Downtown Denver
Spread the Word Fest Music Fest will feature live music by over 60 music bands across 10 stages in Downtown Denver. The festival highlights local Colorado talent and includes a party shuttle that provides free transportation between venues.
#16 FIVE POINTS JAZZ FESTIVAL
When: May 18, 2019
Where: Five Points, Denver
The Five Points Jazz Festival takes place the third Saturday of May and celebrates the history of Denver's Five Points neighborhood. Once known as the Harlem of the West, Five Points was home to several jazz clubs which played host to many of jazz music's legends such as Miles Davis, Thelonious Monk and many more. Come out to Five Points to enjoy this free festival of music, food, culture and fun.
#17 CHICKEN FIGHT FESTIVAL
When: May 23, 2019
Where: Industry Denver
The Chicken Fight Festival will feature a curated selection of top restaurants, each of which will offer their own inimitable bite-sized taste of the titular in a bid to win your vote. Categories include Best Fried, Best Wings, Best Overall Chicken Dish, and Best Cocktail. Entry Fee includes unlimited food and beverage tastes, live country music performed by Buckstein, demos, takeaways, and fun surprises.
#18

BUENA VISTA'S PADDLEFEST
When: May 24 – 27, 2019
Where: 327 E Main St, Buena Vista, CO 81211
CKS Paddlefest is huge kickoff party to celebrate the start of the summer paddling season. Join them for an action-packed weekend of fun and educational activities for paddlers of all ages and abilities. Paddlers from beginners to aspiring competitors can rub elbows with paddling manufacturers, top pro athletes, and other industry pros during a weekend chock full of education, entertainment, races, seminars, movies, live music, demos, gear shopping and camaraderie.
#19 DENVER DAY OF ROCK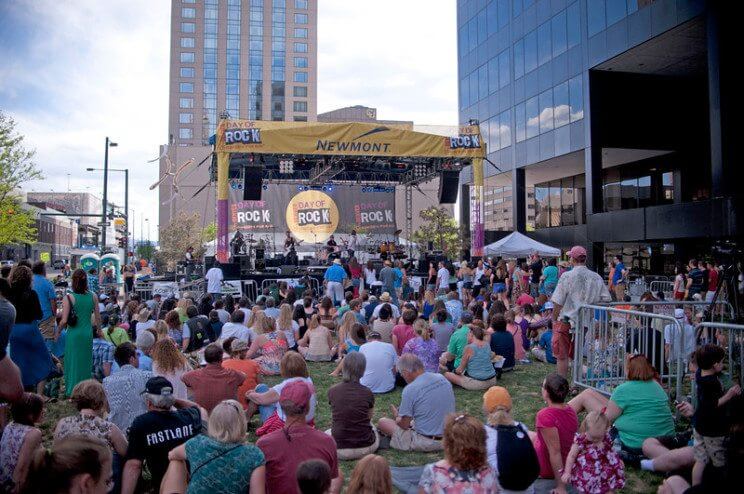 When: May 25, 2019
Where: 16th Street Mall, Denver, CO 80202
Denver Day of Rock is a one-of-a-kind music event presented by Amp the Cause, a non-profit organization for kids. This free event features five stages of live music throughout Denver on Memorial Day weekend. Denver Day of Rock unites the community through music and family friendly entertainment while also raising funds to help Amp the Cause continue to support non-profits in our community.
#20

SOUTH GAYLORD STREET'S KICK-OFF TO SUMMER FESTIVAL
When: May 25 – 27, 2019
Where: Old South Gaylord Street
South Gaylord Street is hosting a Memorial Day Weekend Festival to kick off the summer season. The festival will feature three days of great family-friendly entertainment, delicious food, live music, and local vendors. The Festival Series has a long history of bringing together the local community and purveyors of fine products to celebrate this wonderful historic neighborhood in Washington Park.
#21

BOULDER CREEK FESTIVAL
When: May 25– 27, 2019
Where: Broadway & Arapahoe Ave, Boulder CO 80302
The Boulder Creek Festival is the unofficial kickoff to summer in Boulder. The Festival includes three days of festivities featuring a large variety of events, activities, food and entertainment unique to the Boulder community.
The Festival is free to the public and features something for everyone: 9 separate event areas with 500 vendors showcase everything from community arts and crafts to healthier alternatives and technology while 3 performance stages feature a spectrum of music and dance. The festival also features carnival rides and food and beverage vendors.
#22 DENVER CHALK ART FESTIVAL
When: June 1 – 2, 2019
Where: Larimer Square
The Denver Chalk Art Festival features more than 200 professional, amateur and student artists will delight and amaze Denver locals with their incredible talents in what has become one of the city's most treasured events. Over the course of two days, the artists will take to the street armed with vivid pastel chalks and spend hours on their hands and knees recreating major masterpieces or sharing original works of art.
#23

INDIAN MARKET & POWWOW
When: June 1 – 2, 2019
Where: The Fort Restaurant
Tesoro Cultural Center, a 501(c)(3) Colorado nonprofit, will host its 17th annual Indian Market & Powwow on the grounds of the iconic restaurant, The Fort. In celebration of early Southwestern history, Tesoro hosts nationally acclaimed artists, dancers and drum groups for an art centered gathering, as well as education and interactive exhibits on American Indian culture, for a fun-filled, family weekend.
#24

PARKER DAYS FESTIVAL
When: June 6 – 9, 2019
Where: 19590 Mainstreet, Parker, CO 80138
Parker Days Festival, presented by the Parker Area Chamber of Commerce, is a weekend filled with plenty of activities and entertainment including concerts, carnival rides, and a parade. A car show and farmers market will also be a part of this fun-filled weekend.
#25

FIBARK FESTIVAL
When: June 13 – 16, 2019
Where: Downtown Salida, Arkansas River, Salida, CO 81201
Cost: $5 – $50
The FIBArk Festival in Downtown Salida is America's oldest and boldest whitewater festival, featuring everything from a Crazy River Dog competition and Hooligan Race to live music, kids activities, a downtown parade and world-class competitions in slalom, rafting, kayaking and stand-up paddle boarding.
#26 JUNETEENTH MUSIC FESTIVAL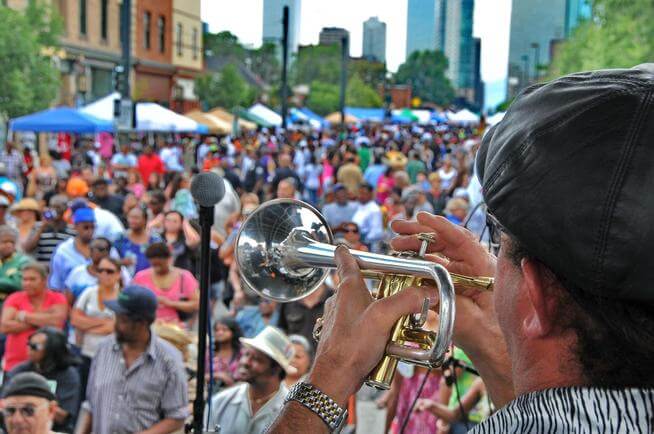 When: June 15 – 16, 2019
Where: Five Points, Denver
Cost: Free
Denver's Juneteenth Music Festival is one of the nation's largest celebrations, drawing in record numbers of festival-goers and participation. The two-day event features live performances, art and cultural exhibitions, and food and commercial vendors; with partners and sponsors ranging from community support networks and organizations, to local and international companies.
#27 STRAWBERRY DAYS FESTIVAL
When: June 21 – 23, 2019
Where: Sayre Park
Cost: Free
The 122nd Annual Strawberry Days Festival, hosted by Glenwood Springs Chamber of Commerce, will feature live music, a FamilyFest area, an Arts and Crafts Fair, a food court, an old-fashioned carnival and a parade down Grand Avenue. Free strawberries and ice cream will be served on Saturday after the parade
#28 DENVER PRIDEFEST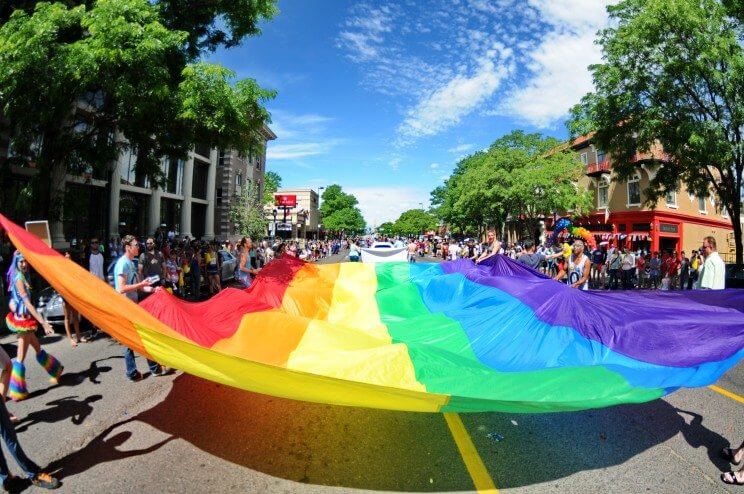 When: June 15 – 16, 2019
Where: Civic Center Park
Recognized as one of the top ten pride events in the country, the Denver PrideFest is a celebration of community, heritage, family and culture. Produced by the Gay, Lesbian, Bisexual and Transgender Community Center of Colorado (The Center), more than 250,000 people from Colorado and surrounding areas come out to enjoy the parade, rally, music, entertainment, food and much more.