"Spring is nature's way of saying 'Let's Party!" Robin Williams
The Spring season takes place from March 20th through June 19th. Today, March 20th, is officially the first day of Spring, and to welcome this season we have gathered up a list of special Spring festivals taking place in Colorado in 2017.
SPRING FESTIVALS 2017 COLORADO
Events ordered by date
DENVER MARCH POWWOW
When: March 24th through March 26th, 2017
Where: Denver Coliseum, 4600 Humboldt St, Denver, CO 80216
Cost: $7 Adults; $3 Seniors (60+); Free for Children 6 and under
The Denver March Powwow, one of the largest events of its kind in the country, features more than 1,600 dancers from close to 100 tribes from 38 states and three Canadian provinces. The three-day event  is packed with singing, dancing, storytelling, food, art and more.
COLORADO ANIME FEST
When: March 24th through March 26th, 2017
Where: Renaissance Denver Stapleton Hotel, 3801 Quebec St, Denver, CO 80207
Cost: $25 – $50; Free for Children 6 and under
Purchase Tickets Online
Colorado Anime Fest celebrates all things Japan in the Mile High City. The festival will include gaming, entertainment, Manga, J-Culture, art, panel discussions, cult cinema, improvs, competitions and more.
THE VINTAGE WHITES MARKET
When: March 31st & April 1st, 2017
Where: National Western Complex, 4655 Humboldt St., Denver, CO 80216
Time: Friday 5pm – 8pm; Saturday 10am – 5pm
Cost: $7 – $25
Purchase Tickets Online
The Vintage Whites Market features over 100+ vendors from in and out of Colorado, ranging from true vintage and antique to repurposed and trendy vintage-inspired handmade merchandise. The Market will also feature live music, food, coffee, artisan workshops, a fashion show, and more.
STEAMBOAT SPRINGALICIOUS FESTIVAL
When: April 1st through April 16th, 2017
Where: Steamboat Ski Resort, 2305 Mt Werner Cir, Steamboat Springs, CO 80487
Cost: Free
Steamboat Springs will celebrate the close of the 2016/17 winter season with the Steamboat Springalicious Festival 2017, a multi-week festival that includes many fun events such as the Cardboard Classic, Splashdown Pond Skim and several free music concerts.
TULIP, FAIRY & ELF FESTIVAL
When: April 2nd, 2017; Psst… Rain Date: April 9th, 2017
Where: 1301 Pearl St, Boulder, CO 80302
Time: 1pm – 5pm
Cost: Free
Downtown Boulder's Tulip, Fairy & Elf Festival 2017 is a celebration of the spring season, and features the vibrant Tulip Fairy, along with pint-sized fairies and elves, that parade around the Pearl Street Mall 'welcoming the tulips'. The event includes live stage performances, face painting, free activities for children and more.
TASTE OF VAIL
When: April 5th through April 8th, 2017
Where: Vail Village, E Meadow Drive, Vail 81658
Cost: Event prices range from $50 – $405
Purchase Tickets and View Schedule Online
Taste of Vail is the nation's premier spring food and wine festival held at iconic locations throughout North America's most popular mountain resort showcasing the finest chefs in Vail and the nation's top vintners. Taste of Vail showcases more than 30 of Vail's finest chefs and restaurateurs alongside the owners and winemakers from nearly 50 of the countries' top wineries.
MINUS ZERO FESTIVAL
When: April 7th & April 8th, 2017
Where: Winter Park Ski Village, 85 Parsenn Rd, Winter Park 80482
Time: 11am – 10pm
Cost: Range from $69 – $375  *Open to ages 18+
Purchase Tickets Online
The Minus Zero Winter Sports & Music Festival is multi-day winter sports and electronic music festival that successfully launched in 2015 with Paul Oakenfold hailing it an "amazing concept and truly epic lineup of talent and entertainment". The 2017 kickoff in Colorado will feature headlining sets from Bassnectar, Griz & Zeds Dead . All ski lifts and slopes at Winter Park Resort will be open and festival attendees are encouraged to wear their ski or snowboard gear.
PALISADE INTERNATIONAL HONEYBEE FESTIVAL
When: April 7th, 2017
Where: Palisade, CO 81526
Cost: Free
The Palisade International Honeybee Festival is a non-profit, community driven festival created to bring awareness to the honeybee crisis through education and the arts. Their goal is to increase public awareness of the impact of bees on our food sources and the wide range of benefits of bee products.
NATURALTANGO FESTIVAL
When: April 28th through April 30th, 2017
Where: Mercury Cafe, 2199 California St, Denver, CO 80205
Cost: $10 – $317
Purchase Tickets Online
NaturalTango Festival is a full weekend featuring intense and fun Tango workshops, for beginners and experience Tango dancers, with masterful instructors, and amazing Milongas with DJ's who know how to keep the flow alive and the dancers going all night long. The festival will include amazing performances, live music, super guided prácticas, interesting lectures and documentaries, atmospheric venues, all in a welcoming friendly ambiance.
COLORADO GOVERNOR'S ART SHOW & PLEIN AIR FESTIVAL
When: April 28th through May 28th, 2017
Where: Loveland Museum/Gallery, 503 N Lincoln Ave, Loveland, CO 80537
Events hosted by the 2017 GArtS include the Gala, a Plein Air Festival, art demonstrations at the Loveland Museum/Gallery, and specialty art sales which will include glass and jewelry artists. All art in this year's event will be available for purchase beginning the evening of the Gala and during the run of the show.
Show patrons and those who have purchased works from GArtS in the past will have an opportunity to view and purchase work at a special VIP preview event. Loveland's 4th Street Gallery will also host a sale of secondary market art with sales benefiting GArtS. Funds raised through the sale of art at the Show are given to a wide variety of causes and groups, both locally and internationally, and for art scholarships for local students and Rotary Youth Leadership Camp scholarships.
DOORS OPEN DENVER
When: April 29th & April 30th, 2017
Where: Multiple Locations in Denver
View Tours + Schedule Online
Cost: Free
Doors Open Denver is an annual celebration of Denver's built environment and design. The two-day event allows residents and visitors to tour the spectacular building they see every day but may never have entered. It allows the public to truly experience and develop a new appreciation for their home town and the facilities that comprise Denver's rich architectural landscape. It also helps build a sense of community by opening up the doors of Denver to everyone. This year's theme is 'Explore Our City Inside Out.'
ROCKY MOUNTAIN STEAM FEST
When: April 29th & April 30th, 2017
Where: Boulder County Fairgrounds, 9595 Nelson Rd, Longmont, CO 80501
Cost: $8 – $65
Purchase Tickets Online
The Rocky Mountain STEAM Fest is two fantastical days of science and arts. Every exhibitor (100+) designs a hands-on experience that lets you hack, tinker, create, build, learn, and smile. An all-ages event, STEAM Fest is mostly indoors and happens rain or shine.
DÍA DEL NIÑO CELEBRATION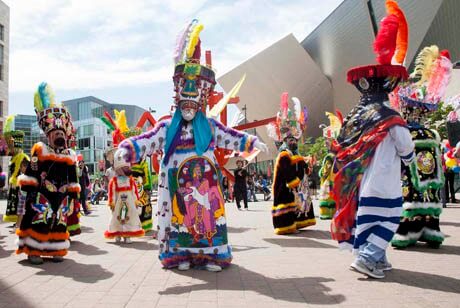 When: April 30th, 2017
Where: Denver Art Museum, 100 W 14th Ave Pkwy, Denver 80204
Cost: Free
Enjoy free admission and family-friendly programming that celebrates children from around the world at the Denver Art Museum. Día del Niño at the DAM is part of a weekend-long celebration.
CAÑON CITY MUSIC & BLOSSOM FESTIVAL
When: May 4th through May 6th, 2017
Where: Royal Gorge Blvd, Cañon City, CO 81212
Cost: Free
The Cañon City Music & Blossom Festival celebrates the spring season and features the largest school band competition in the state, a craft fair, a rodeo, a free Kid Zone, and concludes with a parade down Main Street.
SPREAD THE WORD MUSIC FEST
When: May 5th through May 8th, 2017
Where: Multiple Locations in Downtown Denver
View Tours + Schedule Online
Cost: $12 – $60
Purchase Tickets Online
Spread the Word Fest Music Fest will feature live music by over 60 music bands across 10 stages in Downtown Denver. The festival highlights local Colorado talent and includes a party shuttle that provides free transportation between venues.
DENVER HAHO MARKET + GREAT WESTERN ALPACA SHOW
When: May 5th & May 6th, 2017
Where: National Western Complex, 4655 Humboldt St, Denver, CO 80216
Cost: Free
Denver Handmade Homemade, the grassroots craft and food market which hosts artisan businesses that are just starting out or trying something different, is hosting their 2nd craft and food market along side the fine folks at the Great Western Alpaca Show. Expect 100 vendors selling handmade goods from jewelry, leather work, home goods, accessories, clothing, art and more, with live music and plenty of entertainment. Plus, a full schedule of events downstairs for the Alpaca Show including competitions, blue ribbon shows and 1200 alpacas to meet.
THE LIGHTS FEST™
When: May 6th, 2017
Where:  Colorado Motor Sports Park, 2050 Peoria Rd, Byers, CO 80103
Cost: $35 – $55
Purchase Tickets Online
The Lights Fest is an experience where thousands of friends and families gather to listen to live music, fill up on food trucks and light up life by sharing personal wishes, dreams and goals. At the perfect moment, everyone ignites their personalized sky lanterns with Tiki torches and lets them take flight.
Psst… Check out our featured article for this event!
PIKE'S PEAK ANTIQUE MACHINERY DAYS
When: May 12th through May 14th, 2017
Where: Western Museum of Mining & Industry, 225 North Gate Blvd, Colorado Springs, CO 80921
Cost: $5
The Western Museum of Mining & Industry will host the first annual Pikes Peak Antique Machinery Days on their historic 27- acre Reynolds Ranch! Join WMMI, the Arkansas Valley Flywheelers, Front Range Antique Power Association, antique automobile clubs, tractor pulls, and more.
NORTHGLENN FOOD TRUCK CARNIVAL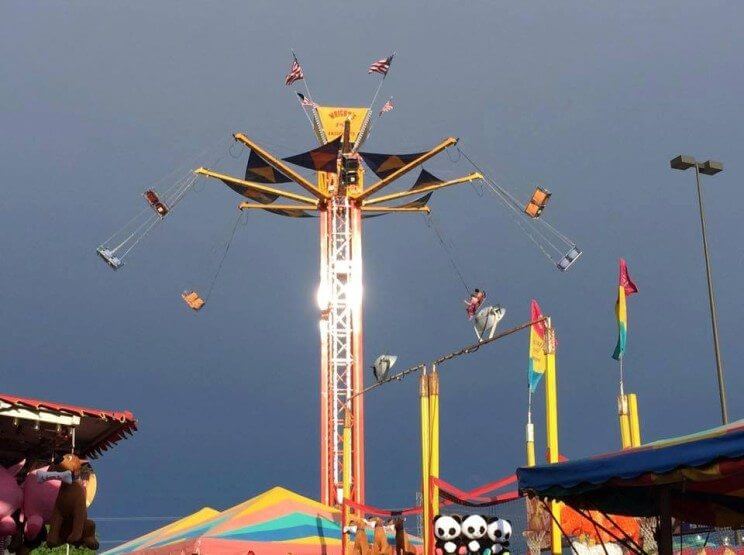 When: May 12th through May 14th, 2017
Where: Northglenn City Hall, 11701 Community Center Dr, Denver 80233
Cost: Free. Psst… Carnival Rides Fee-Based.
The Northglenn Food Truck Carnival will include some of Denver's best gourmet food trucks set against a traditional carnival with amusement rides, midway games, fair concessions and roving entertainers. Also enjoy the Big Top stage with eight bands representing Colorado's best Americana and Bluegrass Music.
FIVE POINTS JAZZ FESTIVAL
When: May 20th, 2017
Where: Five Points, Denver
Cost: Free
The Five Points Jazz Festival takes place the third Saturday of May and celebrates the history of Denver's Five Points neighborhood. Once known as the Harlem of the West, Five Points was home to several jazz clubs which played host to many of jazz music's legends such as Miles Davis, Thelonious Monk and many more. Come out to Five Points to enjoy this free festival of music, food, culture and fun.
UPSLOPE GET DOWN
When: May 20th, 2017
Where: Upslope Brewing Company, 1898 S Flatiron Ct, Boulder, CO 80301
Cost: Free
Upslope Brewing Company's 4th Annual Upslope Get Down is a free spring musical festival that features beer, food trucks, games, art, a Kids Zone and more. The festival will take place at the the back parking lot of Upslope Brewing Company's Flatiron Park Brewery with a day full of live music on three stages.
BUENA VISTA'S PADDLEFEST
When: May 26th through May 29th, 2017
Where: 327 E Main St, Buena Vista, CO 81211
Cost: Free
CKS Paddlefest is huge kickoff party to celebrate the start of the summer paddling season. Join them for an action-packed weekend of fun and educational activities for paddlers of all ages and abilities. Paddlers from beginners to aspiring competitors can rub elbows with paddling manufacturers, top pro athletes, and other industry pros during a weekend chock full of education, entertainment, races, seminars, movies, live music, demos, gear shopping and camaraderie.
SOUTH GAYLORD STREET'S MEMORIAL WEEKEND FESTIVAL
When: May 27th through May 29th, 2017
Where: Old South Gaylord Street, 1059 S Gaylord St, Denver, CO 80209
Cost: Free
Old South Gaylord Street is hosting a Memorial Day Weekend Festival to kick off the summer season. The festival will feature three days of great family-friendly entertainment, delicious food, live music, and local vendors. The Festival Series has a long history of bringing together the local community and purveyors of fine products to celebrate this wonderful historic neighborhood in Washington Park.
Musical line-up includes Tiffany Christopher, Coral Creek, The Congress, McKay Brothers, Johnny and the Mongrels, Kenny Lee Young & Johnny O Band.
BOULDER CREEK FESTIVAL
When: May 27th through May 29th, 2017
Where: Broadway & Arapahoe Ave, Boulder CO 80302
Cost: Free
The Boulder Creek Festival is the unofficial kickoff to summer in Boulder. The Festival includes three days of festivities featuring a large variety of events, activities, food and entertainment unique to the Boulder community. The Festival is free to the public and features something for everyone: 9 separate event areas with 500 vendors showcase everything from community arts and crafts to healthier alternatives and technology while 3 performance stages feature a spectrum of music and dance. The festival also features carnival rides and food and beverage vendors.
DENVER DAY OF ROCK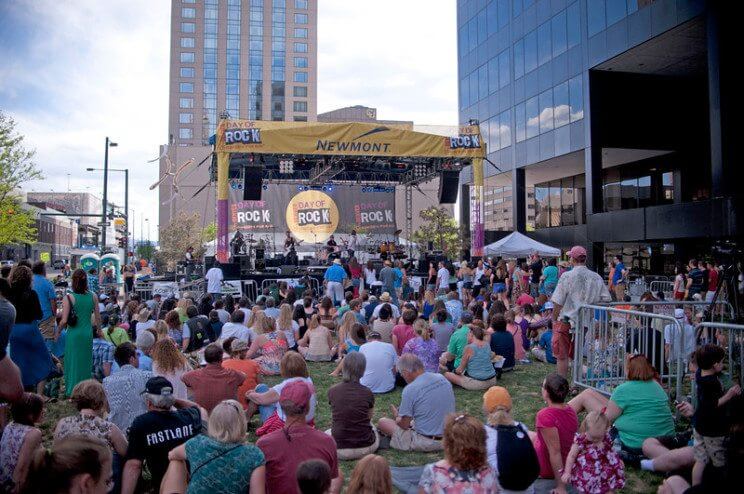 When: May 27th, 2017
Where: 16th Street Mall, Denver, CO 80202
Cost: Free
Denver Day of Rock is a one-of-a-kind music event presented by Amp the Cause, a non-profit organization for kids. This free event features five stages of live music throughout Denver on Memorial Day weekend. Denver Day of Rock unites the community through music and family friendly entertainment while also raising funds to help Amp the Cause continue to support non-profits in our community.
DENVER ARTS FESTIVAL
When: May 27th & May 28th, 2017
Where: Conservatory Green at Stapleton, Denver 80238
Cost: Free
The Denver Arts Festival is a fine arts and fine crafts festival that continues to be dedicated to supporting Colorado artists while also showcasing a select group of national artists . The Denver Arts Festival holds its annual premier event at Stapleton's Conservatory Green Plaza in Northfield. The fine art and fine craft exhibition features some of Colorado's and the nation's best artists with over 50,000 people expected to attend.
SUN DRENCHED MUSIC FESTIVAL
When: June 3rd, 2017
Where: Denver Beer Co Canworks, 4455 Jason St, Denver 80211
Time: 2pm – 10pm
Cost: Starting from $25
Purchase Tickets Online
Celebrate 300 days of sunshine with Denver Beer Co.'s Sun Drenched Music Festival. This outdoor bluegrass music festival will be held at Denver Beer Co.'s Sunnyside location, Canworks, which will be transformed into a summer beach party complete with sand volleyball, beer balloon fights, and beach games. In addition to beach games, festival goers can stroll the "boardwalk" and grab food from favorite food trucks or shop at the festival market which will feature several local artisans. In addition to food, vendors, and games, the venue will feature an outdoor beer garden, and shaded and indoor seating areas.
INDIAN MARKET & POWWOW
When: June 3rd, 2017
Where: The Fort Restaurant, 19192 CO-8, Morrison 80465
Time: 10am – 4pm
Cost: Adults $5; Free for Children 12 and under.
Tesoro Cultural Center, a 501(c)(3) Colorado nonprofit, will host its 17th annual Indian Market & Powwow on the grounds of the iconic restaurant, The Fort. The event is a yearly tribute to the American Indian tribes that shaped the cultural community of Old Bent's Fort, an important fur trading post that operated along the famous Santa Fe Trail in the 1830s.
In celebration of early Southwestern history, Tesoro hosts nationally acclaimed artists, dancers and drum groups for an art centered gathering, as well as education and interactive exhibits on American Indian culture, for a fun-filled, family weekend. The Colorado Governor's office has recognized the annual Indian Market & Powwow as the largest authentic, juried American Indian art show in Colorado, and has even issued past proclamations of Official Indian Market & Powwow Days, directly from the office of Governor John Hickenlooper for the past four years
PEOPLE'S FAIR
When: June 3rd & June 4th, 2017
Where: Civic Center Park, 101 W. 14th Ave., Denver 80202
Cost: Free
The People's Fair is one of the largest two-day festivals in the country with over 200,000 fairgoers, and is one of Colorado's longest-running outdoor urban festivals featuring handmade arts & crafts, food from local restaurants, kids' activities, live local entertainment, and more! Special features of the People's Fair include a wine pavilion adjacent to the jazz stage, the Mural Project, Fine Art Avenue located on 14th Ave., and an ever-evolving kids and Family Area with kids craft projects, sports activities, a carnival, and much more.
DENVER CHALK ART FESTIVAL
When: June 3rd & June 4th, 2017
Where: Larimer Square,  1430 Larimer St, Denver 80202
Cost: Free
The Denver Chalk Art Festival features more than 200 professional, amateur and student artists will delight and amaze Denver locals with their incredible talents in what has become one of the city's most treasured events. Over the course of two days, the artists will take to the street armed with vivid pastel chalks and spend hours on their hands and knees recreating major masterpieces or sharing original works of art. Spectators will watch as the intricate chalk paintings come to life and spread out to adorn four downtown blocks in and around Larimer Square. Visitors will enjoy live music, food and beverages while also having the rare opportunity to interact with the artists as they work.
INTO THE WILD RUNNING FESTIVAL
When: June 3rd, 2017
Where: The Wild Animal Sanctuary, 2999 Co Rd 53, Keenesburg, CO 80643
Cost: $45
The Into the Wild Running Festival will take place at The Wild Animal Sanctuary, and is 5K or 10K walk or run for individuals, families or groups of friends that want to spend a Saturday morning across the Sanctuary's 720 acres of open grassland – as the course weaves between natural habitats filled with rescued animals.
Psst… The Wild Animal Sanctuary was also featured in our article '9 Things to do in Colorado this Spring'.
PARKER DAYS FESTIVAL
When: June 8th through June 11th, 2017
Where: 19590 Mainstreet, Parker, CO 80138
Cost: Free Admission; Carnival Ride Full Day Passes $30 – $60; Bret Michaels Concert $35/$100
Purchase Tickets Online
Parker Days Festival, presented by the Parker Area Chamber of Commerce, is a weekend filled with plenty of activities and entertainment including concerts, carnival rides, and a parade. A car show and farmers market will also be a part of this fun-filled weekend.
Psst… This year, Bret Michaels will be headlining the Parker Days Festival concert.
COLORADO BBQ CHALLENGE
When: June 15th through June 17th, 2017
Where: Town of Frisco, 300 Main St, Frisco, CO 80443
Cost: Free
Town of Frisco's 23rd annual Colorado BBQ Challenge draws over 70 bbq masters that chef up their best fare and compete for a variety of awards, including the coveted Grand Champion and Reserve Champion titles. Winners of the Colorado BBQ Challenge in Frisco are eligible to compete in the American Royal – the "World Series" of barbecue. The festival draws more than 32,000 attendees annually for the opportunity to sample some of the best barbecue from around the United States, as well as to enjoy an array of weekend festivities that include live music, pig races and an exclusive whiskey and barbecue pairing tour.
FIBARK FESTIVAL
When: June 15th through June 18th, 2017
Where: Downtown Salida, Arkansas River, Salida, CO 81201
Cost: $5 – $50
Register Online
The 69th Annual FIBArk Festival in Downtown Salida is America's oldest and boldest whitewater festival, featuring everything from a Crazy River Dog competition and Hooligan Race to live music, kids activities, a downtown parade and world-class competitions in slalom, rafting, kayaking and standup paddle boarding.
STRAWBERRY DAYS FESTIVAL
When: June 16th through June 18th, 2017
Where: Sayre Park, 1702 Grand Ave, Glenwood Springs, CO 81601
Cost: Free
The 120th Annual Strawberry Days Festival, hosted by Glenwood Springs Chamber of Commerce, will feature live music, a FamilyFest area, an Arts and Crafts Fair, a food court, an old-fashioned carnival and a parade down Grand Avenue. Free strawberries and ice cream will be served on Saturday after the parade
JUNETEENTH MUSIC FESTIVAL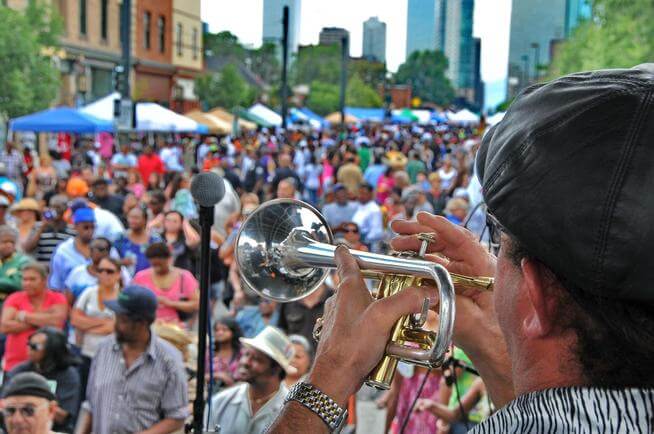 When: June 17th, 2017
Where: Five Points, Denver
Cost: Free
Juneteenth is an event that is commemorated in cities across the nation and around the world, Juneteenth is a cultural event celebrated by diverse people of all colors, backgrounds, and nationalities. Joining hands to mark the ending of slavery and the beginning of African American independence in the United States.
Denver's Juneteenth Music Festival is one of the nation's largest celebrations, drawing in record numbers of festival-goers and participation. The two-day event features live performances, art and cultural exhibitions, and food and commercial vendors; with partners and sponsors ranging from community support networks and organizations, to local and international companies.
DENVER PRIDEFEST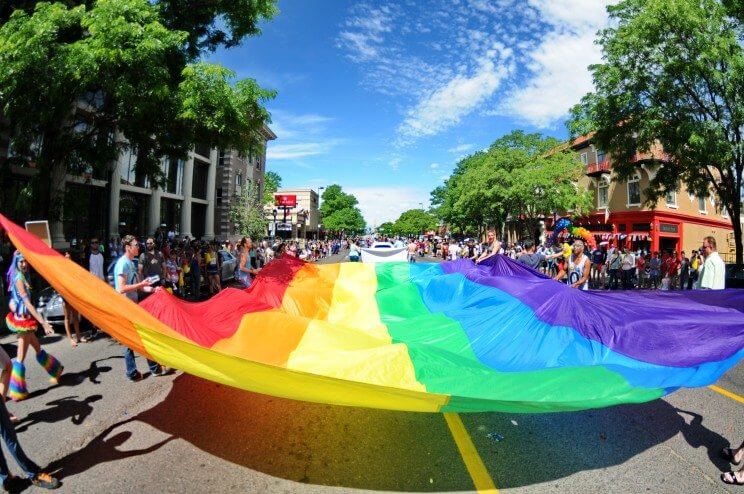 When: June 17th & June 18th, 2017
Where: Civic Center Park, 101 W. 14th Ave., Denver 80202
Cost: Free
Recognized as one of the top ten pride events in the country, the Denver PrideFest is a celebration of community, heritage, family and culture. Produced by the Gay, Lesbian, Bisexual and Transgender Community Center of Colorado (The Center), more than 250,000 people from Colorado and surrounding areas come out to enjoy the parade, rally, music, entertainment, food and much more.
Know of any more Spring festivals scheduled this season in Colorado? Let us know by either commenting in the thread below or via our Contact page and we will include them! Happy Spring 2017 Colorado!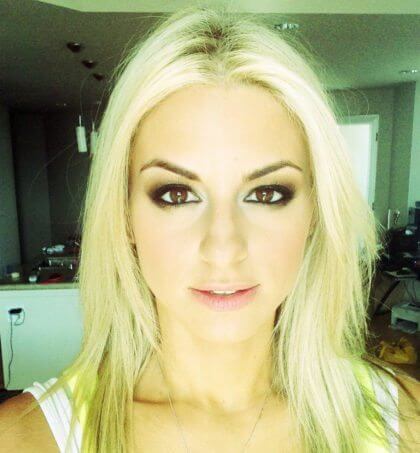 Comments
comments