With its towering mountains, unrivaled craft beer scene and endless entertainment, Denver is a popular destination for tourists all across the country. There's no mistaking the Mile High City's draw for both residents and visitors alike. So we understand why you wouldn't want to leave this magical city in the heart of the Rockies.
However, in a matter of hours, you can access a number of wonderful destinations surrounding Denver — from quaint mountain towns to larger cities located across the Colorado border. All you need is a long weekend, a little coffee, and a good podcast to pass the time.
Make plans to visit one of these amazing places in the region on your next long weekend. Whether you prefer a laid-back hot springs town or an artsy city bursting with personality, there's somewhere for you to explore!
Road Trip Destinations From Denver:
Steamboat Springs, CO
Distance: About 3 Hours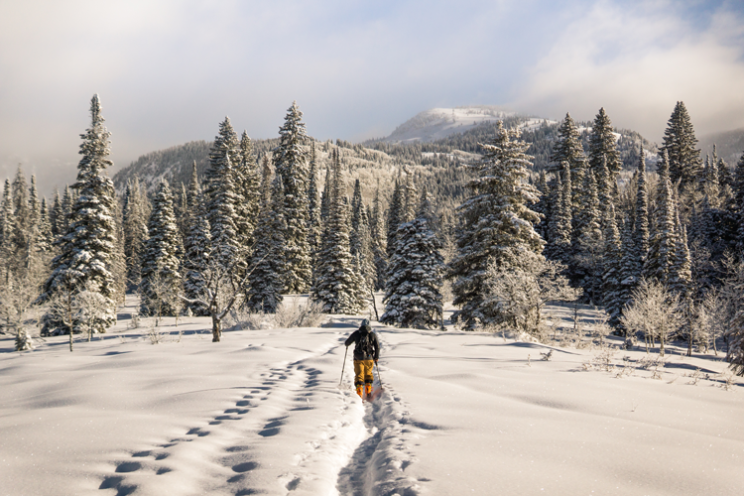 Nestled in the Rocky Mountains just northwest of Denver, Steamboat Springs is a charming mountain town with lots to see, taste and experience. While Steamboat is a popular destination for skiing and other snow activities during the winter, there is so much to do here during the spring, summer and fall. The tourism industry at Steamboat centers on the Steamboat Ski Resort at Mount Werner, considered Colorado's premier family-friendly ski resort and vacation destination. Another popular skiing destination (and a more laid-back option!) is the Howelsen Hill Ski Area, which is North America's oldest operating ski area.
While you're not hitting the slopes, there is plenty to do in Steamboat Springs, including shopping, dining and hiking the nearby trails. There are two main areas for shopping, dining and entertainment — Gondola Square and the downtown area. You can even take advantage of the free bus system available at every commercial lodging property to get shuttled to your destination. Don't miss the Steamboat Art Museum, Off the Beaten Path (a bookstore), Yampa River Botanic Park, Aurum Food & Wine, the Tread of Pioneers Museum, Grizzle-T Dog Sledding, Fish Creek Falls, the Steamboat Gondola and more.
The city is also known for its exceptional hot springs, including the long-standing Old Town Hot Springs in the heart of town and the more rustic Strawberry Park Hot Springs just north of Steamboat. Learn more about these relaxing natural phenomenons here.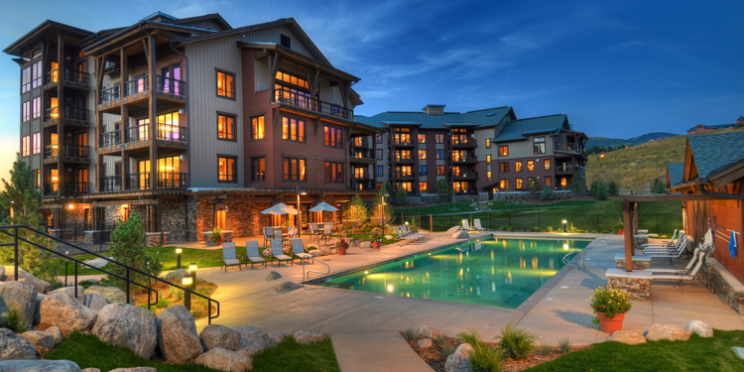 Photo Courtesy of Trailhead Lodge
Where to Stay in Steamboat Springs: Trailhead Lodge, a family-friendly resort in the residential Wildhorse Meadows community with exclusive gondola access, a fitness center, a swimming pool, hot tubs and much more.
Aspen, CO
Distance: About 3 Hours, 30 Minutes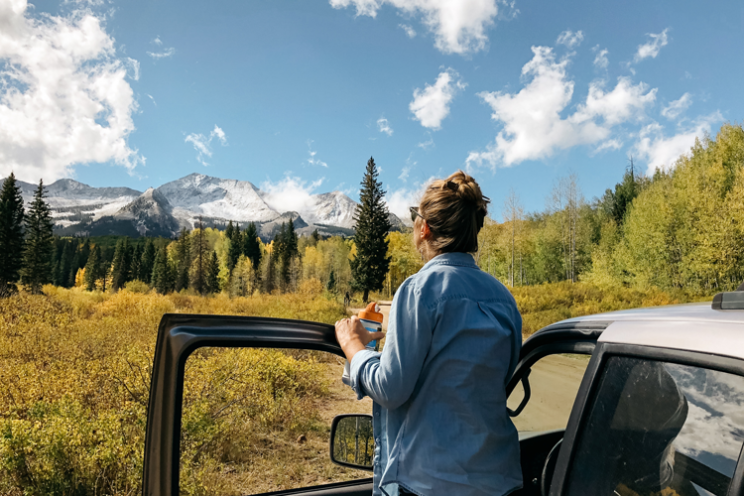 If you're a Dumb & Dumber fan, you are well aware of a little place called…Aspen. This charming mountain town is filled with adventure, from exhilarating ski slopes to exceptional dining destinations.
As you can expect for a ski resort town, Aspen is an especially popular destination during the winter. Four ski mountains make up the world-renowned Aspen Snowmass Resort, including Aspen Mountain (or Ajax), Buttermilk Mountain, Aspen Highlands and Snowmass. Other nearby wintertime activities include cross-country skiing and snowshoeing. And during the summer, visitors and residents enjoy rafting, hiking, biking, fishing, golfing, horseback riding, hot air ballooning, paragliding and much more. After all, Aspen residents often say they "came to Aspen for the winter but stayed for the summer."
No trip to Aspen is complete without stopping at Maroon Bells for a picture, going to Aspen Brewing Company for a local brew, seeing a show at Wheeler Opera House or Theatre Aspen, stopping by the John Denver Sanctuary, admiring art at the Aspen Art Museum, playing a round of golf at Aspen Golf and Tennis Club, and enjoying BBQ at Home Team Barbecue.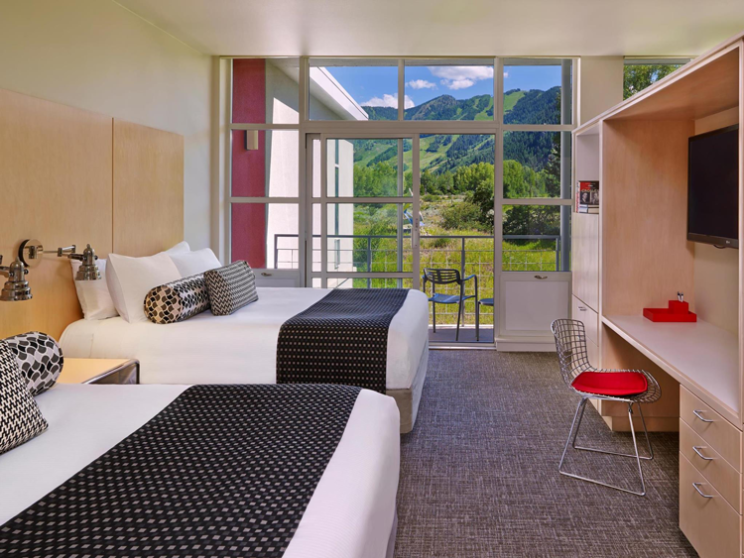 Photo Courtesy of Aspen Meadows Resort
Where to Stay in Aspen: Aspen Meadows Resort, a contemporary hotel just five minutes from downtown with spacious guest suites, incredible views, a complimentary shuttle, a health club and much more.
Palisade, CO
Distance: About 3 Hours, 45 Minutes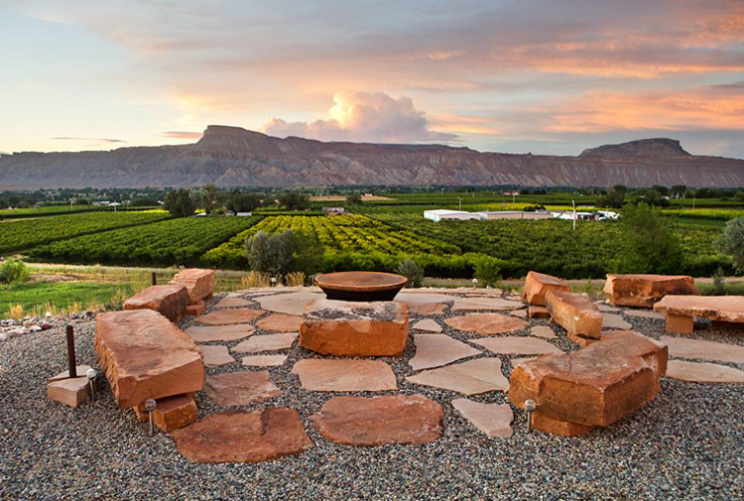 Photo Courtesy of Visit Palisade
Situated just west of Grand Junction, Palisade is a tiny town with a huge personality. Named for the cliffs near the town site, Palisade is known around the country for its peaches and abundance of vineyards. But there's so much more to explore in this friendly little town!
Perched on the edge of the Grand Mesa along the Colorado River, Palisade is a popular destination for fishing, hiking, rafting, biking and other outdoor activities. But as mentioned, many travel all the way to Palisade simply for the peaches. With an ideal climate, an 182-day growing season, and an average 78 percent of sunshine, Palisade is considered "The Peach Capital of Colorado." The town celebrates this delicious fruit with the Palisade Peach Festival each summer, marking the harvest of over 500,000 Elberta peach trees from more than 300 local growers. Places like Peach Tree Distillery use locally grown peaches to create spirits, which can be sampled in their tasting room. Go straight to the source with a journey along the Palisade Fruit & Wine Byway, which passes by beautiful orchards, lavender gardens, world-class vineyards, premium wineries, and fresh farm market fruit stands in the region.
Speaking of wine, Palisade is filled with a number of exceptional wineries, including Plum Creek Cellars, Red Fox Cellars, Grande River Vineyard, St. Kathryn Cellars, Maison la Belle Vie, Colterris Wines, Carlson Vineyards Winery, and Mesa Park Winery. Celebrate all this wine at the annual Colorado Mountain Winefest in the fall!
…And return in April for the Honeybee Festival and the summer for the Colorado Lavender Festival! If your visit falls during the winter, don't fret — Palisade has plenty to do in the winter, including downhill skiing and snowboarding.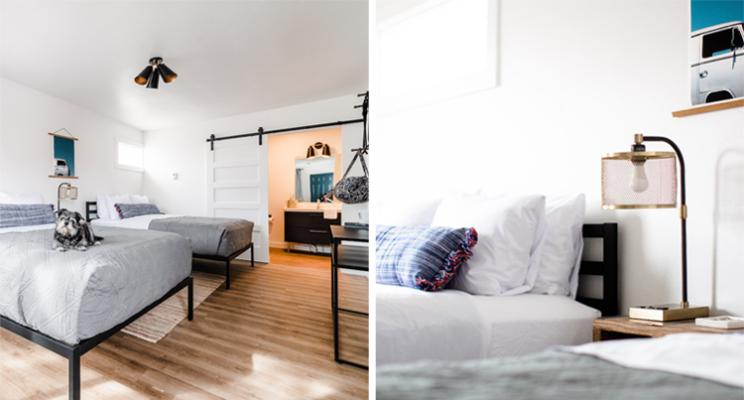 Photos Courtesy of Spoke and Vine Motel
Where to Stay in Palisade: Spoke and Vine Motel, a freshly reinvented, dog-friendly motel featuring thoughtful design and clean, comfortable rooms — just steps from the restaurants and wine bars in Palisade!
Great Sand Dunes National Park, CO
Distance: About 3 Hours, 45 Minutes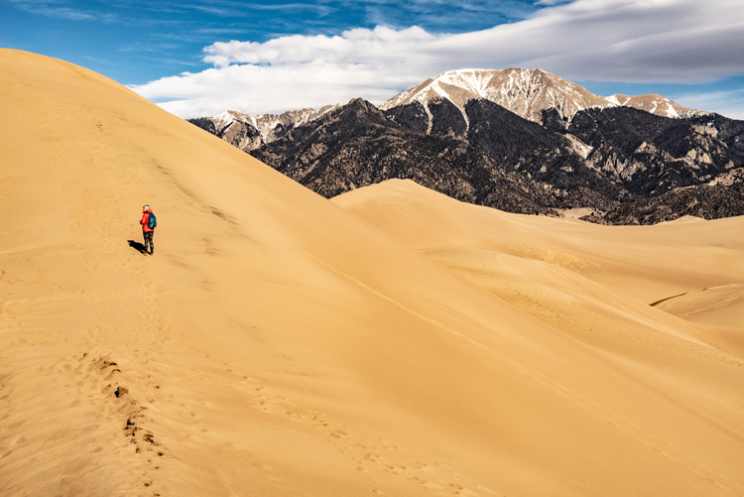 For a more rustic destination, complete with dune exploration and camping under the stars, look no further than Great Sand Dunes National Park. Situated just less than 4 hours away from Denver, this massive national park is filled with adventure and awe-inspiring views.
Great Sand Dunes National Park encompasses 107,342 acres, while the adjacent national preserve protects an additional 41,686 acres, for a grand total of 149,028 acres of sand-filled fun. The park is home to the tallest sand dunes in North America, which reach up to 750 feet. Visitors to Great Sand Dunes National Park enjoy hiking and backpacking, sandboarding and sand sledding, splashing in Medano Creek, horseback riding, fishing, hunting and much more. The park is open all day and all night year-round, but take a look at the expected weather conditions to adequately prepare for your visit.
Alamosa is one of the closest nearby towns, providing plenty of places to eat, shop and stay the night. But we recommend camping in Great Sand Dunes National Park for the ultimate rustic experience in nature. Some of the best area campgrounds include Oasis Campground, Zapata Falls Campground, Piñon Flats Campground, and Mosca Campground.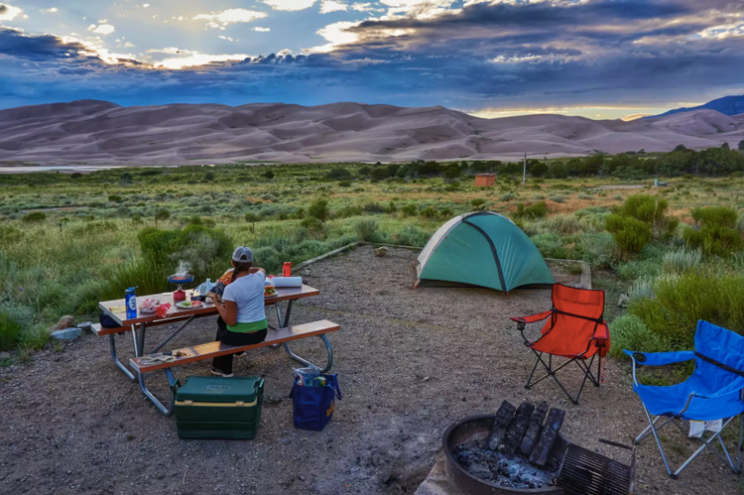 Photo Courtesy of Hipcamp
Where to Stay in Great Sand Dunes National Park: Piñon Flats Campground, a popular campground in the park with 88 sites for tents or RVs up to 35 feet, operating on a first come, first served basis.
Moab, UT
Distance: About 5 Hours, 30 Minutes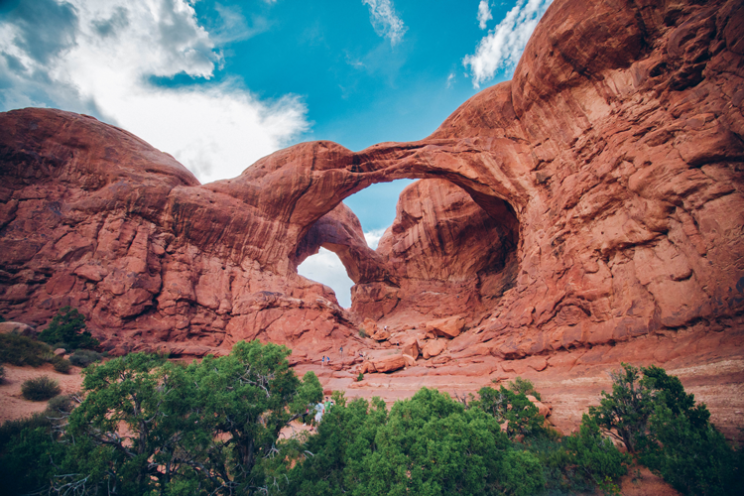 Cross the state line into Utah with a trip to Moab, perfectly situated between two of the Mighty 5® National Parks — Canyonlands National Park and Arches National Park. Each year, visitors from across the globe travel to Moab, considered one of the most popular outdoor recreation destinations in the American Southwest.
A visit to Moab would not be complete without spending ample time at both national parks just minutes from town. Canyonlands National Park is known for its gorgeous desert landscape with the Colorado River winding throughout. Head to Island in the Sky for panoramic views, and don't miss the Native American rock paintings in Horseshoe Canyon. Arches National Park features more than 2,000 natural sandstone arches, including the enormous Delicate Arch and the long and thin Landscape Arch. The contrast of the bright blue sky against stunning red-hued rock formations will take your breath away.
Moab is a popular destination for mountain biking, hiking, climbing, rafting, kayaking, cross-country skiing, offroading, and many more action-packed activities. After all this adventure, fuel up with a bite to eat and a locally brewed beer at Moab Brewery, the city's largest restaurant and only microbrewery and distillery. The downtown area is filled with plenty of restaurants, shops, breweries, art galleries and much more.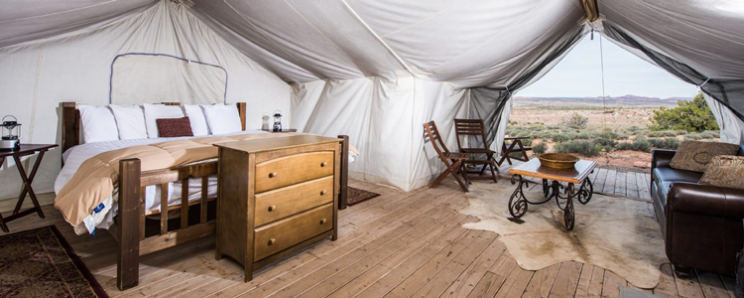 Photo Courtesy of Under Canvas Moab
Where to Stay in Moab: Under Canvas Moab, a luxurious "glamping" campground in a peaceful 40-acre desert setting just minutes from Moab.
The Black Hills, SD
Distance: About 6 Hours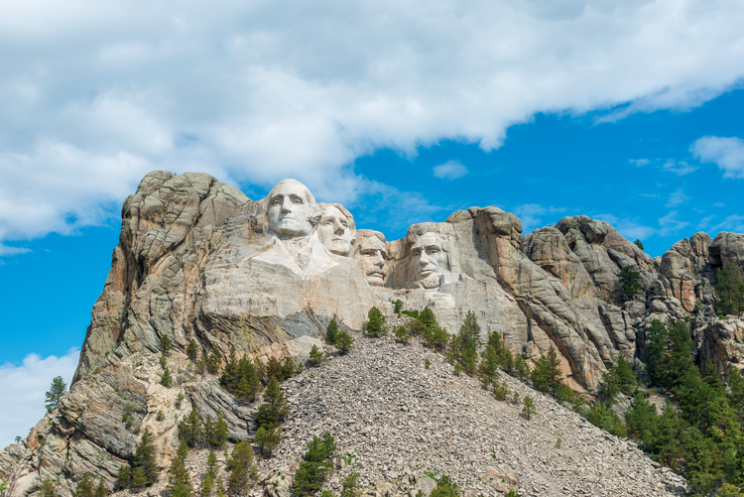 Named for their dark appearance from a distance, the Black Hills are a small, isolated mountain range in the Great Plains of western South Dakota, extending into Wyoming. Home to small historic towns like Deadwood, Custer, Hill City, Hot Springs, Keystone and more, The Black Hills attracts millions of visitors every year. But it is perhaps most known for its monumental attraction known across the globe — Mount Rushmore.
Completed in 1941, the massive sculpture carved into the granite hillside of Mount Rushmore features 60-foot heads of Presidents George Washington, Thomas Jefferson, Theodore Roosevelt, and Abraham Lincoln, representing the birth, growth, development and preservation of the United States. If you haven't yet stood in front of this impressive monument, you must add this to your bucket list.
There is so much more to explore in the Black Hills, from quaint Gold Rush-era towns to endless outdoor recreation. Some of the most popular outdoor recreation destinations in the Black Hills include Custer State Park, Wind Cave, Black Elk Peak (formerly known as Harney Peak), Sylvan Lake, Badlands National Park, Crazy Horse Memorial, Evans Plunge, and Spearfish Canyon. Be sure to visit Prairie Berry Winery for fruit-infused wines and Miner Brewing Co. for a local beer or two — both are located in Hill City!

Photo Courtesy of Hinterwood Inn & Cabins
Where to Stay in the Black Hills: Hinterwood Inn & Cabins, a former bed & breakfast converted into modern-meets-rustic vacation rentals and several newly built cabins, all nestled in a quiet valley just minutes from the area's best attractions.
Santa Fe, NM
Distance: About 6 Hours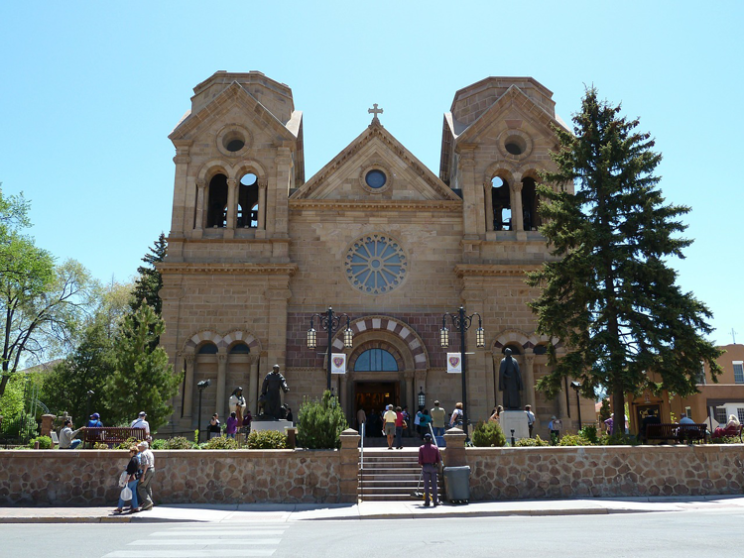 Nestled in the Sangre de Cristo foothills lies the serene Santa Fe, the capital of New Mexico — and an incredible road trip destination, as it is just six hours from Denver. The quaint city is renowned for its Pueblo-style architecture and thriving arts culture.
The traditional plaza acts as the heart of the city, as it is filled with some of the best restaurants, bars, shops, and art galleries, plus plenty of benches for people watching. Some must-visit places in Santa Fe include the Palace of the Governors, Loretto Chapel, the Georgia O'Keeffe Museum, the Canyon Road Arts District, the Cathedral Basilica of St. Francis of Assisi, the New Mexico Museum of Art, the Santa Fe Opera, SITE Santa Fe, and the Museum of International Folk Art. Trust us — you'll get a large dose of art and culture while in Santa Fe! And if you just roam the streets of the plaza, you're sure to encounter vendors selling the gorgeous turquoise jewelry the city is known for.
Once you get the standard attractions checked off your list, think outside the box with a visit to Meow Wolf. This unique interactive museum creates immersive experiences that transport visitors into fantastic realms of story and exploration. This includes art installations, video and music production, and extended reality content.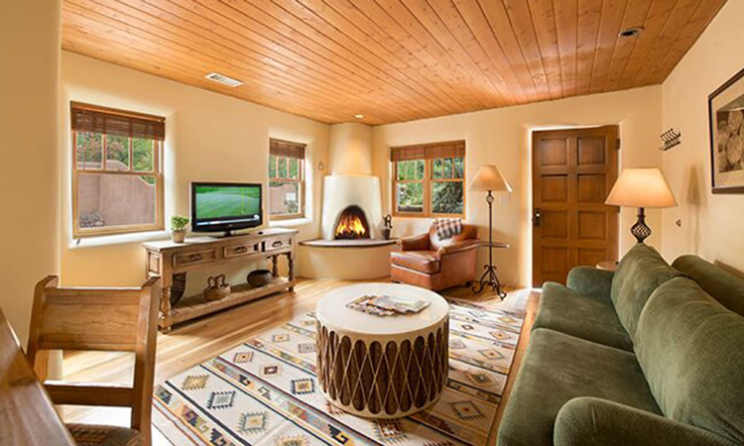 Photo Courtesy of Inn on the Alameda
Where to Stay in Santa Fe: Inn on the Alameda, a small, cozy (and pet-friendly!) inn with Southwestern decor just steps from the historic Santa Fe Plaza and Canyon Road.
Thermopolis, WY
Distance: About 6 Hours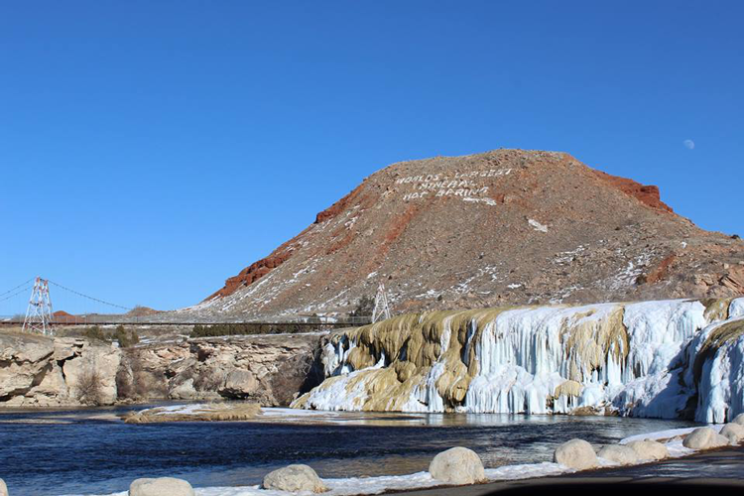 Photo Courtesy of Hot Springs Travel & Tourism
Situated in central Wyoming, Thermopolis is the home of the largest mineral hot springs in the world, The Big Spring, which is located in Hot Springs State Park. But there's so much more to do in this hot springs town, appropriately named Thermopolis after the Greek word for "hot city."
Local water parks, Star Plunge and Hellie's TePee Pools, offer indoor and outdoor pools with water slides, hot tubs, steam rooms, and gift shops. Other must-do attractions include the Wyoming Dinosaur Center, Swinging Bridge, Bighorn Canyon, Wind River Canyon, Legend Rock Petroglyphs and more.
You could spend your entire trip at Hot Springs State Park, filled with hot springs aplenty. Here, you can witness Wyoming's state herd of bison, admire the Big Spring, and walk across the Swinging Bridge to see Rainbow Terraces and the Bighorn River. The state park is open for day use (sunrise to sunset) at no charge and the bath house is open daily from 8 a.m. to 5:30 p.m.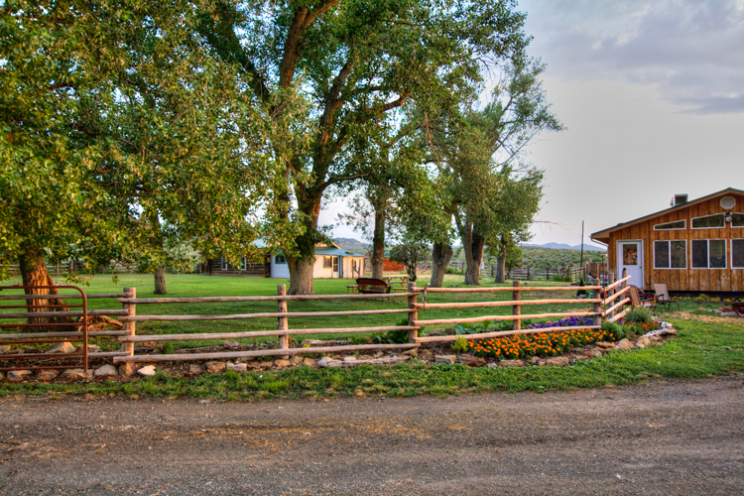 Photo Courtesy of Grass Creek Ranch
Where to Stay in Thermopolis: Grass Creek Ranch, an authentic working cattle ranch with a variety of cabin accommodations available at a reasonable price.
Valentine, NE
Distance: About 6 Hours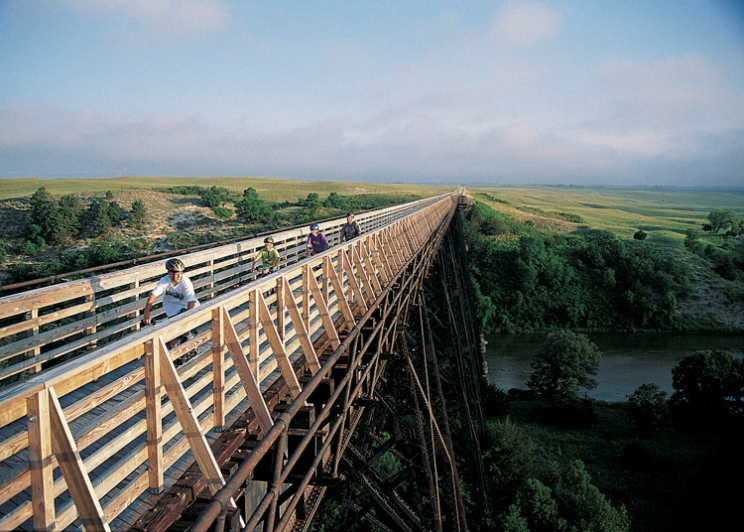 Photo Courtesy of Visit Valentine
With a name like Valentine, this small town in northern Nebraska can't help but garner love from all over the region. Valentine is an especially popular destination for golfers and outdoor enthusiasts, as it is home to exceptional golf courses and a variety of adventure-filled destinations in its rolling sandhills with a winding river.
Many head to Valentine for hiking, horseback riding, canoeing, tubing, kayaking, hunting, fishing, camping and more. One of the most popular places to do several of the above is Fort Niobrara National Wildlife Refuge, a former frontier fort and the current home to a herd of bison, elk and prairie dogs. Opt for a driving tour to see all three — or take the journey on foot along the Niobrara River to see Fort Falls, one of the most spectacular waterfalls in the area.
Other must-see destinations in Valentine include Valentine City Park, The Prairie Club golf course, Centennial Hall Museum, Merritt Reservoir, Niobrara Valley Vineyards, The Sandhill, Cowboy Trail, and more.
Photo Courtesy of Heartland Elk Guest Ranch
Where to Stay in Valentine: Heartland Elk Guest Ranch, a ranch nestled between pine-covered hills and the Niobrara River with cozy private cabins.
Hit the Road, Jack!
…But please do come back. Let us know what nearby destinations are on your bucket list! And remember to tag us on Instagram at @TheDenverEar and let us know where your road trip adventures take you.