Up to snow good!
In honor of our favorite time of year we came up with 16 of our favorite things to do in Colorado this winter. 
Whether you're looking for uniquely Colorado winter festivals, classic winter fun, or to seriously chill out – our list has you covered. With so much to see and do, is it too early to wish for 6 more weeks of winter?
WINTER FESTIVALS
1. INTERNATIONAL SNOW SCULPTURE CHAMPIONSHIPS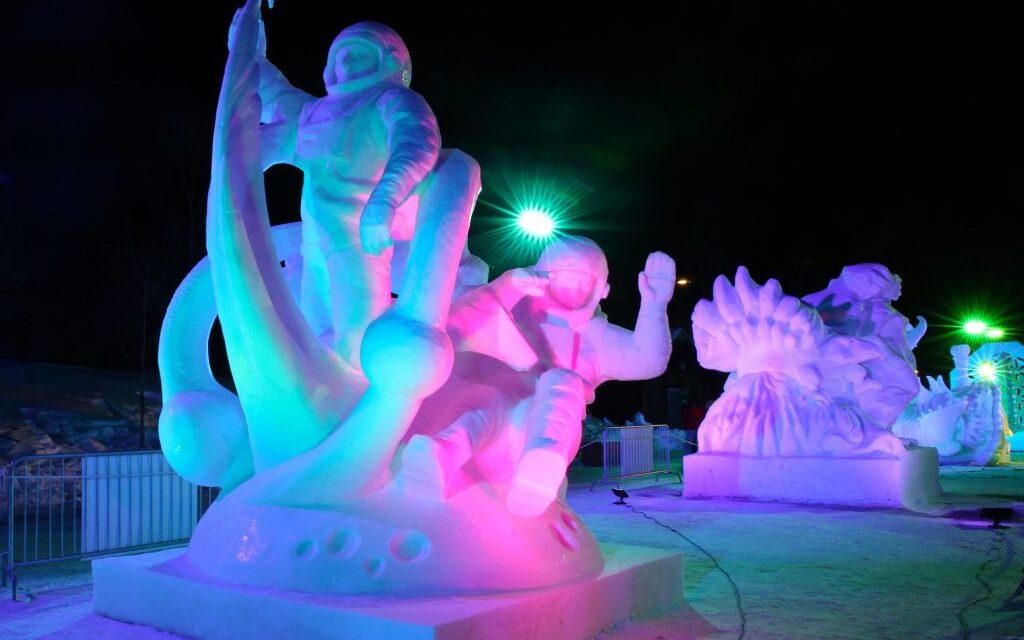 Kicking off our list is the return of a Colorado winter tradition – Breckenridge's International Snow Sculpture Championships. This world-renowned competition brings teams from all over the world to Breck as they compete and create some truly incredible works of art – entirely made of snow.
This year's event runs from January 24 – February 2, with viewing beginning on January 28. This event is free to the public, however, to allow for social distancing timed entry reservations (free of cost) are required ONLY on Saturday, Jan. 29. This event is sure to be fun for the whole family and one you won't want to miss.
2. ULLRGRASS
Move over winter, UllrGrass is coming.
This 3-day festival takes place in Golden, CO the last weekend in January (28-30) and is the perfect place to embrace your inner Viking. Complete with live music, beer festival, costume contest(s) and so much more. Be sure to grab your tickets ahead of time so you won't be left out in the cold.
3. FROZEN DEAD GUY DAYS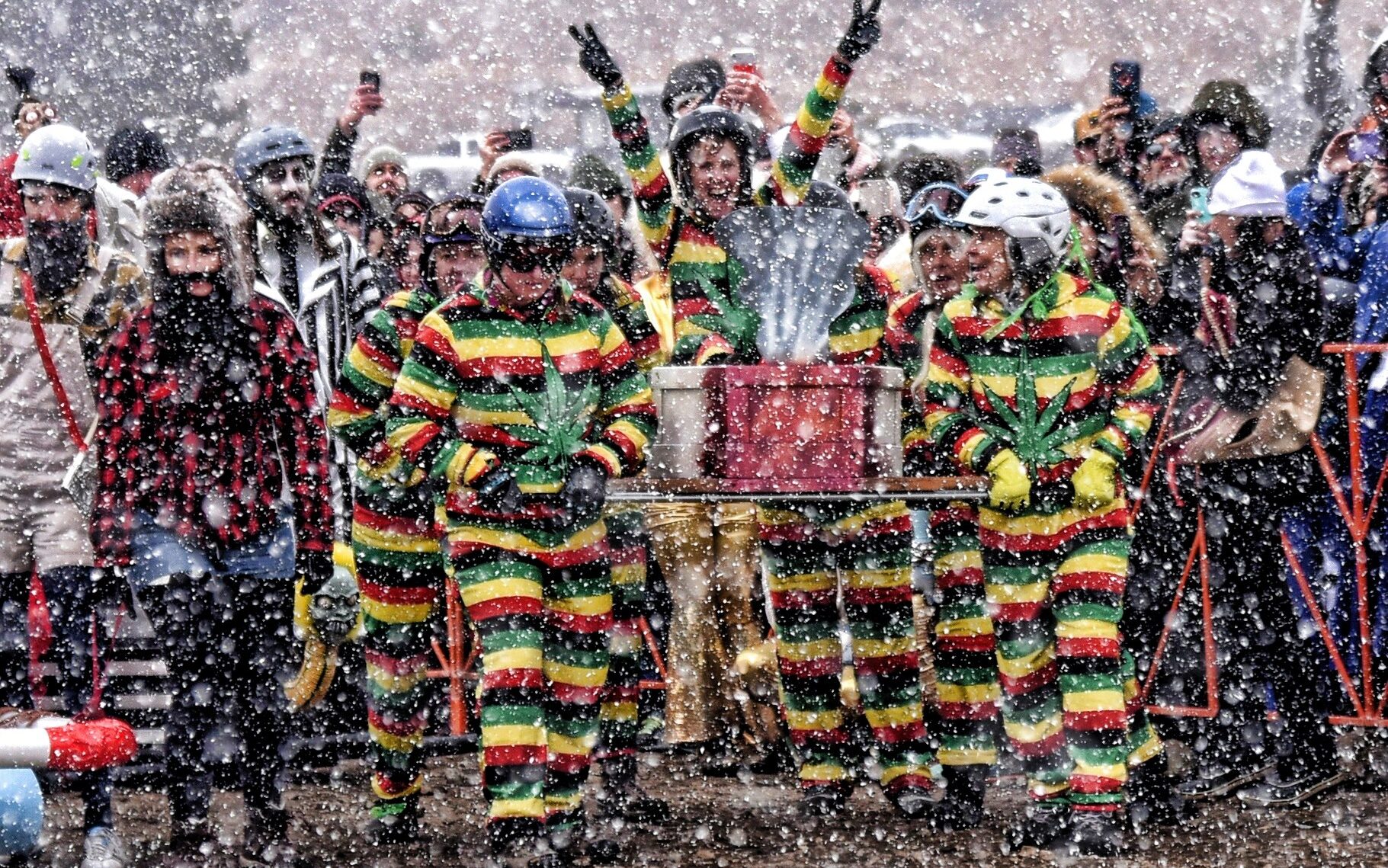 You had us at Frozen Dead Guy.
We're of course talking about Frozen Dead Guy Days taking place in Nederland, CO.
If you aren't familiar with this festival's backstory – it's highly worth the read. This colorful, eccentric, and peculiar event running March 18-20 is the perfect way to end the short days of winter and head into the melting snows of spring. From live music to coffin races, polar plunges, frozen t-shirt contests, frozen turkey bowling, costume contests and more this is one event you need to see to believe. Be sure to grab your tickets and freeze the date(s).
4. LEADVILLE SKI JORING & CRYSTAL CARNIVAL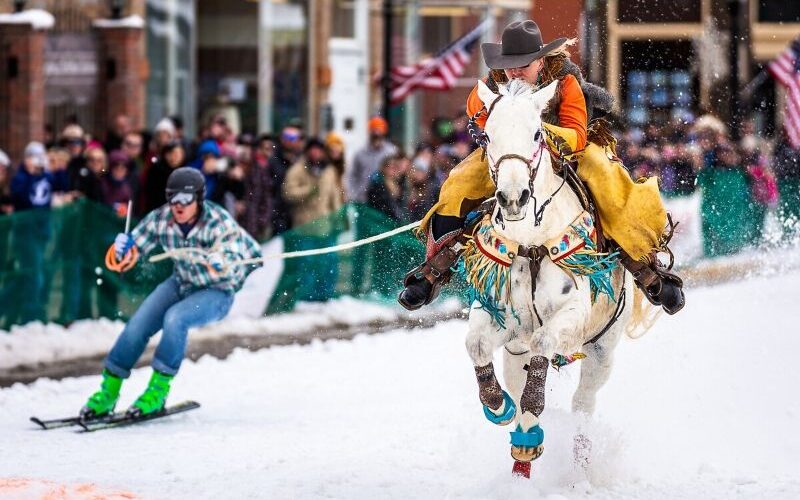 Rounding out our list of winter festivals is another Colorado staple – the Leadville Ski Joring and Crystal Carnival. Running March 4-6 this unique event is jam packed with plenty of winter fun including: the unique sport of ski joring, mountain biking, Nordic ski races, paintball biathlon, live music, dancing, and more.
Psst… if you aren't familiar with ski joring you're going to want to google this one!
CLASSIC WINTER FUN
5. THE RINK AT EVERGREEN LAKE
Ice skating has never looked better than The Rink at Evergreen Lake. This outdoor skating rink located, you guessed it, on Evergreen Lake is nature's picture-perfect ice skating and hockey backdrop. Be sure to check out the Evergreen Park and Recreation District's site for hours of operations, skate rentals, lake rules, and additional information on COVID-19 requirements, and more.
6. FRISCO ADVENTURE PARK
No list would be complete without a visit to our next pick.
Frisco Adventure Park is sure to be jam packed with classic winter fun for everyone! With activities like tubing, snowshoeing, sleigh rides, and more; this is one you won't want to miss. Be sure to check out their site for additional information on tubing reservations, rentals, Nordic Center and more.
7. OUTLAW MOUNTAIN COASTER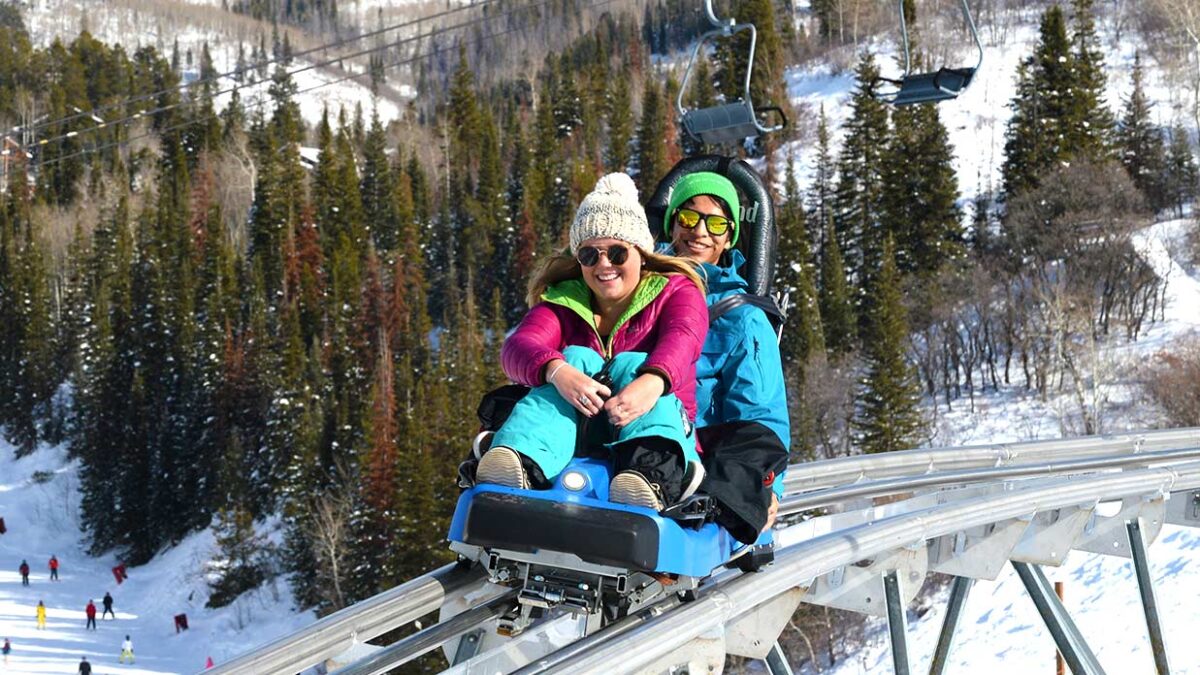 We've got the need, the need for speed.
For those adrenaline junkies the Outlaw Mountain Coaster located in Steamboat Springs is an absolute must this winter. This mountain coaster (open daily) stretches over a mile on an elevated track at speeds up to 27 mph with plenty of curves, turns (yes, some hairpin turns), and steep descents. Additional information on rates, hours of operations, driver requirements and more can be found here.
8. SLEDDING
Up next is an oldie but a goodie – sledding. With so many great options, Winter Park is definitely the place to be for those looking to get their sled on. Whether you're looking for mini hills for the kiddies, racing lanes for a little healthy competition, and more there's plenty of fun for the everyone at Winter Park this year.
9. SNOWMOBILE THE CONTINENTAL DIVIDE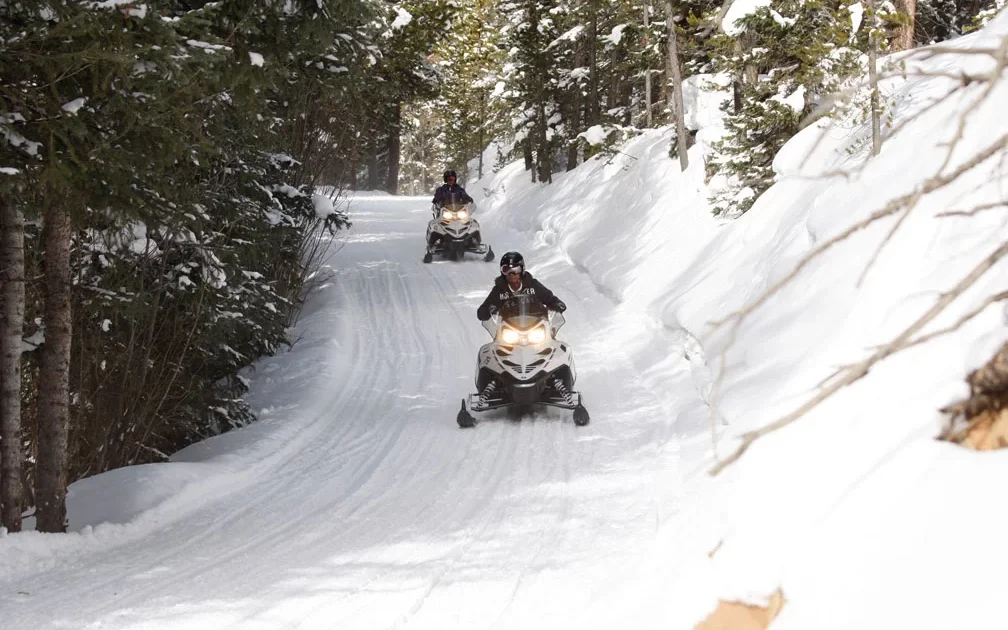 We don't know about you BUT snowmobiling The Continental Divide sounds like an pretty solid winter bucket list item. For those looking to make the most out of their next Breckenridge trip, snowmobiling is an absolute must! Be sure to check out VisitBreck for a list of great options in the area.
CHILL OUT
10. HOT SPRINGS
No winter bucket list would be complete without a visit to one of Colorado's many hot springs. With so many to choose from, we could dedicate a post to all the various hot springs around CO. 
Psst… stay tuned for more on some of our favorite hot springs.
11. ALPENROSE VAIL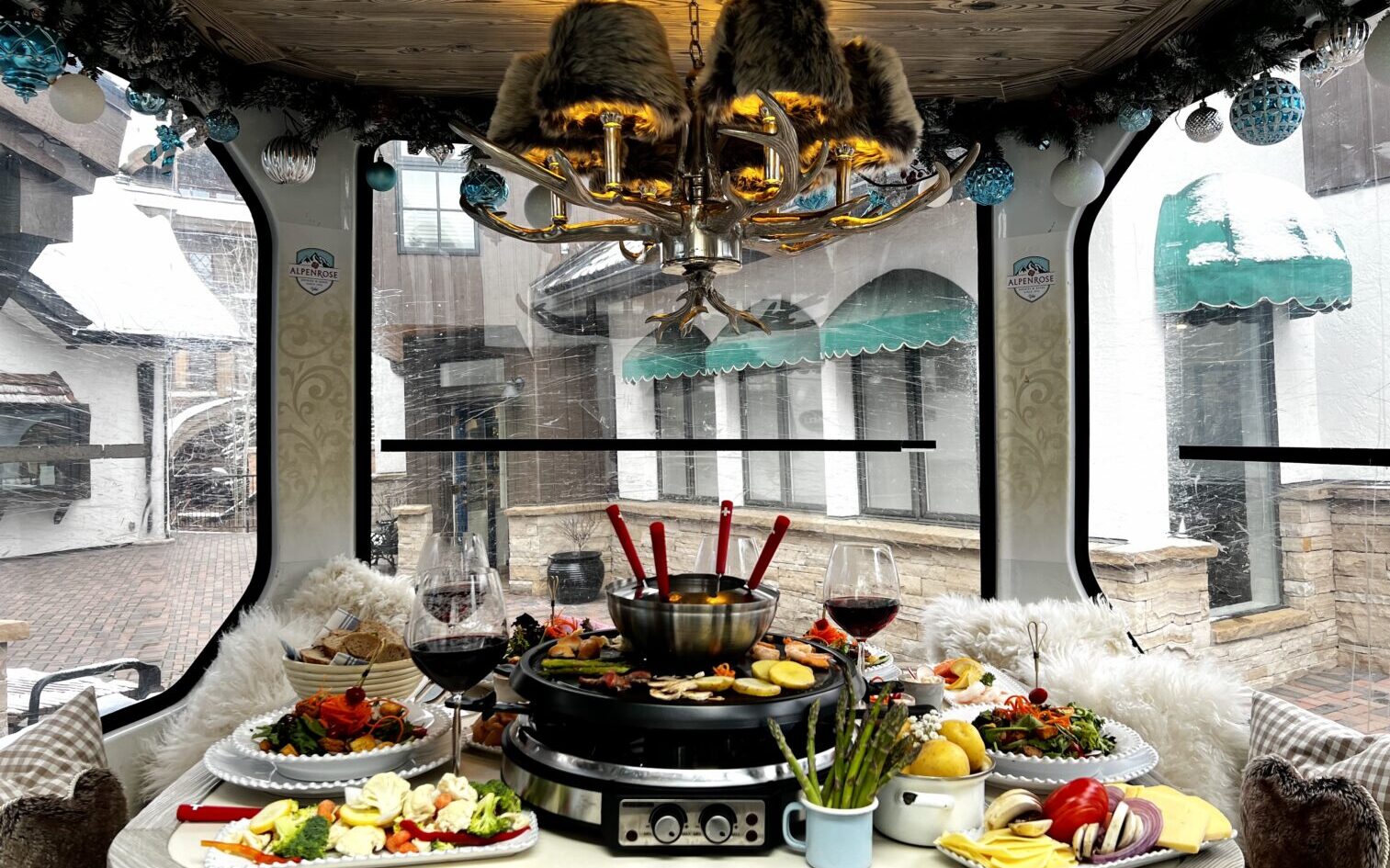 Fondue in a gondola, where do we sign up?
Alpenrose Vail is serving up a unique private dining gondola experience that you need to see to believe. This incredible dining experience includes a stellar 3-course pre-fix menu Raclette Grill and fondue combo that's perfect for those chilly winter nights.
12. DEVIL'S THUMB RANCH RESORT & SPA
For those looking for some to get away this winter, Devil's Thumb Ranch Resort & Spa is the place to be. Located minutes away from Winter Park and over 6,500 acres to explore, there's plenty to do or nothing at all, making it the perfect winter staycation. 
13. DURANGO & SILVERTON RAILROAD
Next on our list is the iconic Durango & Silverton Railroad.
This historic steam train runs between Durango and Silverton, covering over 26 miles (a total of 5-hours round trip) each way that promises winter fun for everyone. You'll take in some incredible views of the San Juan National Forest and scenic Animas River all while relaxing in one of their heated coaches. Be sure to check out their site for more information on departure dates, tickets, packages and more.
14. APRÈS IN THE CLOUDS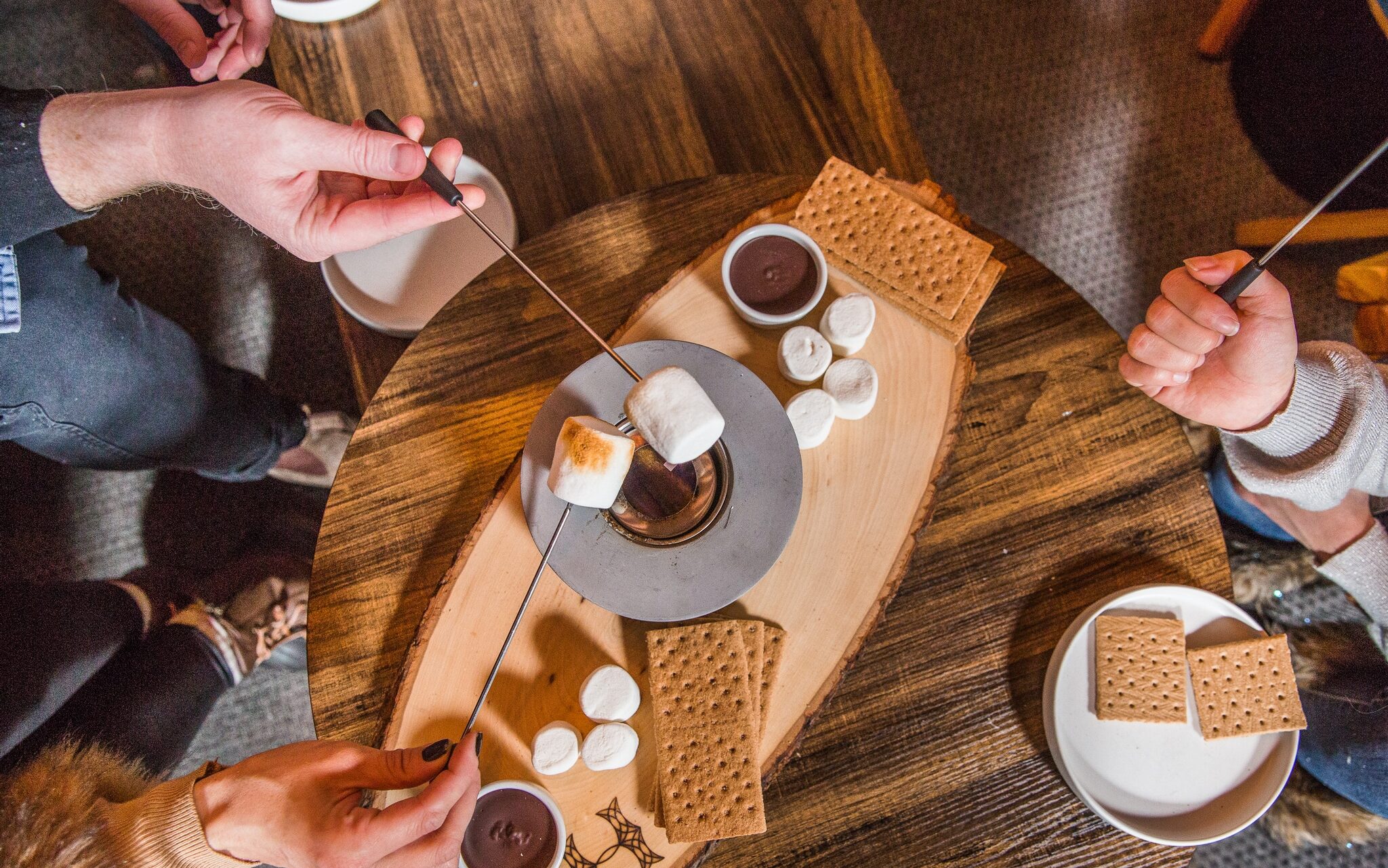 Running every Friday and Saturday, Après in the Clouds is an absolute must for those looking to seriously chilling this winter! From winter cabana dining, curling, live music, incredible views and more; the rooftop of the Halcyon is definitely one that needs to be on your list. Don't worry, there's plenty of hot toddies, blankets and cabanas to help you stay warm as you après the day/night away, 
Psst… be sure to check out our spotlight on the Halcyon.
15. 54THIRTY 
Sticking with the rooftop theme – 54Thirty Rooftop is bringing the cozy vibes this winter.
Aside from some unbelievable view of Denver, you'll also enjoy some phenomenal bites, expertly crafter cocktails and plenty of fire pits to keep you warm. Psst… we'd highly recommend trying their Chalet Cocoa.
16. COLORADO CAMPFIRE
Last but certainly not least is one of our favorite year-round cozy spots in the city – Colorado Campfire. Whether you're in the mood for brunch, lunch, dinner, drinks and everything inbetween; Colorado Campfire is a great place to enjoy those #OutdoorVibes in the heart of Uptown. 
IT'S A WINTERFUL LIFE
We've said it before and we'll say it again, winter in Colorado is it! We hope you take the time to enjoy all that Colorado has to offer this winter. Stay cozy!
As always, we love seeing and hearing from you, be sure to follow us on Instagram @TheDenverEar and tag #TheDenverEar for a chance to be featured.