Roses are Red, violets are blue…
We're not very good at poems but want to make this Valentine's Day extra special for you.
We came up with 14 ways to help you celebrate V-Day in Denver in a big way this year. Whether you're looking to wine and dine your Valentine, treat yourself or something in between – our list has you covered.
WINE & DINE
1. BROWN PALACE
Kicking off our list of places to wine and dine your valentine is The Brown Palace.
This V-day (and V-day weekend) they are celebrating in style with a romantic dinner at Palace Arms. This luxurious dining experience features: caviar, oysters, surf and turf options and of course champagne. Reservations are sure to fill up quickly and can be made here.
2. WOODIE FISHER KITCHEN & BAR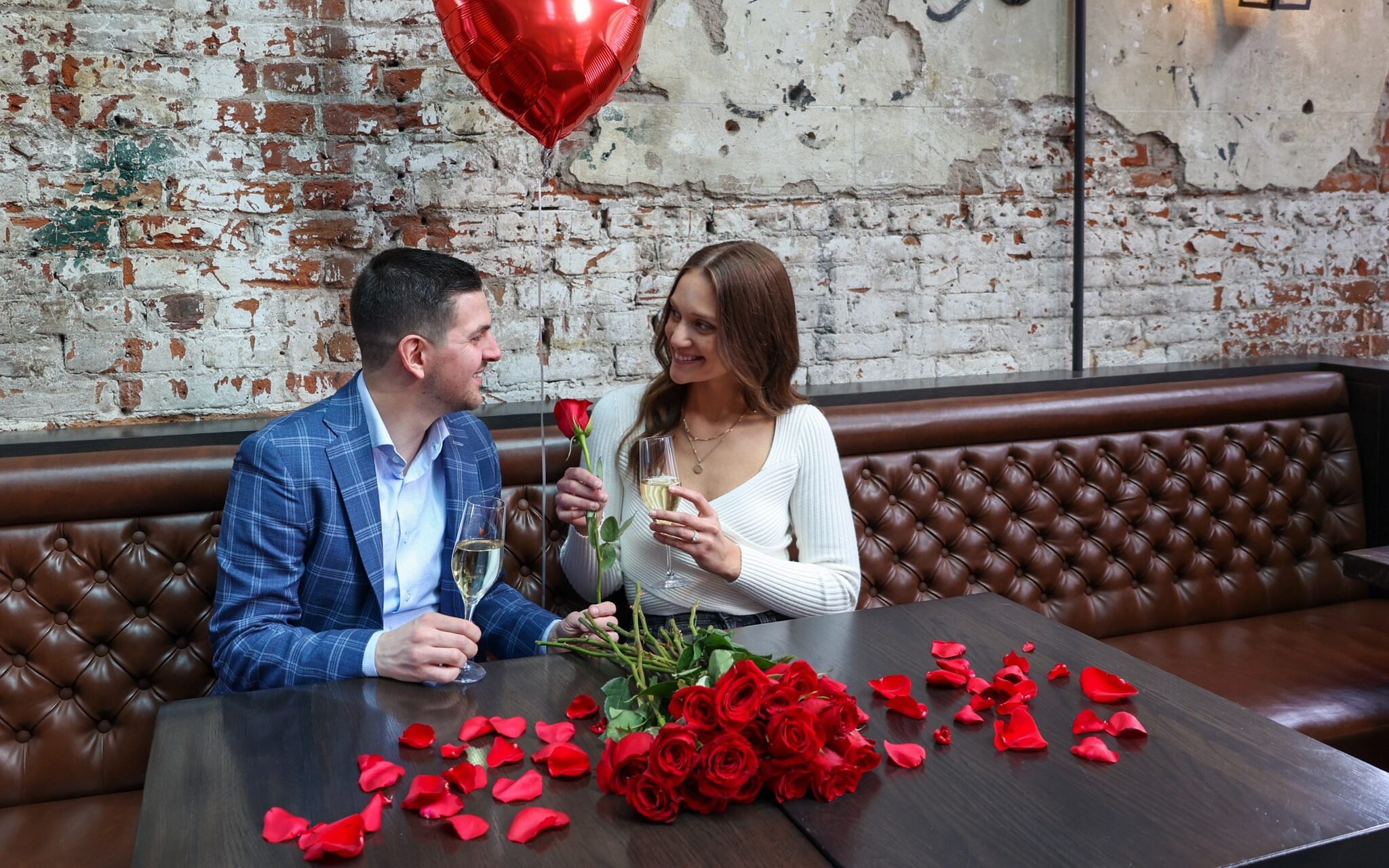 Up next is one of our favorites, Woodie Fisher Kitchen & Bar.
This Valentine's Day they're serving up a special dining experience that's sure to wow your Valentine. In addition to their regular dinner menu, they're also offering a 3-course special with wine pairing options (food only option for $65 per person, with wine pairings $85 per person). This pre-fix menu includes a delicious lobster bisque to start, 6oz Coulotte Steak with a King Crab bearnaise, and decadent Espresso Panna Cotta.
While reservations are sure to go quickly for Valentine's Day be sure to check availability throughout the weekend.
3. MAKIZUSHICO
What's better than 3 courses… 17 courses, of course!
Makizushico, located in Littleton, is celebrating Valentine's Day in a big way with a 17 course omakase dinner that's perfect for the sushi lover(s) in your life. While reservations may be hard to come by, we'd recommend keeping an eye on their Resy slots.
4. CHEZ ROC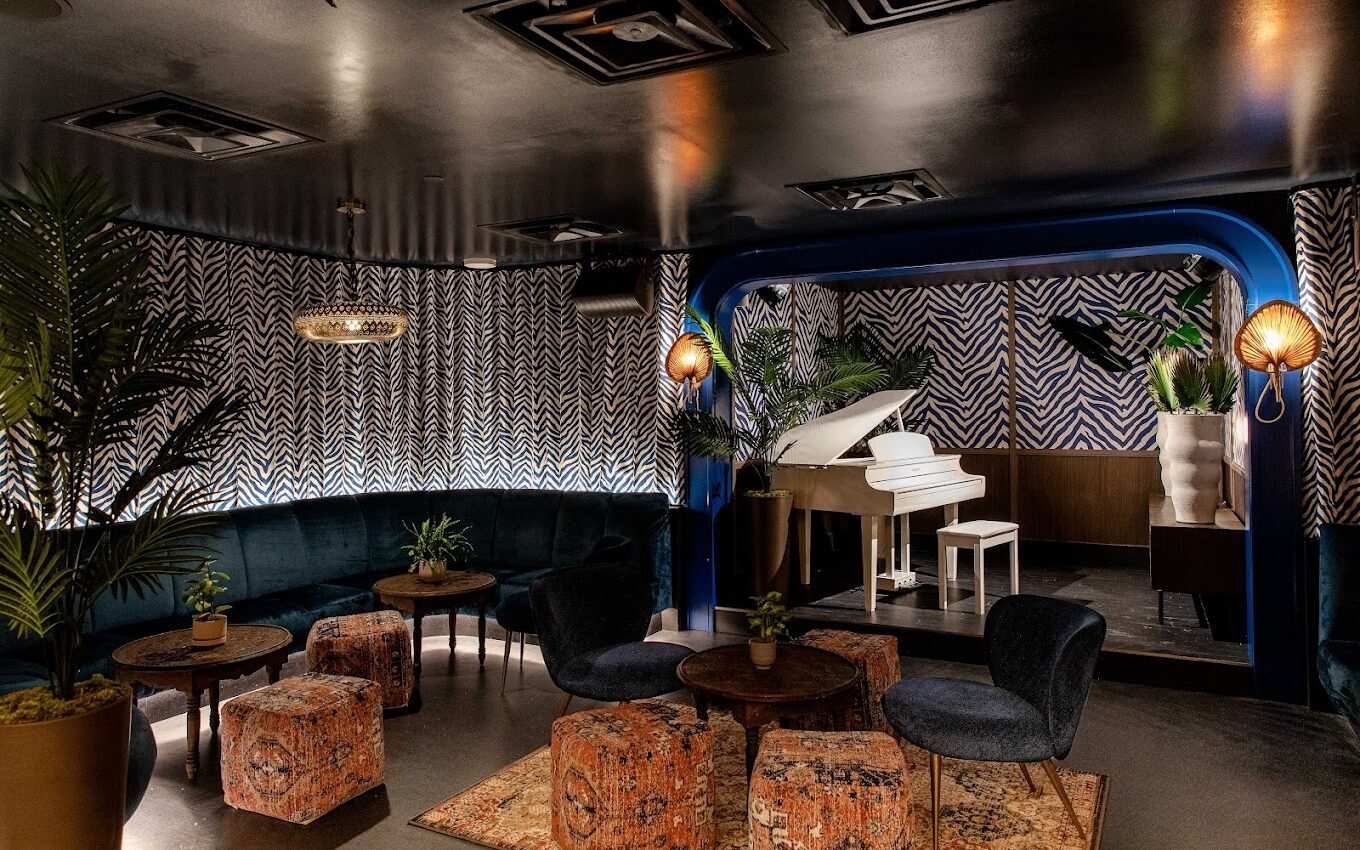 Have you stopped by Chez Roc yet?
This vibey cocktail and piano lounge in Cherry Creek is the perfect spot to enjoy an intimate date night this Valentine's Day. From their incredible cocktails, martinis, bites, and live music – it's sure to help you set the mood this February 14th.
5. YUMCHA
Rounding out our list is YumCha Denver's Taking Back Valentine's Day extravaganza. With happy hour running from 2-9 PM this V-Day, it's perfect for all the singletons, candy-heart haters, and freedom celebrators. From dumplings, pork belly fries, Bánh Mi, sake, cocktails and more, YumCha is the perfect place to eat your feelings.
TREAT YOURSELF
6. VALENTINE'S BAZAAR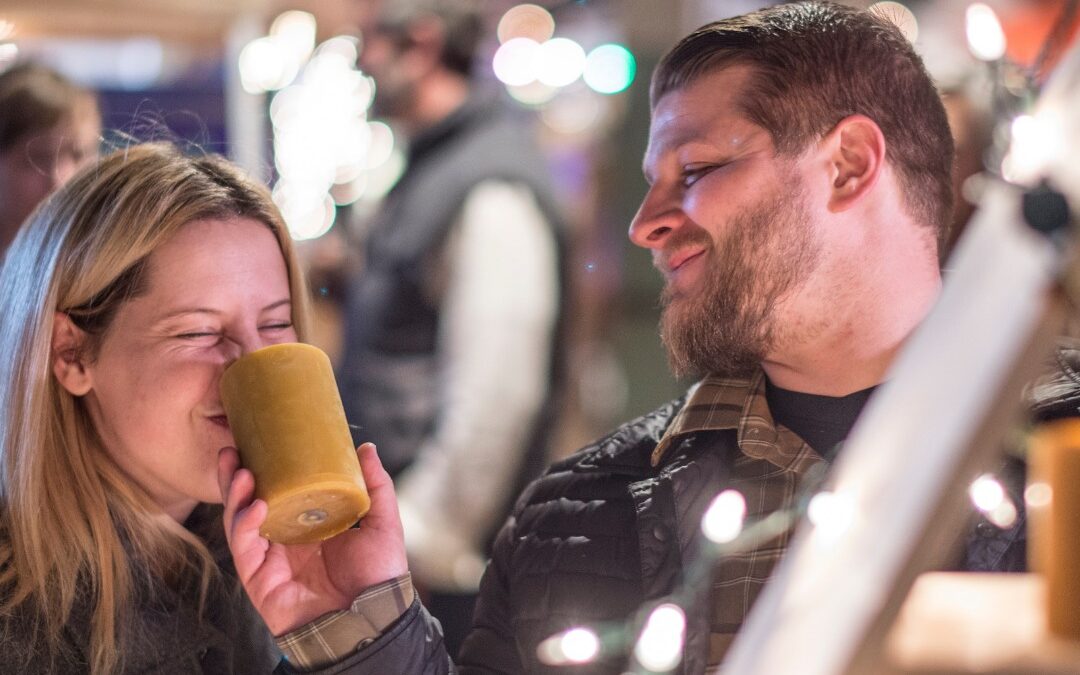 Are you in the mood for some retail therapy this Valentine's weekend?
The immensely popular Denver Bazaar is back with a special Valentine's Bazaar that you won't want to miss. Taking place in downtown Lakewood's Belmar shopping district – you'll have plenty of opportunities to shop local for yourself/your valentine, while you treat yourself to delicious bites, bottomless mimosas, wine tastings are more this Friday (February 10th) and Saturday (February 11th).  The event is free to attend, however, tickets for the various events taking place throughout the weekend are highly encourage!
7. DAIRY BLOCK
For those looking for the ultimate V-Day experience, Dairy Block's Lovin' on the Block is the perfect way to treat yo'self. Featuring a bevy of Valentine's Day themed attractions, drinks, eats, events and more there's sure to be something for everyone this year. 
Psst… be sure to snap a pic with their He[art] Instillation.
8. DEITER'S CHOCOLATES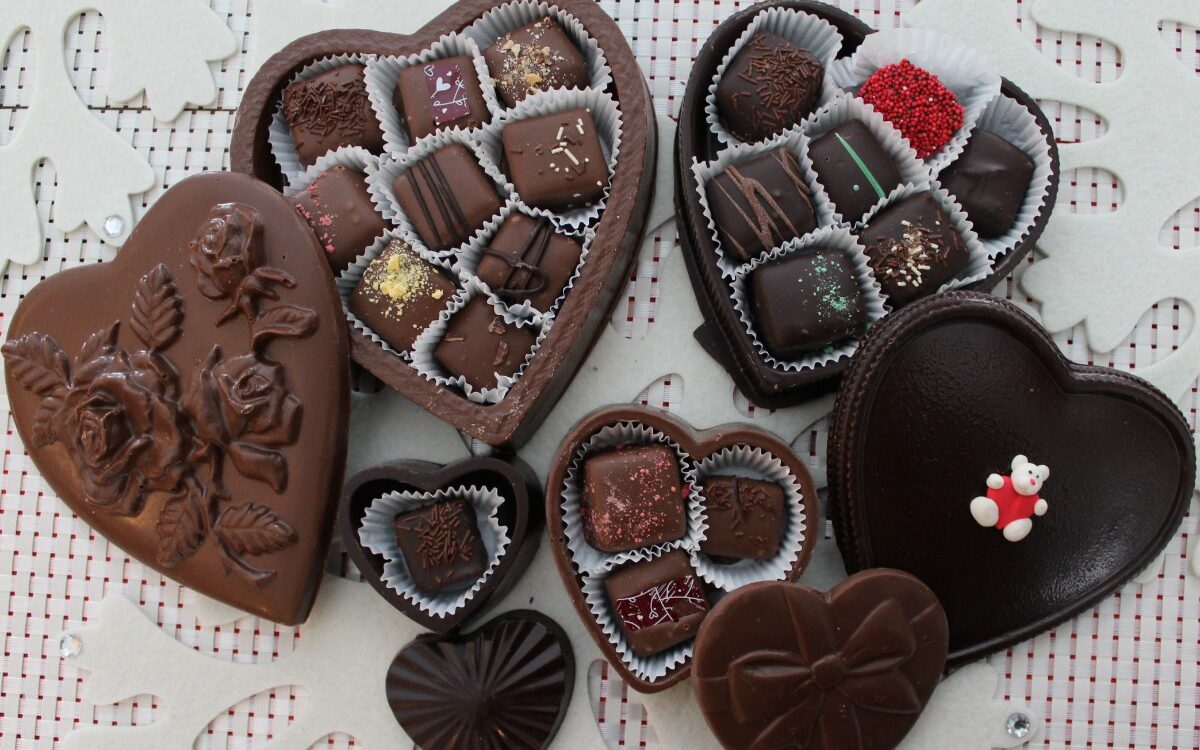 It wouldn't be Valentine's Day without a little chocolate!
Located in University Hills, Deiter's Chocolates is your one stop-shop for the chocolate lover in your life. Famous for their Bavarian-style truffles, Deiter's is one of our go-to spots this time of year. Don't forget to pick up one of their festive truffle heart boxes!
9. BEZEL DENVER
For those looking for a cozy Valentine's Day experience, Bezel Denver is serving up a brand-new cocktail just in time for Valentine's Day. "Rose Colored Glasses" features Glendalough Rose Gin, Lee's Spirits Rose Liquor, Lillet Blanc and Lavender Bitters which is perfect for date-night, a solo-date, or a night out with your gal pals.
Psst… for those looking for a mini-staycation be sure to look into the Sheraton's Love at the Lodge package (book with code D60).
SOMETHING IN BETWEEN
10. LOVE BITES
For those feeling adventurous this V-Day, our next pick is for you!
The 13th Floor Haunted House gets a Valentine's Day makeover this February 17-19, that's sure to add a little bite and spice to your V-Day celebrations. With plenty of thrills and chills it's sure to get your heart racing, in more ways than one. Tickets are limited and sure to go quickly.
11. LOVE AT FIRST ICE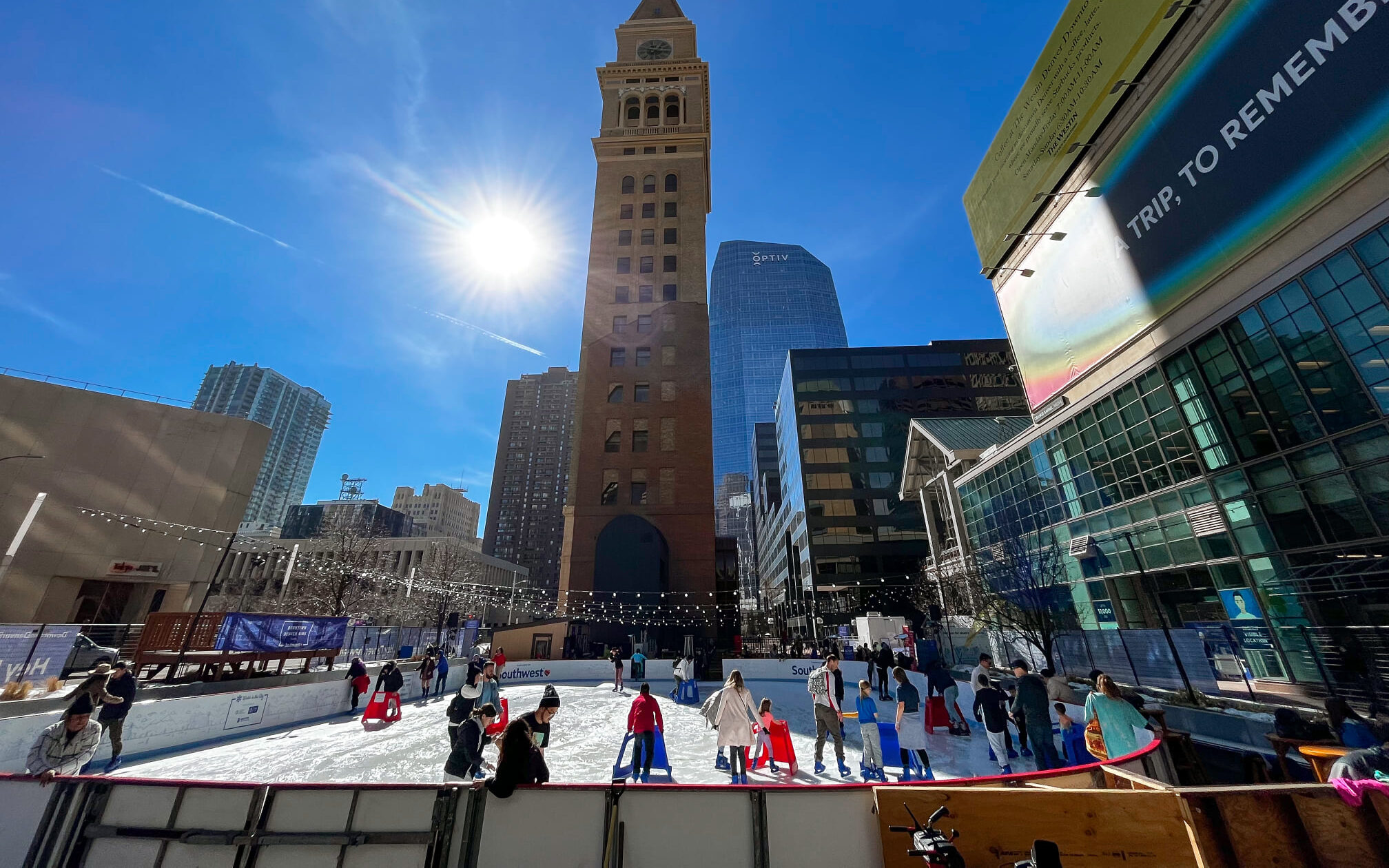 It was Love at First Ice.
This February 11-14, grab your skates and head down to the Downtown Denver Skating Rink for some much needed V-day fun. With $1 off skates, photo opps, hot chocolate, surprises from Southwest Airlines/local vendors, and more; it's a great way to do something a little different!
12. HEART BREAKERS DRAG BRUNCH
The Original Denver is serving up a Heart Breakers drag brunch on Saturday February 11th, that's perfect for those looking to celebrate Galentine's in a fabulous way. Whether you're in the mood for avocado toast or glazed doughnut sliders – their brunch is easily one of our favorites in Denver.
Psst… don't forget about the bottomless mimosas.
13. GALENTINE'S AT BRECK BREWERY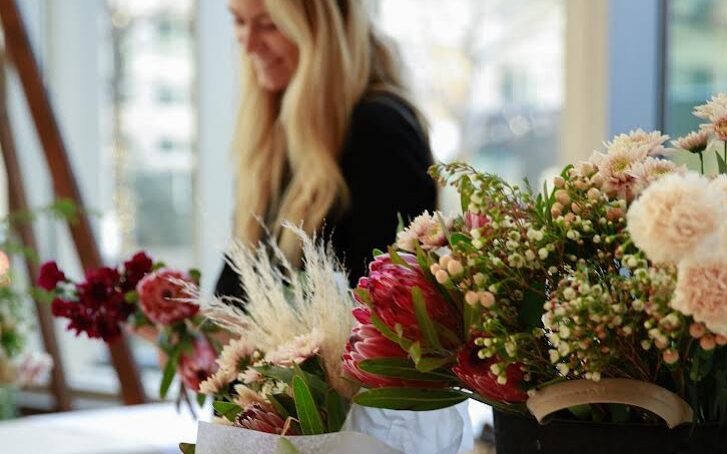 Are you looking for some Valentine's Day fun?
Pickletown Flower Co. is hosting a Galentine's bouquet building class at Breck Brewery on February 13th that you won't want to miss. Aside from building yourself the most stunning bouquet – you'll also enjoy a tour of their Littleton facility, two beers, all while you have some fun with your gals. Tickets can be found here.
14. BAD BUNNY LA LOTERIA
Last but certainly not least is Cervecería Colorado's "Un Valentine Sin Ti' fiesta.
This Bad Bunny themed Lotería night will be full of all Benito's hits, prizes, arepas from Pico Arepa and of course their delicious craft cervezas. This event is free and first come first serve, so plan accordingly.
HAPPY VALENTINE'S DAY!
We love you, Denver! No matter how you celebrate this year, we hope you feel the love and have fun.
As always, we love seeing and hearing from you, be sure to follow us on Instagram @TheDenverEar and tag #TheDenverEar for a chance to be featured.