Make incredible summer memories tubing down the rivers near Denver. Tubing season begins in May and goes till August, with the faster and colder rapids early in the season and the river mellowing out to a lazier pace later in the summer. This activity takes a little preparation, but during the hot summer days it is worth the time!
PLACES TO GO TUBING NEAR DENVER!
1# SOUTH PLATTE RIVER IN LITTLETON
The South Platte River brings tubers up from the south and through the heart of Littleton. If you float the full stretch to Brent Mayne Baseball Field it will take about four hours and you can always stop and get food near Prince Street bridge. For a shorter float stop at Reynolds Landing, dry off and and visit the Breckenridge Brewery. While the creek runs through suburbia, you will rarely see it as bike paths and parks border the river.
Check the water levels @ South Platte River near Denver
Hop In: Blackrock Lake Park
Pick Up Car: Shorter Float – Reynolds Landing, Longer Float – Brent Mayne Baseball Field
Rent a Tube: Adventure West River Tube Rentals Psst… They also offer a shuttle!
2# CLEAR CREEK IN GOLDEN
Golden has a dedicated park for tubers of the Clear Creek. Clear Creek White Water Park has trails along side of the creek so you can walk up stream and hop in when you see a part of the river that looks good to you. Float down the river and climb out once you get to the Coors Brewery. Or leave a pick up car at Vanover Park and drive up to Clear Creek Canyon Parking for a long float.
Check the Levels @ Clear Creek in Golden CO
Hop In: Clear Creek White Water Park or Clear Creek Canyon Parking
Pick Up Car: Vanover Park
Rent a Tube: Clear Creek White Water Tube Rentals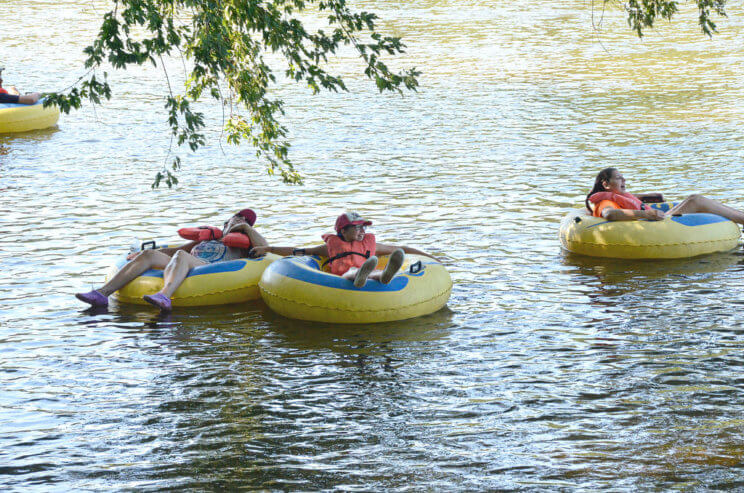 3# BOULDER CREEK
Floating the Boulder Creek is a popular choice for summer activities. There are some dips and rapids along the way so it is a fun thrill. It was named one of the 10 Best Lazy Rivers for Tubing in the U.S. by Men's Journal. On the river you will pass by the Boulder Library and under the Bridge Cafe. If you are out on a Saturday or late on a Wednesday you will pass right by the Farmers Market, and a longer float drifts under shady trees and past Colorado University.
Check the Levels @ Boulder Creek
Park your Pick Up Car: At Boulder High School or for a further float park at Scott Carpenter Park.
Hop In:  Eben G Fine Park
Rent a Tube: Whitewater Tube Company
Psst…join the fun at the Tube to Work Day on Wed, July 11, 2018! There is no cost, but you must sign a waiver. Closed toed shoes and a helmet are required, business casual optional.
4# SAINT VRAIN IN LYONS
Tubing the Saint Vrain Creek in Lyons is one of the many beautiful activities in this mountain town. Because the creek can flow quite quickly tubing is banned for part of the year but usually opens around the first weeks of June. They also have a great list of safety tips for first time tubers and even for those who need a refresher at the beginning of the season.
Check the levels @ Saint Viran River at Lyons
Hop In: Apple Valley Road and 36, or LaVern M. Johnson Park
Pick Up Car: Lyons Kayak/Raft Takeout
Rent A Tube: …before you get to Lyons!
TIPS FOR TUBING
Check the water levels! If the water is too high it could be dangerous to put yourself out there on an inflatable bit of rubber. If it is too low it will be easy to bruise your tailbone along the bottom. The creek flow is monitored by the Colorado Division of Water Resources. The creek is measured by cubic feet per second (cfs) and the perfect range for a lazy float is 100-200 cfs. It is going to be a bit more wild at 300-400 (be prepared to flip!) and at 700 or higher it is dangerous and the sheriffs department closes the creek to tubers. Whether or not you see the sheriff there, if the creek is running that fast DON'T go in.
Rent or Buy a Tube. There are many places around Denver and these river locations to rent tubes. In Denver you can rent tubes from Denver Outdoor Adventure Company (starting at $15 a day) or you can make the investment of around $20-$40 and get your own. Many tubers suggest getting or adapting one to have an enclosed bottoms which will keep you from scraping uncomfortably along the bottom and will make for a better ride.
Plan How You are Going to Get back To Your Car.  Everything is more fun with friends, so gather a few together, have at least two cars and plan your route. Leave the Pick Up Car at the end of the route with water, towels, dry clothes and snacks. Carpool to the Hop In spot and off you go!
If you have to float down the river with your keys make sure to secure them before wading in the river. If you don't have zippered pockets then put the keys in a waterproof bag and pin them to the inside of your clothes. Anything that is not secure could be taken by the river. Having friends has another bonus, clinging together can help keep you both navigate through rapids. If you end up flipping you have someone to help recover you and your tube, as well as laugh at you.
Other options for getting back to your car could be locking your bike at the Pick Up spot or after a bit of floating getting out and walking back up to the Hop In point. Only float as far as you are willing to walk! Some of the tube rental companies offer pick up services, so it might be worth renting if you also get transportation up and down the river.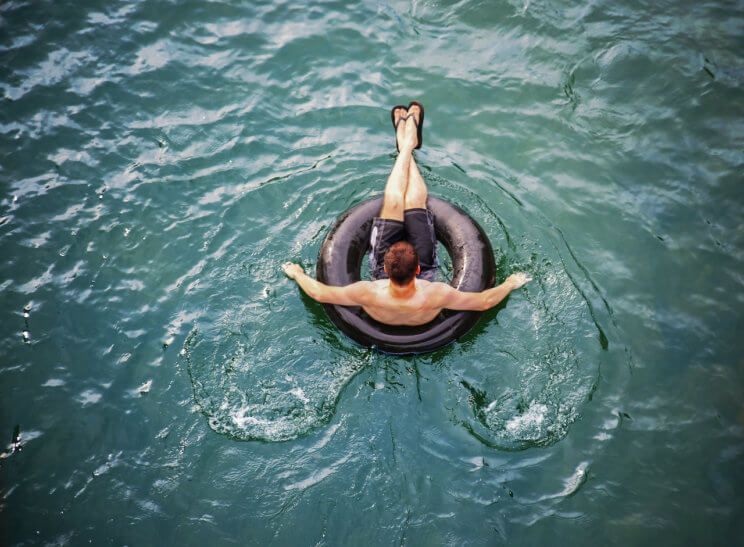 Wear the Right Gear.  Basic gear is water shoes or sandals that strap on. Flip-flops, sunglasses and anything not strapped to your body are in danger of being swept away by the hungry river. If it is early in the season the water is going to be rather chilly so a wetsuit or a few more layers will make it more comfortable. Other gear might include a lifejacket and helmet and these are definitely suggested for younger floaters and anyone who is not comfortable in water.
While on the River… When the water is lower it will go slower, but it also means that you can hit rocks. Lift your bum when you see the rocks coming or have a closed tube to avoid getting scraped up or bruised in awkward places. Most of these routes have short rapids and if any of them look too scary GET OUT OF THE WATER AND WALK AROUND THEM. This is supposed to be a fun activity, not a "this is how I almost died" story. Don't drink the water; even if it is mountain snowmelt you don't know what is up stream.
Psst… Wear sunblock and have a good time!