Denver is known for many things, from our world-class cultural attractions and thriving craft breweries to our close proximity to the soaring Rocky Mountains. However, one of our lesser-known attributes is being an "Antiquing Destination."
People from all around the nation come to our region just for our amazing selection of antique and vintage shops. We even have an entire antiquing district: Denver's Antique Row, which is packed full of antique shops, bookstores, bakeries and more. But because there are so many great places to shop here in the Mile High City, we rounded up just a few of our favorites in the area. On this list, you'll find everything from small shops to massive antique malls—all of which offer a trove of hidden treasures for you to explore. Happy shopping!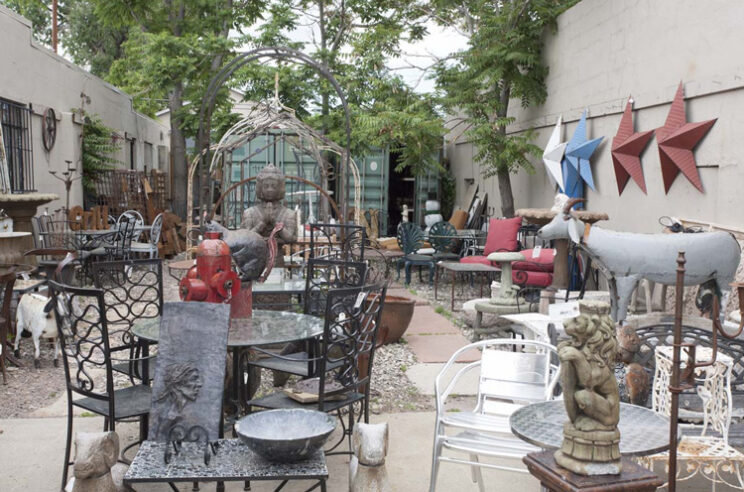 Photo courtesy of Annex Antiques & Interiors
A local favorite, Annex Antiques and Interiors is just one of the many fantastic antique shops located on Antique Row. Inside, you'll find a collection of vendors dealing in vintage/antique furnishings and collectibles from funky to traditional. When you visit, make sure you don't miss their outdoor patio, which houses antique garden furnishings, eclectic wall art and more.
Because it's one of the most eye-catching shops on Antique Row, it's hard to miss the bright blue and red storefront of The Antique Broker. This antiquing destination specializes in Victorian back bars along with other vintage furniture and collectibles. You can preview their inventory here.
5736 East Colfax Avenue, Denver
This iconic Denver antique shop is located right in the heart of East Colfax and features over 10,000 square feet and 50+ dealers showcasing some amazing collections. Offering everything from art and glassware to used furniture and vinyl records, their huge inventory offers the opportunity to design every room and every corner in your home.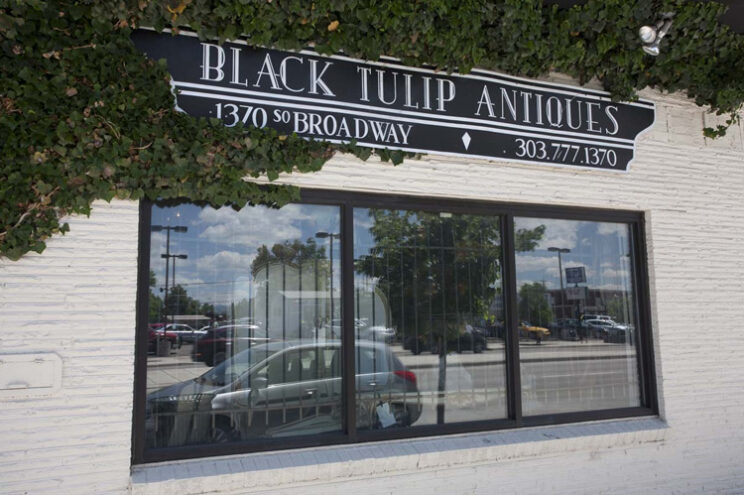 Photo courtesy of Black Tulip Antiques
Black Tulip Antiques' owner Janice Woods has been in the antique business since dinosaurs roamed the earth… at least that's what she says. So if you're looking for a shop with an incredibly friendly and knowledgeable staff, you've come to the right place. Their inventory includes a wide range of European period furniture, accessories, lighting, silver and decorative arts, which you can preview here.
5501 South Broadway, Littleton
The Colorado Antique Gallery is the largest antique mall in Denver and is packed full of historic furniture, vintage jewelry, kitchenware, antique art and collectibles. If you're visiting from out of town and fall in love with a one-of-the-kind piece—no worries! The Colorado Antique Gallery offers shipping, which you can set up when you purchase your item, so you don't have to put it in your carry on.
Located in the heart of Antique Row, Corky's Antiques has over 43 years in the business and has cultivated a spectacular collection of American furniture for you to peruse. You can get a peek of their current offerings on their website, which includes unique pieces like vintage paintings, antique lamps, showstopping furniture pieces and more.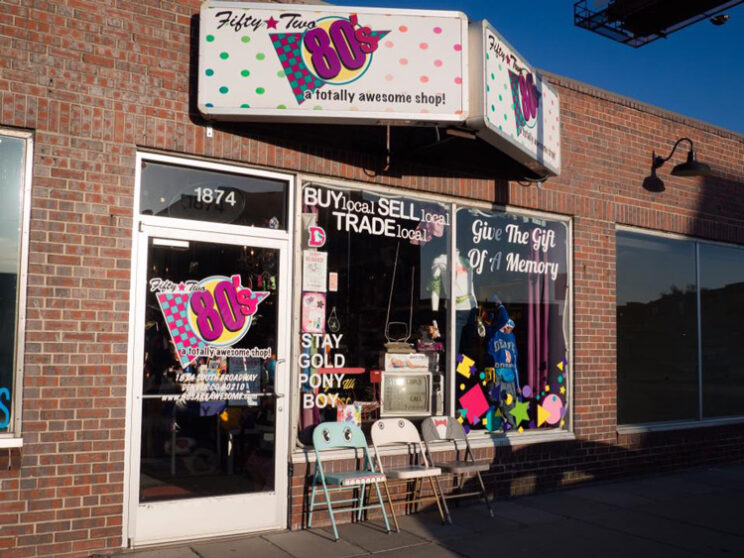 Photo courtesy of Fifty-Two '80s
'80s kids rejoice: you've found your new favorite place to shop! Fifty-Two '80s is an incredible vintage shop filled with pop culture, collectibles, toys and memorabilia from the 1980s, from Atari games to Care Bears and everything in between. They also happen to house the largest vintage Denver Bronco collection, for those who are looking for some historic gear. Check out their totally awesome '80s-themed website to get a look at some of their offerings or if you just want to reminisce on the past—we won't judge.
Located in Denver's Santa Fe Art District, Garage Vintage offers a unique selection of vintage and mid-century modern furniture and decor. Here, you'll find everything from '50s sofas to retro '60s tables and more. Don't feel like venturing out into the real world? They post all of their stock on Craigslist so you can shop from the comfort of your own home.
For those on the hunt for high-quality, vintage clothing and jewelry, look no further than Goldmine Vintage on North Broadway! This trendy shop is full of vintage band t-shirts, '70s jumpsuits, massive leather bags and so much more. If you live too far to visit them in person, they ship items out all over the United States every day—all you have to do is direct message them on Instagram to claim an item.
1947 South Havana Street, Aurora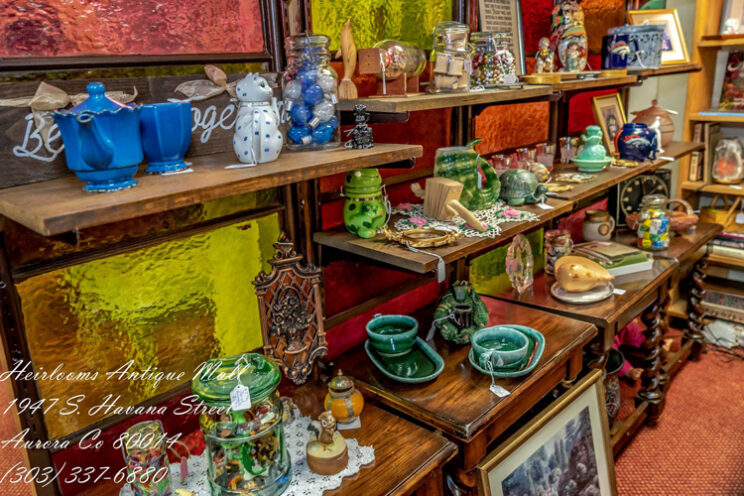 Photo courtesy of Heirlooms Antiques Mall
This massive antique mall features more than 14,000 square feet of unique vintage furniture, decor and other oddities you didn't know you needed. Whether you're in the market for a statement piece for your living room, a vintage toy collector or are looking for a specific piece of china from 1974—you'll have a good chance of finding it here.
One of Denver's favorite boutiques, Meek Vintage offers a perfect mix of vintage and modern goods including housewares, clothing, art, jewelry, candles and personal care products. They often list their new arrivals on their Instagram page, so make sure to follow them to keep up with their current offerings.
Ninni's and Foffa's, named after owner Marie's hardworking grandparents, is an eclectic shop full of upcycled vintage goods that you won't be able to find anywhere else. When you visit this store, don't be surprised to find wall decor embroidered with humorous sayings or chunky jewelry made out of unique stones and upcycled treasures; it's all just part of the charm! They also offer classes so you can learn how to DIY your own decor, like Embroidery 101 and a Terrarium Class. Visit their website to see what courses they have in store for this month.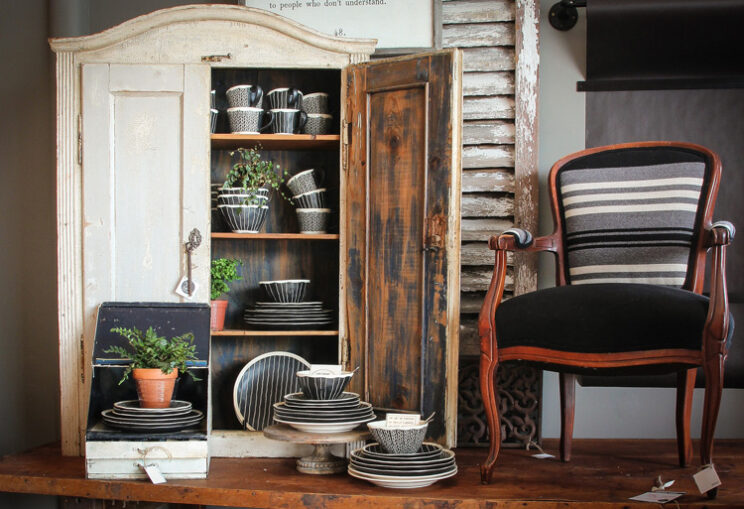 Photo courtesy of Old Glory Antiques
If the HGTV hit, Fixer Upper, is your jam, Old Glory is a glorious find. The 100-year-old South Broadway storefront is brimming with well-loved old pieces and brand new finds. Owner Holly Kuhn grew up in Texas, where her love of Americana took root and has infused that passion into every part of Old Glory and its sister store in Round Top, Texas.
5989 South University Street, Greenwood Village
Located down in Greenwood Village, Patina Antiques & Home is a quaint shop filled to the brim with antiques and uncommon goods. Branding themselves as a "City Farmhouse," the store features a fabulous mix of old and new home decor, glassware, furniture and more. Make sure to follow them on Facebook to keep up with their constantly changing inventory.
Add some character to your wardrobe using some of the eye-catching pieces from this adorable vintage clothing store. Regal Vintage only offers high-quality, professionally selected clothing, so you can be sure you're getting the absolute best. Inside, you'll find a variety of clothing for women, men and children along with matching accessories from the 1890s to the 1990s—and every year in between!
39 East Florida Avenue, Denver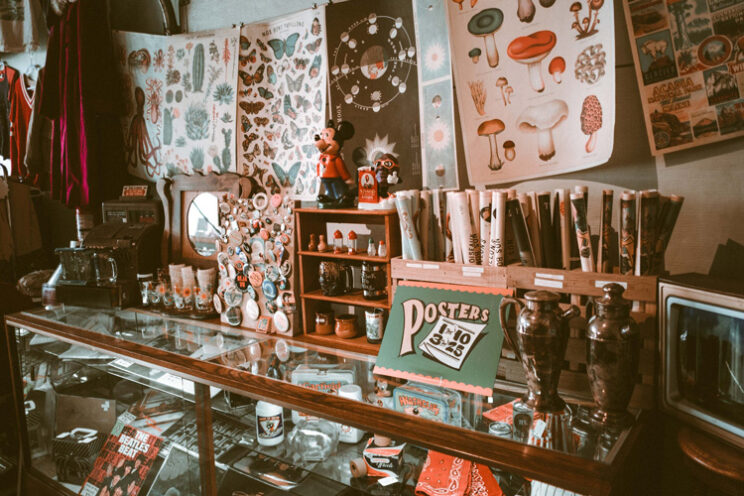 Photo courtesy of Enrique Parrilla via The Ten Penny Store
Yet another fabulous destination on Denver's Antique Row on South Broadway, The Ten Penny Store is a vintage boutique featuring clothing, accessories, music and pretty much anything else you can think of. This adorable shop is owned by local vintage lovers Matt and Kelley Vogel and you can visit them any day of the week except for Mondays.
Located in historic Larimer Square, Victoriana was established in 1977 by one of the leaders in the preservation of American architecture in Denver: Dana Crawford. Over the past 40 years, that shop has moved locations a few times, come under new ownership and has evolved into the gorgeous antiquing destination we know and love today, specializing in estate and antique jewelry, specifically Georgian through the Retro Eras of Fine Jewelry. You can shop their current inventory here.
Do you have a favorite?
We know there are so many more antiquing destinations in Denver that we couldn't fit onto this list. Tell us all about your favorite in the comments!