Winter break is here and that means family, food and free time. Waaaaaay too much free time with the kids indoors. Not to worry!
Here are a fun and free (or almost free!) things to do with the kids while you are counting the days till school starts again. Get out your calendars and schedule time to make memories with your family this winter break.
FREE FAMILY-FRIENDLY THINGS TO DO IN DENVER THIS WINTER BREAK
VISIT MR. CLAUS AND THE NORTH POLE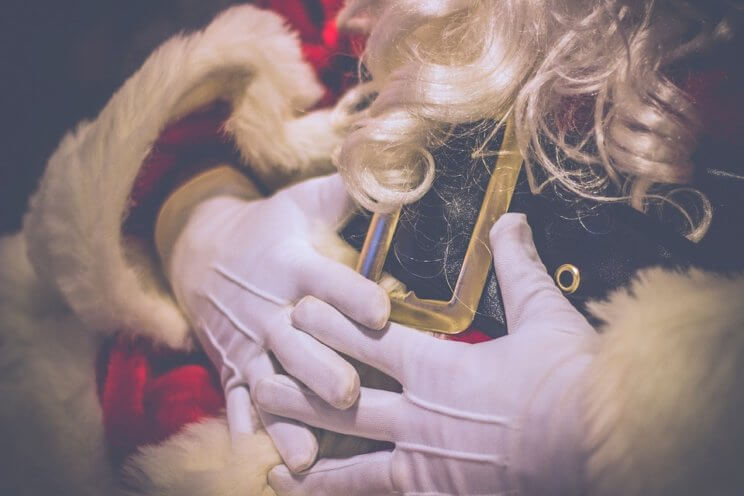 When: Now – December 24, 2017
This is an easy one. Psst… Check out our interactive map to help you find the Jolly Old Elf during the Holidays!
SEE HOLIDAY LIGHTS AT THESE DENVER NEIGHBORHOODS
Build yourself a Holiday Lights Map with help from The Denver Post. Start up the holiday playlist and cruise around Denver enjoying the lights unique displays.
Psst… If you are really proud of your display this year, you can submit your house to be included in the Holiday Lights Map!
ENJOY A CANDY FACTORY TOUR
When: Monday – Friday 9am – 3pm, Saturday 10am – 3pm
Where: Hammond's Candies,  5735 Washington St, Denver, CO 80216
Have a sweet tooth and curious how candy is created? Reserve your spot and take the kids (and adults!) to Hammond's Candies Factory Tour for a free tour and discover how they have created the sweet treats since 1920.
LEARN THE HISTORY OF MONEY
When: 8am, 9:30am, 11am, 12:30pm, 2pm, & 3:30pm
Where: United States Mint, 320 W Colfax Ave, Denver, CO 80204

You don't need to break open the piggy bank to go tour the United States Mint in Denver! Take the free tour and learn about the history of the Mint and how money is made.
Psst… The tour is for children seven and older (no swallowing the pennies!)
HIKE RED ROCKS PARK AND AMPHITHEATRE
Where: 18300 W Alameda Pkwy, Morrison, CO 80465
If there is danger of cabin fever take the kids up to Red Rocks Park and Amphitheatre for a little time running around in the world-famous outdoor theater.
While there is no formal tour, you can take the family and guests up to this beautiful venue to enjoy the view and get some fresh air in a lovely spot in Colorado.
Psst… If there are no shows scheduled, the amphitheatre is open one hour before sunrise and closed one hour after sunset!
TAKE A TEA TOUR
Where: Celestial Seasonings, 4600 Sleepytime Dr, Boulder, CO 80301
If you have ever wondered how Celestial Seasonings makes their lovely tea (or maybe you are wondering now) you can take the Tea Tour and see the factory for free. Discover how they create and mix the tea, design the packaging and enjoy a warm cup when you are finished!
TOUR THE STATE CAPITOL
When: Hourly; Monday – Friday 10am – 3pm
Where: Colorado State Capitol, 200 E Colfax Ave, Denver, CO 80203
Tour the Colorado State Capitol Building!  See the beautiful stained glass windows and majestic dome while learning about early Colorado history. Reservations are not required unless your group is larger than ten people, but make sure to arrive early! Tours are limited to thirty people and they fill up fast.
Psst… While you are there take a selfie on the Mile High Step!
ICE SKATE OUTDOORS
When: Now –February 14, 2018
Where: Skyline Park, 16th St, Denver, CO 80202
View Schedule Online
If you have your own skates you can skate for free at the Downtown Denver Rink at Skyline Park. If you need to rent skates it is $6 for kids under 12 and $8 for the rest of the family. On Sundays, all kids 12 and under can use skates free of charge!
RIDE THE CAROUSEL AT DENVER PAVILIONS
When: Now – January 2, 2018
Where: Denver Pavilions, 500 16th St, Denver, CO 80202
Time: 11am – 9pm
Ride the Carousel at the Denver Pavilions. Hop on the horse of your choice for $3 or for free with a voucher from any Denver Pavilions merchant.
VISIT OLDE GOLDEN CHRISTMAS
When: Now – December 30, 2017
Where: 1010 Washington Ave, Golden, CO 80401
Make classic holiday memories at Olde Golden Christmas with sleigh rides, parades and a mailbox for letters to Santa this a beautiful stop to get in the holiday spirit.
VISIT DOWNTOWN DENVER IN THE EARLY EVENING
Where: Civic Center Park, 101 14th Avenue, Denver, CO 80204
Starting at Civic Center Park see the light display that has illuminated Denver since 1935,  on the City and County Building then hop the free shuttle on the 16th Street Mall and cruise down to Union Station and see the magnificent display of lights and tree inside.
FREE ADMISSION FOR KIDS AT THE DENVER ART MUSEUM
When: Tuesday – Thursday 10am – 5pm, Friday 10am – 8pm, Saturday & Sunday 10am – 5pm
Where: Denver Art Museum, 100 W 14th Ave Pkwy, Denver, CO 80204
Kids ages 18 and younger get in free to the Denver Art Museum! Overflowing with activities for children to interact with including hands-on activities and a Fun Things for Families to Do Today this is a great place to go and explore during a free afternoon.
GO SEE THE FENCE
Where: 600 Market Street, Denver, CO 80202
The Fence is an eight-hundred and fifty-foot traveling exhibition of beautiful photographs. Walk the length and find inspiration for your next snapshot.
VISIT EXHIBITS AT THE DENVER LIBRARY
Where: Central Library, 10 W 14th Ave Pkwy, Denver, CO 80204
Discover the exhibits at the Denver Library including Buffalo Bill In Time Novels and Comic Books and Keep a Light in Your Window: "Daddy" Bruce Randolph Exhibit  at the Central Library while getting out books for winter break!
HOLIDAY SHOPPING AT DENVER CHRISTKINDL MARKET
When: Now – December 23, 2017; Sunday – Thursday 11am – 7pm; Friday & Saturday 11am – 9pm
Where: Skyline Park, 16th St, Denver, CO 80202
Catch the final few days of the 17th annual Denver Christkindl Market! This is a great place to get those last minute gifts and feel the festive spirit.
ENJOY A CARRIAGE RIDE
Where: Aspen Grove, 7301 S Santa Fe Dr, Littleton, CO 80120
Enjoy a Sleigh Ride with Santa at Aspen Grove! The kids can cruise around with the Big Man while singing Christmas Carols.
PRACTICE YOGA ON ICE
When: December 23 & 30, 2017, January 6, 2018 at 8am
Where: Skyline Park, 16th St, Denver, CO 80202
Stretch away the winter blues with yoga on ice. Every Saturday there will be Snowga at the Downtown Denver Rink.
Psst… Check out more uniques places to practice yoga with our special guide!
ENJOY A DANCE PARTY
When: December 30, 2017; 10am – 4pm
Where: Central Library, 10 W 14th Ave Pkwy, Denver, CO 80204
The Denver Library knows how to drop it like it is hot at their Dance Party! Fun for the whole family to shake away the cob.
HIKE TO THE FLAGSTAFF STAR
Where: Flagstaff Trail, Boulder, CO 80302
With 365 bulbs and more than 75 years of lighting up the mountain; a night hike to the Flagstaff Star is a sure way to make holiday memories.