Breathe in, breathe out, take a sip of wine. Denver boasts a wonderful craft alcohol industry, fantastic views, and a thriving yoga community – it makes sense that they would all come together throughout the month. Below is a list of places to regularly find unique locations to practice your sun salutations.
11 UNIQUE PLACES TO PRACTICE YOGA IN DENVER
#1

DENVER BOTANIC GARDENS
Cost: $10 – $12
The Denver Botanic Gardens offers Sunrise Vinyasa Yoga at the Gardens, Tuesday and Thursday mornings and Evening Vinyasa Yoga at the Gardens on Wednesdays.
Psst… Keep an eye on their Facebook for other botanical yoga events!
#2

APRÈS YOGA
Cost: $15 per Class or $75 for 5 Classes
Après Yoga is a great place to find yoga and alcohol events. You can find them regularly at locations like Alpine Brewery, Crazy Mountain, and Dry Dock Brewing and now at Devils Head Distillery! They do other special yoga events so check out their website or Facebook to discover and register for their events.
Psst… Après Yoga was also featured in the 'Enjoy these Yoga Classes at Local Denver Breweries' roundup!
#3

BEND AND BLAZE YOGA
Cost: Donation
Fancy a bit of cannabis while you breathe in and out? Bend and Blaze Yoga offers classes incorporating yoga and cannabis throughout the month, as well as other community events.
#4

DENVER INTERNATIONAL AIRPORT
Cost: $15 – $60
Did you forget to do your yoga practice before heading to the airport? Not to worry! Denver International Airport offers Yoga On The Fly in the A Gate Terminal. A mini studio equipped with follow-along videos and yoga mats so you can stretch before or after your flight.
#5

FRIDAY NIGHT YOGA CLUB
Cost: $20 – $25
Friday Night Yoga Club is yoga and a party all in one. Moving to different studios around Denver Friday Night Yoga Club creates events that bring yoga, live music, food, after party and giveaways.
#6

CONTAINER COLLECTIVE YOGA AND BIKES
Cost: $14 Drop-In Classes
Container Collective Yoga and Bikes is the place to get your bike and body stretched and serviced. They also sell bikes and do yoga teacher trainings.
#7

WANDER YOGA
Cost: $10 – $20
Wander Yoga was created with the idea that yoga could be practiced anywhere available in the community. They are regularly practicing at The Infinite Monkey Theorem (while enjoying the wine), The Corner Beet (an organic neighborhood juicry and vegetarian café) and Joyride Brewing (includes a beer)!
Keep close tabs on their Facebook to find out where you could be practicing and drinking next!
#8

MERCURY CAFE
Cost: Donation
Mercury Cafe is the place to go for dancing of all types, poetry readings, and Community Yoga on Saturdays at 10am! Go for yoga and discover other wonderful events you don't want to miss.
#9

DOWNTOWN AQUARIUM DENVER
Cost: $10
The Downtown Aquarium offers Yoga Under the Sea (yoga class among the aquarium tanks) a few times a year. Keep an eye on their Facebook events to get a chance to see a puffer fish from a down-dog pose.
#10

DENVER ANIMAL SHELTER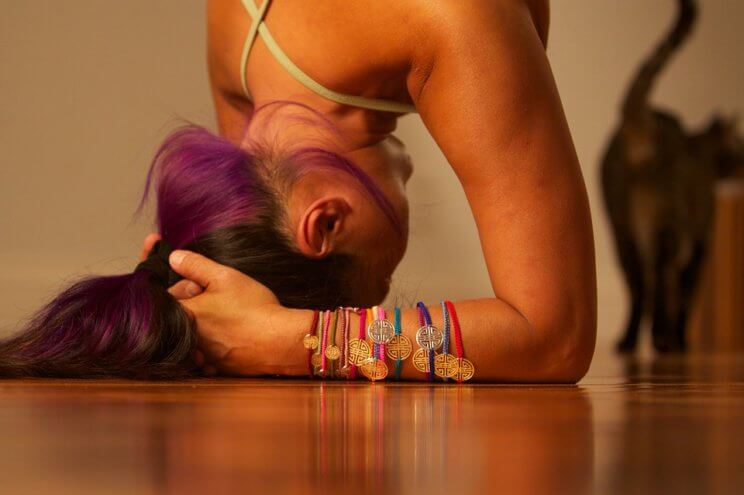 Cost: Free
The Denver Animal Shelter hosts YogAdoptables throughout the year. It is an an evening of yoga with adoptable fuzzy buddies! Like their Facebook to get updates about getting your cat-pose on with the cats.
#11

YOGA ROCKS THE PARK
Cost: Varies
Yoga Rocks the Park is a summertime yoga experience that happens in Denver. It includes live music, guided meditation and a Kids Camp. Keep an eye on their Facebook for upcoming events!