Well, another year has come and gone, which means many of us are (once again) tackling a list of New Year's resolutions. Frequently, these resolutions come with a promise to veer toward more healthy foods, but unfortunately, Denver is home to so many delicious restaurants, it can be tough to ward off temptation.
And we're sorry to tell you this, but we're about to make keeping your resolution so much harder by outlining some of our favorite decadent dishes from all around the city. From brunch staples to lunch favorites and drink specials, these Denver area dishes are 100% worth breaking your diet for. Because whether you're hungry for something sweet or savory, crispy or doughy, sometimes cravings just can't be helped. That's what cheat days are for!
Have a specific craving? Jump ahead!
Breakfast | Lunch + Dinner | Dessert | Drinks
Breakfast
Breakfast Corn Dogs from The District
The District is a modern marketplace restaurant that combines four different concepts into one—Sauced Smokehouse, Salad on 17, Eatery Uptown and Big Truck Ice Cream. With all that deliciousness, there's definitely a few things on this menu that make us want to break our diet. But one of our favorites is the Breakfast Corn Dog. Two breakfast sausages flash-fried in cornbread batter with a side of dipping syrup? Yes, please!
The Cherries Jubilee Pancakes from Snooze
Snooze is one of the Denver area's most iconic brunch spots and it isn't a surprise as to why. They offer fresh ingredients served in unexpected ways like the Cherries Jubilee Pancakes that landed them on this list! Chocolate chips, vanilla creme, dark-cherry bourbon compote, and cookies and creme mousse make this breakfast seem like dessert—and it's so worth it.
The Deep South Benedict from Sassafras
View this post on Instagram
Wildberry Milkshakes, BBQ Mac, and Biscuits and Gravies—there are plenty of dishes at the popular Sassafras that we recommend you break your diet for. But if we had to choose our top favorite calorie-filled dish, it would have to be the Deep South Benedict. Toasted jalapeño cornbread, pulled pork, collard greens, house-pickled pepper jam, poached eggs, and classic hollandaise make up this oh-so-good Southern-style dish.
The "Momma's Big Fat" Omelet from Sam's No. 3
Six eggs with ham, bacon, sausage, gyro meat, onion, bell pepper, tomato, mushroom, four types of cheese, and Kickin' Pork Green Chili make up the aptly named "Momma's Big Fat" Omelet from Sam's No. 3. Will the massive size deter us from eating the whole thing? Absolutely not.
Two words: bacon flight. And no, we're not talking about making pigs fly. We're talking about the incredible bacon flight appetizer at Bacon Social House in the beautiful Sunnyside neighborhood! It features six different types of bacon including applewood, bbq, candied, habanero, and paleo, along with a weekly rotating flavor.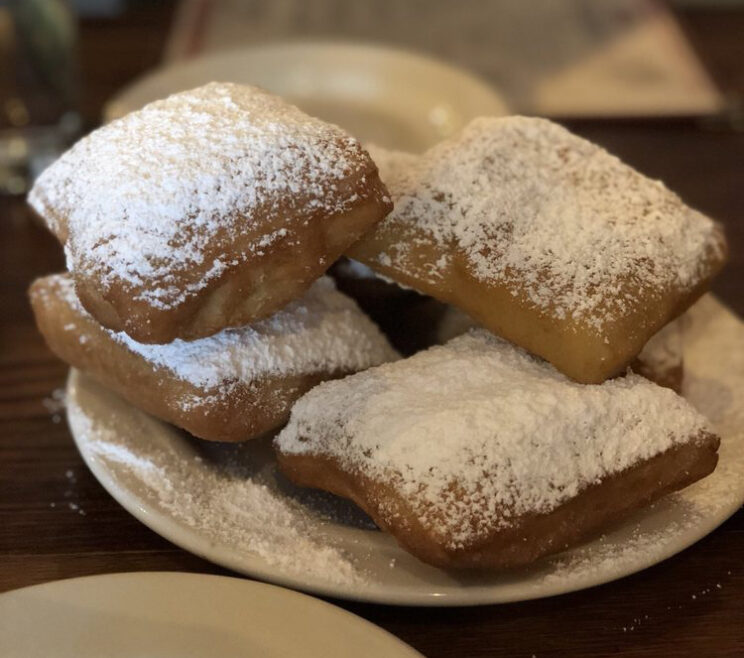 Photo from Lucile's on Yelp
The beignets at Lucile's are so good that they are offered both as an appetizer and a dessert. These fluffy, pillowy confections are served hot and topped with powdered sugar. Want to "healthify" your meal a little bit? Order a half a grapefruit or a fresh fruit platter to go with your donuts.
The Chicken & Waffles from Steuben's
Sure, Steuben's offers plenty of "healthier" dishes for you to choose from when you're on a diet like their Avocado Goddess Toast, the Greek Hash, and Huevos Rancheros. But we can't resist Steuben's Chicken and Waffles—featuring fried chicken, a fluffy Belgian waffle and chicken gravy—and you shouldn't either.
It's no secret that we're big fans of Denver Biscuit Co. And who isn't? Featuring biscuits covered in everything from honey butter to fried eggs and collard greens, this Denver staple is a must when looking for places to indulge in a delicious meal. Our go-to "unhealthy" dish is The Franklin: buttermilk fried chicken, bacon and cheddar cheese smothered in housemade sausage gravy (or vegetarian mushroom gravy).
Psst… if you really want to go all out, order one of their giant biscuit cinnamon rolls or ask for your favorite biscuit sandwich to be built on Biscuit French Toast.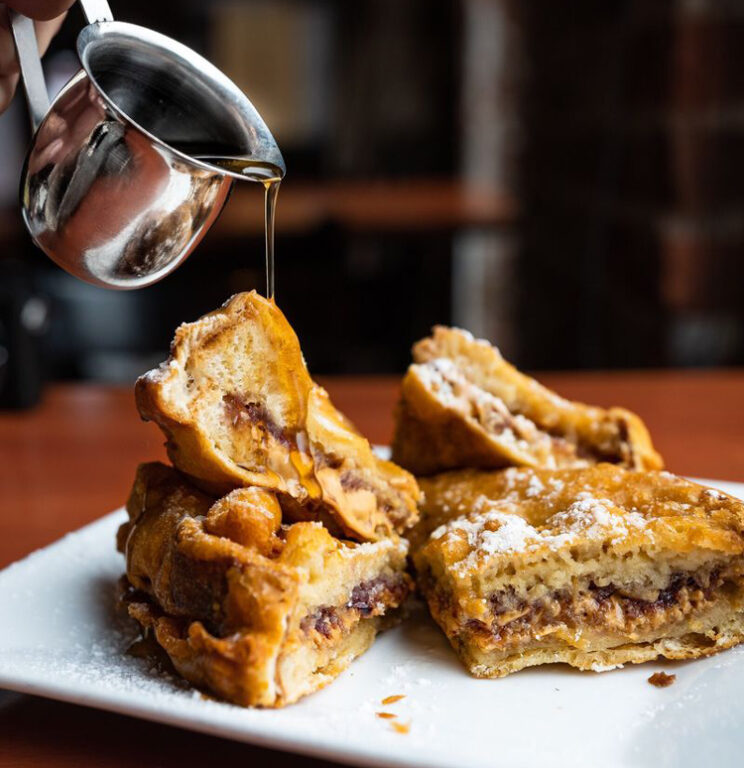 Photo courtesy of Max's Wine Dive on Yelp
A peanut butter and grape jelly sandwich fried in funnel cake batter and topped with powdered sugar and maple syrup is one of the most decadent things we can think of. Naturally, it's 100% worth the calories. Get it during brunch at Max's Wine Dive along with a sparkling mimosa.
Lunch + Dinner
The Luther Burger from Crave
Crave is known for their adventurous burgers. Here, you'll not only find the Green Monster, which features mac and cheese and green chili, but you can also order the Nutty Professor, which is slathered in peanut butter and topped with bacon, jalapeños and onion. Our personal favorite is the Luther Burger that features a beef burger topped with bacon, cheddar, an egg and onions sandwiched between two glazed donuts as the bun.
It's not often that we hear the words "hot dog" and "gourmet" in the same sentence, but Biker Jims makes them go together perfectly. They offer 15 different gourmet sausages, ranging from wild boar and Alaskan reindeer to pheasant cordon blue and an award-winning vegan dog. Any of the dogs should be able to satisfy your craving, but if you're looking for suggestions we recommend going with the Ostrich Dog with a side of Fried Mac 'n Cheese.
A Mountain Pie from Beau Jo's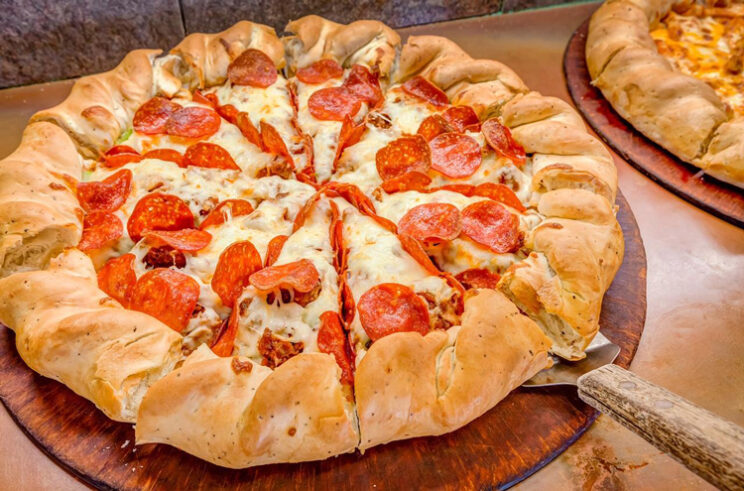 Photo courtesy of Beau Jo's
If you're new to Colorado, you probably didn't know we have our own style of pizza! Yes, the Colorado-style pie or "Mountain Pie" is a real thing and it's absolutely delicious. It's a mountainous thick-crust pizza that features a honey-sweetened crust and is topped with tons of cheese and other toppings of your choice. Visit Beau Jo's—where this Colorado staple originated—and try their incredible creation for yourself.
Psst… Beau Jo's also features a 14er pizza challenge at their original Idaho Springs location if you feel like testing yourself and one friend. All you have to do is eat an entire 14-pound pizza in under an hour to win $100 and two free Beau Jo's t-shirts. Sounds easy, right? 
The BBQ, Bacon + Fritos® Burger from Cherry Cricket
The great thing about the Cherry Cricket is that your burger is entirely up to you. Completely customizable from the type of patty—options include the traditional beef, ground turkey, chickpea and more—to all of the delicious toppings. One of the most popular pairings is a beef patty topped with cheese, bacon, Fritos® and BBQ sauce.
Some Doritos Nachos from Cochino Taco
Continuing on the corn chip creations path, the Doritos Nachos from Cochino Taco is another classic favorite. The cheesy dish features Doritos topped with seasoned ground beef, pico de gallo, pickled jalapeños and fresh cilantro, all smothered in queso dip. Pair it with one of their Avocado Tostada tacos and caramel churros for the perfect meal.
The Pho-King Challenge at Pho 95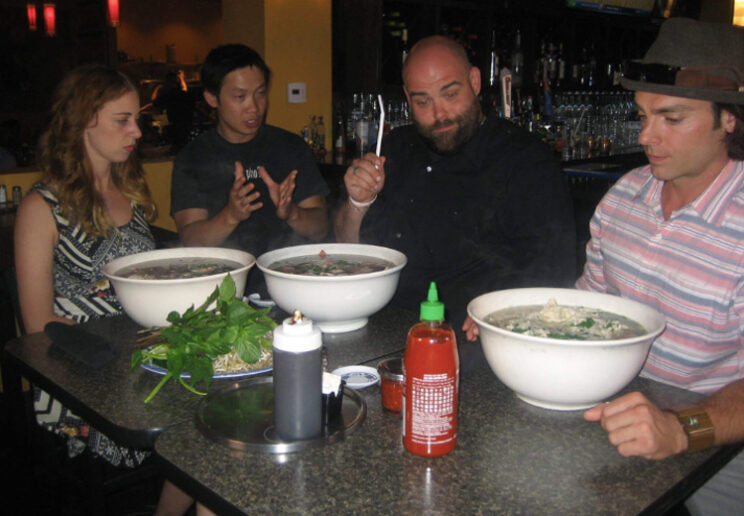 Photo courtesy of Pho-95
While phở isn't traditionally unhealthy, the Pho-King Challenge at Pho may be testing the health boundaries a bit. This challenge consists of a giant bowl of traditional Vietnamese phở soup that must be consumed all in one sitting. And when we say giant, we mean giant—the meal includes two pounds of noodles, two pounds of meat, 200 ounces of broth, and a separate plate of vegetables. If you succeed, you'll win the meal for free, a t-shirt and a picture of your smiling face displayed as the Pho-King winner of the month. Losers get a pink Pho-King loser t-shirt and the bill for $34.99. Do you think you have what it takes?
The Boomer or Duck Poutine from Euclid Hall
If you're a vegetarian looking to get a little crazy, make sure to try the Boomer Poutine from Euclid Hall! This vegetarian and gluten-free dish features fries topped with cheddar cheese curds, Jarlsberg cheese, mushroom gravy, sautéed oyster mushrooms, onions and lemon parsley bread crumbs. And if you're a meat lover, you won't want to miss their iconic Duck Poutine, featuring duck confit and black pepper duck gravy.
The Fried Chicken with a Side of Mac & Cheese from Tupelo Honey
Brined for over 18 hours then cooked to perfection, Tupelo Honey's Famous Fried Chicken is the best reason to break a diet we can think of. Try it honey dusted with their signature "Bee Dust", buffalo-style with bleu cheese crumbles, or sweet and spicy with Sriracha honey sauce and cilantro. And you definitely can't forget the side of creamy mac and cheese to go with it.
The 20+ Minute Chicken Pot Pie from Prohibition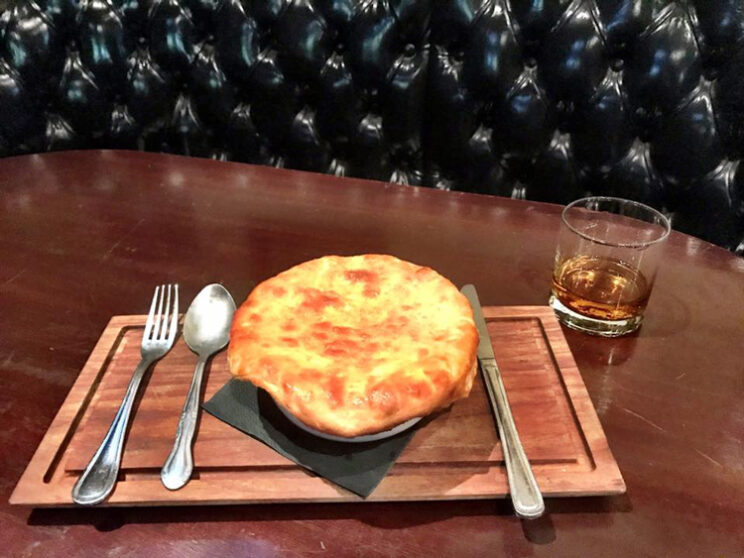 Photo courtesy of Prohibition
You never would have guessed that a Cap Hill bar is home to the best chicken pot pie in Denver—but Prohibition is here to prove all of your assumptions incorrect, and to put a scratch on your diet record while they're at it. Their 20+ Minute Chicken Pot Pie is crispy on the outside, soft on the inside and oh-so-delicious. We can't think of a better dish to enjoy on a cold winter day!
Fire on the Mountain wings are one of our favorite things to eat in Denver, but it's their tantalizing fried pickles that have landed them on this list! Hand-breaded with a side of chipotle mayo, you won't regret getting these as an entree (or a side along with a basket of buffalo wings—we don't judge). And for an extra fifty cents, you can "Cajunize" any item, which is highly encouraged.
The Pappardelle Bolognese from Angelo's
Homemade pappardelle pasta with cream and parmesan cheese—the Pappardelle Bolognese from Angelo's is an actual slice of heaven. No matter what diet, cleanse or detox we're on, we'll never say no to this im-pasta-bly delicious dish.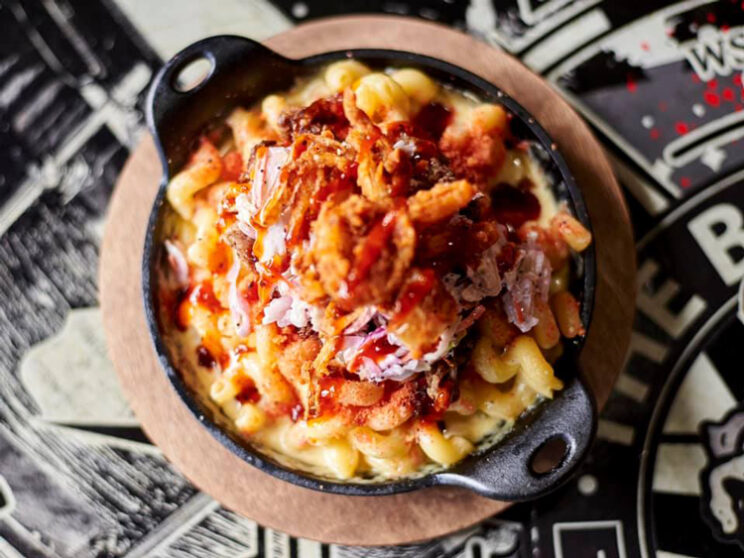 Photo courtesy of The Brutal Poodle
The Hot Box Mac & Cheese from The Brutal Poodle is just as smoky as you'd expect. Complete with cavatappi pasta, a four-cheese sauce, smoked brisket, smokey fried onion straws and house BBQ sauce, this creamy dish is worth a visit to this eclectic bar on its own. But a starter of their "Holla" Pena Lollipoppas and a Mastadon Julio Margarita to go with it wouldn't hurt anyone.
The view from The View House alone is one of our favorite things about this spot—featuring an incredible sight of the Rockies right from your table. But if you're looking to go off your diet for a meal, make sure to start it off with the Pigs in a Blanket appetizer. Beef franks wrapped in puff pastry with a side of honey mustard and chile queso as dipping sauces are just as delicious as you'd expect.
Dessert
While we love tacos in just about any size, shape or form—the Ice Cream Tacos from Nuggs Ice Cream are on a whole other level! This sweet treat has taken Denver by storm and features a warm waffle cone taco shell full to the brim with Nuggs' signature, all-natural ice cream.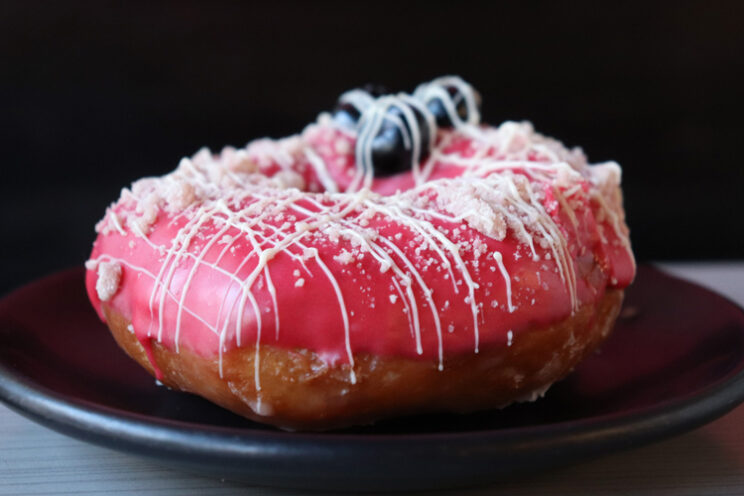 Photo courtesy of Habit Doughnut Dispensary
A bakery and dispensary combo is the most Denver thing we can think of. Our favorite of their daily donuts is the "Feed My Habit," covered in raspberry glaze, streusel, white chocolate and blueberries. And if you're looking to have the true Habit experience, make sure to add a shot of whiskey to your coffee or grab a CBD Cold Brew for a cooler beverage with a twist.
The Thai Ice Cream Sandwich from Melted
Located in The Source, Melted is an inventive soft serve ice cream spot serving up interesting and unique creations daily. Their Thai Ice Cream Sandwich (a Reunion Bread Co.'s milk bread roll topped with three scoops of soft serve, sweetened condensed milk, and toppings of your choice) is worth visiting The Source on its own. But it's also a great sweet treat to enjoy after indulging in a meal at Acorn, which is owned by the same food masterminds.
A Cake and Shake from D Bar
When giving in to our cravings, we like to keep things simple. And D Bar knows how to do just that. Their Cake and Shake dessert special is exactly what it sounds like—a three-layer chocolate cake topped with Madagascar chocolate frosting and paired with your choice of vanilla, chocolate or raspberry shake/malt.
A Pop-Tart Ice Cream Sandwich from Ice Cream Riot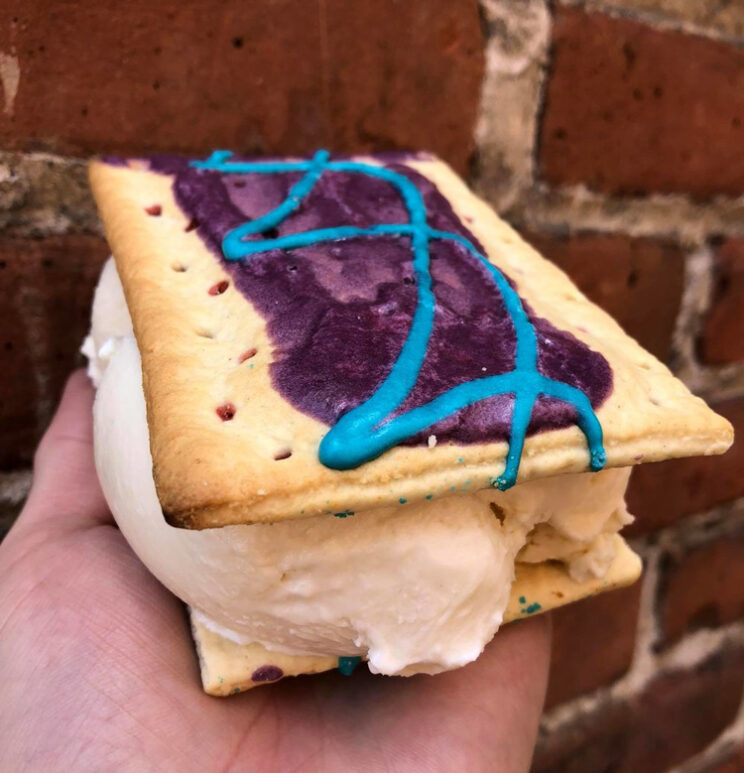 Photo courtesy of Ice Cream Riot
Pop-Tarts aren't just a breakfast staple anymore! Ice Cream Riot has turned them into a tried and true dessert delicacy and we're never going back to putting them in the toaster again. And the best part? You get to create your own! Choose two Pop-Tarts and two scoops of ice cream and then revel in your creation in their adorable cafe in Capitol Hill.
This adorable creperie with locations in Cherry Creek North, Writers Square and Highland is known for—you guessed it—their delicious and simple crepes full of sweet and savory ingredients. If you're looking for a more traditional crepe, might we suggest the Strawberry and Nutella selection? Or if you want to branch out and get something a little bit more unique, don't miss the Borneo Crepe, which is a crepe crisped into a bowl with vanilla and chocolate ice cream, strawberries, bananas and your choice of sauce.
Drinks
The Cereal Milk White Russian Bar at The Nickel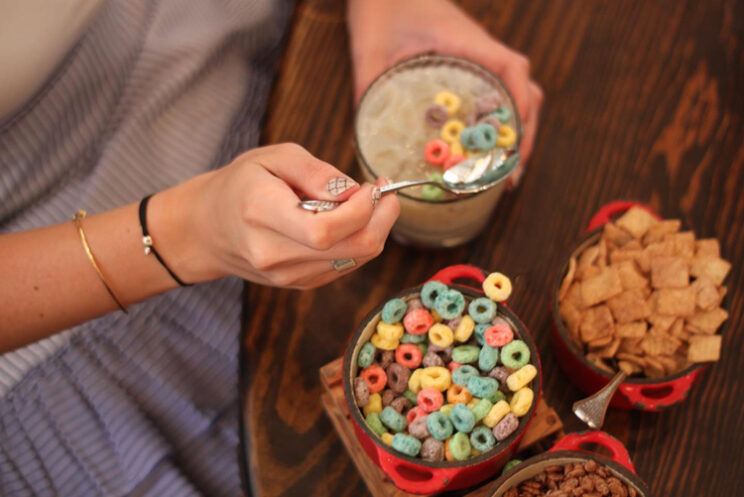 Photo courtesy of Nickel
Weekend brunch at The Nickel is always a treat and offers plenty of opportunities for you to break up with your diet. But it's all of their incredible bottomless booze offerings that really get us excited! Not only do they offer a Charcuterie Bloody Mary Bar and a Bottomless Mimosa special, but you can also build your own White Russian at their White Russian Bar—complete with a variety of cereal and cereal milks.
A Boozy Shake from Milkbox
Mixing booze and ice cream is all the rage these days, but we think Denver's Milkbox Ice Creamery brings it to a whole new level with their amazing Boozy Shakes. Choose from a selection of their favorites like The 1881 (butterscotch and bourbon) and The Burning Clocktower (chocolate orange and tequila), or build your own with a vast selection of ice cream and spirits.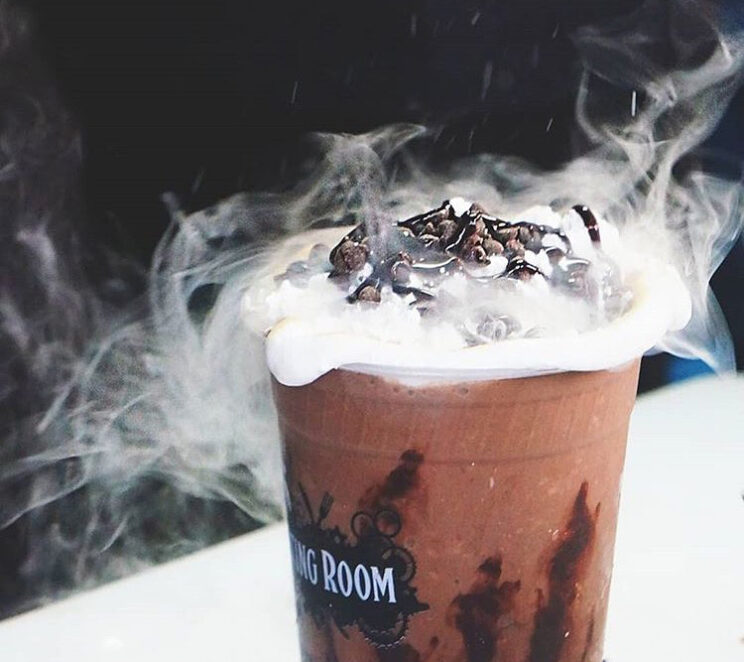 Photo courtesy of The Inventing Room Dessert Shop
Yes, you read that correctly. "Exploding Whipped Cream" is The Inventing Room Dessert Shop's nitrogen-frozen whipped cream that produces billowing "smoke". We love it on top of their Frozen Mocha for a coffee-twist, but it can be enjoyed on any of the interesting creations The Inventing Room whips up—like nitrogen-frozen milkshakes, sundaes and rootbeer floats.
Psst… The Inventing Room Dessert Shop's hours vary depending on the season. This winter, they're open Friday-Sunday from 7 a.m.-1 p.m., but make sure to check back as it gets warmer to see when they'll be open! 
Good luck!
Where is your favorite place to indulge in the Denver area? Let us know in the comments!
Psst… after you've dug into one of these calorie-filled dishes, there's no better way to burn them off than by trying one of these unique workouts in Denver!