Breakfast is the most important meal of the day – any time of the day. Have it in the morning, or have it closer to lunch and call it brunch. Have it in the evening and call it "brinner"!  Take your friends, family, or your inner child, and make memories around these Denver spots that sell the best childhood breakfast food, all dressed up for the grownups.
DENVER SPOTS TO EAT FAVORITE CHILDHOOD BREAKFAST FOOD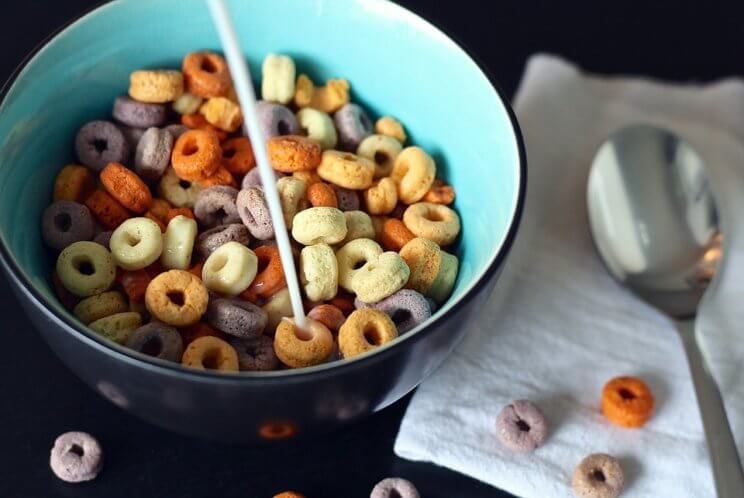 TOAST @ THE CORNER BEET
The Corner Beet has 100% organic produce and house-made options, which may sound like a very adult choice for breakfast, but it also has a whole half of its menu devoted to toast! Choose the childhood favorites of Churro (butter, cinnamon and sugar) or Jane (butter and house-made jam), or go hipster and get the Avocado (avocado drizzled with honey, black and red pepper) or pile that toast high with ingredients you wouldn't have at home like West (goat-cheese and jam) or Banh Mi (tamari-glazed tofu, vegan mayo, pickled deacon, carrot, fresh jalapeño and cilantro.
Psst… gluten-free options available! 
Dig in at 1401 N Ogden St, Denver, CO 80218
#2 COLD CEREAL @  THE CEREAL BOX INC
The Cereal Box Inc is technically in Arvada it was the inspiration for this blog. A whole freaking store of all the cereal your mother would NEVER let you get, and you can get as many bowls as you want! This shop boasts over 120 cereals that vary from the classic sugary cereals, to natural/organic, to British and Global Cereals (like Oreo O's from South Korea).
The Build-Your-Own Bowl option choose between size (kid, regular, large), pick your cereal or cereals (you can mix as many as you want!) top it with treats, pour on milk and enjoy! The milk of course comes in every option from cow, nut, plant and flavored (strawberry milk on cereal anyone?) and the toppings range from candy to cookies and even ice cream! If you don't want the pressure of building a masterpiece their menu has suggestions like The Nutty Professor (Reese's Puffs, Chocolate Peanut Butter Cheerios, whipped cream, Reese's Pieces, chocolate syrup, chocolate milk) or Unicorn Poop (Lucky Charms, Trix, Froot Loops, rainbow marshmallows, whipped cream, rainbow sprinkles, strawberry milk).
Psst… The bowls are only the beginning, there are Cereal Milkshakes, cereal and coffee options, Pop Tart Ice-cream Sandwiches and more. 
Dig in at 5709 Olde Wadsworth Blvd, Arvada, CO 80002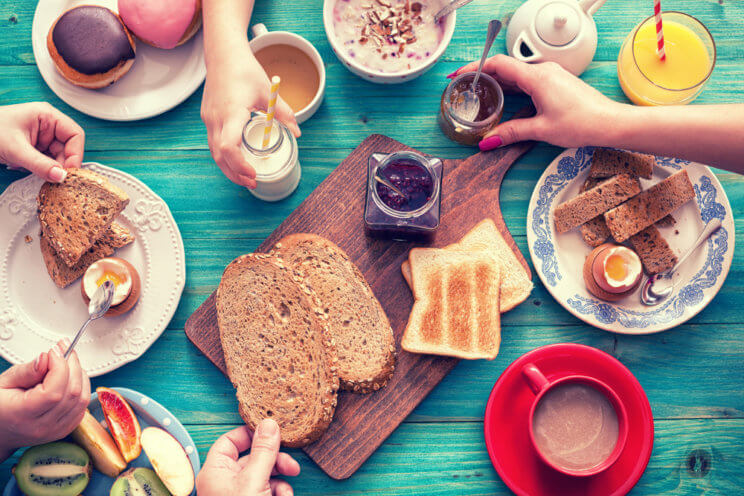 BACON AND PANCAKES @ BACON SOCIAL HOUSE
Bacon Social House seems like a pretty obvious choice for getting your favorite meat candy. This place does not disappoint and offers a Bacon Flight of six slices or try the Baller Bacon (candied bacon with a kick). But I would be remiss to not mention the pancakes like Bacon+Chocolate or Sunshine (lemon-ricotta poppyseed pancakes, fresh berries, mascarpone whip). They have Chicken and Waffles, Biscuits and Gravy, and Boozy French Toast. This is all on their Brunch menu and on weekdays it lasts till 3:30- 4:00, but on Sunday it lasts all day and night!
Dig in at 2434 W 44th Ave, Denver, CO 80211
DONUTS @ VOODOO DONUT MILE HIGH
Voodoo Donut Mile High has earned the Denver love as a doughnut shop that is open 24/7 and closed only four days a year. Locals warn that there is often a line in the morning for the fresh doughnuts. They have classic glazed and chocolate, and then go wild from there with frosting, Oreo cookies, grape dust and lavender sprinkles, bacon maple, bubble gum dust and so much more. They have cake doughnuts with sprinkles, M&M's, frosting and so many creative flavors. If you are, or have a vegan friend, this is a great place to bond because their vegan options are just as amazing – but they go fast! ….. You can take these through security at the airport (a common question on google) but the main thing to keep in mind is that this store is Cash Only, so shake out your piggy bank and get in line for amazing fried dough!
Dig in at 520 E Colfax Ave, Denver, CO 80218
Psst… for more of the sweet breakfast treats in Denver check out the blog 9 Best Denver Bakeries for Fresh Pastries, Breads & Cakes!