Dating in Denver can lead to a lot of craft beer flights and culinary expeditions. And while we definitely don't think that's a bad thing, breweries, bars and restaurants are not your only romantic option in the city.
If you're looking for something outside the box, you've come to the right place. Keep reading to learn more about roller disco, candle making, factory tours and so much more.
20 Denver Date Ideas That Don't Involve Going to a Restaurant
Every month, the EXDO Event Center turns into an old-school roller disco. Skate rentals, mind-blowing sound and lights, and sippy cup drinks make it a can't-miss party for anyone 21 years and older. Doors open at 9 p.m. and admission is free if you get there before 10 p.m. To buy your $5 tickets online and find out when the next event is, click here.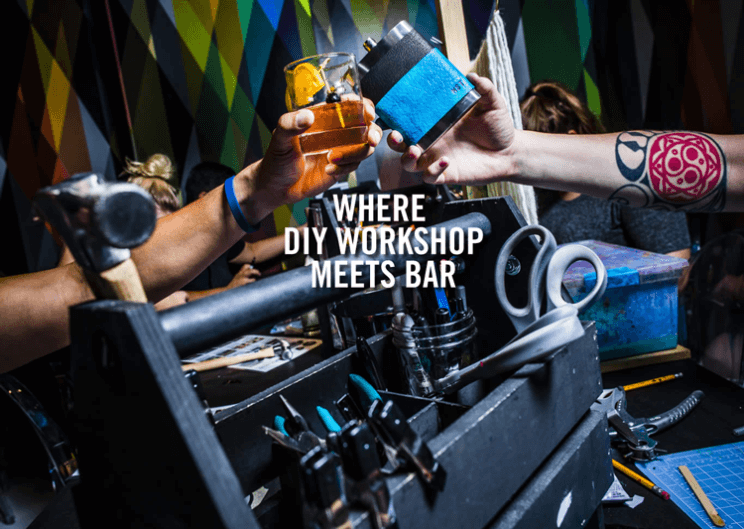 Photo courtesy of Upstairs Circus
Upstairs Circus combines a DIY workshop with a craft cocktail bar. At their Denver Tech Center and LoDo locations, you're invited to make crafts in leatherworking, woodworking, jewelry making and design DIY projects while sipping a cocktail, a craft beer or a glass of wine—supplies, tutorials and assistance included!
A crag is a cliff or a group of cliffs suitable for climbing, and Übergrippen is Denver's indoor climbing crag. At their facility, you can learn in the Übergrippen's School of Rock, climb in The Climbing Hall, climb in the family-friendly Alcove, test your skills on The Boulder Field, take a yoga or fitness class, picnic on The Community Patio and Garden, and more. If you're new to climbing, their team offers auto belay options, belay classes and even guided climbing.
One of the most popular comedy clubs on every comedian's national tour, Comedy Works offers two venues: one in Larimer Square and one further south in Greenwood Village. They host some of the biggest names in comedy alongside undiscovered acts, so you could see Dave Chappelle and a local stand-up in the same week. To see who's on the schedule, click here.
If you want a date night with a side of adrenaline, head to Unser Karting & Events to race go-karts! Between their two locations, you can race indoors or on the rooftop in North Denver and even on an outdoor track in Centennial. In addition to racing, you can enjoy the full-service bar and restaurant or play billiards and ping pong in the game room.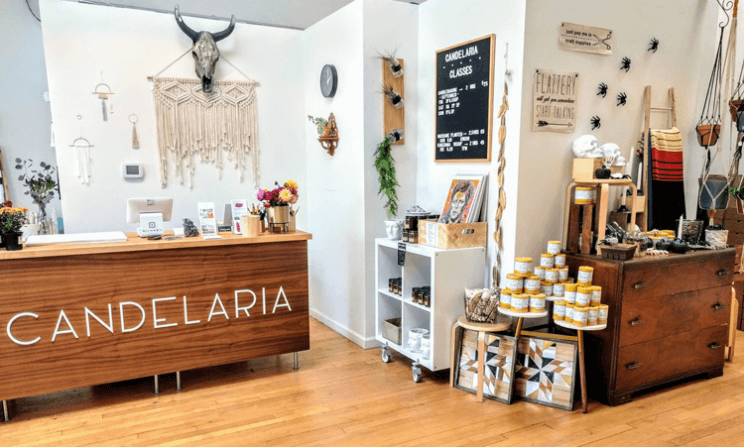 Photo courtesy of Candelaria
Located in Denver's Santa Fe Arts District, Candelaria is a maker's studio, retail space and candle shop selling candles that are made by hand in small batches. In addition to the shopping opportunities, they offer a range of classes including candle making, fluid art, pressed botanical art and more.
The Museum of Contemporary Art Denver offers rotating exhibitions and public education programs that celebrate creativity, experimentation and cultural engagement through the works of regional, national and international artists. Founded in 1996, the museum has grown into one of the city's most impressive art facilities. Need refreshment? Head to the rooftop to grab a drink and take in the view!
Carl T. Hammond, Sr. opened Hammond's Candies in Denver nearly 100 years ago. Since beginning as a small family business, they've grown into an iconic brand distributing all over the globe. Still headquartered right here, you can tour the candy factory during the day Monday through Saturday. For more information and reservations, click here.
Play arcade games at
The 1up
.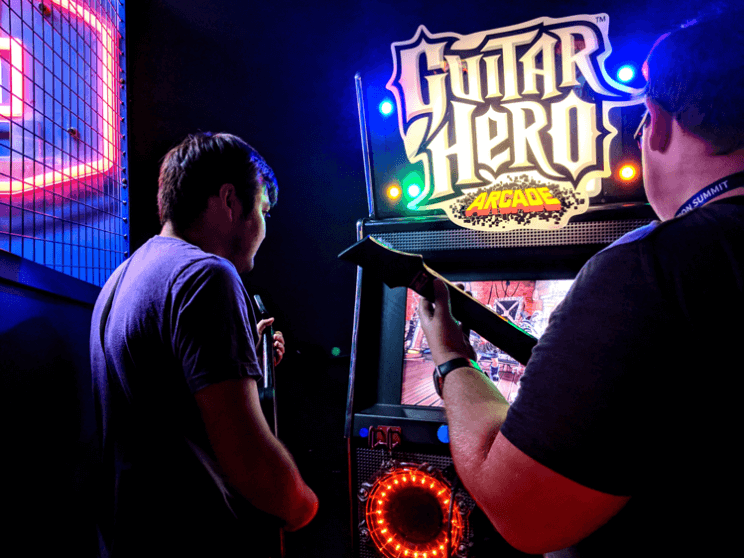 The 1up combines a neighborhood bar with an old-school arcade. With more than 90 classic arcade games, 42 pinball machines, six lanes of classic Skee-Ball and multiple sets of Giant Jenga, the Colfax location is the largest arcade bar in the nation! And they also offer another location in LoDo with an equally impressive arcade lineup.
Grandma's House is a craft brewery inspired by—you guessed it—grandma's house. Inside the small brewery, you'll find a relaxed, nostalgic atmosphere complete with lots of cross-stitching, vintage glasses and cartoon characters, plenty of figurines, and stacks of board games. Their event calendar features weekly and monthly happenings like Foul-Mouthed Cross-Stitch Sunday, Crafty Monday, Bingo and Intro to Knitting. Check out the calendar here.
Originally built in 1930, the Mayan Theatre is nestled in the Baker District. One of the country's three remaining theatres designed in the Art Deco Mayan Revival style, the venue was renovated in 1986 and is now an intimate, three screen palace with an upstairs cafe. Their calendar includes critically acclaimed indie movies, Oscar nominees, throwback screenings and more.
Located a few minutes outside the heart of Denver, Uncorked Kitchen & Wine Bar is the perfect venue to learn something new and cook up a little romance! Their professional chefs guide and work side-by-side with each couple or small group to ensure the meal is a success. Topics range from special holiday occasions to sushi classes and even mixology events; check out their Date Night Classes here.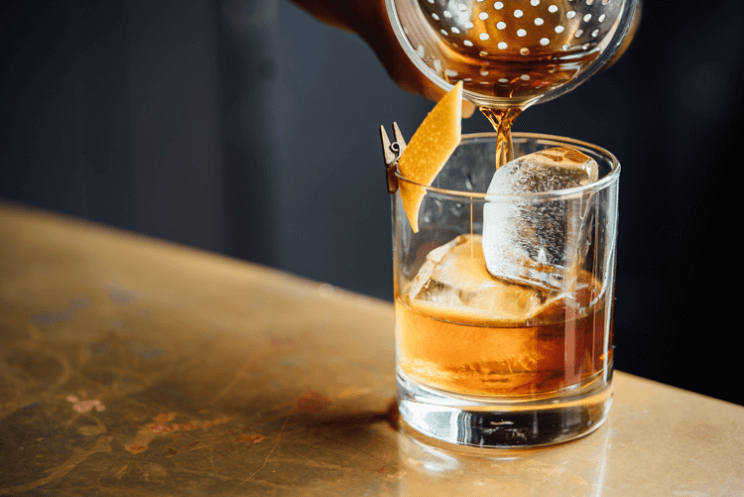 At Stranahan's, single malt whiskey is made by hand using only the finest malted barley, yeast and Rocky Mountain water, and they control every step of the process from barley to bottle. In The Lounge, you can sip special releases and craft cocktails then embark on a tour of the distillery. After you reserve your spots on a tour, you can see the process, the brewhouse, the bottling room and more. And if you really want to surprise your loved one, have a custom engraved whiskey bottle waiting for them in the tasting room at the end of the tour! It does take up to three weeks for engravings, so be sure to plan ahead. To learn more, click here.
The Denver Museum of Nature & Science is the headquarters of science education in the Denver Metro area. In addition to an IMAX theater and a planetarium, their facility offers permanent exhibitions covering geology, wildlife around the world, space exploration, dinosaurs, Egyptian mummies, biology and more. They also host some of the nation's most critically-acclaimed exhibitions covering everything from pirates to Leonardo da Vinci.
Denver Botanic Gardens on York Street covers 24 acres and displays plants grown and curated from all over the world, including distinct gardens highlighting our unique high altitude climate and geography. Our favorite date activity in the gardens? Bring a picnic and a bottle of wine to enjoy your own meal surrounded by flowers!
You've heard of wine and paint classes, but have you heard of weed and paint classes? At Puff Pass & Paint, they're offering the first ever cannabis-friendly, all-inclusive art classes with topics covering writing, painting, pottery, cooking, crafts and even infused skin care.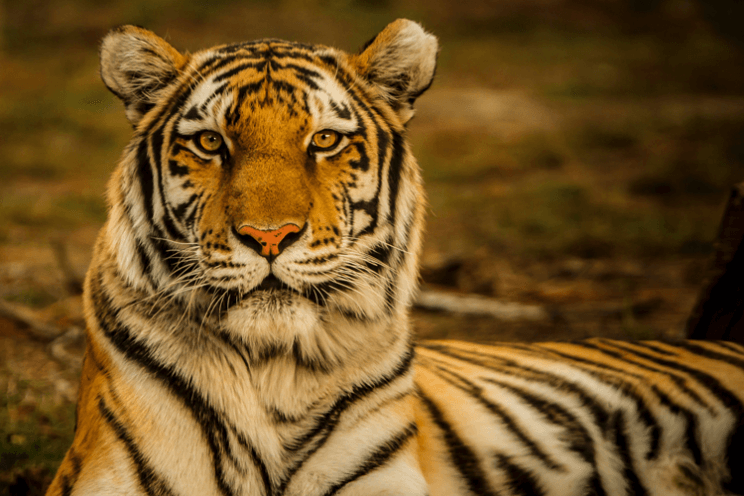 The story of the Denver Zoo begins with one black bear cub living in City Park and continues with the addition of Bear Mountain in 1918 and a revolutionary zoo concept that brought visitors face-to-face with animals living in natural habitats without bars or fences. Today when you visit, you can enjoy that concept and even more modern exhibits like Toyota Elephant Passage, where elephants can cross a bridge above your head and The EDGE which brings you closer than ever to the Zoo's Amur tigers.
Originally opened in 1908 under a different name, Lakeside Amusement Park is Denver's most entertaining landmark. The facility was designed in the Exposition and White City architectural styles and features a picturesque lake, trains, a merry-go-round, a drop tower, bumper cars, spinning rides and so much more.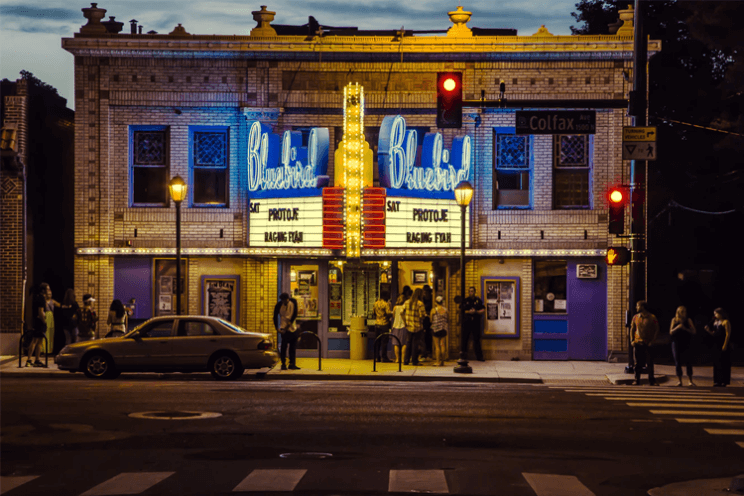 One of Denver's most intimate concert venues, The Bluebird was originally built in 1913 as a movie house. Today, it hosts indie bands, local artists, international names and more. Their tiered, general admission floor offers the perfect setting for every show and you can get drinks at the bar.
At Sweet Action, their team crafts ice cream in small batches and their flavors change daily which means you can try something new every time you visit. And it's all made using ingredients from local purveyors, farmers and bakers (including the dairy!). Stop in to taste creative flavors like Stranahan's Whiskey Brickle (our personal favorite!), Mocha Almond Fudge and Vegan Carrot Cake.
Do you have a date idea?
Share it in the comments below! And if you snap a photo, tag #TheDenverEar to be featured on our Instagram feed.