On March 23, Denverites were in for quite an afternoon. Mayor Hancock ordered all non-essential businesses (which included liquor stores and recreational marijuana dispensaries) to close in an effort to minimize the spread of COVID-19, the novel coronavirus. However, after a mass rush to liquor stores, breweries and dispensaries, the Mayor reversed his order—allowing liquor and marijuana stores to remain open while also following extreme physical distancing rules. 
This whirlwind of an afternoon taught us a few things. One, that our liquor stores, breweries, bars and other liquor bearing restaurants are absolutely essential. And two, that we Denverites sure do love a stiff drink. 
Because of all that—and because we love supporting our local businesses—we've rounded up a few Denver liquor stores, breweries, wineries and distilleries that are currently offering pickup and delivery. Don't see your favorite hotspot on the list? Comment below and we'll make sure to add them!
Psst… need some cocktail mixers to go with your recent purchase? Strongwater, a local company selling delicious cocktail kits and sample sets, will ship right to your home!
Skip ahead to a specific section:
Liquor Stores | Breweries | Wineries + Wine Bars | Distilleries
LIQUOR STORES
A large wine and liquor store offering delivery throughout the Denver area, up to 25 miles from their location. As of now, they are delivering at their sale prices and offering discounts to medical personnel.
One of Denver's favorite liquor stores, Bonnie Brae is open and offering both pickup and delivery throughout the Denver Metro area.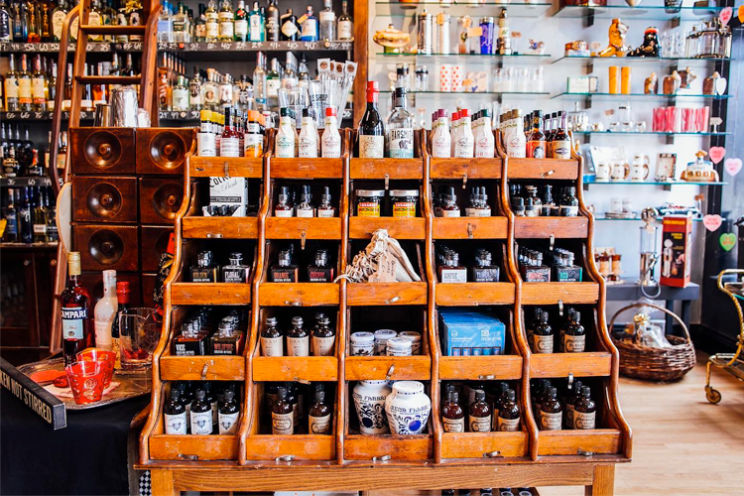 Photo courtesy of Bottle Shop 33
A Wash Park liquor store dedicated to making things simple—Bottle Shop 33 is offering curbside pickup. Simply call ahead to place your order at (303) 722-2129.
Locally owned and operated, Colorado Liquor Mart has been serving the Denver area for more than 16 years. Download their handy app to earn loyalty points and to order in-store pickup.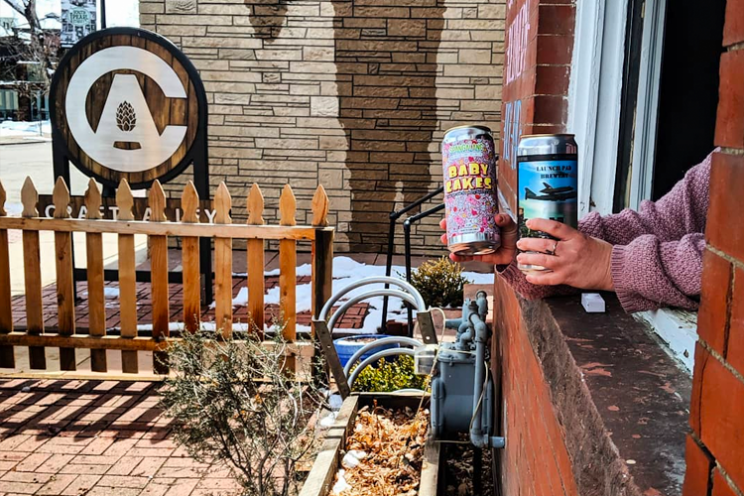 Photo courtesy of Craft Alley
Located on South Pearl Street, this beer and liquor destination offers same-day pickup and delivery on all in-stock items. Plus, if your order is over $40, you'll get free delivery!
Originally opened in 1963, Joy Wine & Spirits is a destination for fine wine, local craft beer, rare spirits and more. Right now they are offering free curbside pickup—you can place your order online.
With three locations in Denver—one downtown, one in Stanley Marketplace and another coming soon to the Golden Triangle—Mr. B's is a Denver destination for beer, wine and spirits. Right now they are offering curbside pickup and delivery through Drizly. 
With more than 3,500 products available for delivery, Pecos Wine and Spirits is a great spot for those living in North Denver. Right now, you can pick up your order curbside or order delivery through Drizly. 
BREWERIES
First opened in 1990 in Breckenridge, BB is a Colorado institution. They are currently offering pickup at all of their locations as well as delivery through Drizly. If you happen to live within the delivery radius of the Farmhouse, you can get beer delivered for free.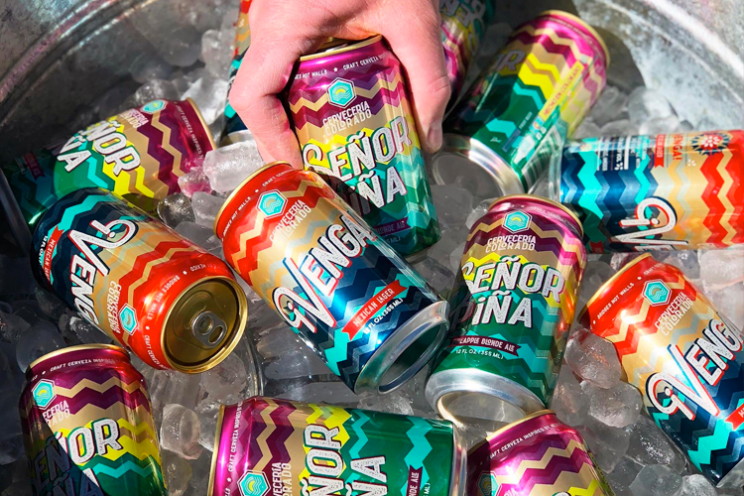 Photo courtesy of Cervecería Colorado
A local brewery and taproom crafting innovative Mexican beer using the traditions, flavors and culture of Mexico. Right now, they are offering to-go sales and delivery through Drizly.
An American-proud brewery celebrating almost six years in the business this April. Because of the public health order, they are now offering beers to-go including growlers and crowlers. Get a free 64 ounce glass for every 64 ounce pour. If you're into hoppy brews, be sure to try the SuperPower IPA!
Diebolt is a family-owned microbrewery offering innovative and unique brews in their taproom all year long. Right now they are open for carry-out only and looking into future delivery options—which you can keep up with by following them on Facebook or Instagram.
A Colorado-focused brewery crafting beer through sustainable and ethical processes. They are continuing to offer to-go sales at their taprooms and delivery through Drizly.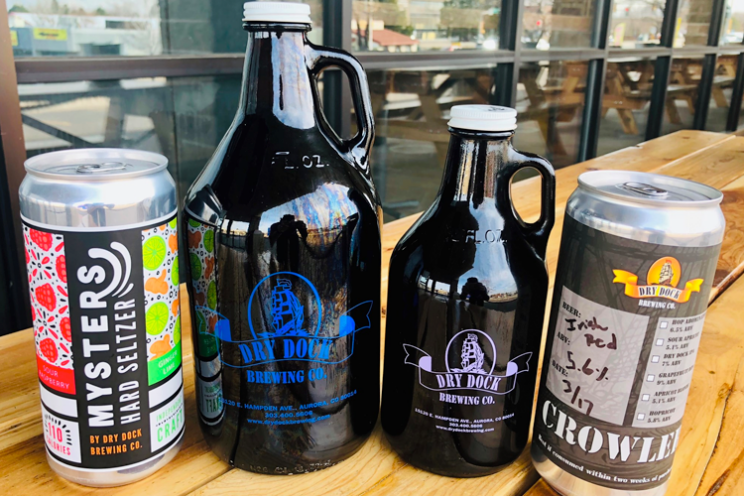 Photo courtesy of Dry Dock Brewing Company
Dry Dock Brewing is an award-winning, nautical-themed brewery with two locations in Aurora. You can pick up a growler, crowler or six pack at their South Dock location. And if you happen to visit on a Monday, you'll get a free beer card with any purchase to use in the future.
Founded in 1994 and located in RiNo, Great Divide Brewing Company is one of the most decorated breweries in America. You can order beer to-go at the Barrel Bar from 4-7 p.m., Monday through Friday.
Located in the heart of downtown Denver (just three blocks from Coors Field!), Jagged Mountain prides themselves on creating adventurous beers. Due to city-wide restrictions, they are only open carry out. You can place your order online before you go.
The "raddest" brewery in Denver, Little Machine is currently open 3-8 p.m. Monday through Friday and 1-8 p.m. Saturday and Sunday for to-go orders only. They will also be partnering with local food trucks who will be able to sell takeout meals.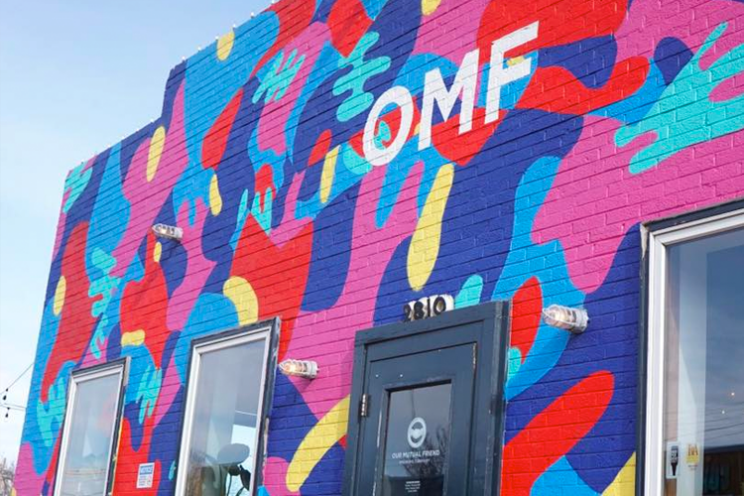 Photo courtesy of Our Mutual Friend Brewing
Located in Denver's RiNo neighborhood, Our Mutual Friend Brewing serves as many 100% Colorado grown beers as possible. At the moment, they are offering to-go beer through their patio window, every afternoon. You can order in person or online here.
Inspired by Colorado culture, Platt Park Brewing serves up delicious, Colorado-style beers and cocktails in their tasting room in Platt Park. They are currently offering beer to-go. You can order online here as well as take out from Gate's Deli. 
A Denver beer-lover favorite, Ratio Beerworks is offering both to-go and delivery throughout the next few weeks. For delivery, they request that you order at least $30 and live within a three mile radius from the brewery.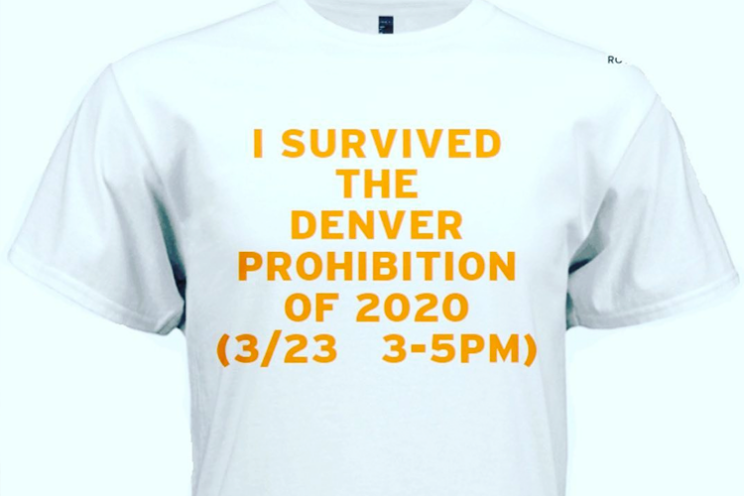 Photo courtesy of Spangalang Brewery
Located in Five Points, this neighborhood brewery offers high quality micro brewed beer in a lively and inviting atmosphere. You can order beer for take out online, over the phone or in person. You can find the full take out menu here. And if you want a keepsake of this experience, they are selling "I Survived the Denver Prohibition of 2020" shirts online.
Wynkoop was Colorado's first brewpub and offers 30+ beers and a food menu that pairs with them perfectly all year long. Get crowlers for $10, growlers for $18 and other beer specials available for curbside pickup.
WINERIES + WINE BARS
A family-owned and operated winery offering award-winning, handcrafted wines. Currently, they are offering pickup, lunch take out orders, delivery and shipping so you can enjoy a glass of Colorado wine no matter where you are!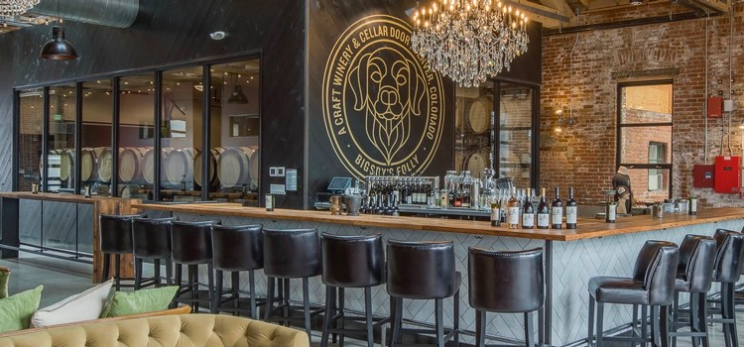 Photo courtesy of Bigsby Folley
A full-production craft winery that pairs the tradition of California's prestigious vineyards with the approachability of Denver's RiNo Art District. The winery is currently open for carry out and curbside pickup and offering 50% offer all wine growler fill-ups. 
One of Denver's favorite urban wineries, Bonacquisti is offering wine pick up by appointment only from 12-5 p.m. You can schedule your appointment here. If you live within the 80211, 20212 or 80221 zip codes—you're eligible for free delivery! If not, you can get wine shipped directly to your home for just a $10 flat rate fee. 
An urban winery with three locations around Colorado, Carboy is our go-to for date night—even if we can't leave the house! Right now, they are open for curbside pickup and take out orders. And if you buy six bottles, you'll get one free! For a special treat, try their Board and Bottle take out special that features a board of your choice and a one liter Carboy fill for just $30. 
Labeled the "best wine bar in the world" by The Moodie Davitt Report, CRÚ is a beloved institution in Denver. Currently, they are offering curbside pick up from 4-9 p.m. with all of their to-go wines 40% off. 
A family-owned craft winery and small plates kitchen, Deep Roots is a Denver eatery that we just can't live without. You can still enjoy their wine during the pandemic by stopping in to pick up a few bottles from 4-8 p.m. Thursday through Saturday. All to-go bottle purchases are 30% off. You can order online using the promo code #wegotthisdenver.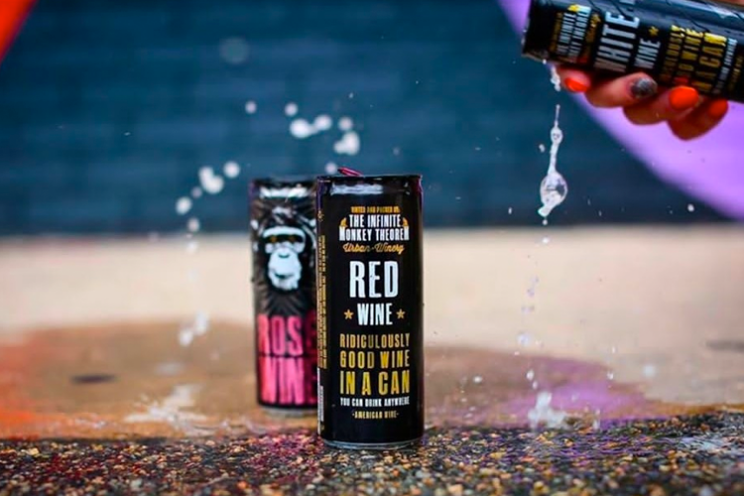 Photo courtesy of Infinite Monkey Theorem
A Denver favorite, this funky urban winery is offering to-go wine from 3-8 p.m. daily. If you go in between the hours of 3-6 p.m., you'll get 20% off your entire order. They've been releasing exclusive weekend specials on their social media, so make sure to follow them there to stay up to date.
DISTILLERIES
A Denver-based distillery built around passion for creating quality spirits and fostering a sense of community. Currently, they are offering curbside pick up. You can call them at (303) 999-0105 or email them at [email protected] to place your order.
Lakewood born and Denver raised, Bear Creek Distillery offers bottled spirits full of handcrafted grains. You can purchase a few bottles at their tasting room 10 a.m.-6 p.m. Monday-Saturday.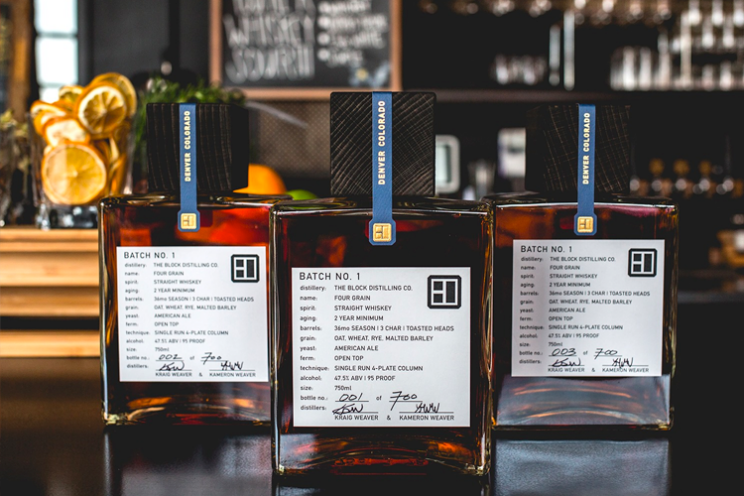 Photo courtesy of Block Distilling Co.
Block Distilling is one of Denver's favorite distilleries crafting award-winning spirits and whiskeys. You can stop by to pick up a few bottles of their iconic liquor from 12-6 p.m. We particularly love their branding and bottle designs, so one of their spirits would make a great addition to your bar cart display!
Located in Denver's Baker neighborhood, the Denver Distillery loves to evoke a feeling of historic Denver within their spirits. As of now, you can stop by from 10 a.m.-4:30 p.m. Monday-Friday to buy some spirits. Plus, with every purchase of a 750ml bottle, you'll get a free bottle of their very own hand sanitizer.
A Denver distillery and cocktail bar creating high quality spirits made sustainability right in the heart of Denver's LoHi neighborhood. They are open 4-7 p.m., Monday-Friday for bottle and merchandise sales, but you can also get their spirits delivered straight to your home if you don't want to leave the house. 
From grain to glass—everything Tighe Brothers Distillery uses to create their award-winning spirits is Colorado sourced. You can try it for yourself by picking up a few bottles from their store. 10% of in-store profits will go to help support Denver Med.
Cheers! 
Did we miss a favorite of yours? Let us know in the comments so we can add them!