The Cherry Creek Arts Festival is back in town this Independence Day weekend!
From Friday, July 3rd 2015 through Sunday, July 5th 2015, celebrate this FREE festival's 25th(!) anniversary at Denver's Cherry Creek North Shopping District.
For the past 25 years, the Cherry Creek Arts Festival, has given Denver an event that includes a rare and special opportunity to meet and talk with international juried visual artists, sample fine cuisine, enjoy live musical performances and artist demonstrations, and entertain their families with interactive "ARTivities."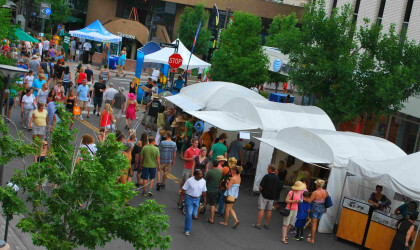 What to Expect
Artivity Avenue: a full block of interactive activities that includes a community wide collaborative mural, a creation station for children, presented by KOSI 101.1, where your kids can create butterflies, popsicle stick sculptures, paper bag animals, design their own art journal. There also will be a Kurios Bike Experience, where participants will be costumed to shoot a 15 seconds video of them, riding on a secured 8ft tall tricycle through the Kurios sky decor. Within 15 minutes their 15 sec. video is added to a 15 sec. Kurios inspired introduction/finale, and then, sent to the participants' email address. You can also expect some more great "ARTivities" here such as nature collages, velvet and abstract projects and so much more. *The Artivity Avenue will be on Steele Street between 1st and 2nd Avenues.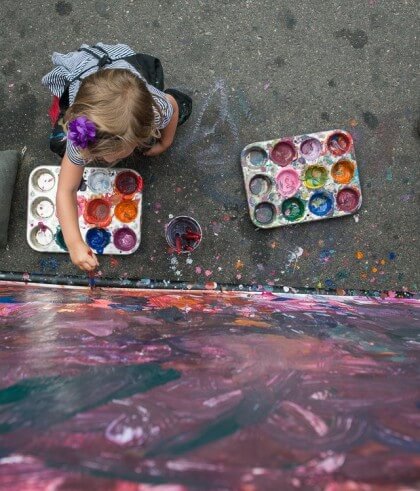 Culinary Avenue: Culinary Avenue features culinary from some of Denver's most popular eateries. Such as: Alpine Sausage Company, Barbed Wire Reef, Ben & Jerry's Ice Cream, Crepe Crazy, Crepes and Company, Grammy's Italian Goodies, Greek Flame Foods, Island Noodles Colorado, La Hacienda, Little India, Mad Berry Smoothies, Marley's Monster Grill, Repicci's Italian Ice, Simply Pizza, The Bumblebee,The Falafels & Gyros Hut, The Goods & The Original Berrie Kabobs.
4 Stages of live music and shows ( click here for the full schedule) and of course….ART!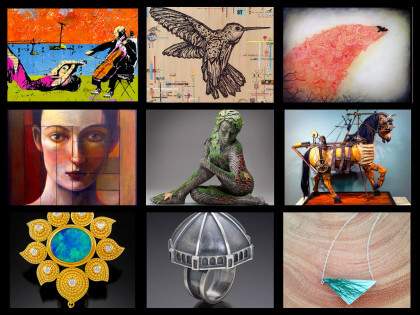 The festival will feature 260 juried exhibitors, including 14 artistic award winners returning from the 2014 show and 4 Emerging Artists for its 25th annual show. This year's exhibitors were selected from approximately 2,000 applications, making acceptance competitive throughout the jury process.
There also will be a 25th Anniversary Party that will include a 'Daily Anniversary Birthday Cake', interactive Art, DJ, dancing and surprise street performances, free cherries and water and much more!
So get ready for a very ARTY and fun weekend in Cherry Creek!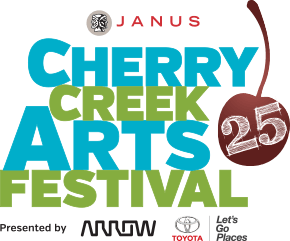 The Cherry Creek Arts Festival 2015
Friday, July 3rd 2015; 10am – 8pm
Saturday, July 4th 2015; 10am – 8pm
Sunday, July 5th 2015; 10am – 6pm
Cherry Creek North Shopping District, Denver 80206