As a hub for vintage shops, antiques and home design, it's only natural that Denver would be filled with a huge lineup of charming home decor shops!
Next time you're shopping for furniture, wall hangings, lighting and accessories, make sure these businesses are on your shopping list. From one-of-a-kind barn wood tables to the perfect throw pillows for your new couch—you'll have everything you need (and more!) before you know it.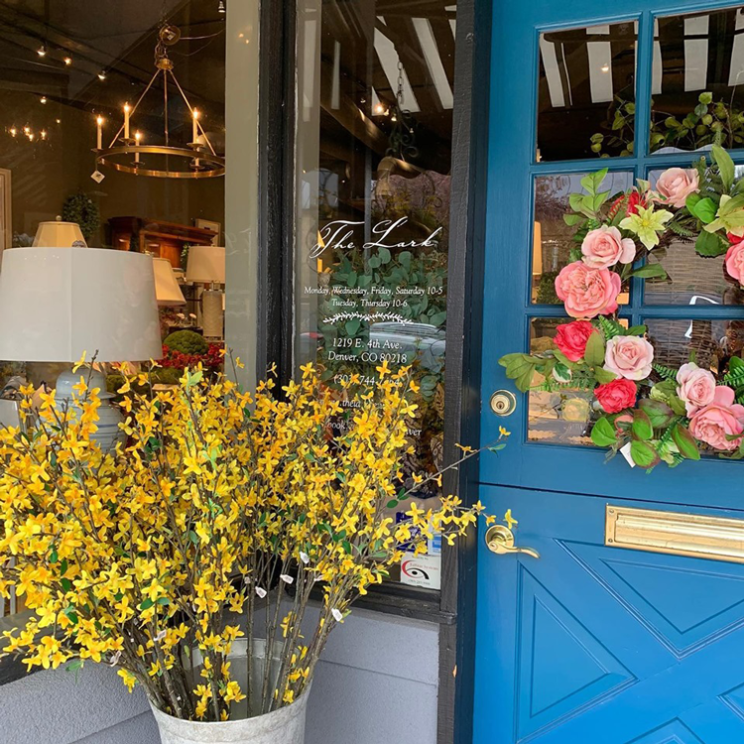 Photo courtesy of  The Lark
Located in Country Club, The Lark is entered through a Dutch-doored storefront full of candles, unique glassware and fake houseplants that look perfectly real. While you'll definitely find some great decor items for your home, you should really stop in for their mouthwatering tins of key-lime cooler cookies from Savannah, Georgia.
Element is a contemporary home store that has a devoted customer base due to their beautiful selection of modern furnishings and support of local artisans. In their quaint shop on Larimer Street, you can shop from nearly 40 different product lines in the mid-to-high price range.
Opened in 2017, Homebody is bursting with unique finds from all over the world—like hand-selected treasures from the Paris flea market, a piece of the hottest jewelry from Greece, a gorgeous Persian carpet, and so much more. Plus, the shop has a complimentary coffee bar so you can spend an entire day perusing!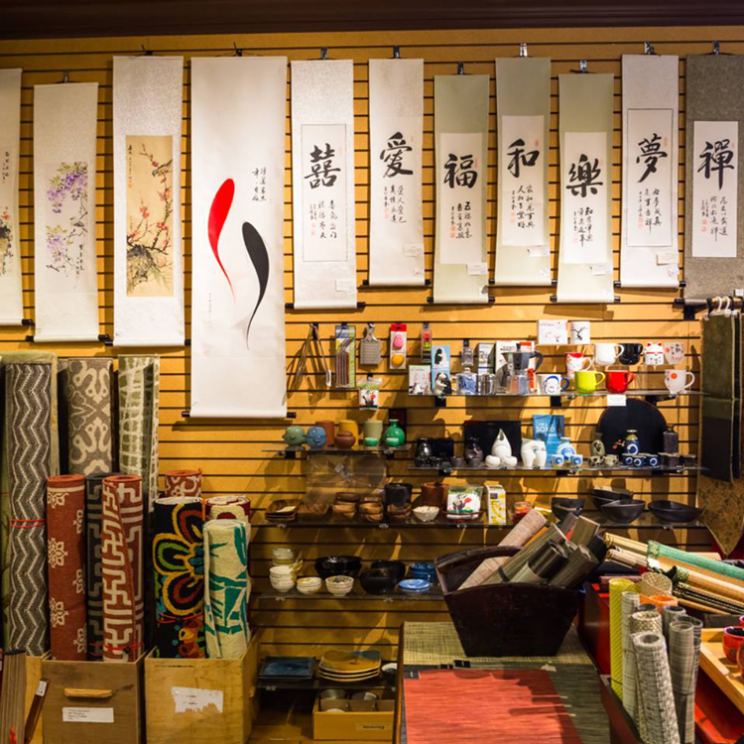 Photo courtesy of T-Trove Asian Décor
T-Trove Asian Décor offers quality furniture, art, and home décor from China, Taiwan, Japan, the US and other countries. Originally opened in 2002, they have expanded their collection throughout the years to incorporate more Asian-influenced gifts, jewelry, and garden accessories. Stop by their 10,000-square-foot shop (which you can get a virtual tour of on their website) downtown and pick up a one-of-a-kind item the next time you're in the area.
Formal Ralph Lauren designer Chris Watson and his husband, Kyle Pastrano, opened this Antique Row shop in 1991 and have since outfitted it with an array of eye-catching items like Victorian-era taxidermy, Art Deco lighting, Downton Abbey-esque furniture and the second-largest cufflink collection in America. If you aren't able to visit their incredible shop in person, they have their entire catalog online—so you can shop on the go!
39 West 11th Avenue, Denver and 15 East 11th Avenue, Denver
Meek Vintage is a mecca for anyone looking to tell a story through their home decor. Not only will this cute shop give you major nostalgia, you'll be able to purchase one-of-a-kind home goods, candles, plants and apothecary items (plus vintage clothing items, jewelry and accessories). If you're looking for larger vintage furniture pieces, visit Capsule, Meek's sister store located just a block away! Capsule offers a variety of statement pieces including sofas, chairs, rugs, art and more!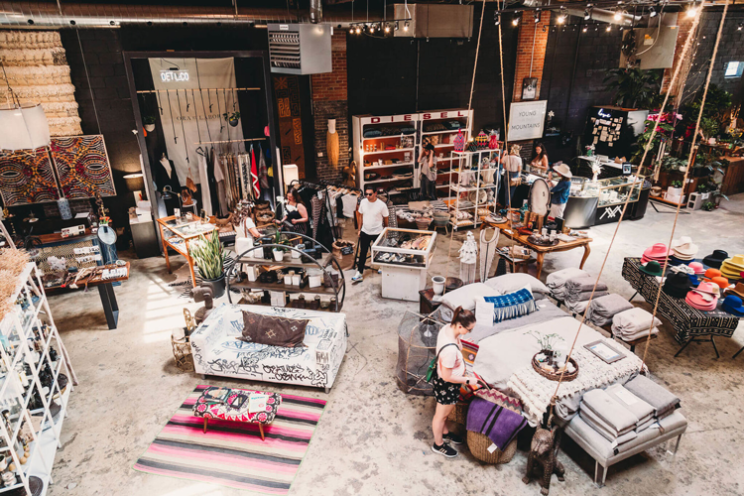 Photo courtesy of the Modern Nomad
Modern Nomad is a design collective located in a 5,500-square-foot warehouse in the heart of RiNo. Here, you'll find new and vintage furniture, textiles, lighting, rugs and accessories for the home—all brought to you by different local retailers. Each week, they host a variety of workshops and pop-ups where you can explore Denver's artsy side with other curious locals.
1701 Wynkoop Street, Denver | 1570 South Pearl Street, Denver | 1596 South Pearl Street, Denver
With three stores in the Denver area, 5 Green Boxes is a whimsical store chock full of colorful home items. They carry a selection of handmade pieces from the company's own studio, so you have the opportunity to display a piece of local art in your home! With items in a variety of price points, they offer merchandise for people of all budgets.
1201 Madison Street, Denver | 10155 East 29th Drive, Denver
For those looking to bring the outside in, Wild Flowers is the perfect shop. They offer a wide selection of unique furniture, lighting and accessories for both your home and garden—including plenty of eclectic house plants that will add a little green to your home's interior.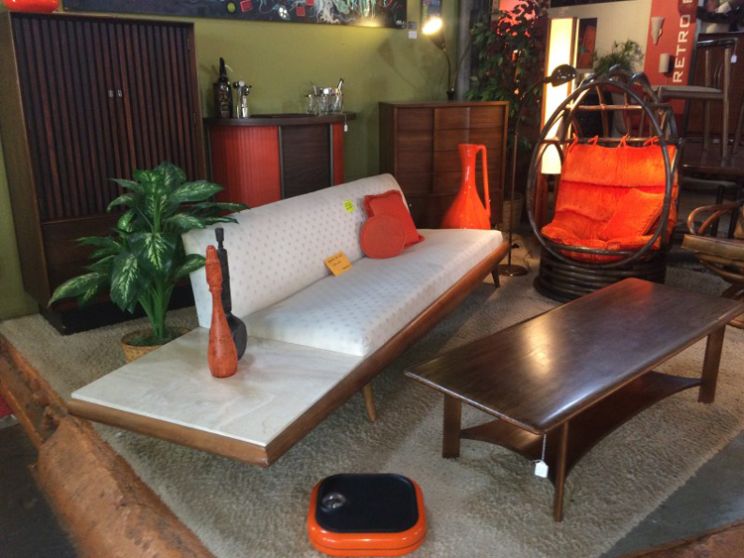 Photo courtesy of Mid-Mod Mall
Mid-century modern decor has been all the rage for several years now, and one of the best places to get your mid-mod fix is, of course, Mid-Mod Mall! While the marketplace first started as an art gallery on Market Street in LoDo, over the years they have transformed into a go-to Denver spot for funky furniture and groovy decor.
300 University Boulevard, Denver | 1701 Wynkoop Street, Suite 140, Denver
Bloom owner Anuschka Pashel wanted her store to feel like a fantasy world—and she definitely accomplished that goal. When you step inside of Bloom, you may feel like you've fallen down a rabbit hole full of Moroccan wool rugs, Balinese sculptures, origami-inspired incense holders and so much more. You can experience the magic in both Cherry Creek North and Union Station.
5327 East Colfax Avenue, Denver
If you love clean, modern aesthetics, you should check out Mod Livin, a quirky modern store located on the edge of Park Hill. They have been selling affordable modern furnishings since 2001 and feature three levels of furniture, home accessories and other mid-century classics.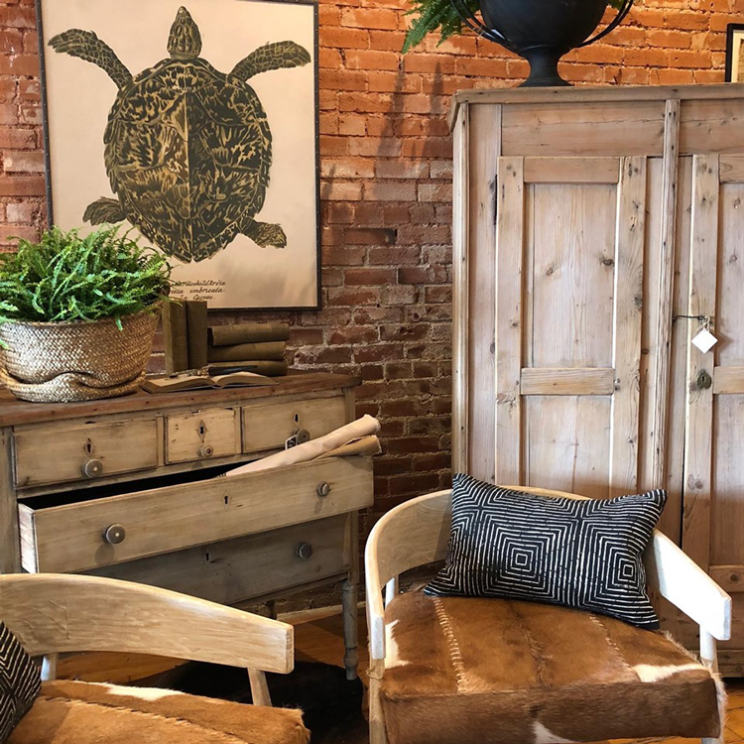 Photo courtesy of Old Glory
If the HGTV hit, Fixer Upper, is your jam, Old Glory is a glorious find. The 100-year-old South Broadway storefront is brimming with well-loved old pieces and brand new finds. Owner Holly Kuhn grew up in Texas, where her love of Americana took root and has infused that passion into every part of Old Glory and its sister store in Round Top, Texas.
Looking to give your home a sustainable makeover? River North Workshop is an open workshop/retail store crafting and selling green homewares that are locally made and sourced. They collaborate with other local businesses, give new life to old furniture, and hold workshops, concentrating on the home.
3475 South University Boulevard, Englewood
Lulu's Furniture & Décor is a mother-daughter company nestled in Englewood that offers home decor and design services that transcend the conventional. With the ever-changing, always current mix of vintage finds, affordable custom upholstery and furniture, gifts, art, jewelry, lighting and rugs— their store is as unique as their clients. As an added bonus, their in-house designers will make your space come alive with creativity and functionality.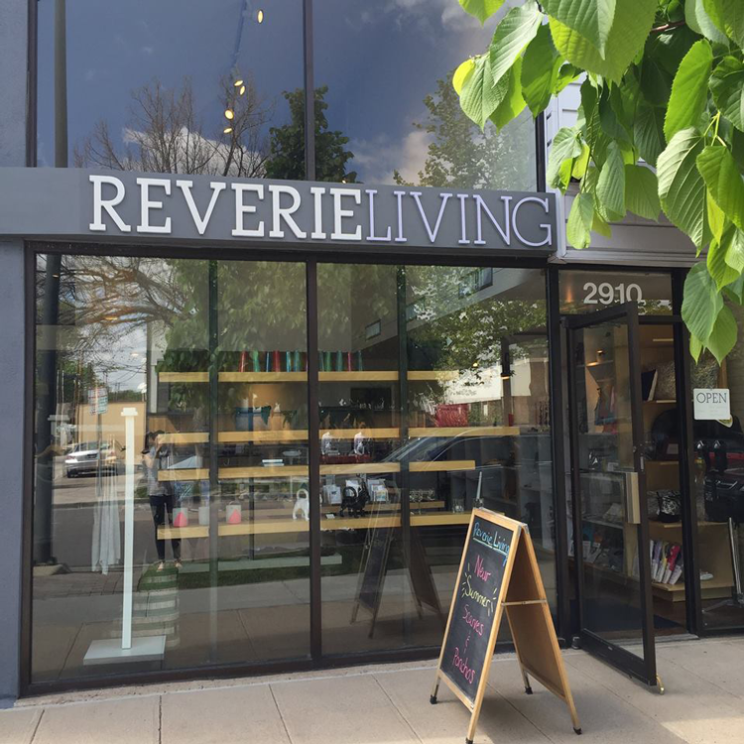 Photo courtesy of Reverie Living
Reverie Living is a contemporary boutique offering unique and affordable gifts, homewares, and personal accessories. Born out of a long-held dream to create a venue and shopping experience that speaks to the aesthetic spirit in each of us, Reverie Living invites you to find inspiration for both you and others.
Do you have a go-to place for decor?
If you have a favorite Denver home decor store, give them a shoutout in the comments below!