Winter snowfall feeds the spectacular Colorado wildflowers and waterfalls that start to bloom and flow in the spring. As we get closer to the warmer months it is a good time to start planning trips and day hikes see these wonders of nature that are free for anyone in Colorado.
WILDFLOWERS AND WATERFALLS: 
AMAZING SPRING HIKES IN COLORADO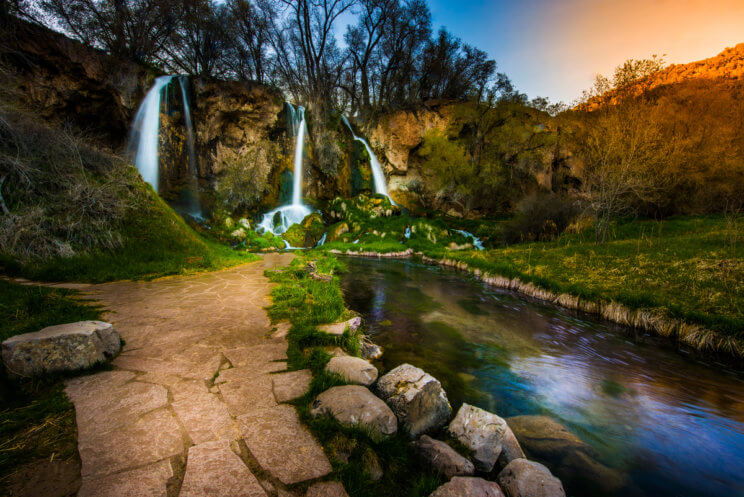 Colorado boasts a wildflower spectacle that begins to bloom in the foothills in early March and continues throughout the summer, gradually moving up the mountains so avid hikers can still see blossoming fields till late September. The high mountain flowers are so incredible that Crested Butte is known as the Wildflower Capital of Colorado and every year hosts the Crested Butte Wildflower Festival.  As winter begins to retreat, plan to take a hike and look for some of the beautiful flowers that Colorado has been saving under the frozen ground.
While you are are out hiking, look for some of these classic Colorado wildflowers and call them by name!
Pasque Flower – This fuzzy, purple flower is an early bloomer. It can be found in the edges of the snow melt from the lower foothills to the subalpine.
Nuttal's Violets – Don't let the name fool you – this is a little yellow flower has only a hint of purple in the center but is a lovely addition to the wildflower fields. It starts to bloom in April in the foothills.
Sand Lillies – Also known as Star Lillies or Mountain Lillies, these beautiful white and yellow flowers are very sturdy and withstand the heat of Colorado summer quite well.
Blue Flax – Beginning to bloom in March, this lovely blue flower will show up all through the summer.
COLORADO WILDFLOWER HIKES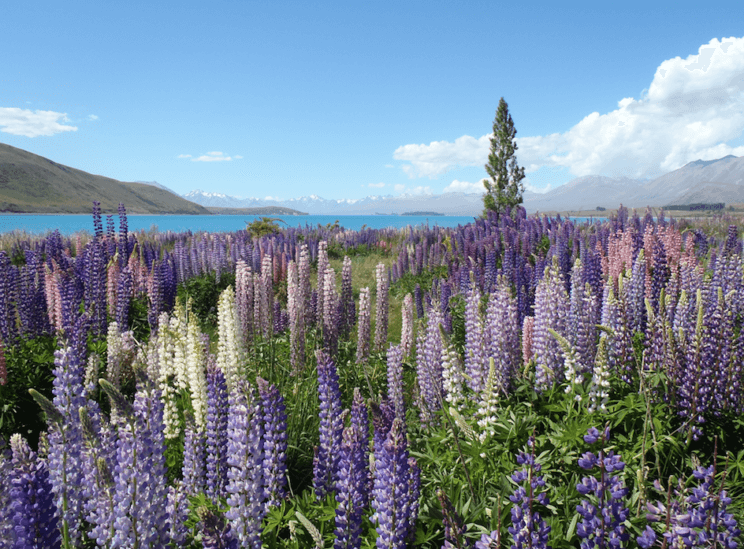 Chautauqua Meadow – .6 miles (easy) Chautauqua Park near Boulder, CO
As easy as it gets to see the flowers blossoming in spring. Park and walk up to the fields to see what has started to grow! If you feel inspired you can find a trail from easy to moderate in the Chautauqua Park!
Fossil Creek Trail –  2.4 miles (easy) State Park near Fort Collins, CO
This hiking tail borders the edge of the Cathy Fromme Prairie where you can spot the blooming wildflowers as well as keeping an eye out for wildlife like rabbits and horned lizards.
Deer Creek Canyon Loop – 2.7 miles (easy) near Littleton, CO
This easy walk allows dogs (on leash) and is an easy drive from Denver for a quick getaway from the city. Visit it in early April to see the blossoms come out along the trail.
West Pawnee Butte  – 3.5 mile (easy) near Grover, Colorado, CO
An open grassland walk around the West Pawnee Butte gives amazing views of a the majestic and stark landscape of a natural grassland.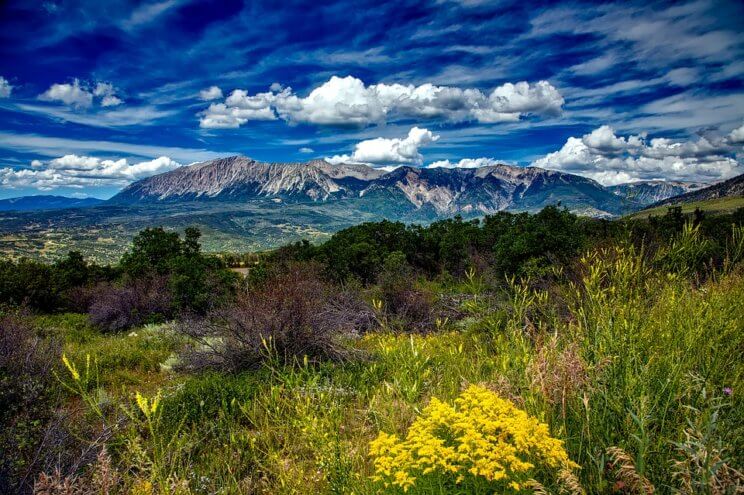 Big Bluestem Trail Loop – 4.3 miles (easy to moderate) near Boulder, CO
This moderate loop near Boulder offers sweeping views of the foothills and eastern plains, which will be spectacular in the spring months.
Rabbit Ear Mesa – 6.1 miles (moderate) near Mack, CO
On the western edge of the state you can hike this loop with incredible views of the mesa and the prairie. Go in early spring to catch the first flowers or visit late summer to see the final blossoms along the trail.
Devil's Thumb – 8 miles (difficult) Indian Peaks Wilderness near Fraser, CO
A strenuous but rewarding hike to see the high mountain flowers and a few beautiful hidden mountain ponds.
Aspen to Crested Butte– 13 miles (difficult) between Aspen and Crested Butte, CO
This trip is definitely one to plan out and prepare for a weekend hike. However, done in the late summer the views will be stunning and the flowers will be at their peak. While you are up there look for the Rocky Mountain Columbine, Colorado's State Flower.
COLORADO WATERFALL HIKES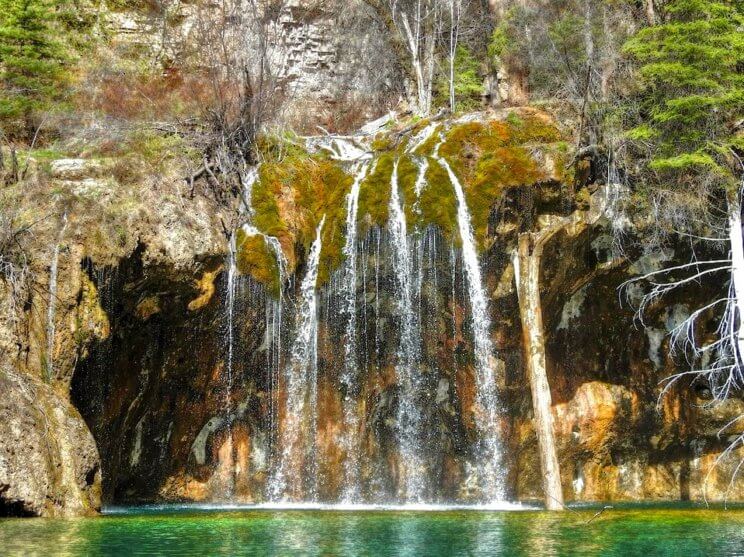 Along with watering the thirsty wildflowers, the snow melt will also be feeding the Colorado waterfalls until they roar! There are many spots to simply view the waterfalls, but the best views take a little bit of effort and are worth the time on the trails.
BEFORE YOU HIKE! Many trails in Colorado close for portions of the year or for matinence. Please check to make sure the trail is open before heading out and follow all suggestions for safety on these trails as well as basic hiking safety (i.e. let someone know where you are hiking, take water, keep pets on leash in appropriate areas).
Helen Hunt Falls – .1 mile (super easy) near Colorado Springs, CO
These beautiful falls were named after Helen Marie Hunt, a poet, writer and activist. These beautiful falls can be viewed from the road or you can see them from the top with a short hike up the hill.
Treasure Falls – .6 miles (easy) near Pagosa Springs, CO
This short trail features signs about local wildlife so you can learn a bit more about the incredible nature of Colorado and see the stunning falls.
Bridal Veil Falls – 1.8 mile (easy) near Telluride, CO
The trail head is near the McGraw Ranch and passes through some beautiful wildflower areas before ending at the tallest free-falling waterfall in Colorado.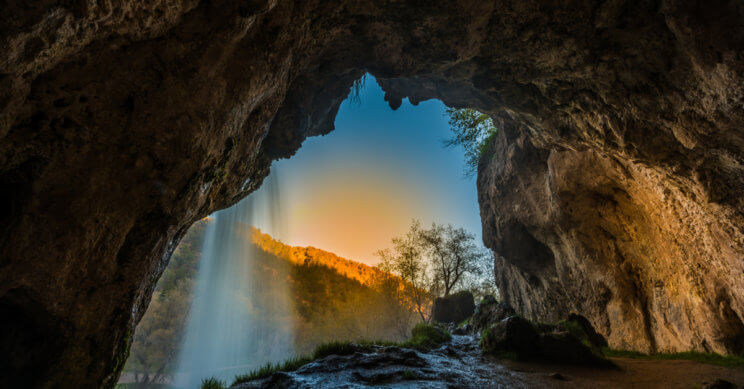 Fish Creek Falls – .25 to 4.6 mile loop (easy to difficult) near Steamboat Springs, CO
This can be a sightseeing trip or a planned day hike to see these amazing falls. Taking the longer trail requires good hiking boots in summer and snowshoes in the winter, but is worth the effort
West Creek Falls – 4.4 miles (moderate) near Estes Park, CO
The first part of this trail has been reported as a challenge, but if you are up to it there is the reward of meadows of wildflowers and the West Creek Falls at the end of the trail.
Ouzel Falls – 5.4 miles (moderate) near Estes Park, CO
This trail rewards intrepid hikers with more than one waterfall to admire. The first along the path will find the Copeland Falls, then a little ways further you will encounter the Calypso Cascades, finally coming to the Ouzel Falls.