For years, the greater Denver area has prioritized using local, sustainably grown produce at our restaurants, farmers' markets and even our grocery stores. Because, honestly, with Colorado's bountiful and delicious harvest—there isn't a reason not to!
So even with the suspension of dine-in business and the age of mandatory social distancing due to COVID-19, we aren't surprised that many local organizations, restaurants, stores and farmers are switching gears to provide fresh, organic produce to customers via pickup and delivery.
If you're on the hunt for some homegrown fruits and vegetables, this list is for you! We've rounded up some Denver area food markets, nonprofits and restaurants where you can get fresh, local produce without even having to get out of your car. Make sure to read through to the end for a few ideas on how you can contribute to the cause this season as well!
Multiple Locations
During the coronavirus pandemic, we are constantly amazed by our local small businesses—including Big Red F restaurants in Boulder! Right now, this restaurant group is hosting Boulder County Farmers' Market pop-up farm stands on weekends. Each week, you can find the stand at a different Big Red F restaurant, like Westend Tavern, The Post Brewing Co., Centro Mexican Kitchen, Zolo Southwestern Grill, Lola Coastal Mexican, and Jax Fish House & Oyster Bar. You can find the weekly stand location on the restaurant group's Instagram account.
Founded by Chef Eric Skokan and his wife, Jill, Black Cat is a Boulder destination for delicious food crafted from organic produce sourced from local farms—including Skokan's! Not only are they currently offering curbside pickup and delivery options for their tasty dishes, but you can also pick up produce from their Farm Stand from 11 a.m.–6:30 p.m. every day on Jay Road.
And that's not all, you can also get their homegrown produce delivered straight to your door via their vintage ice cream truck turned produce truck! They'll be driving through neighborhoods in Boulder with ice cream bells, but instead of Rocket Pops and ice cream cones—you can expect carrots, arugula and some frozen, prepared meals from the restaurants.
Multiple Locations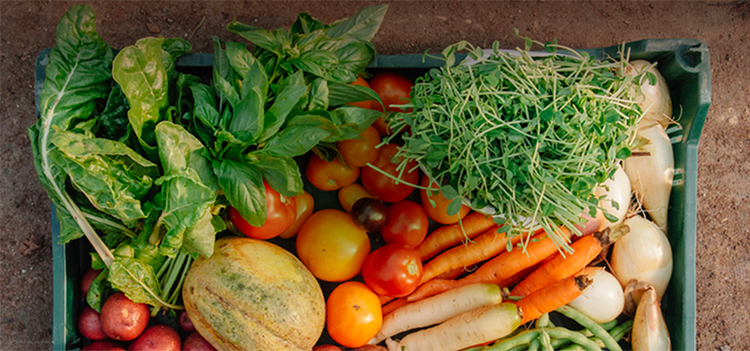 While the Boulder County Farmers' Markets have officially postponed their April 4th opening, all subsidiary markets are currently working on a virtual option. Soon, shoppers will be able to order from participating farmers online and pick up their order curbside in Longmont, Boulder, Lafayette and Denver. Online ordering should start the week of April 19th, with curbside pickup at the Boulder County Fairgrounds in Longmont beginning on April 25th. Curbside pickup in the additional locations will be available in the following weeks. You can check out their website for updates.
What is normally a local favorite for shopping, dining and drinking, Denver Central Market is now working as a functioning grocery store! Stop by between 11 a.m. and 6 p.m. to purchase a prepared box (priced anywhere from $45-$135) full of breakfast items, snacks, grilling essentials, Italian meal ingredients and more. You can also place your order online for pickup or delivery to speed up the process!
Multiple Locations
Edible Beats, the masterminds behind some of our favorite Denver restaurants like Root Down, Linger and El Five, is now selling bodega items from 12–8 p.m., Tuesday through Sunday. There, you can order fresh foods like dairy and produce along with pantry items like toilet paper and paper towels. You can pick them up at Root Down or you can get them delivered right to your door with Uber Eats.
Highlands Neighborhood
Prefer to have your farmers' market items delivered straight to your door? Goodshyft can help with that! Goodshyft is a sustainable grocery and meal-kit delivery service that was created during the COVID-19 pandemic. Deliveries include goods from local farmers and businesses, and they offer rotating meal-kits created by Denver chefs! Goodshyft delivers on Tuesdays and Thursdays—simply order by 3pm the day before your preferred delivery day.
Psst… The goodshyft project is a division of ecoshyft which is a female owned, sustainability consulting firm in Denver focusing on helping businesses, hospitality, and events become more environmentally friendly.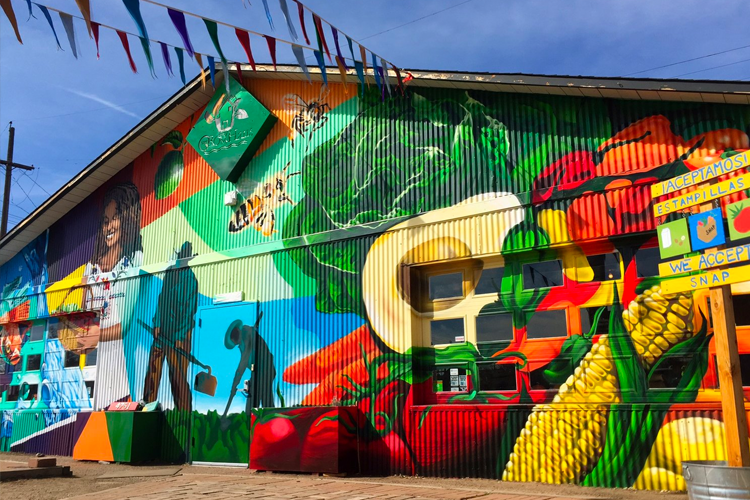 The GrowHaus is a nonprofit organization that works to provide North Denver neighborhoods access to healthy food. In response to the pandemic, they are making extra emergency food-package deliveries with fresh vegetables and pantry staples. If you would like to donate to the cause, you can learn how to do so here. But if you're looking to be a customer, they are also offering a Weekly Food Box that is delivered directly to your door! On their website, you can order a wide variety of boxes—from a basic box full of veggies, fruit, eggs and bread to a box of just mushrooms to an all-produce box—and have it delivered Friday-Monday or schedule it for pickup Fridays and Saturdays.
Modern Market has recently launched an online store, selling several grocery store box options that you can have delivered directly to your home! Each of these curated boxes is packed with enough ingredients for eight to 10 meals. The re-Fresh Box ($60) is full of fresh produce and herb seasoning. The Grill Box ($80) includes 100% grass-fed steak, 10 servings of mac and cheese, a container of chimichurri sauce, and much more. You can check out all of their amazing offerings here.
One of the Denver area's favorite produce suppliers, Rebel Farm, is now offering $10 bags of produce by the pound. You can place your order online, but the farm requests that you place it by 2 p.m. the day before you'd like to pick up. They are also selling "Mystery Bags" of assorted greens if you want a bit of a mix! You can pick up your order at their parking lot. They are currently a cash-only operation.
3330 Brighton Boulevard, Denver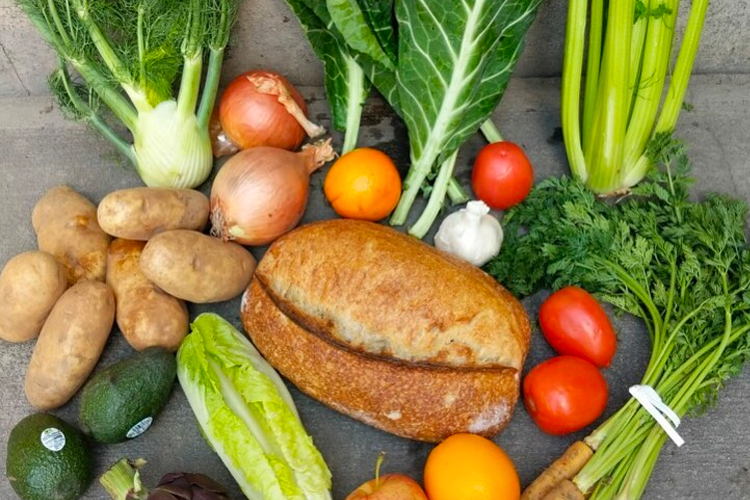 During this weird time, Reunion Bread at The Source is partnering with The Fresh Guys Produce to bring 500 boxes of vegetables and bread loaves to customers on weekends. Along with a selection of fresh veggies, customers can choose from Reunion's sourdough loaf, vegan banana bread or house granola, all for $27. You can also get a big box for $37. Call (720) 620-9336 to pre-order or just stop by during the weekend! Sales start at 9 a.m. on Saturday and Sunday for the general public and at 8 a.m. for seniors—and it all takes place in The Source's parking lot so you can stay in your car.
Everyone's favorite brunch spot is now selling to-go packs for pickup or delivery from 7:30 a.m.-2 p.m. daily. These creative packs come in a wide variety—from a $25 DIY breakfast cocktail kit to a taco party pack that will bring #TacoTuesday straight to your home. The Provision Neighborhood kit includes a gallon of milk and orange juice, a loaf of sourdough, coffee, eggs, butter, bananas and avocados for $45, so you don't have to brave another morning in quarantine without your favorite brunch essentials.
Golden's Tributary Food Hall & Drinkery has now transformed into the Farmers' Market at Tributary—and it may be our new favorite place to get groceries! In addition to prepared meals from eateries like Fringe Pizza and Woodgrain Bagels, they're also selling mixed produce boxes, River Bear American Meat products, dairy, eggs and a wide variety of cocktails, beer and wines.
How can you help?
Everyone deserves fresh, healthy food! There are plenty of ways you can help those in need. If you're looking to give financially, donate to GrowHaus! Just $25 can provide one week of emergency food staples for a family.
If you want to volunteer some time, So All May Eat Cafe, a pay-what-you-can cafe on Colfax, is in need of volunteers to help provide healthy to-go meals to those who need them. And if you fancy yourself a gardener, So All May Eat is always accepting fresh produce to give away.