This week, Teller Bar, the signature social lounge at The Renaissance Denver Downtown at the Colorado National Bank, launched the Renaissance Bar Ritual, an experiential event, which will take place five nights a week from 5pm to 6pm.
Mondays, Tuesdays, Thursdays and Fridays will include original punch recipes using local spirits that will be showcased to guests and locals. Guests will actively take part in crafting the recipe, with the assistance of Teller Bar's talented bartenders. Those participating will then be able to sip and enjoy their creation.
On Wednesdays, known as 'Winedown Wednesday,' will feature complimentary wine tastings, which will also often be highlighted by meet and greets and talks from winery owners.
Upcoming Winedown Wednesdays: a selection of Buried Cane Wines on June 17th 2015; and a tasting of sustainable wines from Shannon Ridge Wines in Lake County, CA on June 24th 2015.
**Live music is often present on Thursday evenings!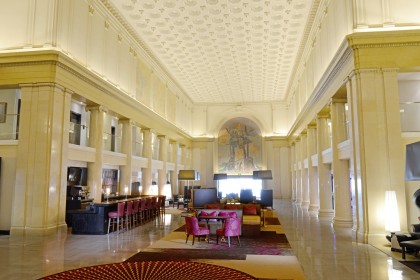 Situated in an iconic lobby, Teller Bar provides an interactive and energetic beverage experience. The surrounding lobby features ceilings that are more than three stories tall and walls adorned with 16 original oil-on-canvas murals by renowned Western artists Allen Tupper True. The Teller Bar boasts a fun, contemporary vibe, and the juxtaposition of the historic with modern establishes a setting in which guests and patrons are encouraged to linger.
Featuring an extensive menu of craft beers, wines and classic cocktails with a twist, as well as small plates,Other notable beverages exclusive to Teller Bar include Countinghouse cream ale, specially brewed by Former Future Brewing Co. for range and Teller Bar, and the Allen Tupper True cocktail – a nod to the lobby's historic murals.
The Renaissance Bar Ritual was launched at the hotel's Global Day of Discovery Celebration on June 11, a party which not only embraced the Renaissance's ethos of living life to discover, but also marked the hotel's one-year anniversary and the 100th anniversary of the historic building in which it is housed, The Colorado National Bank. This year's Global Day of Discovery marked the official launch of the Renaissance brand's evening programming around the world; thus, to kick off the celebration, attendees took part in the inaugural Bar Ritual, and were invited to make, and then enjoy, The Centennial Sipper. A vodka-based punch, The Centennial Sipper is made of Breckenridge Vodka and Chili Vodka, Teakoe Irie Island Spice, citrus, cream of coconut foam, gold coconut shavings and homemade grenadine syrup. (Photo below provided by Jason Gold from New Octave Media.)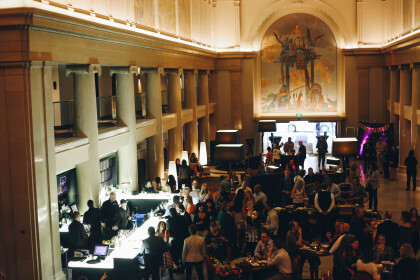 Renaissance Bar Ritual
Weekdays 5pm – 6pm 
(Bar Open From 3pm – 11pm & Happy Hour from 3pm – 6pm)
Teller Bar at The Renaissance Denver Downtown
918 17th St, Denver,  80202