There are plenty of reasons to love living in Denver. We have some amazing outdoor exploration opportunities, spectacular attractions and, of course, an incredible sense of community. But today we're talking about our reputation as an eco-friendly city. Denver keeps sustainability in mind. In fact, we've been named one of America's greenest cities for over a decade. Just check out this recent article from WalletHub!
To celebrate our eco-friendly city, we rounded up some of our favorite local businesses that are passionate about the environment. Whether you're just passing through or are a full-time Denverite, check out some of the most sustainable places to patron in the city!
Please note: Due to COVID-19, some of these local businesses may have restrictions in place or modified hours. We recommend contacting them to see what their current hours and policies are before visiting as policies and procedures continue to change in light of current events.
Jump Ahead
Coffee Shops | Restaurants | Bars + Breweries | Shops + Boutiques | Refill Stores | Hotels
Coffee Shops
1441 South Holly Street, Denver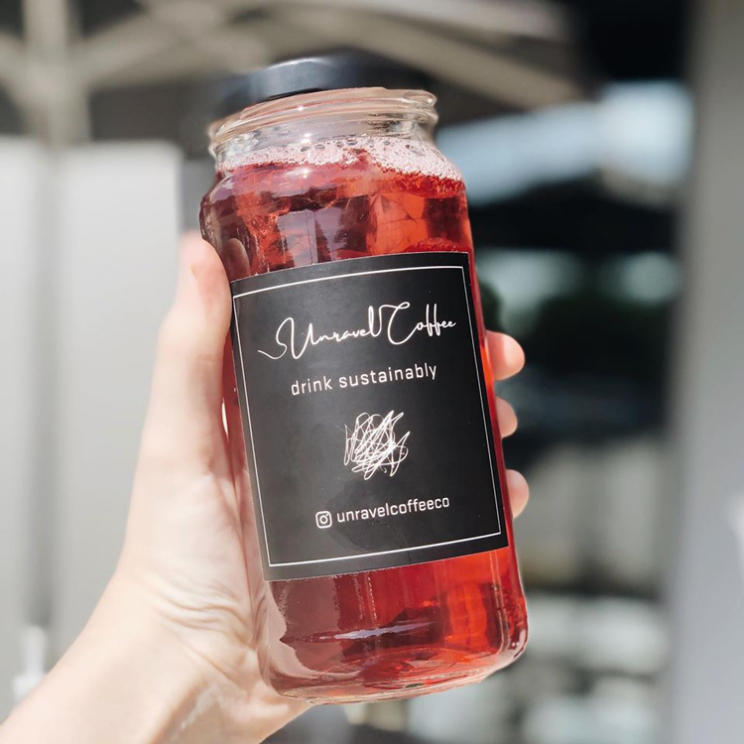 Photo courtesy of Unravel Coffee
New to the Denver coffee scene, Unravel is just a few blocks south of the Cherry Creek Trail. In their Instagram-worthy coffee shop they brew outstanding coffee beverages from their beans roasted in-house on a zero-emissions roaster, mix marvelous matcha and even offer an impressive menu of delectable eats. And to be even more eco-friendly, they serve all of their drinks in reusable glass jars that you can return to be reused very time you visit.
1730 East Evans Avenue, Denver | 2823 South Broadway, Englewood
Kaladi is a big name in Denver for good reason. This small roastery and coffee shop is the brainchild of Andrew Melnick and Mark Overly, formerly President and Coffee Buyer of Kaladi Brothers Coffee which began in Anchorage all the way back in 1986. Here in Denver in 2000, Mark and Andrew began their new venture and devoted the business to sourcing coffee from sustainable and conscious farmers, utilizing air roasting technology, serving outstanding brewed beverages and building community. And that's exactly what they're doing in both their Colorado cafes.
Due to the pandemic, Kaladi Coffee Roaster's Espresso Bar on East Evans Avenue is only open for take out and patio dining. Their South Broadway location is open for in-person dining with social distancing measures in place.
1801 South Pearl Street, Denver
Described in one review as a Pinterest dreamland, the Steam Espresso Bar atmosphere is complete with exposed red brick, industrial garage doors that are left wide open on warm days, a stylish wood bar and down-right dapper customer service to top it all off. Established in 2013, their team serves coffee that is ethically sourced, only buys coffee from micro-roasters, and brews it using cutting edge and sustainable techniques.
Steam is only open for take-out and patio seating during the pandemic. Follow them on Facebook for updates on when they'll open for dine-in service.
Restaurants
Root Down is a popular brunch and dinner spot located in an old gas station and features plenty of vegan, vegetarian and gluten-free options. Sit inside or out in this eclectic eatery or get the best of both worlds in their breezy dining room that opens up onto the patio. Root Down is also one of the most eco-friendly restaurants in the city, powered completely by wind energy and offering a menu full of locally sourced ingredients. You can find a full list of what they're doing to minimize their carbon footprint on their website.
During the pandemic, Root Down is limiting seating based on current guidelines set by the Governor. Masks are required at all times when not eating and reservations are highly recommended.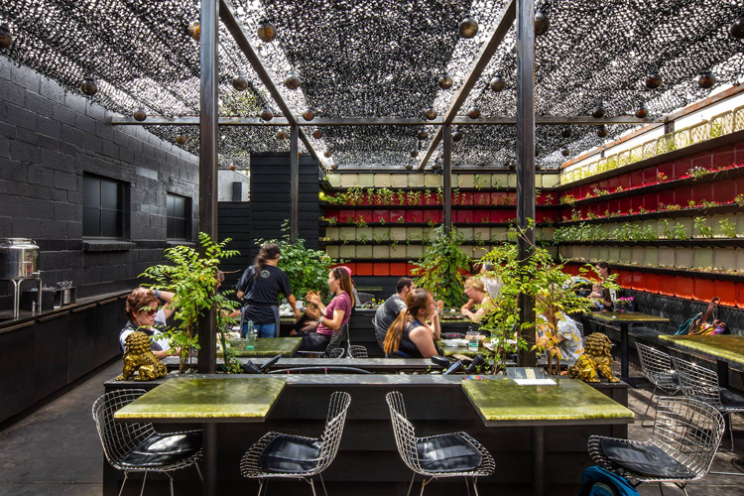 Photo courtesy of Vital Root
Vital Root is a vegetarian restaurant offering healthy options for breakfast, lunch and dinner. And while they might be known around town for their delicious juices, it's their sustainable practices that have landed them on our list! Not only is the restaurant one hundred percent wind-powered, Vital Root also has a 6,000 square foot garden where they grow their food and also supports over 50 local farmers within Colorado.
During the pandemic, Vital Root is limiting seating based on current guidelines set by the Governor. Masks are required at all times when not eating and reservations are highly recommended.
2500 East Orchard Road, Greenwood Village
From the employee's t-shirts and the cutlery to the furnishings from floor to ceiling—Sazza's is committed to being sustainable. Even the crayons offered to children have been melted down and reused to help eliminate waste. The restaurant itself is a counter service pizza and salad joint located in Greenwood Village serving up some of the best thin-crust in the city.
Sazza is open for limited outdoor dine-in, takeout, and delivery.
Ping pong, an Asian-inspired menu, and recycled, reused, and repurposed materials are what make this Cap Hill hotspot so amazing. Ace Eat Serve sources 100 percent clean wind power for every kilowatt-hour used and gives wind power discounts for employees and guests who partake in Arcadia Power's clean wind power program. Stop in for a game and a meal—their affordable Happy Hour also landed them on our 40+ Things to Do in Denver for Under $20 list!
2199 California Street, Denver
This funky hotspot is by far one of the most unique sustainable restaurants in Denver. Along with being powered by wind and solar energy, Mercury Cafe supports the growth of vines over their windows and walls to help cool the building and absorb CO2. And that doesn't even scratch the surface of everything this organic restaurant is doing to help the environment. Click here to read more about their relationships with local farmers, tree planting programs, neighborhood workers and composting.
The Mercury Cafe is open for in-person dining and socially distanced events. Due to the pandemic, they are struggling financially and a handful of Denver locals have set up GoFundMe to help them out! If you would like to help support The Mercury Cafe, click here.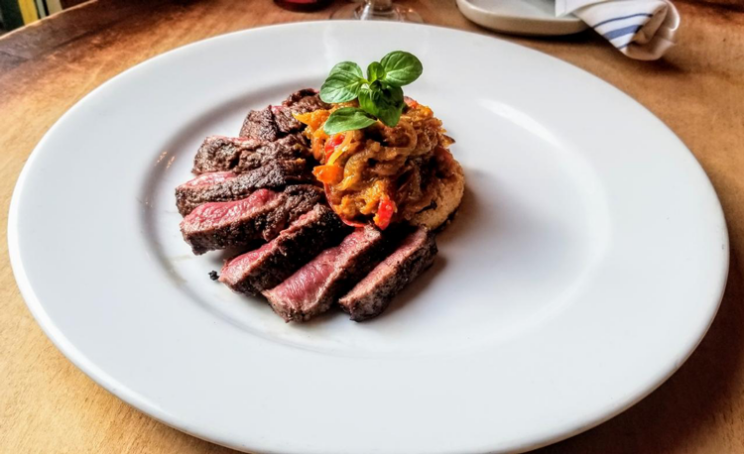 Photo courtesy of Bistro Vendome
Offering a blend of cafe casual and white tablecloth dining, this authentic French restaurant is one of our favorite spots to grab a meal. But their incredible meals and cozy atmosphere aren't the only reasons you should visit. They also happen to be dedicated to helping the environment by recycling, using low flush toilets, using all recycled paper products and using local, sustainable products and ingredients.
Bistro Vendome is open for limited dine-in options, take out, curbside pickup and delivery. They are also offering special brunch kits on the weekend so you can enjoy brunch favorites from the comfort of home!
Once a mortuary in a quiet Denver neighborhood, Linger is now the landmark restaurant of one of the city's liveliest districts. Their food menu is designed to showcase global flavors in shareable style, and their cocktail list is made up of handcrafted cocktails and punch made with sustainable and local ingredients. Their team also offers wines by the glass and bottle, craft beers and creative interpretations of classic drinks like Horchata and Lassi. Enjoy yours on the rooftop patio for one of the best views and atmospheres in the city.
During the pandemic, Linger is limiting seating based on current guidelines set by the Governor. Masks are required at all times when not eating and reservations are highly recommended.
2930 Umatilla Fifth Floor, Denver
Nestled high above LoHi on the fifth floor of 2930 Umatilla, El Five is an incredible restaurant offering not only incredible food offerings, but also spectacular views of the Denver skyline. This spot is owned by Edible Beats—the same mastermind behind Linger, Ophelia's, Vital Root and Root Down. That means, like their sister restaurants, El Five is 100% wind powered and offers responsibly-sourced, vegetable-forward menus.
During the pandemic, El Five is limiting seating based on current guidelines set by the Governor. Masks are required at all times when not eating and reservations are highly recommended.
Bars + Breweries
A Dever beer scene staple, Great Divide has been growing since its creation in 1994. Now, it's not only a must-visit for Denverites looking for a good beer, it's also an industry leader in practicing sustainability. They have an intensive recycling program, a stormwater protection system, all brewery sustainability education and a smart building, which keeps their electricity, water and other utilities at a minimum. You can learn all about their sustainable practices here.
Each of Great Divide's locations have different COVID-19 policies in place. We recommend calling your neighborhood location directly to see how they are working to keep you safe!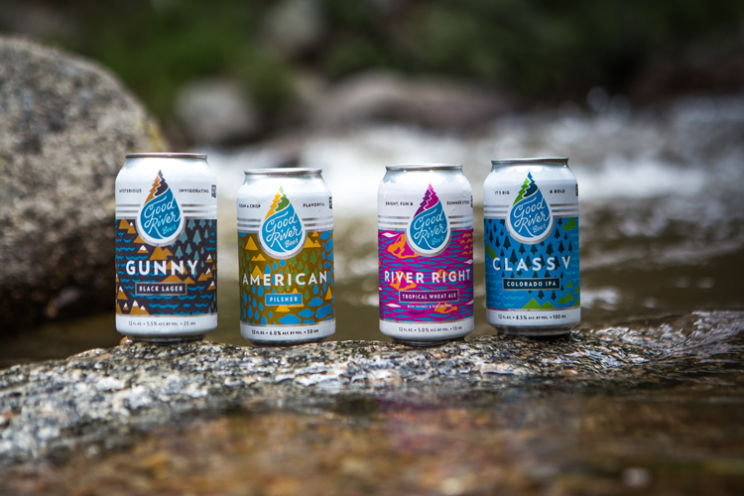 Photo courtesy of Good River Beer Co.
As the name would imply, Good River Beer Company is a big fan of rivers. So much so, that they give back two percent of their gross revenue to river conservation projects. Which means you can feel good every time you pick up one of their beers—knowing that your money is going to help protect clean, healthy river ecosystems and promote responsible recreation access. You can learn more about their "Two Percent for Rivers" program here.
1695 Platte Street, Denver | 5788 Olde Wadsworth Boulevard, Arvada
Denver Beer Co. has always been dedicated to making Colorado beer—from start to finish. That means they use all Colorado ingredients from the malt, hops and yeast to the water that is sourced directly from the Platte River. You can taste the Colorado-freshness for yourself at one of their two taprooms or by picking up a six-pack at your local grocery store (we recommend Princess Yum Yum or their Graham Cracker Porter if you were looking for suggestions).
Denver Beer Co. taprooms are open for dine/drink-in! Masks are required when not drinking and all menus are located online. They ask that when you arrive that you wait to be seated by a host.
A local brewery dedicated to brewing traditional, Belgian-style beers, Bruz Beers is a local favorite. But it isn't just Belgium that they are passionate about, they also love the environment. That's why they make an effort to minimize their impact on the planet through a concerted recycling effort, eco-friendly chemicals and cleaning agents, and donating their spent grain to local ranchers and farmers who use it to feed their livestock.
5700 West 25th Avenue, Edgewater
Not a huge beer fan? Well you're in luck—Denver happens to be home to an abundance of fabulous kombucha breweries! One of our favorites, Happy Leaf Kombucha, started brewing in 2013. They choose their ingredients with care, making sure that everything is organic, non-GMO, and pesticide free and strives to be as environmentally sustainable as possible. That attention to detail has won them quite a fan base in Colorado and beyond. You can find them in over 100 craft breweries, coffee shops and restaurants. To find a location near you, click here.
Shops + Boutiques
1116 Washington Avenue, Golden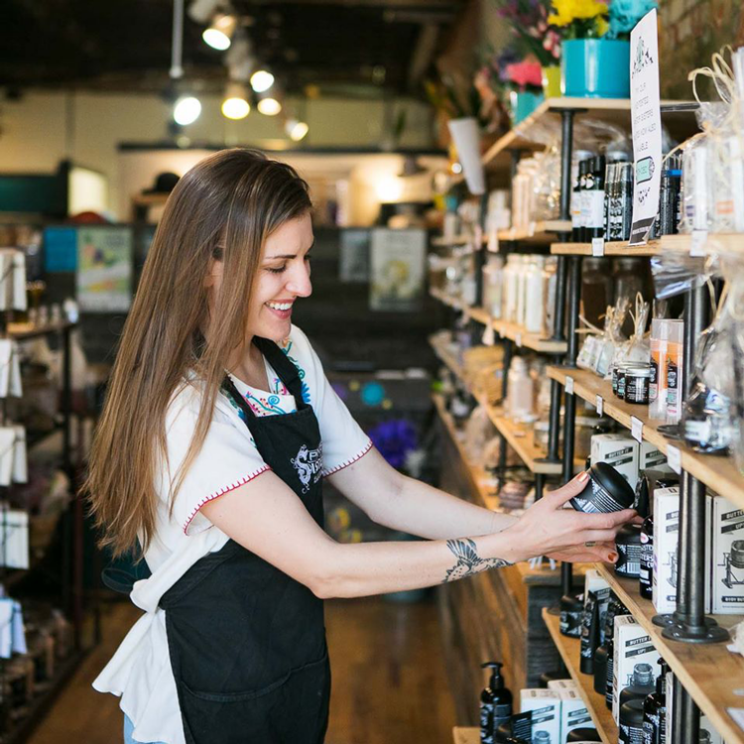 Photo courtesy of Spinster Sisters
This aromatic skincare company has taken the country by storm over the years, selling their wares at over 1,800 locations all over the United States. But we're lucky enough to be able to visit their flagship store in Golden, which offers a wide range of soaps, lotions, scrubs, balms and many other types of organic skincare products. As for sustainability, Spinster Sisters is about as eco-friendly as it gets, using minimally processed plant oils in their products and incorporating biodegradable materials and sustainable processes into their products.
Sacred Thistle is the brainchild of mother and daughter duo Sydney and Cornelia Peterson and while they offer worldwide delivery, they are based right here in Denver! Inspired by the Japanese way of Wabi-Sabi—embracing imperfection and appreciating every state of a flower's being—they never discount a flower for a small blemish! Instead they embrace it and create a stunning creation regardless. Plus, every floral, foliage and gift garnishes are seasonally foraged from the surrounding land or acquired from local, organic sources whenever possible.
Sacred Thistle is currently offering no-contact deliveries on Monday, Wednesday, Friday and Saturday.
The Knotty Tie Co. is an online store that sells exactly what you would expect—ties. But these aren't your grandfather's boring ties, these are stylish, custom made, exciting neck ties and bowties that will spruce up any look! They do it all in their Denver facility, from printing the fabric to making that final stitch. But their true mission is to make life better for refugees. They create employment opportunities for resettling refugees to work in their trade and make a fair living. And they do it all as green as possible by using sustainable fabrics, reducing waste and advanced textile printing.
Knotty Tie Co. also creates masks for anyone looking to step up their mask accessory game! Available for both men and women.
This adorable shop is located in the heart of Olde Town Arvada and specializes in women's clothing and accessories that are both on-trend and eco-friendly. They feature clothing brands that are made from fabrics produced with little environmental impact and organic materials—including Billabong, Synergy and LAmade.
3360 Walnut Street, Denver (factory location)

Photo courtesy of Omerica Organic
Opened in 2004, this 6,000 square foot jewelry shop is a spectacular place to shop sustainably. Not only do they custom-make each piece using unique and innovative styles while also executing eco-conscious processes, they also plant trees to offset their wood consumption and uses wind energy to run their workshop. Find a store location near you that sells these amazing products.
Refill Stores
Inside Modern Nomad — 2936 Larimer Street, Denver
Located in one of our favorite home decor destinations, Modern Nomad, Homefill is a bulk refill shop that focuses on all-natural cleaning products. But they also carry personal care and bath products too and you'll also find reusable cleaning bottles, beeswax reusable wax, reusable straws and reusable bags.
Inside Stanley Marketplace — 2501 Dallas Street, Aurora
Aptly named, Zero Market is the first of its kind in Colorado. Offering a massive amount of environmentally friendly, green living and refillable home products, they carry everything from household cleaners to on tap kombucha. In addition to their zero waste shop, they also host educational workshops on topics like living a zero waste life, composting, gardening and more.
Inside Park Meadows Mall — 8401 Park Meadows Center Drive, Lone Tree
Located inside Park Meadows, Eco Mountain Modern Living isn't strictly a refill shop, it's a must visit for those who are "greenifying" their home. Inside, you'll find a DIY all-natural cleaner refill station along with home goods like all-natural bedding, handmade dishes, recycled glasses and kids' items.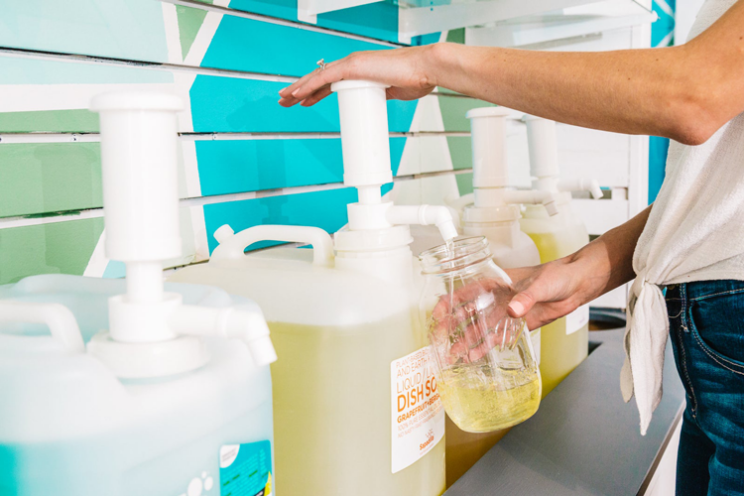 Photo courtesy of Joy Fill
Located off of Tennyson, Joy Fill is another refill shop that focuses mostly on home and personal care products, including dish detergent, laundry detergent, cleaning sprays, shampoo, conditioner, lotion and more. But you'll also find a wide range of eco-friendly home goods like reusable food wrap, bags and straws.
Psst… we featured Joy Fill owner, Brittany Iseli in our guide to 40+ Incredible Women-Owned Businesses in Denver. You can check out her amazing story here.
Joyfill is open daily from 10 a.m.-6 p.m. no appointment necessary. However, they're also offering appointments, curbside pickup and local refill delivery. To schedule, visit Joy Fill online.
Hotels
Located in Denver's famous Union Station, Hotel Born is an urban refuge. Full of natural architectural details and art curated by the Museum of Contemporary Art Denver (which you can visit for just a penny by showing your key card), is a 200-room hotel that feels like a classy Rocky Mountain resort. Not only is Hotel Born an oasis for humans, but they also offer complimentary, faux-fur pet beds and food and water bowls for your furry companions, who are welcome to stay with you. As for their sustainable amenities, they use the minimum amount of paper products possible, offer complimentary recycling bins in each room, and partners with Clean the World, an organization recycling hotel soaps and hygiene products worldwide.
Built in the late 1880's, The Queen Anne was originally occupied by the Tabar family before being transformed into a public B&B in 1987. Putting the local community and environmental advocacy above all else, The Queen Anne ensures that every detail—from the bedroom art to the morning coffee—helps support the community. And eco-friendly design has also been blended with the historic architecture in an effort to become a zero-waste property.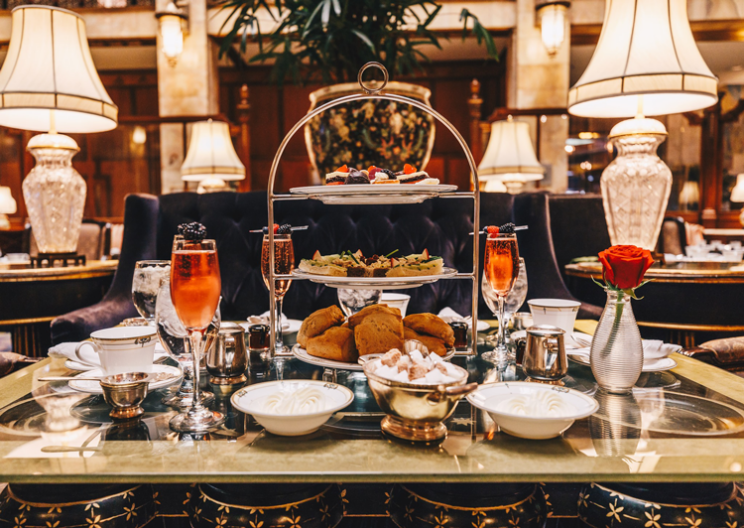 Photo courtesy of The Brown Palace
The Brown Palace opened more than a century ago in 1892. Today, it still exudes luxury with 241 distinct guestrooms and suites and celebrated amenities meant to spoil their guests. Enjoy twice-daily maid service, plush terry robes, complimentary WiFi and pure artesian water from their own well. The hotel also boasts six unique restaurants and bars, a boutique spa and a stunning location in downtown Denver. They have too many incredible green initiatives (including reduced energy usage, a composting program, bio-diesel program and biodegradable paper products) to list here, but you can read about all of them on their website.
What did we miss?
Where do you like to eat/drink/shop/stay sustainably in Denver? Let us know in the comments!