Practicing social distancing doesn't mean you have to sacrifice your love life. Whether you've been married for several years or just started getting to know someone—date night isn't off the table just yet. 
There are still plenty of ways to romance your special someone from the comfort of your own home, it just requires a little creativity. Join in a virtual class like cooking or painting; enjoy a bottle of wine from a local restaurant in your living room; or pick up a brand new board game and let your competitive side run wild. To give you a few ideas during this time, we created a list to help you plan your next date night in. Enjoy!
This fun date night, team-building and girls night out activity has gone virtual this season! Canvas & Cocktails is a "paint-and-sip" destination, giving you the opportunity to follow along with a painting instructor with a drink in one hand and a paintbrush in the other. At the end, you can take your masterpiece with you and display it proudly in your very own home. Right now, they are hosting online classes—the next one is on April 12th—where you can follow along at home with your sweetheart. You can even pick up all of the necessary materials curbside! Just sign up using your Facebook email address and they'll send you information on how to join.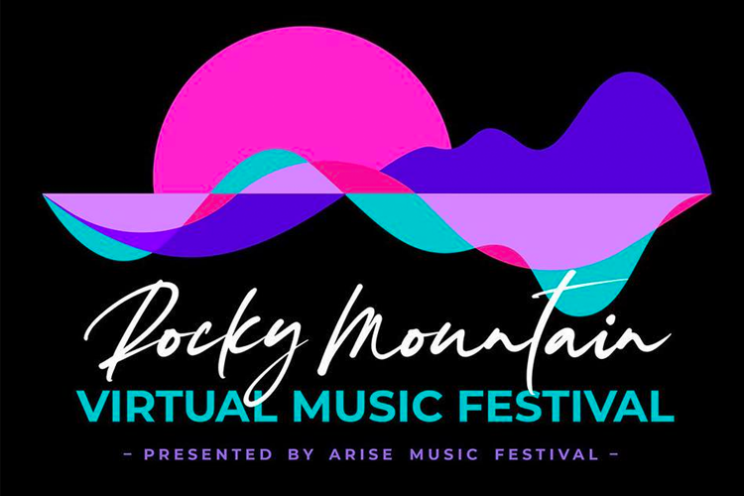 Photo courtesy of Rocky Mountain Virtual Music Festival
Spring and summer in Denver usually means outdoor concerts and festivals. But because large group gatherings are prohibited right now—we have to do our normal warm-weather activities a little differently this year. Luckily, local music lovers and artists at ARISE Music Festival have banded together to help us out during this difficult time, hosting virtual music events every weekend. These online events run every Friday and feature Colorado musicians, bands and other artists live-streaming performances on Facebook. All the events are completely free, but you are able to "tip" your visual artist through Venmo and Paypal if you feel like contributing. 
An urban winery with three locations around Colorado, Carboy is our go-to for date night—even if we can't leave the house. Right now, they are open for curbside pickup and take out orders. And if you buy six bottles, you'll get one free! For a special treat, try their Board and Bottle take out special that features a board of your choice and a one liter Carboy fill for just $30. 
There's nothing more romantic than dancing. Luckily, Denver's own Destiny Dance is now offering virtual lessons so you and your significant other can dance the night away from the comfort of your own home. If you're looking for a more intimate lesson—email [email protected] to set up a time for a private lesson. You can also sign up to join their regular weekly group classes online. Their "Ain't Got No Toilet Paper But I Sure Can Dance" membership costs $75 per month and includes unlimited online class access as well as access to their playlists for practice. Click here to learn more.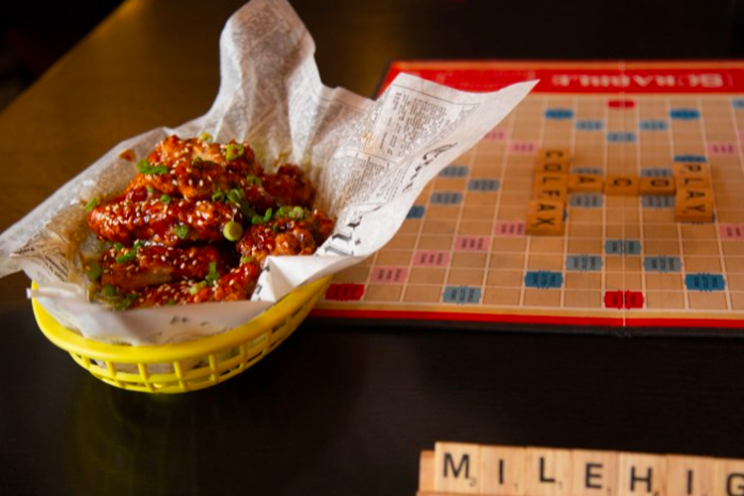 Photo courtesy of The Denver Game Lounge
In our opinion, there's no better way to pass the time at home than playing a board game! Put on a special evening for your loved one by picking up a new game and dinner from the Denver Game Lounge! Right now, they are offering their entire menu and board game selection for curbside pickup and delivery. Purchase a classic like Monopoly (they have a Rugrats and The Walking Dead version for sale) or a more modern game like Ticket to Ride and spend the evening competing. Want a full list of board games currently available at the Game Lounge? Click here. 
Get Some Cocktails To Go 
One of our favorite date night activities in Denver is heading to a local cocktail bar and soaking up great drinks and atmosphere. While we aren't able to take in the atmosphere right now, we can grab a few cocktails to go. Many Denver area bars are now offering drinks and drink kits for take out—from Mason Jar Old Fashioneds to Mimosa Kits. 
American Elm, a cocktail bar that offers more than thirty drinks on their lengthy menu, is now selling large-format batched cocktails, which will serve about six people (or just the two of you for the evening!). There are so many other bars currently offering spectacular deals like this. Just check out our list of liquor stores, breweries, wineries and distilleries offering delivery and pickup for more examples!
Pot-Luck Pottery's studio may be closed, but that doesn't mean you can't enjoy creating something new from the comfort of your own home! They are currently selling pottery kits—which include your chosen pottery piece, paint and brushes—that can be shipped directly to you. After you're finished painting and DIYing your creation, just drop it off outside the studio from 11 a.m.-4 p.m. during the week so it can be fired in their kiln. They'll then ship it right back to your or hold onto it until the stay at home order has been lifted. You can call (303) 639-5825 for more details.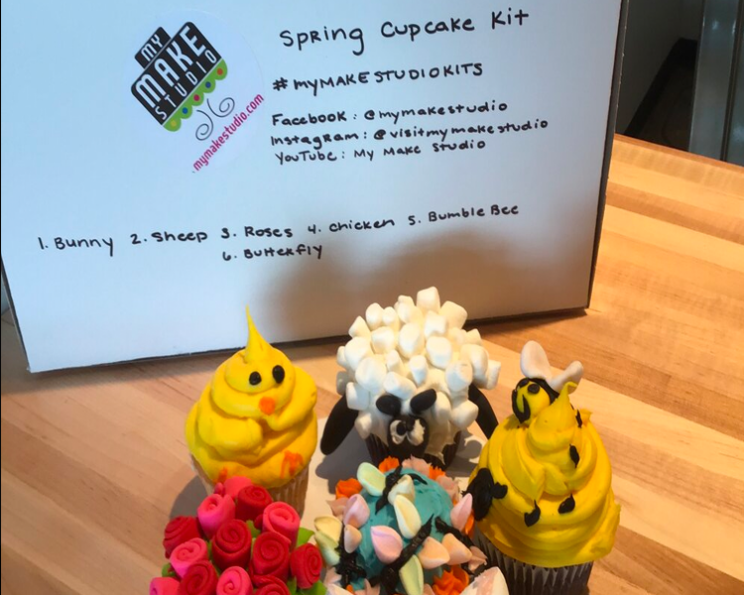 Photo courtesy of My Make Studio
My Make Studio is a do-it-yourself cupcake and cake decorating studio teaching you how to make yummy confections in their Edgewater Public Market location. Obviously, we can't take a physical baking class from them right now—so they're bringing the class to you via pickup, delivery and the power of online video! All you have to do is order a DIY Cupcake Kit, they offer several different themes from spring flowers to cute animals, and follow along with their easy-to-follow instructions on Youtube! If you don't feel like driving to the studio and also don't want to wait for the kit in the mail, My Make Studio has their kits available for delivery on DoorDash. 
A picnic sounds absolutely perfect right now and what better place to enjoy it than right in your living room?! Leven Deli, one of Denver's favorite sandwich destinations, is now selling take-home picnic kits which includes a choice of two soups, a half loaf of bread, one salad, two sandwiches, plus your choice of sides, dessert and a bottle of wine for $60. You can order this amazing deal online for pick up or take advantage of delivery through GrubHub, ToastTab and Postamates. 
Just because we are not supposed to leave home, doesn't mean we can't enjoy everything our favorite Denver businesses have to offer—and that includes the ambiance! Bigsby Folly, a local urban winery, is going live on Instagram every Wednesday for the foreseeable future to show off the behind the scenes of the winery and host a guided tasting for you to follow along with at home. Right now they are offering 50% off all wine growler fill ups so stop by and get a few bottles to enjoy during their live event. It's a romantic wine tasting right from your couch and what could be better than that?
Workout Together in a Virtual Workout Class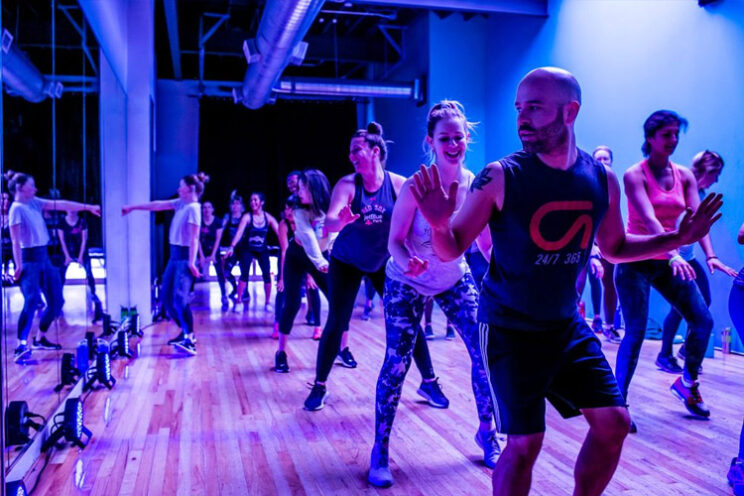 Photo courtesy of Block21 Fitness
While hanging out at home can be fun, it does tend to make us a little restless. So beat off the lethargy with a couples workout! Several local gyms—including Block21 Fitness—are hosting free online workouts complete with instructional videos, virtual personal training and more so you can work out without putting yourself at risk. Project Rise Fitness is even offering equipment rentals so you can stop by and pick up any kettlebells, small weights or anything else you might need during your workout. 
Who says it has to be a date "night"? Enjoy a brunch date instead with Snooze! On Saturday, April 4 at 10 a.m., they are hosting a themed Virtual Brunch Party where you and your sweetheart can listen to a live DJ and enjoy a delicious meal from Denver's finest a.m. eatery. All you have to do is order brunch with your favorite boozy kit or barista drink, then be sure to tune in on Twitch for even more fun! To stay in the know on future virtual brunch events, follow along on Facebook and Instagram.
Quarantine can't stop us from getting our happy hour on and there's no better place to do it virtually than this fun virtual happy hour and art class from Brown Girls Unite! This Friday, and every Friday until the stay at home order is lifted, join other creative individuals as you learn how to draw something new! All you and your date will need is paper, pencils, pens and other basic office supplies—along with your favorite happy hour drinks—to get started. Tickets cost just $5 and can be purchased here.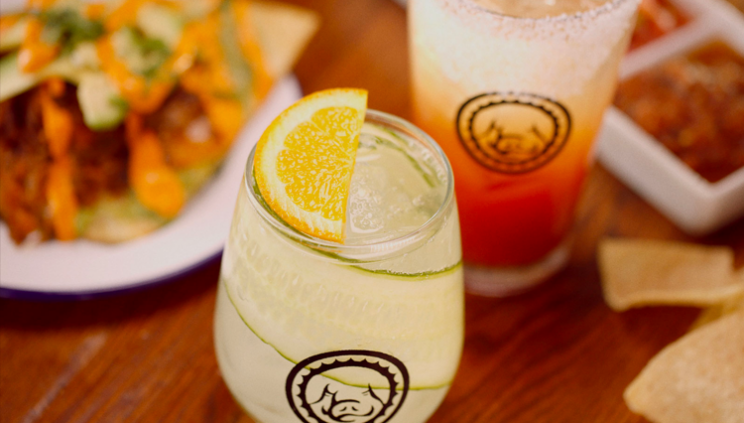 Photo courtesy of Cochino Tacos
We are firm believers that nothing goes together better than a taco and an ice cold margarita. Thankfully, Cochino Taco is offering both for curbside pickup and delivery. Get 32-ounce pours of their Casa Marg, Frozen Drinks and Sangria for $19 along with bottles of wine, beer, cocktails and, of course, plenty of tacos. If you order from their Broadway location 11:30 a.m.-4:30 p.m., Monday-Thursday, you can get 50% off all food items. 
We're the first ones to admit that we aren't cooking experts. That's why we often like to leave it to the professionals (and in an amazing food city like Denver—why wouldn't we?). But now that we're stuck at home, we've been trying to cook more. And with the help of Create Cooking School, it's so much easier! Every Friday, Create is hosting live cooking classes on Facebook teaching you easy recipes that you can make with everyday items in your pantry. Want to make sure you have all the right ingredients in advance? Follow them on social media where they'll post the ingredients list and Facebook Live information so you can have everything ready for date night. 
Every Tuesday night at 6 p.m., Sage Restaurant Concepts is bringing the restaurant experience straight to your home. Each week on Instagram Live, they'll be featuring culinary and beverage experts from their restaurants to share tips, tricks, hacks, discussions, tastings and more. You can find announcements, updates and more on their Instagram account. While watching the livestream is completely free, consider donating to help support their furloughed associates in need. 
Have Fun! 
Let us know what you're planning to do on your next at-home date night in the comments!