This post was updated on September 10, 2020 to reflect the most current information
Fall is officially here! Though we had a tough time bidding summer farewell, we are thrilled at the prospect of a new season filled with vibrant colors, warm apple cider and plenty of pumpkins. Visiting a pumpkin patch is a beloved tradition here in the Denver area, so we decided to round up a few or our favorites! 
Listed below are 15 pumpkin patches in Denver and in Denver Metro for you to choose from. Pumpkin patches are available to be viewed on an interactive map, that can provide you on-the-go directions, as well as a summary about each pumpkin patch and what you can expect during your visit. Enjoy!
PUMPKIN PATCHES IN AND AROUND DENVER 2020
6728 County Rd 3 1/4, Erie, CO 80516
Anderson Farms features 30 acres of pumpkins and over 70 different varieties of pumpkins, squash and gourds with pumpkins priced from $2 – $12. You reach their pumpkin patch on a wagon pulled by an antique Oliver tractor.
Anderson Farms also includes many family-friendly activities such as pumpkin launching, barnyard 500 pedal karts, pumpkin creek gem mining, haunted hayrides, zombie paintball, mine Cars, barrel Train, "Krazy" Rainbow Maze, tire mountain and farm animals and more.
Anderson Farms is planning on being open during the COVID-19 pandemic with special health and safety guidelines in place. They will not accept any pavilion, private campfire or field trip reservations at this time. Click here to read the full update.
12590 Ute Hwy, Longmont, CO 80504
This Boulder County destination is known for their U-pick sunflower patch, pumpkin patch, a bee farm, petting farm and more! Exciting and bustling during autumn, The Bee Hugger is an absolute must-visit this season.
Masks are required and social distancing is encouraged at The Bee Hugger.
18065 Saddlewood Rd, Monument, CO 80132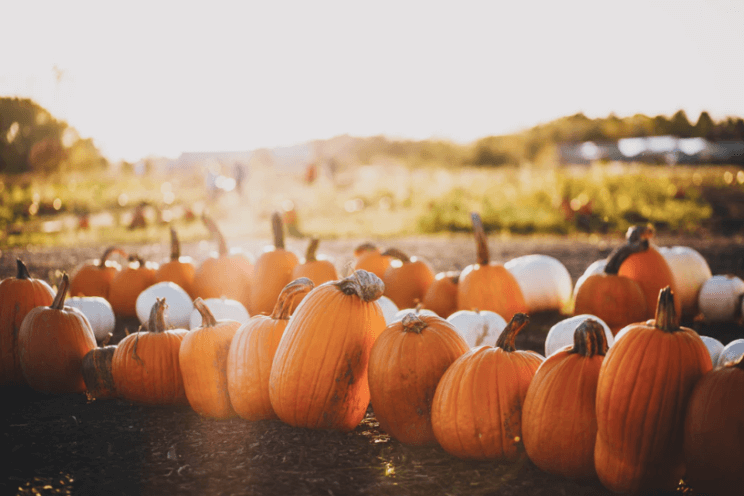 Colorado Pumpkin Patch offers a Pick-Your-Own pumpkins area, a straw bale pyramid, straw maze, target shooting bale or pumpkins, a petting zoo, pony rides, hay rides, and more.
Colorado Pumpkin Patch doesn't currently have any listed COVID-19 policies or closures. We recommend calling them before visiting to see what their current safety policies are.
10600 Isabelle Rd, Lafayette, CO 80026
Cottonwood Farms offers a Pick-Your-Own pumpkin patch, accessible by riding on one of their red wagons. The farm also features a corn maze, straw bale maze, hay rides, live animals, and more.
Cottonwood Farms is currently working on plans for fall 2020, with the health and safety of their guests and staff in mind. They are planning on being open while following the Colorado COVID-19 requirements and guidelines. Click here to stay updated.
8500 W Deer Creek Canyon Rd, Littleton, CO 80128
Denver Botanic Gardens gives you the opportunity to pick your perfect pumpkin at their Pumpkin Festival with a massive pumpkin patch, corn maze adventure, family and children's activities, live music and more.
They are gradually reopening to the public and are looking forward to seeing you this fall. They are opening with limited capacity and timed tickets, which will be available two weeks at a time. Click here to read their full list of COVID-19 policies and procedures.
9400 W Alameda Ave, Lakewood, CO 80226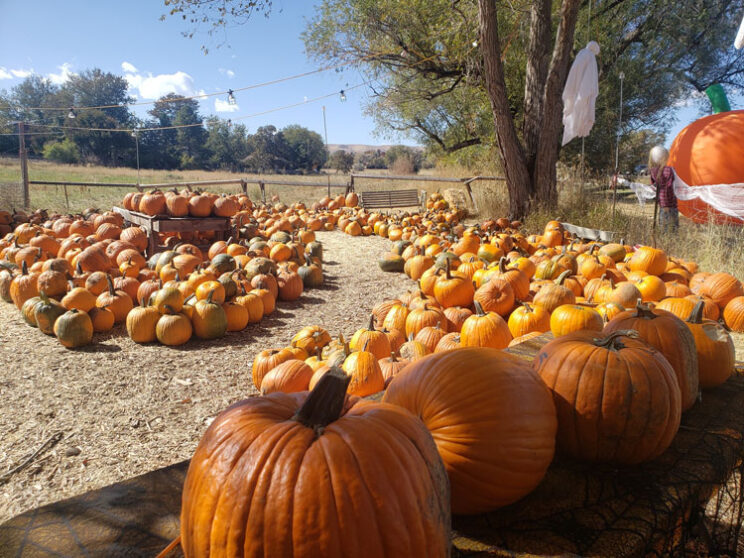 Photo courtesy of Everitt Farms
Everitt Farms, locally owned and operated by Derek and Kamise Mullen, features a pumpkin patch and market during the fall season. Everitt Farms attempts to create a local economy that provides all goods essential to life such as food, dry goods, clothing and more, within a 5 mile radius of your home.
Everitt Farms hasn't announced any changes for the 2020 season yet. You can follow them on Facebook for the most up to date information.
11321 Dransfeldt Rd, Parker, CO 80134
Flat Acres Farm is Douglas County's newest locally owned and operated family farm. Flat Acres Farm includes a pumpkin patch, a giant bale maze, a haunted maze, a petting zoo, and family-friendly activities such as a giant jenga game, cornhole boards, duck races, bounce houses, a giant swing set and much more.
Flat Acres Farm is open and offering much of their usual fall fun to guests. They are continuing to work with local and state health officials to make sure everything is safe for you and your family. Click here for the most up to date information.
715 S Forest St, Denver, CO 80246
Four Mile Historic Park is offering its pumpkin patch during their annual Pumpkin Harvest Festival. The festival is an 'old-time' fall festival featuring activities such as building your own scarecrow, selecting the perfect pumpkin from the patch, dancing to live music, playing pioneer games, and more.
Four Mile Historic Park is currently open! This year, they have implemented a ticket program and timed entry. They also have special hours designated for higher-risk individuals.
20861 CR 33, La Salle, CO 80645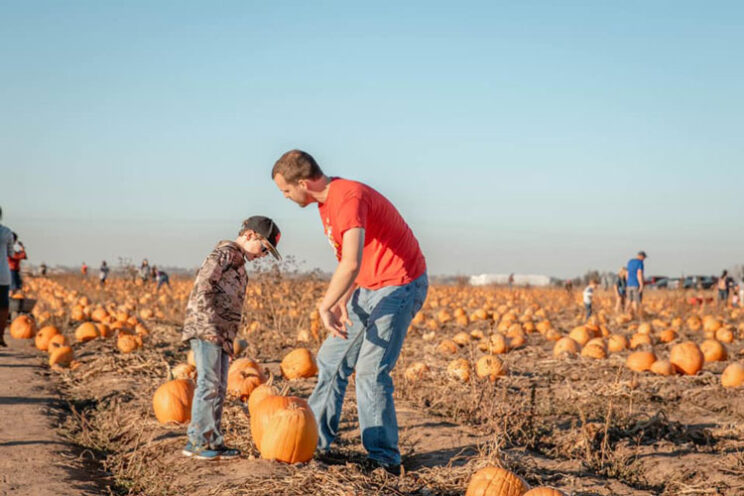 Photo courtesy of Fritzler Farm Park
Fritzler Farm Park has been welcoming young and old to their farm since 2000! They offer more than 25 attractions during the fall season like a pumpkin patch, pedal go-carts, a barrel trail, pumpkin canons and an iconic corn maze you don't want to miss. 
Fritzler Farm Park is committed to the safety of their guests and staff this season and will be continuing to adhere to all local and statewide health standards. Click here for a full list of their current COVID-19 policies and precautions.
3225 E 124th Ave, Thornton, CO 80241
Hill's Harvest gives you the choice of going through their pumpkin patch and picking out your own pumpkins or picking one from those that have been brought in from the field. They also offer Pie Pumpkins, Wee-Be-Littles, gourds, and pumpkins of all sizes: small, medium, large as well as jumbo and giant pumpkins for making Jack-O Lanterns.
For your Fall Decorative needs, they have many varieties of colorful gourds, Indian corn, straw bales, and corn stalks. Fall is the time for making pumpkin bread, cookies and pies and they have many pie pumpkins to select from.
During the 2020 season, masks are mandatory as is social distancing. There will be hand sanitizer readily available on display cases and gloves for you to handle produce. Click here for a full list of their current COVID-19 policies. 
10500 W Bowles Ave, Littleton, CO 80127
Jared's Nursery Gift & Garden Center will feature pumpkin harvesting at its annual Jared's Giant Pumpkin Festival and Weigh-Off. The festival is the largest pumpkin weigh-off in the state of Colorado.
The festival will include a 100′ pumpkin drop off, a half-ton pumpkin weigh-off, live music, beer, food vendors, a straw maze, inflatable games for kids and adults, and over $5,000 of prizes awarded to attendees.
Jared's Nursery Gift & Garden Center plans to be open and providing the same fall fun as always this season—including their annual Pumpkin Festival and Weigh-Off, which will take place on September 26th.
10451 McKay Rd, Thornton, CO 80233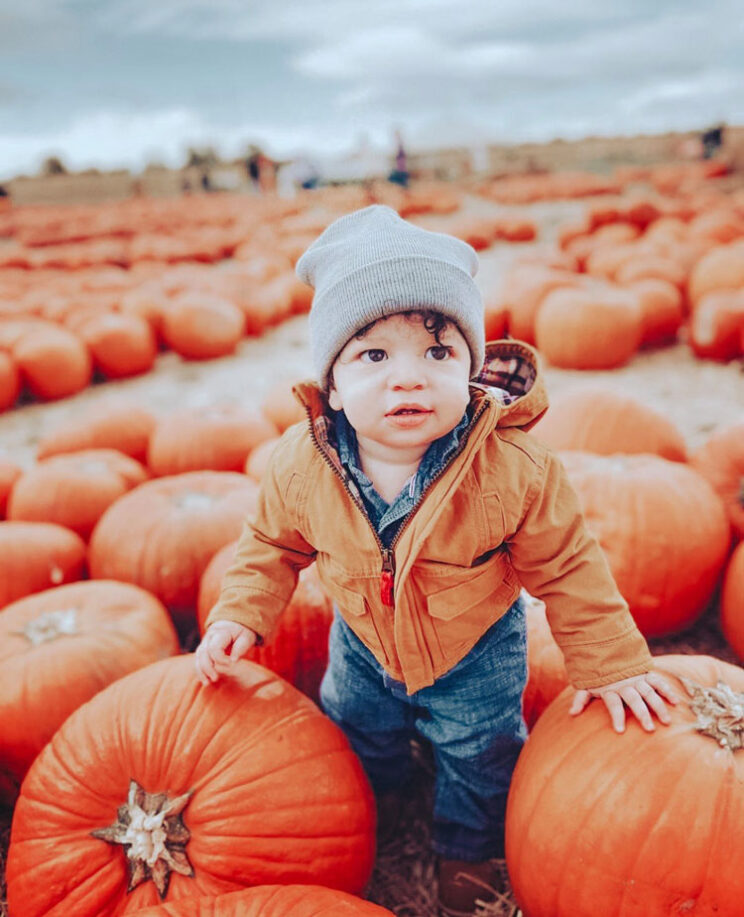 Photo courtesy of Maize in the City
Maize in the City features a free pumpkin field with pumpkin prices determined by the size and type of pumpkin selected. Prices range from $1 to $20, or more.
They typically have a variety of specialty items: Cinderella Pumpkins, White Pumpkins, Cotton Candy Pumpkins, Fall Squash, Pie Pumpkins, Mini Pumpkins, Large and Small Indian Corn, Small Gourds, Bird House & Swan Gourds.
The site also sells Hay Bales and Corn Stalks. All stock for the season is typically full in mid-October. Other attractions available: crazed corn maze, mini maze, petting zoo, pony rides, playground, jumpy castles and more!
Maize in the City will be open for the 2020 season starting in September. You can follow them on Facebook for the most up to date information.
11 Cavanaugh Rd, Bennett, CO 80102
Mile High Farms features an antique tractor hay ride to and from the pumpkin patch, two corn mazes, bounce houses, wagon and tractor tire corn pits, farm animals, barrel cart rides, a playground, stage performances and more.
Mile High Farms was closed during the 2019 season due to hail damage, but plans to be open this year! Follow them on Facebook for the most up to date information.
75th and Valmont, Boulder, CO 80301
Munson Farms in Boulder is a local favorite for their pick-your-own-pumpkin-patch, pre-picked pumpkins, hay rides and their amazing corn maze. 
They are now open to purchase summer and fall produce! The Munson Farms pumpkin patch should open soon—with social distancing measures in place.
2001 S Chambers Rd, Aurora, CO 80014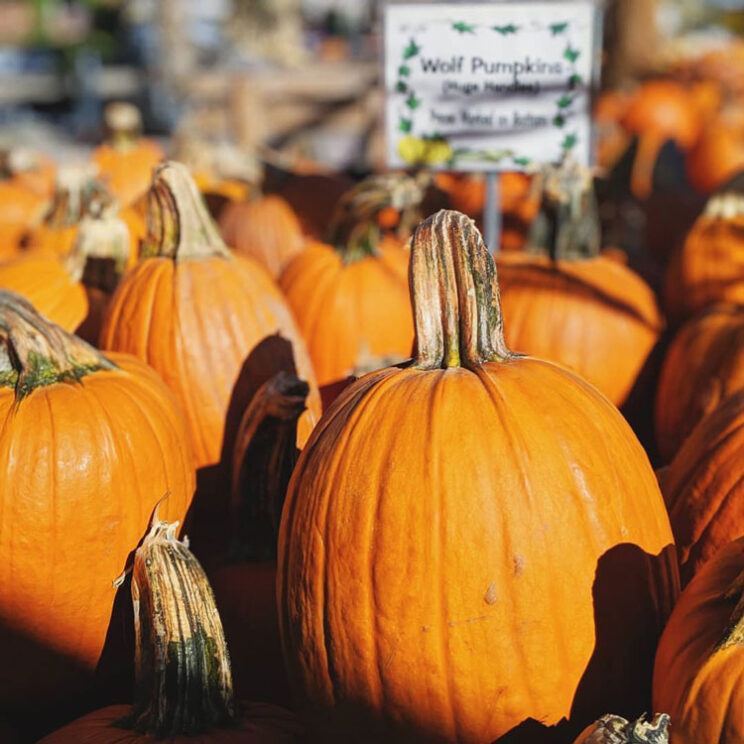 Photo courtesy of Nick's Garden Center & Farm Market
Nick's Garden Center & Farm Market transforms into a giant pumpkin patch complete with tons of pumpkins for purchase and an array of fun activities during the fall season
Activities include Nick's Garden Express train ride, jumping castles, a pedal kart track, the Tunnel of Terror, Professor Pumpkin, a straw maze, an assortment of games and festive photo opportunities and more.
Pumpkins have arrived at Nick's Garden Center are ready for "picking!" Masks are required and social distancing is encouraged while visiting. 
2005 S 112th St, Broomfield, CO 80020
Rock Creek Farm features over 100 acres of U-Pick-Em pumpkin fields for you to explore and find the perfect pumpkins. Pumpkins aren't where the fun stops, try their hay bale maze or get lost in the winding paths of over six miles of Corn Mazes.
Visit their pigs, goats, ponies, donkeys, chickens and other farm animals. Enjoy their selection of fall festive treats and decorations such as gourds, indian corn, caramel apples, baked goods, straw bales and more.
Rock Creek Farm hasn't announced any COVID-19 changes yet, but you can follow them on Facebook for updates.
Have a great fall!
Which pumpkin patch will you head to first this season? Let us know in the comments!