RiNo or the River North Arts District, is where "art is made", boasting historic warehouses and factory buildings that are home to everything from music venues, restaurants, breweries, and a plethora of art galleries and studios.
Because this area is so popular to Denver locals and visitors alike, we crafted this ultimate guide to the neighborhood. Whether you've lived here all of your life, or are just experiencing it for the first time, RiNo is a great place to spend a day—the only challenge is deciding what to see first!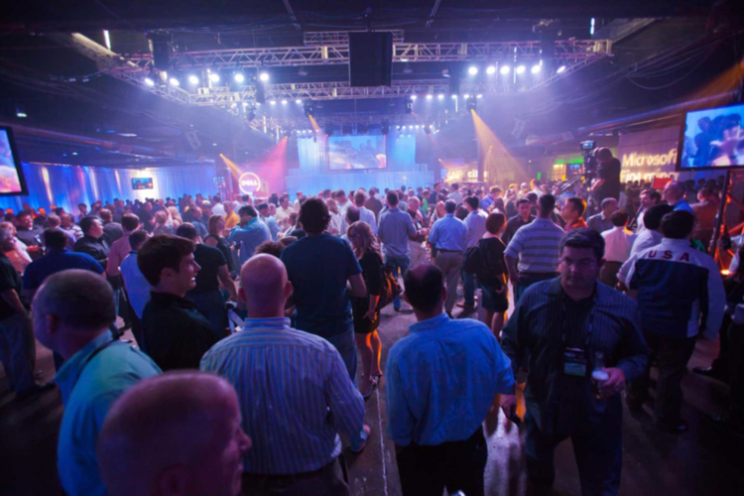 Photo courtesy of the EXDO Event Center
The EXDO Event Center is a great choice when exploring RiNo. The versatile venue is located in a converted 1940s warehouse and hosts everything from incredible concerts to fashion shows and monthly roller skating parties. Check out their event schedule and discover some of the fun activities EXDO has in store for you this month!
If you're in the area on a Friday, a visit to the Friday Night Bazaar is practically required. This weekly gathering combines vintage crafts, food and live music at Central Market, a funky art warehouse space.
Go Mural Hunting
While we say "Mural Hunting", tracking down spectacular art murals in RiNo isn't exactly hard to do. Local artists have adorned the walls of this neighborhood with colorful and innovative street art that brings creative expression well beyond its galleries' walls. We highly recommend paying a visit to "Reverberations" on the east side of Larimer, between 25th and 26th Streets, and the "Larimer Boy and Girl" located at 27th and Larimer for a true taste of Denver street art.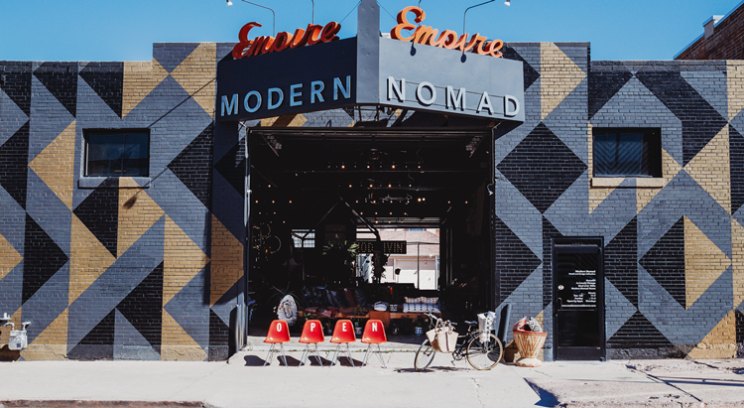 Photo courtesy of Modern Nomad
Modern Nomad is a design collective located in a 5,500-square-foot warehouse in the heart of the neighborhood. Here, you'll find new and vintage furniture, textiles, lighting, rugs and accessories for the home—all brought to you by different local retailers. Each week, they host a variety of workshops and pop-ups where you can explore Denver's artsy side with other curious locals.
The Forney Museum of Transportation began over 60 years ago with a single 1921 Kissel but soon grew into a massive collection of cars, buggies, motorcycles, steam locomotives, planes and so much more. If you want to learn even more about the types of transportation and their history located in the museum, we recommend taking one of their guided tours.
Psst… don't leave without seeing Amelia Earhart's 1923 Kissel "Gold Bug", which was her favorite car and is still in fantastic condition. 
The Infinite Monkey Theorem is an urban winery that found a home in the RiNo district in 2008. They source their grapes predominantly from the western slope of Colorado, resulting in well-respected, deliciously accessible wines. In fact, their wines are so accessible, you can even get them in canned form at several different locations around Denver and Austin! If you have a few hours, we highly recommend scheduling a tour and tasting at the Infinite Monkey Theorem to learn how they make their top-notch wine.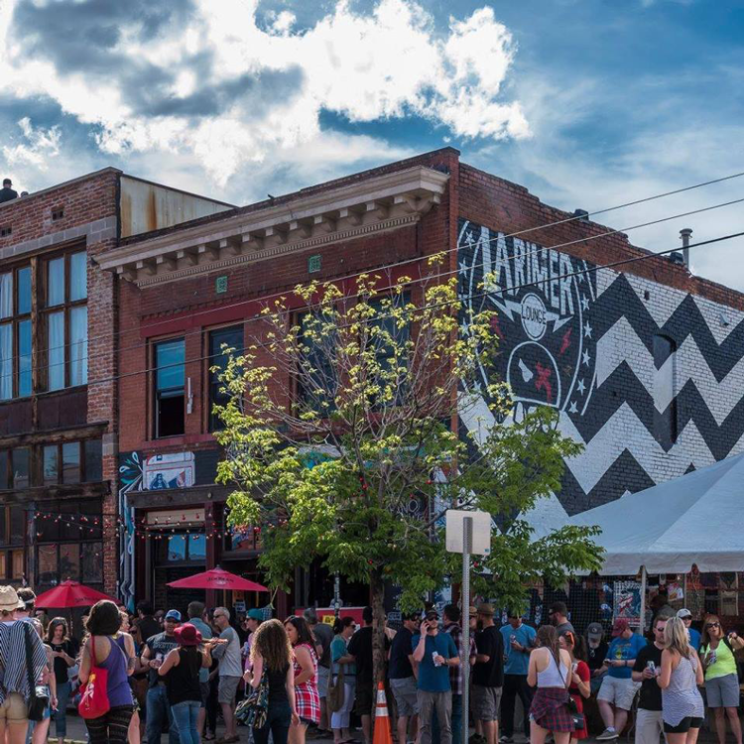 Photo courtesy of the Larimer Lounge
When the Larimer Lounge opened in 2002, the surrounding neighborhood was basically a warehouse district. Since then, both the iconic music venue and RiNo have grown into incredibly popular destinations for Denver locals and visitors alike. Almost every night there's a band performing at Larimer Lounge—from local rockers to nationally known artists.
Bike Around the Neighborhood
The RiNo district is so small, that biking is a great option when exploring the area. There are even four Denver B-cycle stations located around the neighborhood where you can rent a bicycle for a small fee. And if you're interested in learning more about the things you see on your ride—check out Denver Story Trek, a program that allows visitors to experience the stories behind Denver's historic landmarks on an interactive tour of the city.
Or Take a Class at Epic Ryde
If the weather isn't cooperating with your neighborhood bike ride—head inside! Epic Ride is a unique gym that features a stadium full of indoor bikes for you to enjoy. They provide "real" cycling classes for all skill levels that bring the outdoor cycling experience indoors. Click here to see the full RiNo studio class schedule.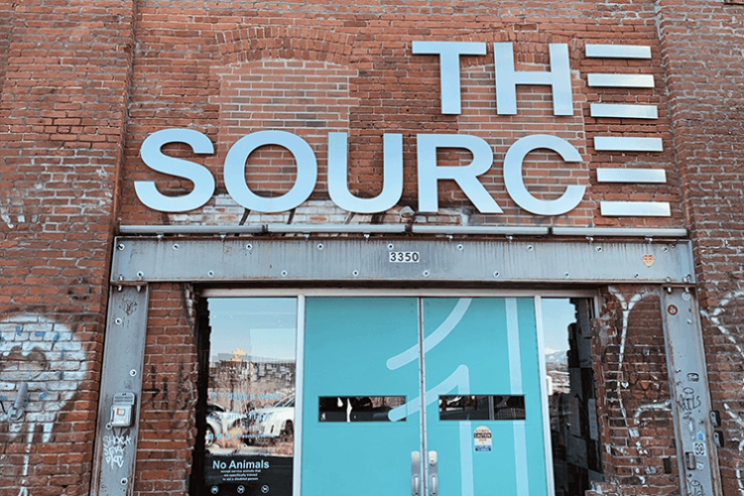 Honestly, The Source could go under any of the categories on this list. The indoor market is home to over 25 artisans that sell great coffee, food, beer, home goods and clothing items so spending an entire day here isn't hard. Plus, it's also a hotel so you can keep the party going way into the night.
Where to Get Coffee
Blue Sparrow Coffee was born in the Backyard on Blake community and have cemented their coffee shop as a neighborhood gathering place. Inside, they offer a lineup of drinks on tap, including Upstart Kombucha, CBD Nitro Cold Brew and Blueberry Soda, as well as local foods from La Fillette, Rebel Bread, Marczyk Fine Foods, Patter Bar and Genova's Biscotti. As for their crown jewel, the coffee, they feature a new artisan roaster every few weeks. That means you can taste something new every time you visit!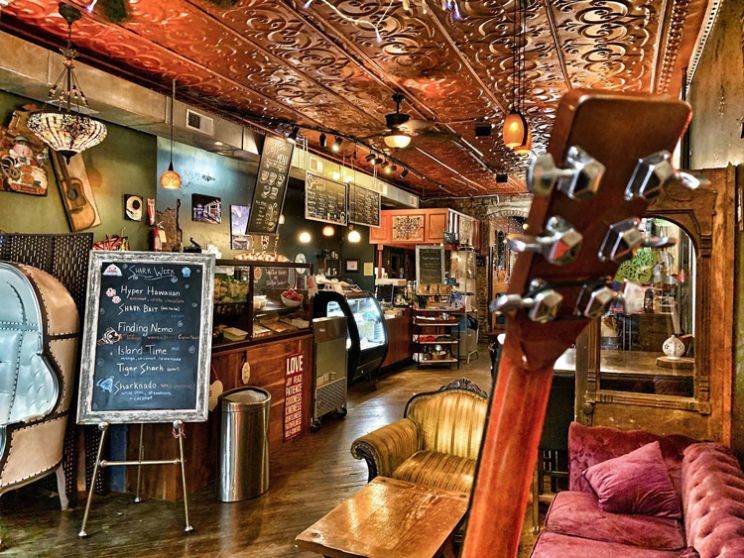 Photo courtesy of Crema Coffee House
This hipster coffee shop fits right in here in RiNo. Their team is dedicated to pulling the best espresso in town and offers a full lineup of coffee beverages alongside a packed pastry case and a creative food menu. Stop in, grab a spot on one of their cozy couches and settle in, because you've found one of the best hangouts in town.
This adorable shop is located in the heart of the district and offers house-roasted coffee and one of the trendiest atmospheres in the city. Along with their amazing coffee, they also have healthy smoothies, avocado toast and overnight oats on the menu—offering the perfect fuel for a full day of adventuring.
Where to Eat
For Upscale, American Fare — Acorn
Located inside The Source, Acorn is an eclectic and contemporary American eatery with a solid foundation in oak-fired dishes. Their seasonally rotating menu features family-style small plates and entrées alongside an impressive lineup of cocktails.
For Pizza, Oysters and Prosecco — Cart-Driver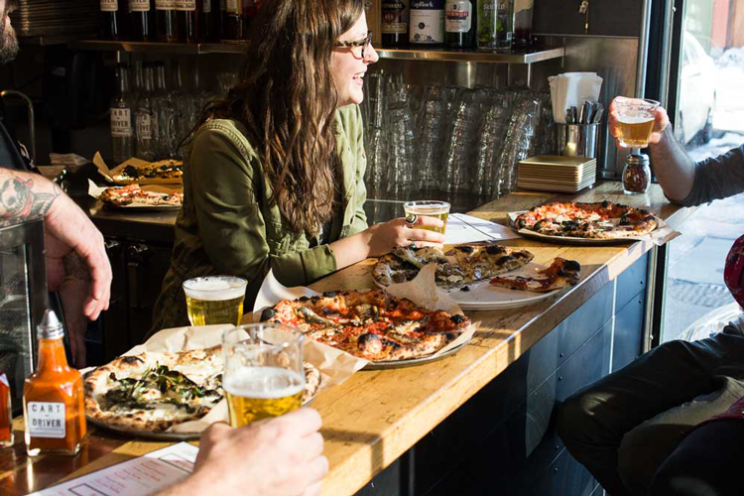 Photo courtesy of Cart-Driver
Cart-Driver is a small pizza joint operating in a 640-square-foot shipping container space. Even though this isn't your typical pizza restaurant, their wood-fired pizzas are inspired by authentic Southern Italian cuisine.
For Handmade Pasta — Dio Mio
This counter-service Italian eatery is our go-to spot for handmade pasta in Denver. They use fresh, seasonal ingredients to make their dishes in a casual and approachable way. Along with pasta and small plates, they also offer a full wine list, espresso drinks, craft beer and a small selection of cocktails.
Named after Denver's historic Chinatown, Hop Alley pulls inspiration from all over China—from Beijing to Singapore to Sichuan—to craft unique, undeniably delicious dishes with a modern twist. The menu is constantly changing, so you'll just have to stop in to see what specials they're cooking up today!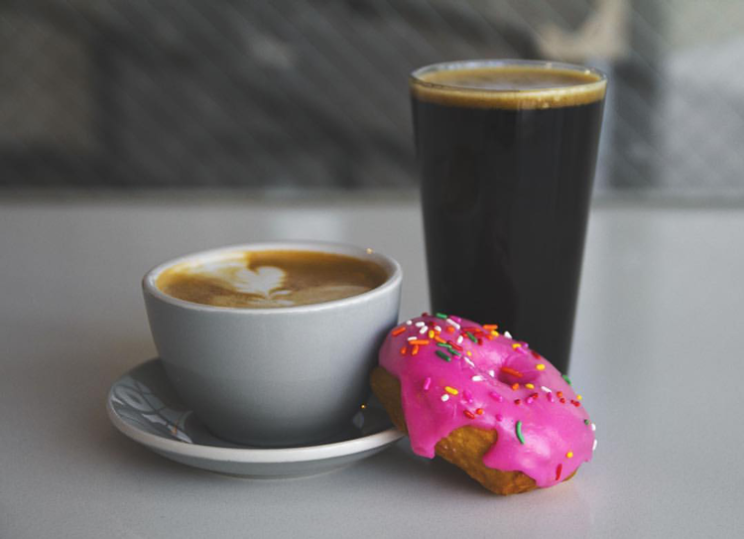 Photo courtesy of Hotbox Roasters
Whether you're stopping by Hotbox for coffee in the morning or a beer in the afternoon, you're definitely going to want to pick up a donut, too. We can't resist the yeasty, glazed rounds that take up to two hours to make every evening or their cake donuts, which are equally as popular and just as delicious.
Il Posto has been going strong for over 12 years, even after finding a new home in RiNo in 2017. Their newish space is even bigger than the old one, full of trendy decor and classy ambiance. When you visit, you'll want to try their pappardelle with pork-marjoram ragu, a recipe that was handed down from owner Andrea Frizzi's mother and is a local favorite.
For Southern Comfort Food — Julep
Julep is a Southern-inspired restaurant that honors the history and tradition of the South while incorporating local Colorado foods and produce. From boiled peanuts to buttermilk biscuits, and creamy mac and cheese to fish and grits—if you've been looking for authentic Southern cuisine, you've found it.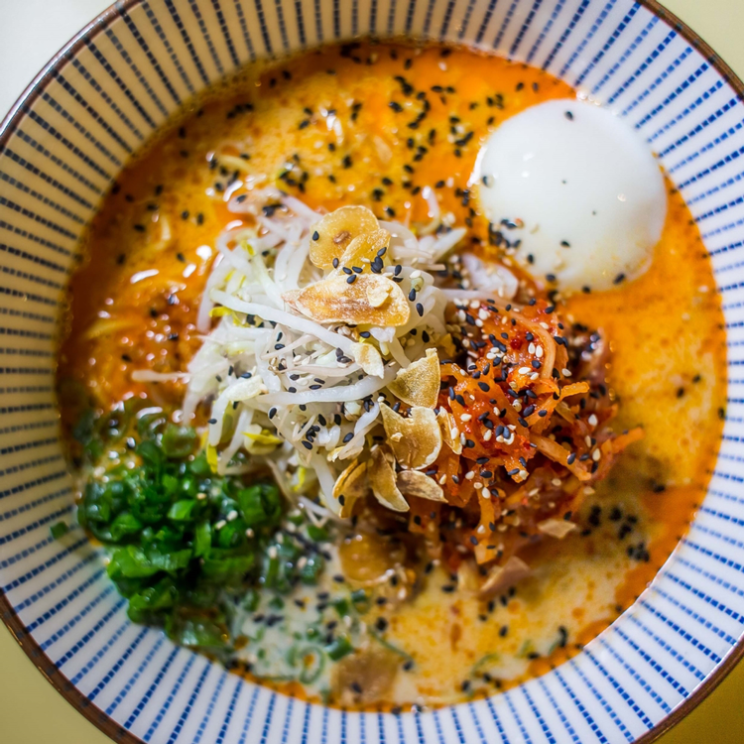 Photo courtesy of Osaka Ramen
A pig and a chicken get into a bowl. That isn't the set up for a joke, it's the logo for Osaka Ramen! Their Denver-famous ramen is offered with chicken- and pork-based broths and a really lovely vegetable option with Thai green curry flavor.  The menu doesn't stop there, offering a variety of Bento boxes and appetizers like Bacon Fried Rice and Okonomiyaki Fries.
For Latin American Cuisine + Trendy Cocktails — Work & Class
Work & Class is a no-reservation Latin-inspired eatery that serves meat by the pound accompanied by an array of comforting vegetable sides. The family-style seating and casual vibe make it the perfect spot to grab a tasty meal with friends—and make a few new ones down the table!
Where to Grab a Beer
The 10 Barrel Brewing Co. story begins in Bend, Oregon and continues through 2016 when they opened their 10,000-square-foot brewpub in RiNo. While 10 Barrel was slightly late to the RiNo brewery scene, they brought something new to the table, as their brewery also acts as a full-service restaurant.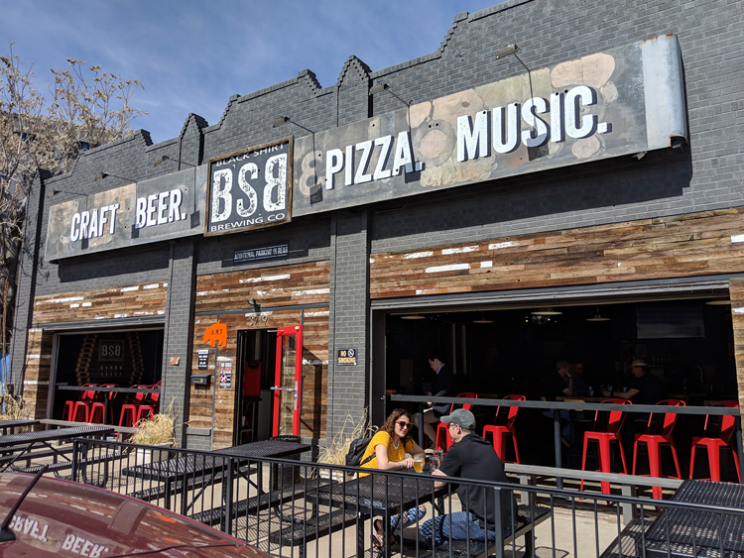 Photo courtesy of Black Shirt Brewing 
This music-oriented spot always has rock and roll blaring and comfortable seats waiting for you in their taproom. Their name refers to the symbol of rebellion, hoping to inspire their patrons to go against the grain—which is exactly what they do with their unique and delicious brews.
The views from Blue Moon Brewing Company's RiNo location alone make this spot worth a visit. The famous brewery opened up this brewery/restaurant in the neighborhood in 2016 and has since become one of the most popular spots to grab a meal and a pint in the area. They offer over 20 rotating taps in their light and open space, so you'll just have to keep stopping by to try them all!
Located in a warehouse space in the Source, Crooked Stave offers some of the best Belgian sour beers in the city. They are known for their mixed culture and Brettanomyces fermentations—brewmaster Chad Yakobson's Master's research. Plus, because of their proximity to so many fantastic food vendors in the marketplace, you don't have to go far to get a good meal to pair with your pint!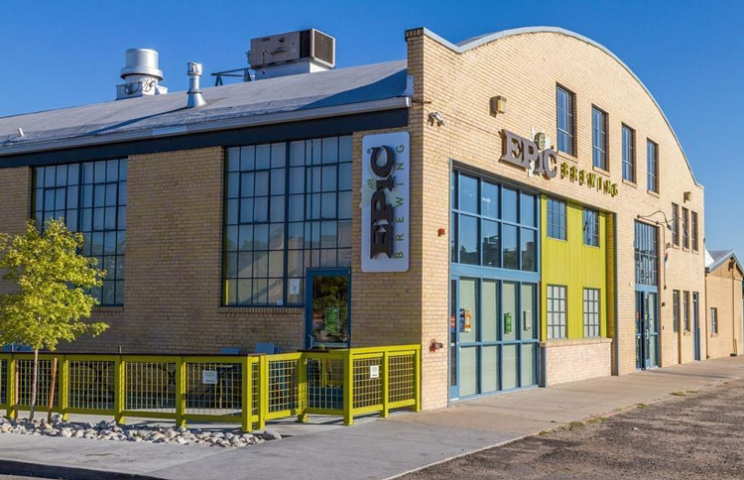 Photo courtesy of Epic Brewing Company
Epic Brewing Company is a Utah-based brewery that recently transitioned to Denver in order to grow their line of sours. They specialize in small-batch, artisanal brews that usually have a high alcohol content. You can try one of their beers, and see why Epic Brewing is one of the fastest-growing breweries in the state, in their spacious, warehouse-style taproom.
Just a few years ago, Denver staple Great Divide Brewing Company opened up a new taproom in the district. Here, you can find an incredible lineup of their most popular beers plus several barrel-aged and seasonal selections. This taproom also serves as the brewery's packaging facility, so make sure to enjoy one of their tours if you have time!
While their name might imply it, the beers at Mockery Brewing Company are no laughing matter. The brewmasters here take their job seriously, cranking out quality brews that bring in people from all across the state. They currently have 13 beers on tap and are constantly coming up with new creations, so make sure to stop by whenever you're in the area.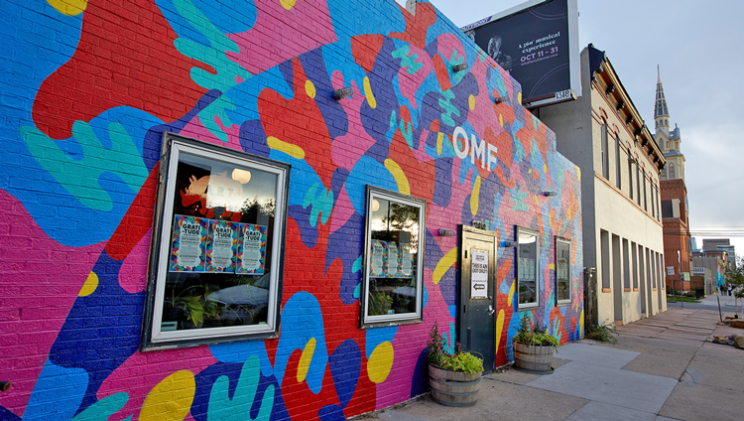 Photo courtesy of Our Mutual Friend Brewing Company
Our Mutual Friend is an award-winning brewery that is focused on bringing locals and visitors together. They've grown quite a bit since opening in 2012, but their focus on the community has stayed the same. They use grain mostly grown in the state and use as many locally made ingredients as they can. So if you've been hunting for a true Colorado brew, look no further.
Ratio Beerworks is a local craft brewery that focuses on meticulously crafted beer served in an industrial taproom. The owners began their journey in the independent music scene and have shifted their focus to crafting delicious beers, having learned the craft in Germany and honing their skills at some of the most respected breweries in Colorado.
If you're more of a cider-sipper, you don't want to miss Stem Ciders during your trip to RiNo. They offer a comfortable tasting room and a rotating selection of beverages on tap. We recommend Remedy, their dry-hopped cider which pays homage to craft beer, but you really can't go wrong with anything on their ever-changing menu.
Where to Sip a Nightcap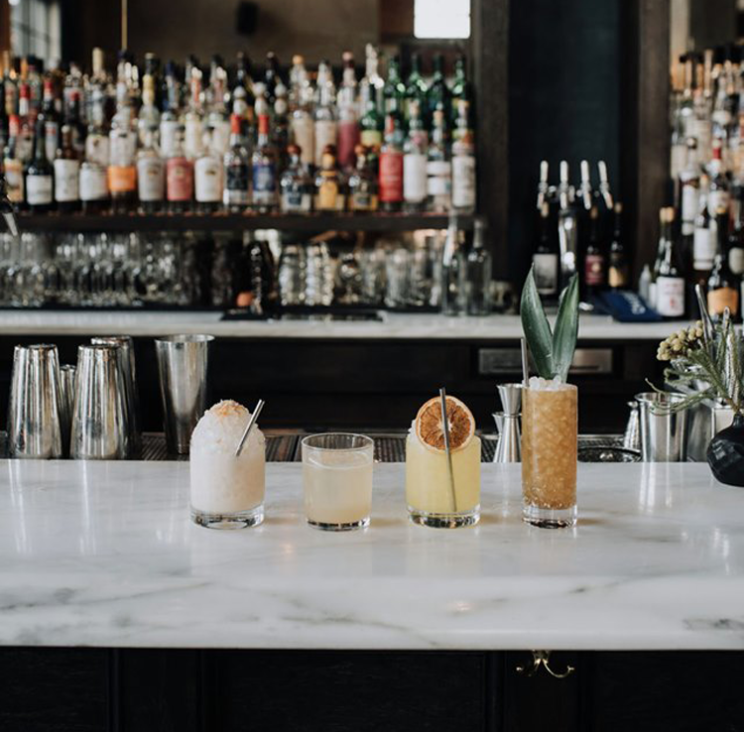 Photo courtesy of Death & Co.
Opened in 2018, this Denver spot has already become an ultra-popular place to grab a cocktail or dinner during the week and even brunch on the weekends. Here, you'll experience delicious food and the finest cocktails around in a stunning, intimate setting.
Finn's Manor is a cocktail bar and food truck corral that features an indoor/outdoor cocktail bar built on the grounds of an old salvage yard. On a warm night, there's nothing better than enjoying one of the best food trucks in town along with a unique cocktail from Finn's Manor. They offer a wide selection of rare rum, whiskey, spirits and beers along with a punchbowl on the bartop.
In 2015, Nocturne owners Nicole and Scott Mattson brought jazz back to RiNo. Today, they feature live jazz Tuesdays through Saturdays in their Art Deco bar space all while serving some of the best cocktails in the city.
Where to Shop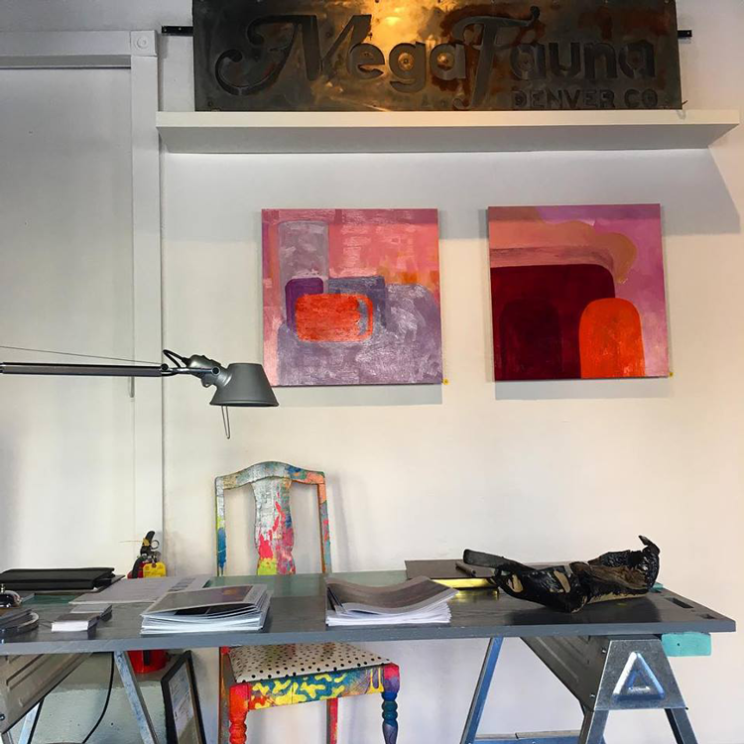 Photo courtesy of MegaFauna
MegaFauna is on a mission to support the evolution of the conscious consumer culture through sustainable business practices and localized marketplaces. At their RiNo market, they bring together creative businesses from all over the city so you can shop for unique and local clothing, jewelry and art in one central location.
Meraki Moon started out as a mobile boutique that would roam the streets of Denver, bringing a trendy selection of clothes right to you. Now you can find them in RiNo in a brick and mortar shop which is full of hip, Bohemian fashion with brands like Free People and For Love & Lemons as well as their own designer line.
Looking to give your home a sustainable makeover? River North Workshop is an open workshop/retail store, crafting and selling green homewares that are locally made and sourced. They collaborate with other local businesses, give new life to old furniture, and hold workshops, concentrating on the home.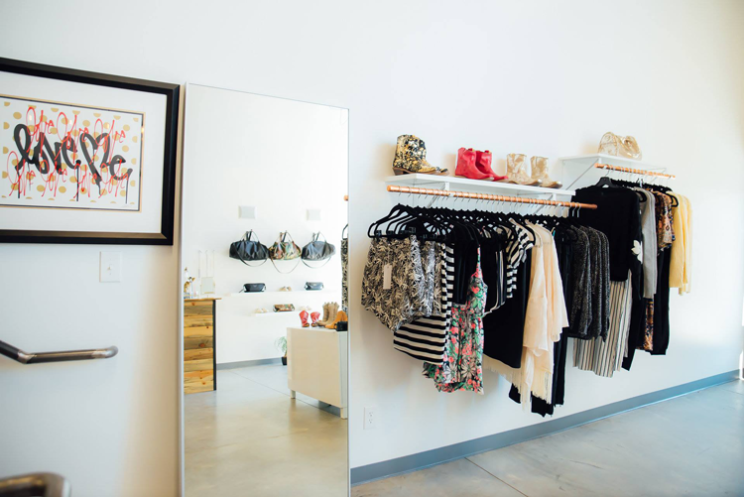 Photo courtesy of Shea Boutique
This adorable women's clothing boutique carries a curated selection that is not only classic but on-trend as well. They offer a vast variety of styles for any occasion, with new items stocked each week. If you can't make it in to visit them in person—don't worry! You can shop through their store on their website.
Nestled in a refurbished shipping container, this unique boutique sells clothing and bags made for traversing the world. Whether you're looking for a statement piece for your out-on-the-town outfit or want a reliable ensemble for when you're backpacking through the Rockies—you can find it at Topo Designs.
Where to See Great Art
This small but mighty art gallery is an artist-run space that has gained a lot of traction within the Denver art community in recent years. They showcase mostly contemporary art from local artists and will sometimes put on unique exhibitions that are a must-see.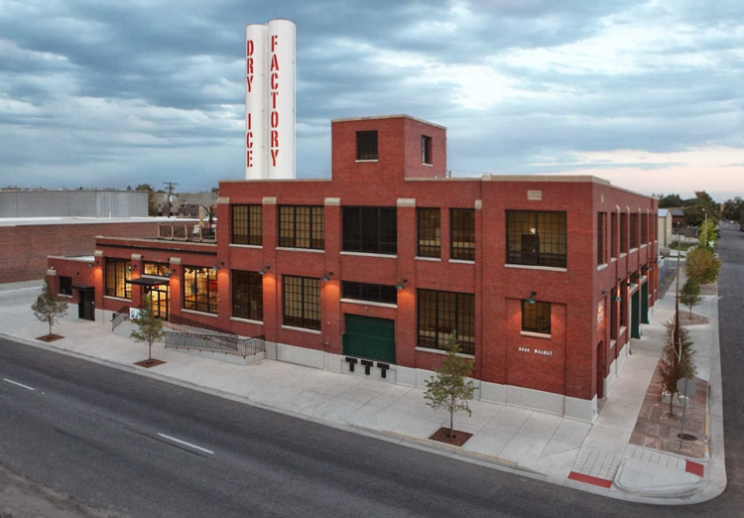 Photo courtesy of the Dry Ice Factory
In 1929, carbon dioxide billowed out of the looming, white cylinders in RiNo, as Liquid Carbonic Corporation manufactured dry ice for the first soda machines. Today, however, they're just a historic piece of art that adorns one of Denver's most popular co-op art galleries: the Dry Ice Factory. The brick building houses more than two dozen of Denver's best artists including painters, sculptors and ceramicists.
Helikon Gallery offers two exhibition galleries on the ground floor and dozens of art studios throughout their light and open space. Because so many artists are involved with Helikon, the genres of art available for you to see can range from photographic to print to digital and everything in between.
RedLine was founded in 2008 as a nonprofit art center and serves the artist community with rotating artist-in-residence positions that are incredibly popular with local art lovers. When you walk in, you'll see studios surrounding the main gallery floor, where you're allowed to step inside and say hello to any artist you admire. They also give back to the community by providing a slew of art classes and lectures. So if you're interested in learning something new, check out their calendar to see what interesting subjects they'll be teaching this month!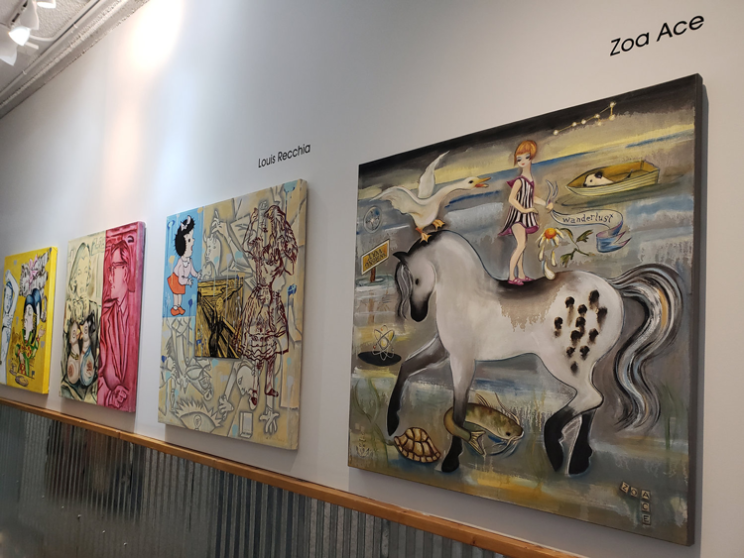 Photo courtesy of fooLPRoof Contemporary Art
fooLPRoof is the brainchild of local accomplished artist, Laura Phelps Rogers. The popular gallery splits its exhibitions between visiting artists and Rogers' own work. Here, you can find interesting sculptures, paintings, jewelry and more that are always stunning and definitely thought-provoking.
Where will you go first?
Let us know how your RiNo adventure goes in the comments—or tag us on Instagram using #TheDenverEar!