Are you tired of generic travel wipes that look almost as bad as they smell?
Look no further than the next big thing in travel wipes, WIPEYS. Kaitlin Moss, the founder of The Every Hostess blog and WIPEYS, gave us an exclusive first-hand look into the concept behind WIPEYS, what makes them so unique and an absolute must-have.
THE CONCEPT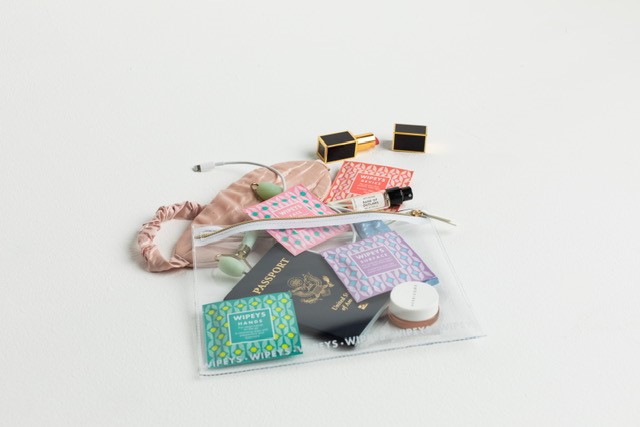 I've always loved travelling. You see it alot in my blog The Every Hostess; dinner parties inspired by places I've been (or wish I could go to), sharing how to host bachelorette trips in places like Palm Springs or Mexico, to a simple movie night by the lake in Montana. Travelling is a huge joy in my life and I love that it ties into my work. I started seeing a trend of people being worried about the cleanliness of their surroundings on airplanes. People would post on instagram wiping their tray tables and headrests down – this caught my attention. But, let's first revert back to the months leading up to my wedding day.
I was determined to perfect my skin (as much as I could) before the big day. I constantly work to have clear skin so I was not about to have a mystery pimple on my face while walking down the aisle. I started being more aware of what was touching my face – my phone being the number one culprit. This led to me being "that" person who was always talking on speaker phone… and knew there had to be a way to keep my phone grime free. When deep diving into available device wipes on the market, I never found anything that was made with "clean" ingredients – a word used in the beauty industry to describe "non-toxic" beauty products or free from harmful chemicals. I've always been cautious of the chemicals used in our home cleaning products and realize the importance of those chemicals not being in the products we use on our skin. Especially after my aunt went through chemotherapy for many years (now in remission), unnecessary chemicals in products are just not worth it. From my research into this sphere, I saw an empty space and decided to fill it. Because after running a blog for six years and being a self proclaimed party expert, how hard could it be to start a wet wipe company!
THE LIFESTYLE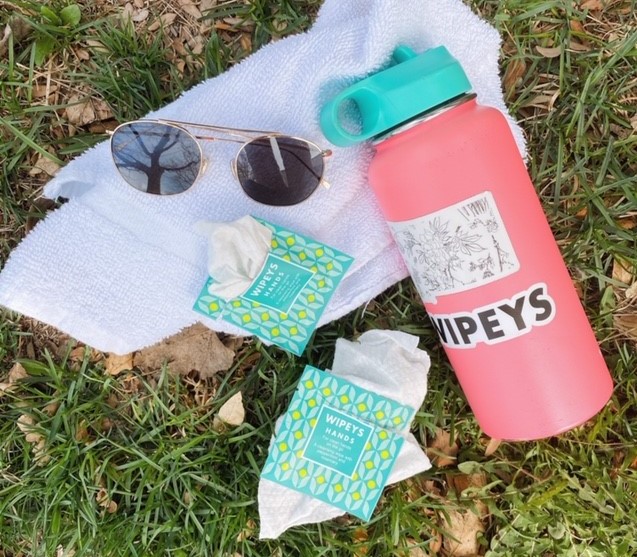 Putting it all together – I started off wanting to create a device wipe which developed into a line of four different wipes for four different uses. The initial idea for a wipe became WIPEYS. I spent over a year in R+D for WIPEYS, making sure each formula for the individual wipes was free from toxic chemicals, had a pleasant smell to them and of course, fulfilled its intended use. The current line of WIPEYS was designed to make daily trips, business or vacation travel more enjoyable. The creation of the WIPEYS Jetpack comes with a sample (3 of each wipe) in a clear reusable WIPEYS branded bag. The wipes' story unfolds:
When you first get on the plane use the Surface wipe to wipe down your tray table, head rest, arm rests, seatbelt, anything you will touch. I chose to formulate the Surface wipe with vinegar, a more natural cleaning solution to wipe away any dirt and grime. As well as lemon and eucalyptus essential oils which both have natural cleansing properties and a great aroma. Second, use the oil free Device wipe to wipe down your phone, tablet and or computer screen. These wipes are damp enough to clean but not a "wet" wipe, because we don't want them to leave streaks. Next, clean your hands with the Hand wipe – formulated with 62% alcohol along with peppermint and rosemary essential oils for not only their calming properties, but also these essential oils cleaning benefits. Lastly, after take off or before you land use the Face wipe, made with hydrating and moisturizing benefits along with rose essential oils for the perfect face refresher. The WIPEYS Jetpack bag is also great for storing personal items like earbuds, passport, lipstick/gloss, chargers and more
While the Wipeys Jetpack is the perfect companion for travelling, our wipes are meant for everyday life while on the go! I especially love using the Face wipe post workout and the hand one on the daily after being at the grocery store, gas station, drinks with friends etc.. Now that I own them all, I have all the Device wipes to keep my phone clean throughout the day. We launched WIPEYS in March of 2020, unbeknownst what was about to happen to our country… COVID. Weirdly, the timing was perfect. Though our main intent was for WIPEYS to be the ultimate travel companion, WIPEYS became a part of everyone's daily life while navigating the current events.. If you have to step out to the store, customers would bring the Surface wipe to wipe down grocery carts and the Hand wipe to keep their hands clean before and after being at the store. Keeping your devices clean is more important now, than ever. So having the device wipes on your desk, in your car or purse is a must! We also love seeing customers use the Surface wipes for wiping down free weights after a workout, shared office space, their car steering wheel, the Uber they get into, electric scooters, – any surface they are going to interact with or touch! There are hundreds of reasons why we think WIPEYS is the perfect accessory to have in your everyday life. Plus, they're pretty cute!
MAGIC IN A BOX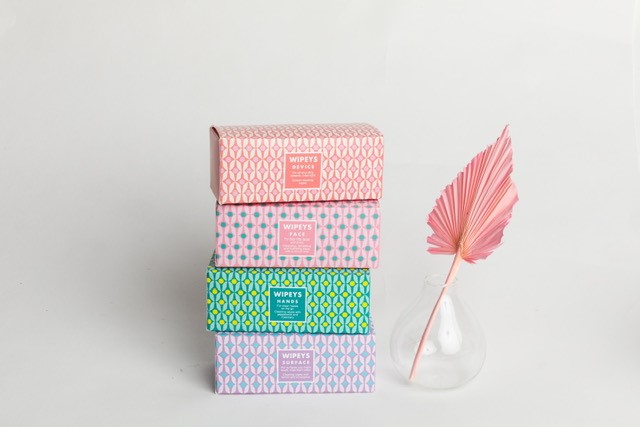 Each wipe comes in a single use packet in either a box of 20 wipes or in the Wipeys Jetpack which contains 3 of each type of wipe. I made sure we were able to be as sustainable as possible, choosing a biodegradable wipe material and boxes that can be recycled. We are constantly looking at ways to minimize our environmental impact while maximizing or social benefit. All of our shipping material, including the paper tape, is recyclable and we reuse any shipping material we receive or take the time to recycle any materials at our local Denver based recycling facility. Our manufacturer is also committed to taking a sustainable initiative. They certified our product is a part of the Rainforest Alliance, FSC certified and cruelty free. It's been so important to me to be sustainable and free of any harmful chemicals to lessen our impact on the environment, especially as a new brand.
So here we are, WIPEYS. The perfect on the go wipe for all of your cleaning needs. We are still a small startup company and navigating all the ins and outs of running a business, especially amid a global pandemic. But, it's been exciting! I'm having fun learning a completely different type of business from The Every Hostess blog, yet still getting to enjoy my love for travel taking WIPEYS wherever I go.
LOOKING TO GET YOUR HANDS ON WIPEYS?
Today is your lucky day, WIPEYS partnered with The Denver Ear to bring our wonderful readers 20% off your order using code DENVEREAR at checkout.
So what are you waiting for, get the industry's most fashionable travel wipes today!