Denver is a great place to live, but don't take our word for it! Our beloved city has been named one of the best places in the country to live in 2019 by U.S. News and countless other "best of" lists.
The Mile High City is home to so many incredible restaurants, boutiques and entertainment options, and while it's pretty easy to get around Denver by car—just imagine the convenience of being within walking distance of all of those attractions! If you're looking for a new home in the area, walkability and access are definitely some factors to consider.
To give you a good starting point, we rounded up a few of our favorite walkable Denver neighborhoods, which means that they offer easy access to desirable amenities and community gathering places. Happy exploring!
Capitol Hill
Walk Score: 93
Capitol Hill is one of the most diverse and eclectic places in Denver! It's located just southeast of Denver's central business district near the Civic Center Park and the Colorado State Capitol and is bursting with restaurants and bistros, coffeehouses, and bars. You'll also find some of Denver's best museums, specialty stores, art galleries and more all nestled among beautiful turn-of-the-century mansions.
Neighborhood highlights: The Molly Brown House Museum, the Golden Triangle Creative District, Broadway Market, Thump Coffee and The Black Box.
Five Points
Walk Score: 90
Five Points is one of Denver's oldest and most historic neighborhoods, and is nicknamed the "Harlem of the West," because it was a frequent stop for jazz greats like Billie Holiday, Louis Armstrong and Miles Davis. The area was also heavily mentioned in Jack Kerouac's "On the Road." Today, Five Points is a creative and vibrant neighborhood full of inventive coffee shops, craft breweries, museums, independent music venues and more. And because everything is so conveniently located, you don't even need a car to get around.
Neighborhood highlights: Black American West Museum, Spangalang Brewery, Cleo Parker Robinson Dance and Mo' Better Greens Marketplace.
Baker & South Broadway
Walk Score: 86
This historic Denver neighborhood is located adjacent to the South Platte River and situated just a half-mile south of Downtown. The South Broadway, or SoBo, area and the Baker district that has developed around it has become a diverse neighborhood with endless activities. You'll find an array of unique restaurants and bars along South Broadway. Our favorite part though, and yours too if you love treasure hunting as much as we do, is "Antique Row" located further down the road where you can explore over 100 antique stores along with Denver's best vintage and thrift shops.
Neighborhood highlights: Beatrice & Woodsley, Adrift, Corvus Coffee Roasters, Gallagher Books and TRVE Brewing Co.
Highlands
Walk Score: 85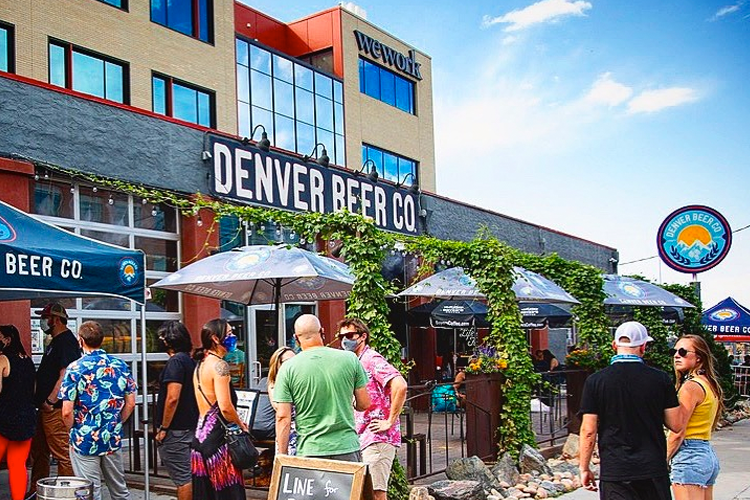 Victorian-era homes and buildings, lush gardens and parks, locally owned shops, art galleries and restaurants all make the beautiful Denver Highlands neighborhood a great place to live and visit. The area is broken up into three diverse districts: Highlands Square, Tennyson Street and Lower Highland (or LoHi). Highlands Square is full of boutiques, wine shops, bookstores, popular restaurants and bars while Tennyson Street is a cultural district that you could spend days perusing. And if you're on the hunt for interesting architecture and incredible views, you'll want to explore LoHi, one of Denver's hippest districts.
Neighborhood highlights: Sloan's Lake Park, Denver Beer Co., The Family Jones Spirit House, Little Man Ice Cream and BookBar.
La Alma/Lincoln Park
Walk Score: 85
This rapidly changing neighborhood is one of the coolest in all of Denver, featuring a wide variety of shops, restaurants, art galleries, museums and so much more. The La Alma/Lincoln Park area is home to the Art District on Santa Fe, the stretch between Fourth Avenue and the Auraria campus that has become a destination for art-lovers across the region. There's also a large and thriving Latino arts community here, which you can enjoy by visiting the Su Teatro, CHAC and Museo de las Americas.
Neighborhood highlights: The Mayan Theater, La Alma Recreation Center, Buckhorn Exchange, Stranahan's Whiskey and The Armstrong Center for Dance.
Platt Park
Walk Score: 82
Platt Park hasn't always been a Denver neighborhood. In fact, at the turn of the 20th century, Platt Park was a separate city from Denver, bustling with five-and-dime shops and family homes. As Denver grew, this little borough was incorporated and many Denverites moved south to make it their home. Today, this neighborhood showcases, in our opinion, some of the best of Denver. Spectacular shops, historic architecture, world-class dining and more are all at your fingertips here.
Neighborhood highlights: Kaos Pizzeria, Platt Park Brewing Company, Stella's Coffee Haus, 5 Green Boxes, and The Pearl Street Pumpkin Patch & Urban Garden.
Berkeley
Walk Score: 82
One of Denver's most popular neighborhoods—and one of 5280 Magazine's top Denver neighborhoods of 2020—Berkeley is a cherished area full of residential homes close to all your favorite amenities. Surrounded by fabulous restaurants, bars, one of the city's 12 dog parks, and incredible shops along Tennyson Street, this is a perfect place for those looking to mix the city with the suburbs to put down roots.
Neighborhood highlights: The Grateful Gnome Sandwich Shoppe & Brewery, Hops & Pie, Allegro Coffee Roasters, Lakeside Amusement Park, and The Oriental Theater.
Whittier
Walk Score: 81
A neighborhood that often gets lost between its trendier sidekicks, Five Points and City Park West, Whittier is a cozy, historical district full of beautifully crafted homes that were built in the late 1800s. It's strong walking and biking score—and it's a convenient location near a light rail station—means that residents get everything most Denverites are looking for: quiet serenity and a plethora of things to do.
Neighborhood highlights: The Whittier Pub, Bella Calla, Fuller Park, Whittier Cafe and The Plimoth.
Cherry Creek
Walk Score: 80
This area is home to Denver's high-end shopping and dining district. Here, you'll find the Cherry Creek Shopping Center, a mall that features over 160 stores, and Cherry Creek North, an outdoor shopping area with 16 blocks of art galleries, local boutiques and fantastic gourmet dining options. In fact, some of the area's chefs have started gaining national recognition over the past few years, including Chef Nobu's Matsuhisa and Chef Paul Nagan's Narrative. So if you're looking to live in a neighborhood packed full of interesting things to see, do, eat and buy—Cherry Creek may be perfect for you!
Neighborhood highlights: Revampt, Quality Italian, The Cherry Cricket, Cherry Creek Bike Path and the Cherry Creek Fresh Market.
Congress Park
Walk Score: 80
Located just 3 miles from downtown Denver, Congress Park offers a delightful mix of parks, shops, restaurants and cultural attractions. Residents and visitors alike love this neighborhood for its tree-lined streets and proximity to iconic Denver attractions like Cheesman Park, Denver Botanic Gardens, Cherry Creek's shops, East Colfax, neighborhood farmers' markets and so much more.
Neighborhood highlights: Blue Pan Pizza, Annie's Cafe and Bar, Lulu Rose General Store, Congress Park, and Tattered Cover Book Store.
The Denver Tech Center
Walk Score: 77
If you're looking to live in a spot outside of the hustle and bustle of the city but also want to be close to businesses, restaurants, bars and more—the Denver Tech Center is for you! The Tech Center, also known as DTC, is a business and economic trading center located in the southeastern part of the Denver Metro area. Many people live in this area to be close to work, as there are hundreds of corporate and technology businesses located here. But others love it because of its quiet, clean streets and convenient location. And if you do want to be able to get into the heart of the city quickly, DTC has a number of Light Rail stations that can whisk you off to any part of the city you desire in less than 20 minutes.
Neighborhood highlights: Park Meadows Mall, Comedy Works, Westlands Park, High Line Canal Trail and Upstairs Circus.
Cheesman Park
Walk Score: 73
Cheesman Park is a natural oasis located among the urban sprawl of Denver and is a serene expanse in the midst of the bustling city, close to an abundance of fantastic restaurants, cafés and shops. The area offers wide-open parks and grassy manicured areas, along with a ton of local history and plenty of gorgeous homes. While the park itself used to be designated land for burials (the graves were moved elsewhere by 1894), causing many to write the neighborhood off as haunted, we've found that Cheesman Park residents are pretty friendly, regardless of their living status.
Neighborhood highlights: Pete's Kitchen, Voodoo Doughnut, Ice Cream Riot, Cheesman Park and Squire Lounge.
What is your favorite neighborhood in Denver?
Let us know where you love to explore in the comments! And if you're in the market to move, our founder Mor Zucker is the operating partner at Team Denver Homes and a top producing agent in Denver. Mor and her team would be happy to assist with any real estate needs you may have!