Just like everything else in 2020, Halloween is shaping up to be pretty different than ever before. But while we might have to forgo the normal packed haunted houses, trick-or-treating, or massive Halloween bashes, there are still plenty of ways you can celebrate this spine-chilling holiday in the Denver area!
To prove it to you, we've crafted a complete guide to Halloween 2020 in Denver. Whether you're looking for some Halloween-themed events, seasonal activities, information on trick-or-treating in Denver, or some alternatives to all of the above—you'll find it all right here. Have fun!
Jump Ahead:
Halloween Events | Seasonal Fun | Trick-or-Treating Guidelines in Colorado | Alternative Halloween Ideas
HALLOWEEN EVENTS
Family-Friendly Events:
When: October 1-31
Where: The Denver Zoo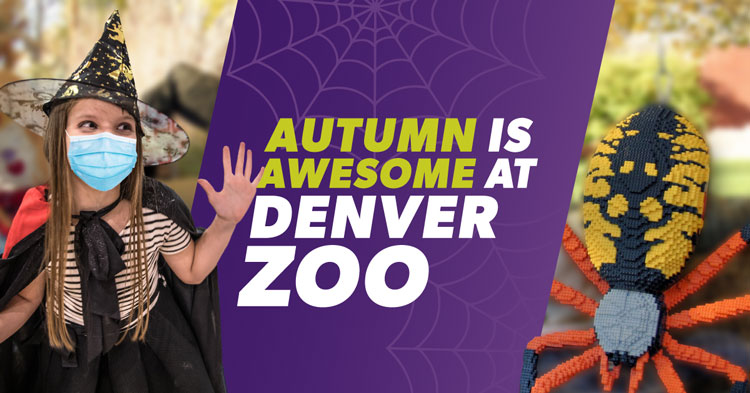 Join the zoo daily throughout October for Boo at the Zoo: Storybook Safari, a modified masked version of a Denver family favorite. Throughout their 84-acre campus, classic animal stories and fairy tales will come to life with costumed characters, mythical creatures, unforgettable animal experiences and delicious food. Get the whole family costumed up and go celebrate Halloween in a way that is safe, socially distanced and candy-free.
When: October 5-November 30
Where: Spectra Art Space
Spookadelia is a psychedelic immersive art and theatrical experience presented by Spectra Art Space and Synesthesia. This art installation is a narrative-driven journey through otherworldly realms and planes of existence. Each room and section of the experience is completely immersive and interactive. The installations and experience, while spooky, will also be family-friendly. Click here to get your tickets.
When: October 19-23
Where: Denver Botanic Gardens
Fans of the fun and spooky don't want to miss Glow at the Gardens at the Denver Botanic Gardens! This spooky festival will run from October 19-25 and will give you the chance to wander a one-way path through a spooky, illuminated landscape as the gardens dress up for Halloween. Click here to purchase your tickets and to read their updated COVID-19 policies.
When: October 24-25
Where: The Colorado Railroad Museum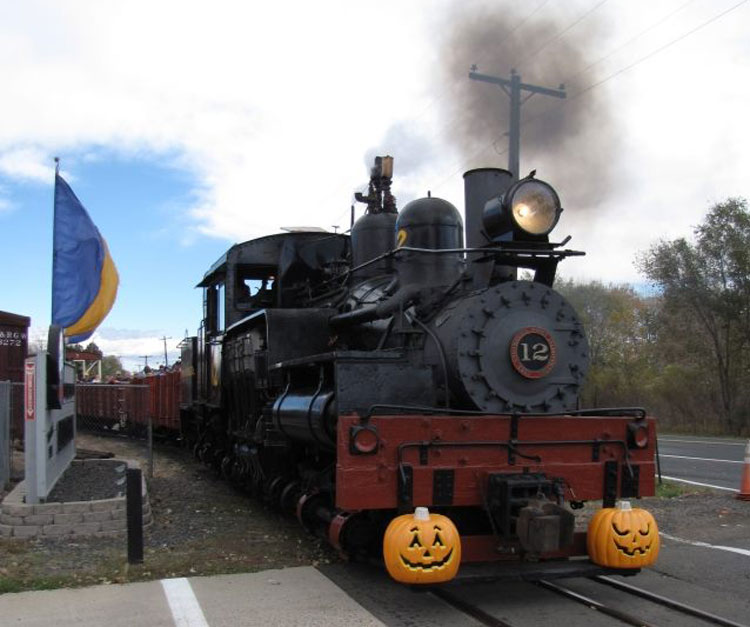 Full steam ahead for tricks, treats and trains! Join the Colorado Railroad Museum staff in Golden for a weekend of Halloween fun this month. The event will feature steam train rides, treat bags, a "not-so-spooky" haunted railcar and an "Olde Railroaders Silly Graveyard". Enjoy live entertainment, local food vendors and photos in front of their pumpkin patch cart and harvest-decorated locomotives. Social distancing measures will be in place and masks will be required. Click here for all the information.
When: October 24-25
Where: Denver
Don't miss the annual Spooky Sprint, a Halloween-themed run that is perfect for the whole family! The fun will include great swag, chip timing, live results, awards, free photos, a costume contest, a free kids' dash, great post-race food and so much more. Click here to learn more and to register.
Adult-Only Events:
When: October 22 & 29
Where: Ironton Distillery
Ironton Distillery is utilizing their brand new backyard space for a fun, socially distanced event that you'll love! Enjoy watching a cult classic movie every second and fourth Thursday of every month, complete with themed cocktails and plenty of delicious bites. On October 22, they'll be showing Halloween starring Jamie Lee Curtis! And if you aren't able to make it then—don't worry. They'll be having a special second screening of the horror movie on October 29th. Bring your chairs or blankets and grab a spot on a distanced 'x'. Advanced tickets are required.
When: October 24
Where: Denver Union Station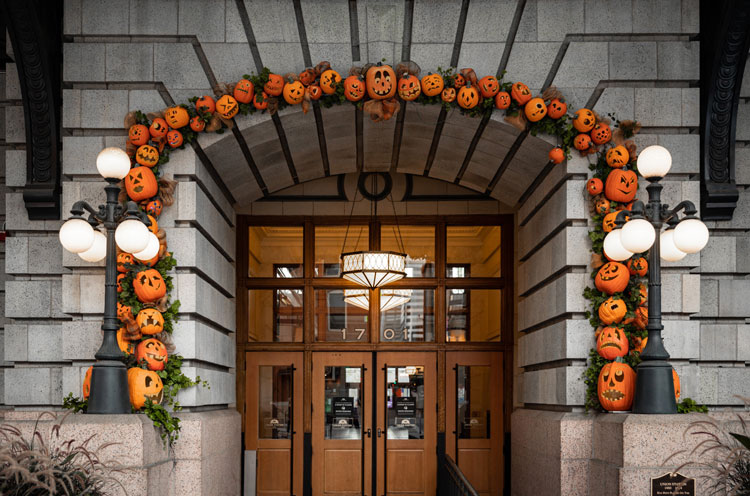 This Halloween season, Union Station will once again be hosting their popular Carving + Cocktails event on the patio! The tickets, which are $30 per person, include a pumpkin, all the Jack-o-Lantern carving tools you'll need and one seasonal spooky cocktail. This event is 21+ and tickets are required.
When: October 23-25
Where: Park Meadows
Start your engines and get ready to be spooked! Seven trapped souls from RuPaul's Drag Race haunt the stage this Halloween season, putting on a concert-quality light show that you can enjoy from the comfort and safety of your own car. Head to Park Meadows to enjoy the show, but don't forget to participate in the drive-through haunted house before you settle into your parking spot! Click here to grab your tickets before they sell out.
When: October 31
Where: Denver Union Station
Don your favorite face mask and head to the Cooper Lounge in Union Station for a socially-distanced Halloween party to end all parties. Dress in your most wicked Halloween attire and enjoy three complimentary cocktails, light bites and a private table. This adults-only event is limited to 75 people total and tickets start at $80 per person.
When: October 31
Where: Denver Union Station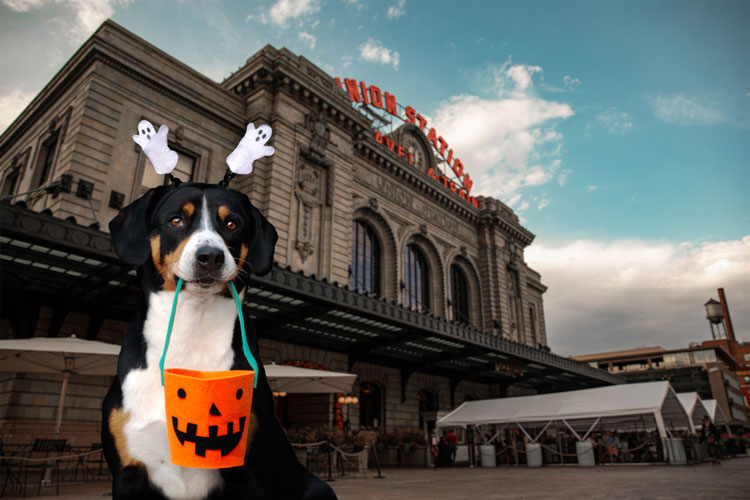 Bust out your favorite superhero, ladybug, policeman or princess costume for your four-legged friend and head to the first-ever Howl-a-Ween Pet Parade and Yappy Hour. This outdoor event will be held on Denver Union Station Plaza and will feature Tito's Handmade Vodka specials for all the humans.
OTHER SEASONAL FUN
Go Pick out a Pumpkin at a Local Patch
It just wouldn't be Halloween without picking out a pumpkin to carve at a local pumpkin patch! If you're looking for recommendations on where to go, check out our post, Pumpkin Patches in and Around Denver, which includes COVID-19 information and an interactive map! After you've picked out your perfect pumpkin, head home and carve into a fun Jack-O-Lantern and display it proudly on your porch.
Anderson Farms in Erie is the epicenter of fall fun in Colorado, offering a massive pumpkin patch, a corn maze, a petting zoo, wooden train rides, tractor rides and so much more during the autumn season every year. Take the whole family out to the farm and enjoy everything they have to offer—especially their petting farm! Goats, alpacas, chickens and ducks are waiting for you.
Get Spooked at a Local Haunted House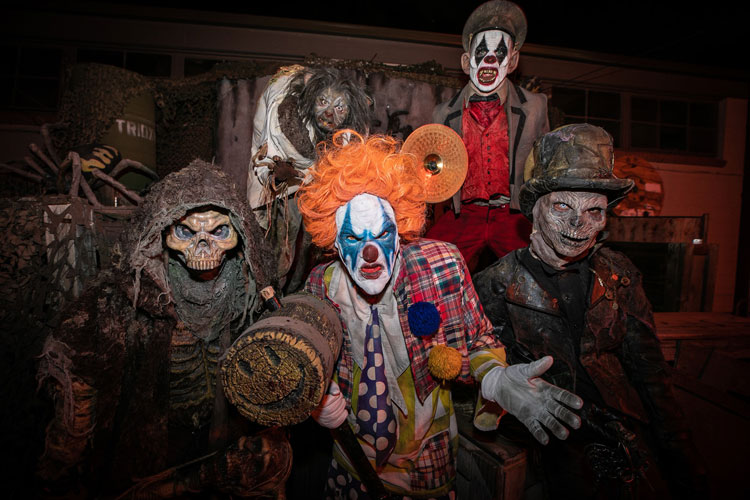 At the end of the day, Halloween is about everything spooky and scary. So it just wouldn't be a true Halloween experience without a haunted house or two! Luckily, the Denver area certainly knows how to put on a terrifying show. Iconic attractions like The 13th Floor Haunted House in Denver, The Reinke Brothers Haunted Mansion in Littleton, The Haunted Forest in Highlands Ranch, Fright Acres in Parker, and The Frightmare Compound in Westminster are all scheduled to be open this month with special social distancing measures in place. Visit each of their websites to learn more about their current policies and to purchase tickets.
This Halloween, don't miss Cottonwood Farm's incredible corn maze! Their maze is just over 4 acres and has been cut by hand—not tractors—allowing the paths to be narrower and the experience more personal. Have little ones who aren't ready for the big maze yet? Take them to Cottonwood's straw bale maze, which is much smaller and easier to navigate. Plus, you'll have the opportunity to watch them figure their way out all by themselves!
TRICK-OR-TREATING GUIDELINES IN COLORADO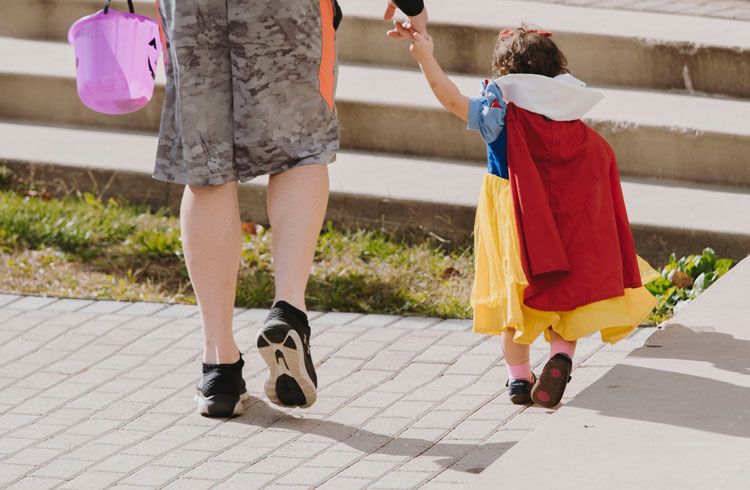 The Colorado Department of Public Health and Environment has released a guide to trick-or-treating during the pandemic. You can read it in full, here.
They first recommend visiting Colorado's COVID dial framework to determine how exactly you should celebrate Halloween in your community this year. This will help you see your area's current COVID-19 cases and risk. Regardless of a community's level on the dial dashboard, people should not participate in any in-person activities, including handing out candy, if they are sick, have been exposed to someone with COVID-19, have tested positive for COVID-19 or have a high risk of catching COVID-19.
They also highly recommend wearing a mask that fully covers your nose and mouth in addition to any Halloween costume masks, and to wash your hands frequently and maintain at least a 6-foot distance between yourself and others.
Because of the COVID-19 risk door-to-door trick-or-treating can have, the Department of Public Health and Environment encourages safe alternatives to traditional Halloween activities.
ALTERNATIVE HALLOWEEN IDEAS
Create a Plastic Trick-or-Treating Candy Slide
One of the most popular and innovative ways Americans are planning on giving out candy this year is by crafting simple PVC-pipe slides in their yard so that they can drop candy into buckets from six feet away. DIY YouTubers Wicked Makers have a tutorial on their channel that you can watch and learn how to make your own!
Put on a Neighborhood Trunk-or-Treating Event
If you aren't able to go trick-or-treating with your family this year, consider hosting a trunk-or-treat event in your neighborhood! Have all your neighbors fill the back of their cars with plenty of candy and let children walk a few at a time through the neighborhood to stock up on sweet treats.
Set up an Outdoor Candy Scavenger Hunt
Another way to keep your family safe during the pandemic is to do Halloween Easter-style by hiding candy all around your yard and letting your little ghosts and goblins loose on a scavenger hunt. To make it even more exciting, put the candy in glow-in-the-dark eggs so they can hunt in the dark!
Place Treats on Your Driveway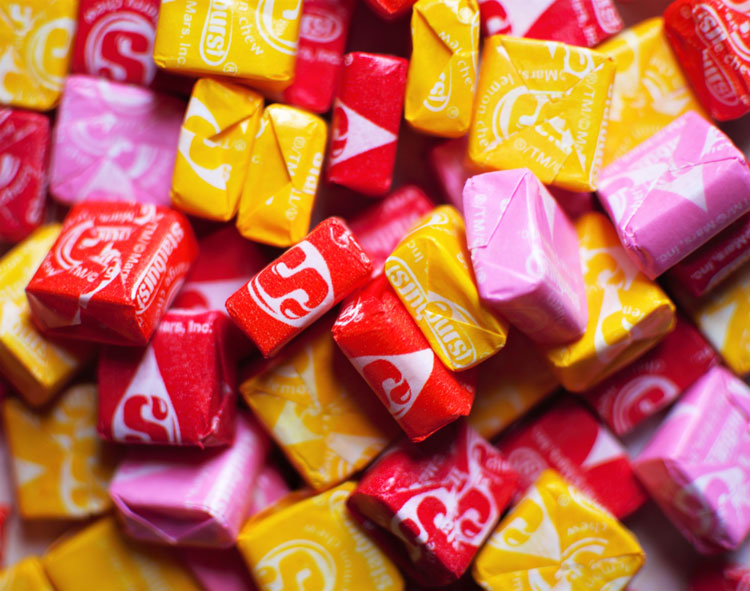 Many people are planning on opting for a simpler trick-or-treating plan this Halloween by leaving bags of candy out on the end of their driveway for children to stop by and pick up. This can ensure that you are at least 6 feet away from trick-or-treaters at all times and can keep large groups of people from gathering in one spot.
Have a Socially Distanced Costume Parade
Due to the spread of COVID-19, it's likely that not many Denver neighborhoods will be hosting large trick-or-treating events this year. So why not put together one of your own? Send out flyers to all your neighbors and ask that children dress up and march through the neighborhood on Halloween! As they waltz by—6 feet apart, of course—you can toss candy into their buckets from afar. 
Happy Halloween!
While we know this Halloween is going to look a little different than ever before, we hope you still have a great time. Let us know how you're planning on spending the holiday in the comments below!