Can you tag us in that?
With things beginning to open up around Denver we came up with 15 of the most Instagrammable bars & restaurants in Denver. Not only are they aesthetically pleasing but they're also some of the best spots in town to eat, drink, and snap a few pics. If you're looking to step up your Instagram game and help support some amazing local bars/restaurants, have we got a list for you!
1. AGAVE TACO BAR
Tacos with a view.
Up first is one of our all-time favorite taco spots in Denver. Located near Wash Park, Agave Taco Bar makes for the perfect spot to grab some delicious food, drinks and snap a few pics for the 'gram.
Psst… be sure to check them out on Saturday or Sunday for brunch!
2. BLUE MOON BREWERY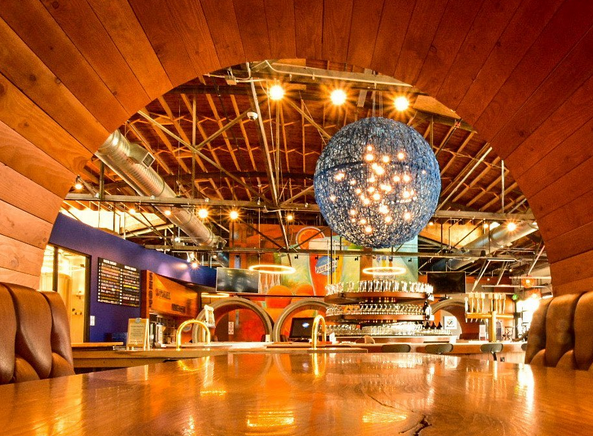 You had us at Blue Moon…
Blue Moon Brewery is a longtime Colorado favorite and Instagram lover's dream that's sure to be one of your go-to breweries, if it isn't already. Located in RiNo, aside from being visually stunning, their food and brews are sure to keep you coming back for more. If that's not enough to get you in the door… did we mention they have "Beersicles"?
3. LUSTRE PEARL
Next on our list is this little slice of Austin in our backyard.
We're of course talking about Lustre Pearl, located right off of 26th and Larimer. Whether you're looking to kick back on the patio, enjoy some aesthetically pleasing frozen drinks, and everything in-between; Lustre Pearl has got you covered.
4. BIERSTADT LAGERHAUS
Lager lovers unite!
With patio season still in full swing, Bierstadt Lagerhaus is the perfect place to enjoy some drinks and food on their newly expanded patio area. Did we mention it's made to look like a football field? Your Instagram can thank us later.
5. MONKEY BARREL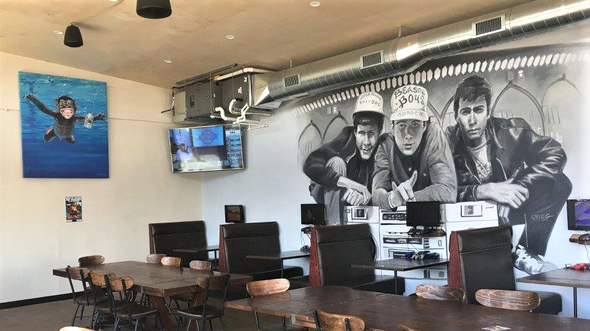 Do we have any Beastie Boys fans in the house? This next one's for you!
With plenty to do, see, eat, and drink it's easy to see how the Monkey Barrel made our list. Located in Sunnyside and open 7 days a week, this is sure to be one of your new favorite hangouts for craft beer, comfort food, live music and more.
6. DOWNTOWN AQUARIUM
If you're anything like us, we know you'll jump at the chance to eat and drink under the sea… at the Downtown Aquarium, of course. The restaurant at the aquarium is perfect for adults and children of all ages, as it has amazing floor-to-ceiling views of their 50,000-gallon centerpiece aquarium from all tables.
7. LARIMER SQUARE
While Larimer Square needs no introduction, it's easy to see how it made the list. Aside from being visually stunning, Larimer Square also houses some of the best spots in downtown Denver to shop, eat, drink, and spice up your Instagram game.
8. HAPPY CAMPER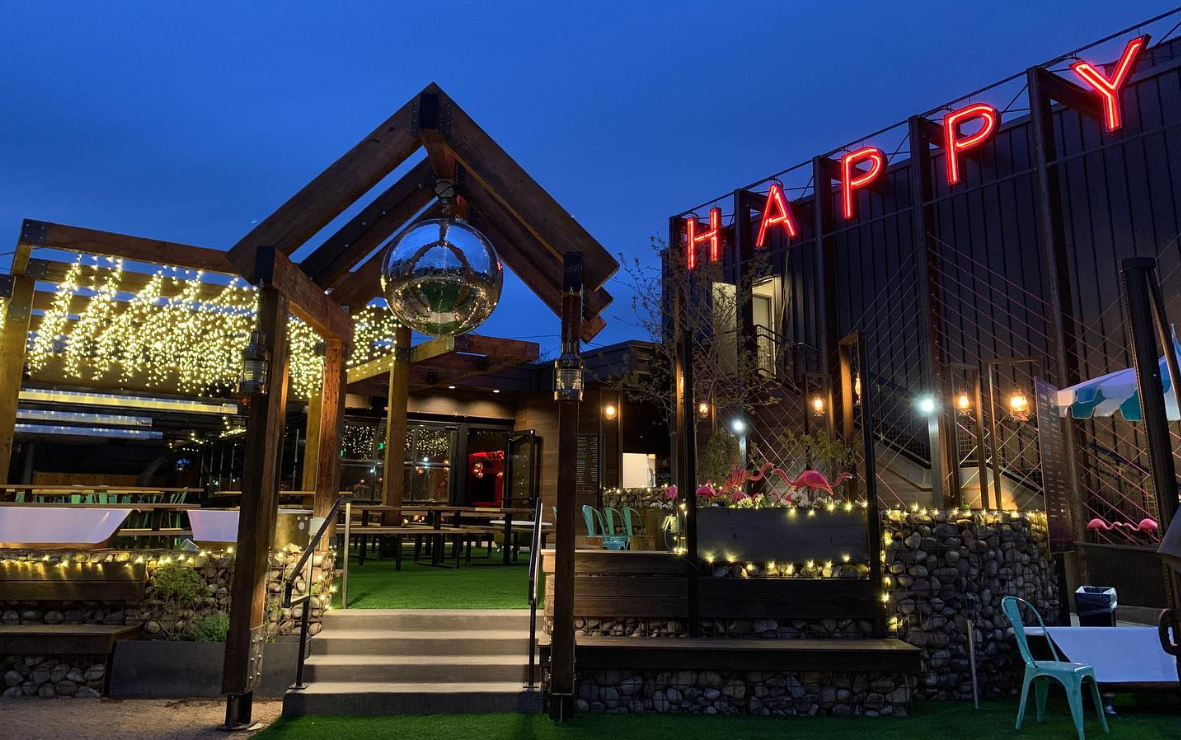 Everyone's a happy camper at Happy Camper.
While you've (most likely) already heard of our next spot and/or seen it pop up on Instagram, Happy Camper is a sight to see. Whether you're looking for some amazing #PatioVibes, delicious bites, or drinks that will make your friends jealous; they've got it all. Reservations fill up quickly so be sure to check out their site for more info.
In the meantime, check out their Instagram to see what everyone is talking about.
9. DIVE INN
The Bar with the Boat.
Yes, you read that correctly, they have a boat. Located on S Broadway, the Dive Inn is soon to be one of your favorite spots to kick back, enjoy some drinks, and have some of the best chicken in Denver. We of course are talking about Cluck Chicken, you can thank us later!
10. OUR MUTUAL FRIEND BREWING CO.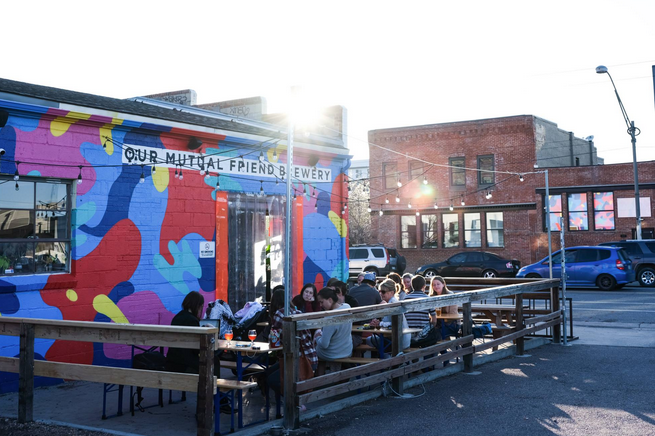 It's easy to see what makes Our Mutual Friend Brewing Co. so special… seriously, this brewery is hard to miss. Located off Larimer, not only do they have an impressive craft beer lineup but they're easily one of the most recognizable breweries in Denver. Be sure to hang out on their patio or order online to-go.
11. FOREST ROOM 5
They're back and more foresty than ever.
Forest Room 5 is perfect for those of you looking to get out in nature all while staying in Denver. Located off of 15th Street, their patio is now open and the perfect place to update your profile pic.
12. POSTINO WINECAFE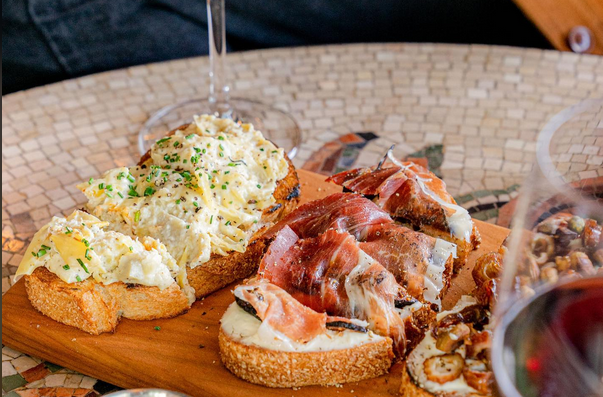 File our next pick under "W" for #WineWednesday!
With locations in both LoHi and off Broadway, Postino WineCafe is one of our favorite places to enjoy a bottle of wine and one (or more) of their famous boards. Be sure to check out their site for more info on their great happy hour, specials, pick-up options and more.
13. FINN'S MANOR
Located in RiNo, this cocktail bar meets food truck haven has something for everyone. With 16 rotating taps and a bevy of spirits, it's easy to see what makes Finn's Manor so unique. Did we mention they (basically) have the adult version of a Capri Sun?
14. CANOPY
Come to snap a pic with their famous sign, stay for their amazing drinks.
Located on S Broadway, Canopy is definitely one to add to the list if you haven't already.
Psst… did we mention they make their own vodka infusions?
15. ADRIFT TIKI BAR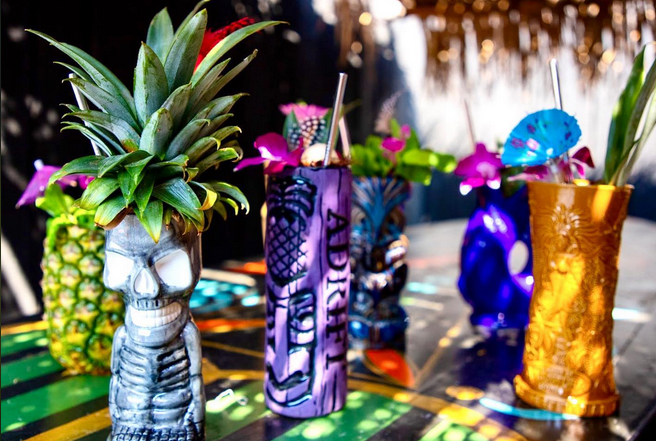 Last but certainly not least on our list is Adrift Tiki Bar.
Located off S Broadway, this tiki bar is serving up tropical vacations by the glass. With an expanded patio area, it makes for the perfect spot to enjoy island-inspired drinks and food.
SPEAKING OF INSTAGRAM
Be sure to follow us on Instagram @TheDenverEar and tag #TheDenverEar for a chance to be featured.
We'll see you out there!