If you're looking for a place to lounge, Leela's European Café will not disappoint.
Providing an eclectic charm and eccentric ambiance, the 24 hour café caters to all.
Its menu accommodates the appetite with a mix of unique and classic combinations, alcoholic and otherwise. With a full bar, dance floor and stage, it is an all-inclusive atmosphere, a cultivated twist of the artistic and the commonplace.
The well-worn couches and high top tables see an amalgamation of people from caffeine induced students to middle aged drinkers, poetry readers and angsty teenagers alike.
Tuesday nights from 7pm – 11pm, dip into your creative side with "Drink & Draw", a time to mingle and create with other artists and writers while sipping your Pinot Noir.
Whatever your interests and desires, Leela's European Café is everything you're looking for and more, complete with tunes and a taste of Denver's distinct culture!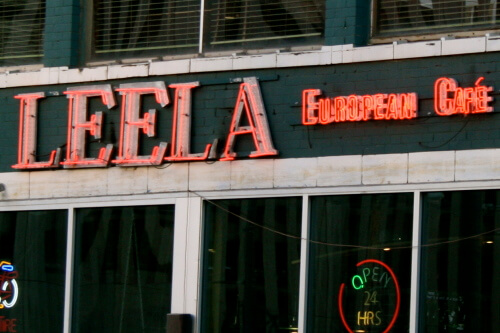 Leela's European Café
820 15th St.
Denver, CO 80202
Open 24 Hours, WiFi Access, Full Bar, Snack Food.