Denver is full of eye-catching, iconic landmarks that are definitely worthy of your Instagram feed. From trendy restaurants to stunning rock formations, we have it all in our amazing Mile High City.
Whether you've lived here your whole life, are new to the city, or are just passing through, there are several must-see stops to add to your photo library. Below, you'll find our favorite Instagramable spots around the city so put on your walking shoes and start exploring — pics or it didn't happen!
54thirty is not only one of the best night-out experiences you can have in Denver, but this trendy rooftop bar will be the perfect addition to your feed. Grab a drink and snap a pic of the stunning mountain view or one of their two unique neon signs that proclaim "The mountains are calling" and "I love you to Denver and back".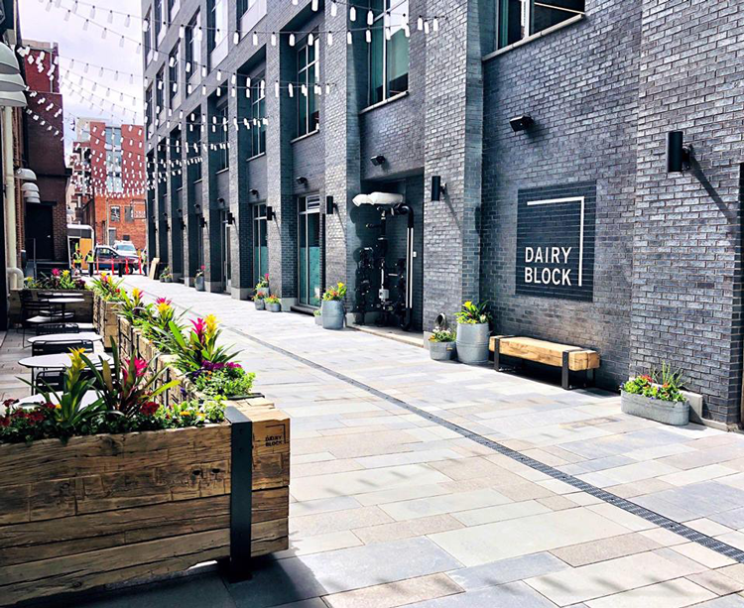 Photo courtesy of The Alley at the Dairy Block
The Alley at the Dairy Block is downtown Denver's first "activated" alley. This stretch of alley from 18th to 19th Street between Black and Wazee Streets has been cleaned up, repaved and decorated. It also has a common consumption liquor license, meaning that you can carry your drink from one bar to another. But don't forget to stop along the way to take a selfie with the beautiful murals, outdoor art installations and quotes written on the walkway!
The Articulated Wall
This bright yellow sculpture stands at a striking 85 feet and is one of Denver's most recognizable landmarks. This french-fry looking statue was actually inspired by the one that was built in Mexico City during the 1968 Summer Olympics. Want to add a little yellow to your 'gram? The Articulated Wall is located within the Denver Design Center complex and looks especially incredible against a bright blue sky.
Once you've stepped into this popular eatery, you won't be able to stop yourself from snapping a picture. Whether it's of the delicious food, their eclectic decor or of the view of the downtown skyline from their patio — you're guaranteed to get a gorgeous shot!
This unique restaurant brings the Colorado wilderness indoors. You won't want to pass up the opportunity to get a photo of the rustic wood decor, mossy accents and flowing white fabrics. Not only is Beatrice and Woodsley beautifully decorated, their food is superb and just as pretty.
The Big Blue Bear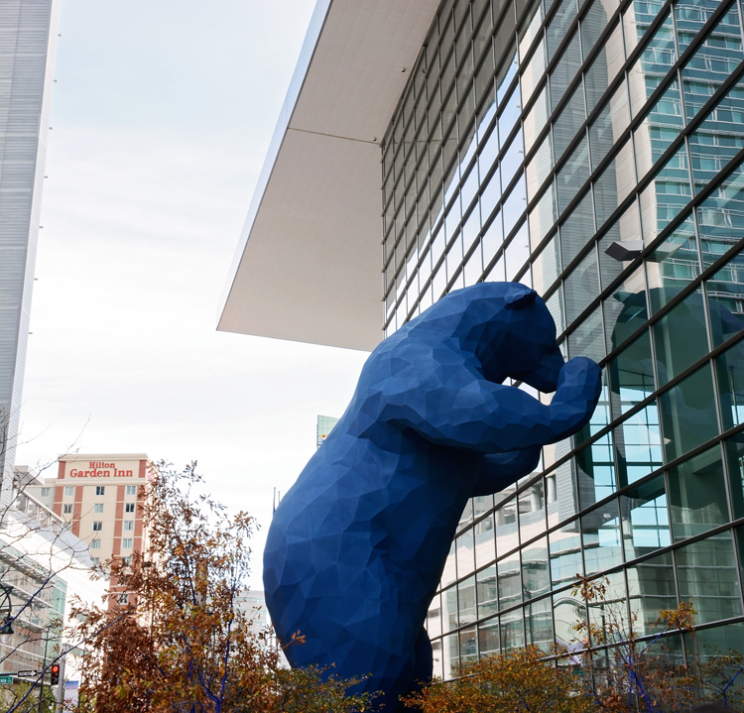 Arguably the most iconic spots in downtown Denver, the Big Blue Bear is a remarkable background to any picture. You can find this larger-than-life bear right outside the Colorado Convention Center. We recommend taking a wide shot to show off the enormity of the structure and the trees that surround it!
Visit Coors Field, the home of the Colorado Rockies, to catch a game and some incredible views! If you're there during the offseason or want to see the stadium when it isn't full, you can take a tour throughout the week. There are plenty of photo-worthy spots around the stadium, and you can even get a picture at mile high elevations if you climb the stairs to sit in the row of purple seats.
Step into Denver's most historic bar and soak in the Art Deco design and the eclectic wine-bottle shaped layout. Located in the Oxford Hotel, the Cruise Room is Denver's longest running bar, born after the repeal of Prohibition in 1933, and full of photo-taking opportunities, from their famous martinis to the unique bar design.
Daniels and Fisher Tower
Once a defining feature of Denver's skyline and having narrowly missed destruction in the 1970s, this iconic skyscraper is now registered on the National Register of Historic Places so it's not going anywhere! This gorgeous structure is lit up every night, so you can take a photo in front of it any time of day.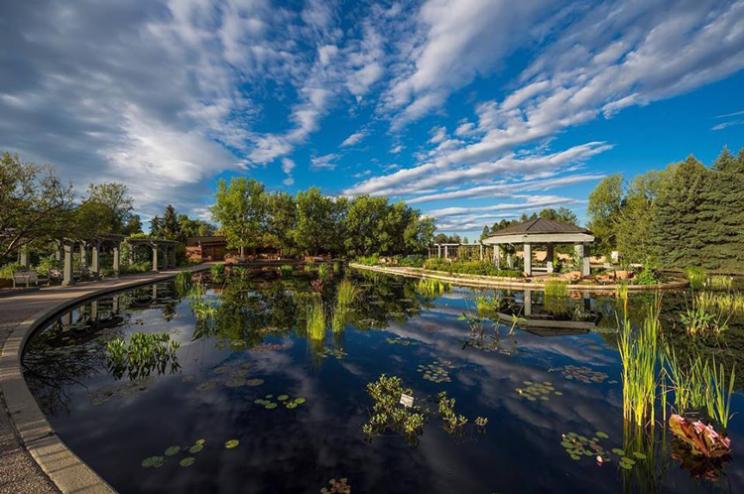 Photo courtesy of the Denver Botanic Gardens
This public botanical garden is located in the Cheesman Park neighborhood. It consists of over 23-acres and contains a conservatory, a variety of theme gardens and even a sunken amphitheater which hosts concerts in the summer! Head over and snap a picture (or a hundred) of the beautiful greenery and art installations throughout the gardens.
"The Ellie" has been a Denver landmark since it's opening in 1908. They host top artists, performers and ensembles from all around the world every year. Not only is the 2,200 seat theater gorgeous, but the lobby is also adorned with public art pieces, giving you plenty of Instagramable options!
Voted one of the top 15 hotels in Colorado by Condé Nast, Hotel Teatro is a striking boutique hotel located on the corner of 14th Street and Arapahoe. Book a staycation or just stop by and enjoy everything else they have to offer. Sit down to dinner at The Nickel, a delicious, award-winning restaurant, or grab a drink at The Study, a beautifully designed lounge and bar that will definitely add a touch of vintage class to your feed!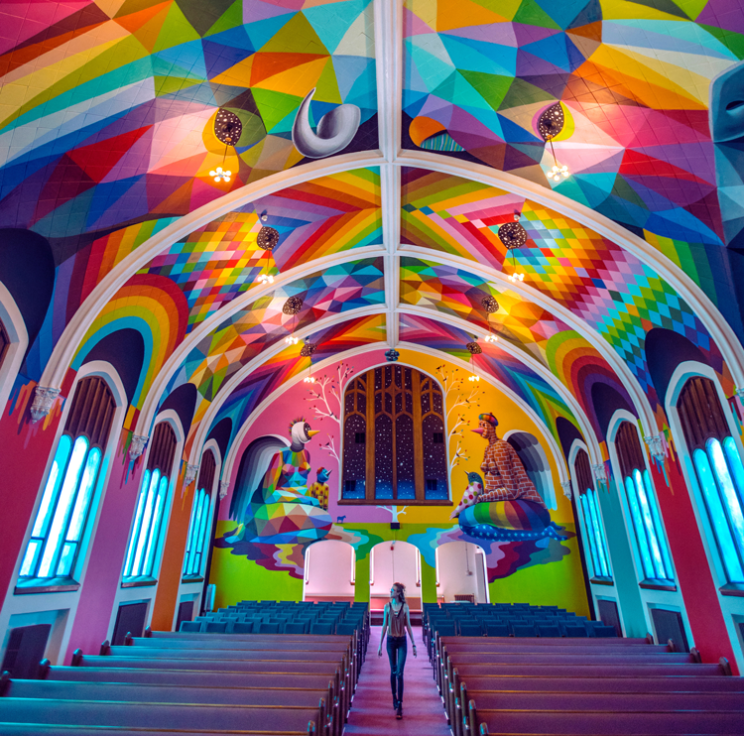 While you may not think a church would be Instagram-worthy, the International Church of Cannabis definitely is. This brightly colored cathedral space is open Fridays-Sunday with services on Friday evening. You're encouraged to make a small donation when you visit, but the groovy views are worth it!
Catch a movie and snap a selfie in front of a Denver historic landmark. Opened in 1930, the Mayan Theater building was designed in a beautiful Art Deco Mayan Revival style and is definitely something to see!
Your Denver-themed feed isn't complete without at least one or two shots of the lights strung across Larimer Square. This historic district is located at the spot Denver was founded. Explore downtown history while also getting the chance to sample some of the best dining, shopping and nightlife in the entire city!
Because Little Man Ice Cream always makes it feel like summer in Denver, it's one of the most popular spots in the city. Stop by for an ice cream cone and countless photo opportunities. Many nights, they'll have live music playing on the patio, giving you the chance to dance the night away.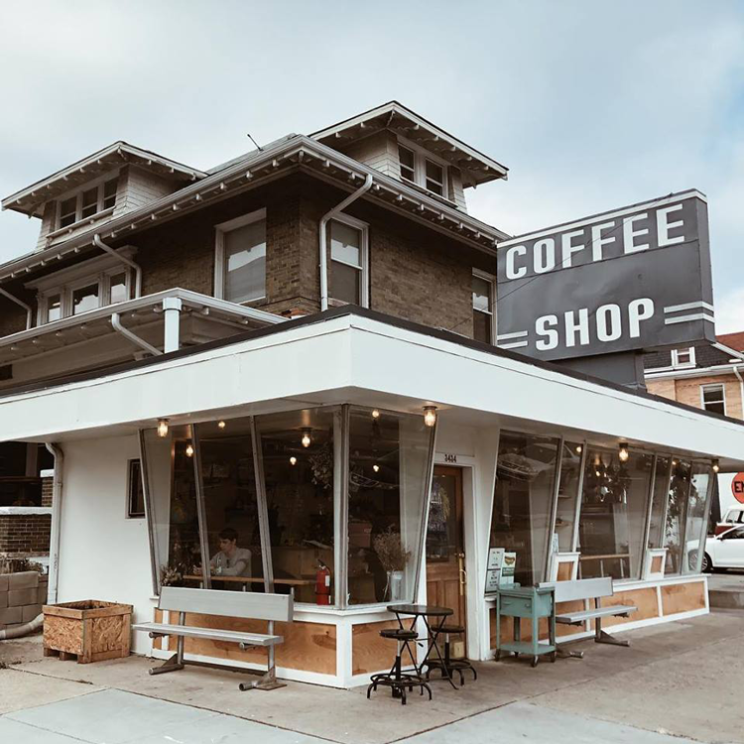 Photo courtesy of Lula Rose General Store
This retro-inspired shop is the perfect place to grab a cup of craft coffee, an open-faced sandwich, and other grab-and-go items. Plus, the subway tile and brightly colored accents will provide the perfect background for your #coffeelover 'gram!
You won't want to miss out on the chance to get a photo among the nonpareil Bronco orange and blue. Head over to the Mile High Stadium for a game or you can schedule a private tour and get a memorable shot of yourself standing in the tunnel.
The Mile High Step
Just as its name suggests, this step gives you the chance to stand exactly one mile above sea level! It is located on the steps of the Colorado State Capitol and is centrally located near tons of other popular Denver sights along with fantastic restaurants and shops downtown.
Millennium Bridge
On your artistic journey through Denver, you'll definitely want to take a shot of the world's first cable-staying bridge, Denver Millennium Bridge. This marvelous piece of architecture offers one of the most beautiful views in the city — especially at night!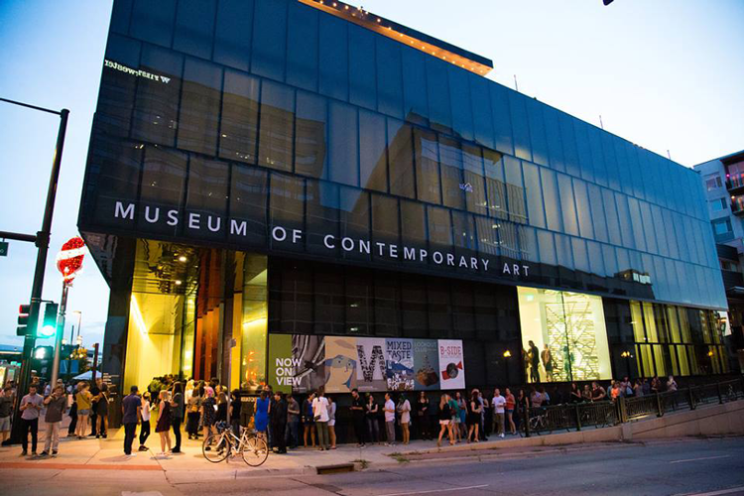 Photo courtesy of the Museum of Contemporary Art Denver
Not only does the Museum of Contemporary Art Denver house some of the most incredible contemporary art in the country, but even its exterior is a work of art! The dark, glass exterior is completely captivating, and we can't forget about the extremely cool revolving heart-with-a-dagger sculpture located just outside.
65 Broadway | 3120 Uinta Street, Stapleton
With two locations, one on South Broadway and the other in Stapleton, Punch Bowl Social is a large bar featuring lawn games, arcade games and a bowling alley. With over four stories of fun, you won't have a hard time finding something to photograph!
In the heart of RiNo, The Ramble Hotel is a 50 room, boutique hotel that has been incredibly decorated. Featuring lush, retro furnishings and vintage details, you'll feel like you've stepped back-in-time to old Hollywood. And, their house bar and restaurant, Death & Co. is an ultra-popular place to grab a cocktail or a fantastic meal.
Red Rocks Amphitheater
183000 West Alameda Parkway, Morrison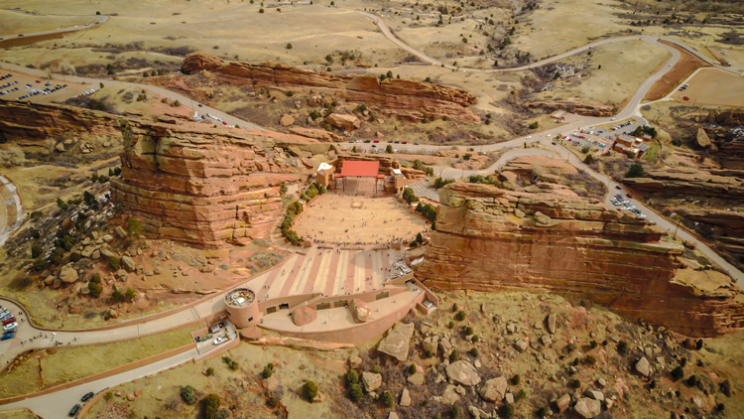 Red Rocks is one of the most famous amphitheaters in the world, let alone Denver. This iconic rock structure is visited by millions of people every year. If you are in the Denver area, a visit to Red Rocks is a must, and a photo that will document your visit is practically required.
Psst… grab a cup of coffee and head up early in the morning to catch the sunrise. You won't be disappointed with the views or the incredible pictures you take!
RiNo District Street Art
In Denver, you're pretty much encouraged to draw on the walls. Our amazing city commissions local artists to create magnificent murals on both main roads and hidden alleyways. There are over a hundred to see in the city, but if you really want an eyeful of Denver street art, head over the RiNo District. You'll find mind-blowing pieces like "Reverberations", "Larimer Boy and Girl" and "2668 Walnut Street" — just to name a few.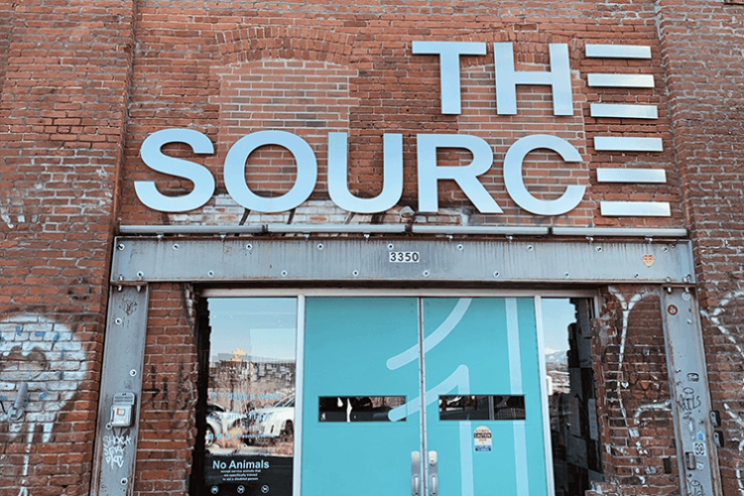 The Source Hotel and Market Hall is located in RiNo and is a go-to spot for great food, beer and views. With over 25 artisans calling the market hall home, two top breweries and a rooftop pool, you'll have a hard time running out of things to do!
Stanley Marketplace is a community of 50+ businesses located in the old Stanley Aviation building, right next to the site of the original Denver airport's main runway. The retro-rustic feel of the marketplace is unlike anywhere else. And since this hidden gem is still mostly unknown to out-of-town visitors, you'll be ahead of the curve when you nab a photo.
2526 East Colfax Avenue | 1628 16th Street | 1701 Wynkoop Street | 7301 South Santa Fe Drive, Littleton
If you're a book lover, visit the Tattered Cover to snap a selfie (or a "shelfie) and get lost in the stacks! There are multiple locations around the city and they host special events all the time, including author signings and bibliophile meetups.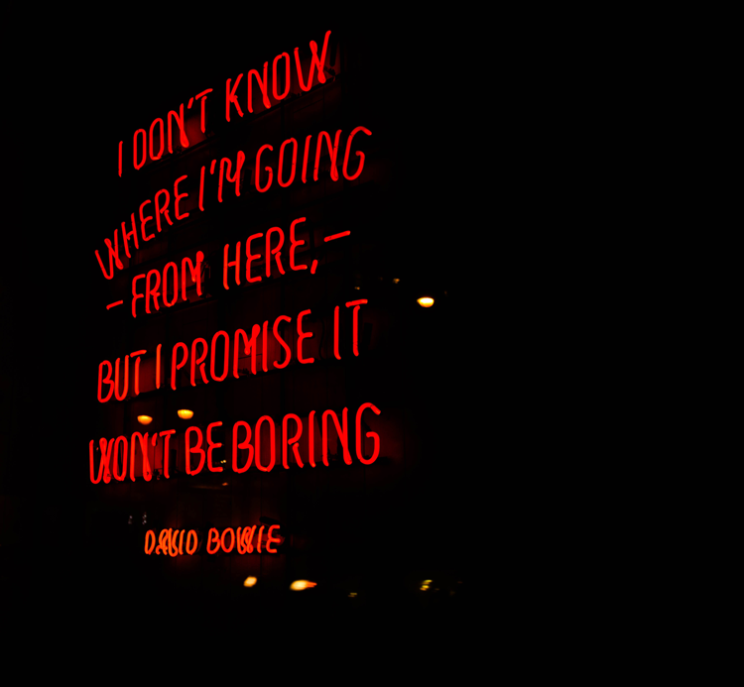 "I don't know where I'm going from here, but I promise it won't be boring." — David Bowie. This quote is on display in neon at Urban Farmer and is one of the most popular neon signs in the city. This eye-catching sign has been captured and posted on Instagram by just about everyone, even singer-songwriter Jack White! So head over to this modern, farm-to-table steakhouse as soon as possible and get your mandatory Denver pic.
Union Station is one of Denver's most iconic landmarks and it's definitely hard to miss as you explore LoDo. Get a photo outside of the historic station or of the gorgeous interior that is full of shops, restaurants and even a hotel.
Did we miss your favorite #Denver spot?
Let us know in the comments or show us on Instagram using #TheDenverEar!