It's time to take out all your rainbow clothes because the fabulous Denver PrideFest 2015 is coming up this weekend!
PrideFest is one of the largest pride celebrations of  lesbian, gay, bi-sexual and transgender in the nation and this year expect the Denver PrideFest (produced by GLBT Community Center of Colorado (The Center), to be HUGE because Denver is celebrating its 40th PrideFest Anniversary!!!
Denver PrideFest 2015 is a two-day event: Saturday June 20th 2015  – Sunday June 21st 2015 at Civic Center Park, Downtown Denver.
What To Expect
Saturday, June 20th
10am – Big Gay 5k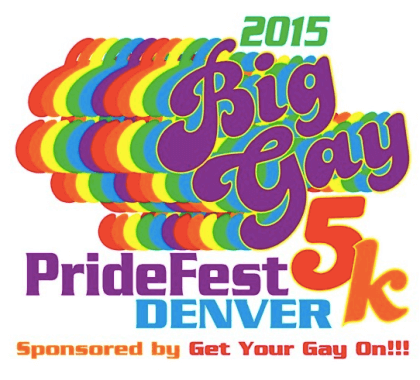 The Big Gay 5k is a timed race from Civic Center Park to Cheesman Park and back. The race itself will be up and down 14th Ave. Prizes will be awarded for best costumes! Registration is $30 up to today, June 18th and $35 from tomorrow. Proceeds from the tickets benefit The Center.*This race is for everyone and open to all ages. Register here.
 12pm – PrideFest Kids Parade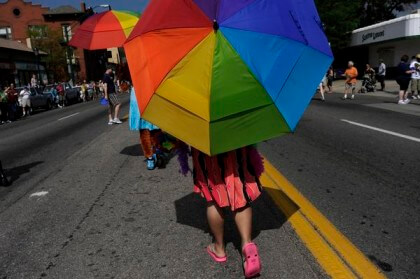 The PrideFest Kids Parade starts from the Center Stage and is led by the Mile High Freedom Band. The parade will march around the park. The parade will conclude at The Walmart Family Area which is a FREE area that will include interactive activities created by The Denver Museum of Nature & Science and a petting zoo that will be open from 11am – 3pm and Sunday 10am -2pm.
10am – Denver Dyke March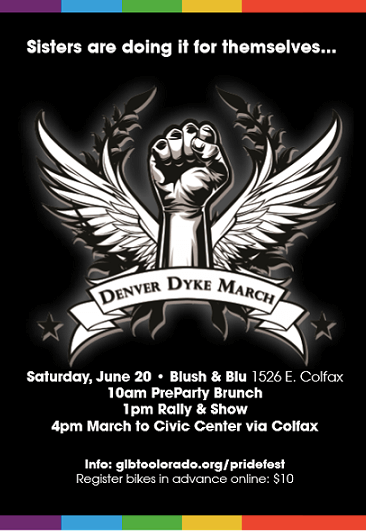 The 6th Annual Denver Dyke March will take place at the Blush & Blue, 1526 E. Colfax Ave. The event kicks off with PreParty Brunch at 10am. There will also be a rally from 1pm with motorcycles leading the marchers down Colfax to Civic Center Park at 4pm. *Bikes must be registered for $10 per bike. Register your bike here.
 5:30pm – Coles Whalen Concert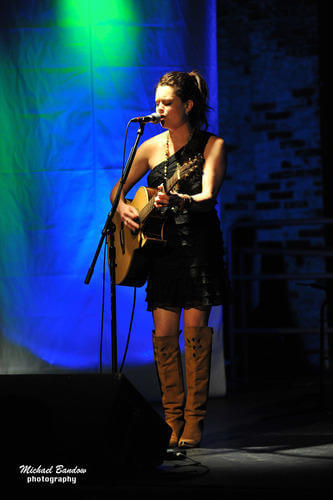 The Denver native musician, Coles Whalen, will perform on the Center Stage.
 8pm – Lisa Lampanelli Comedy Show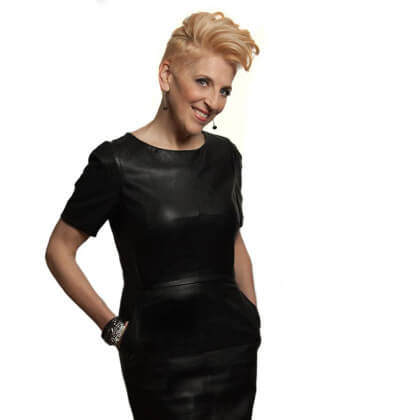 "Queen of mean" will perform at the Paramount Theatre. Tickets cost about $40 and you can purchase them here.
Sunday, June 21st 2015
9:30am – Coors Light PrideFest Parade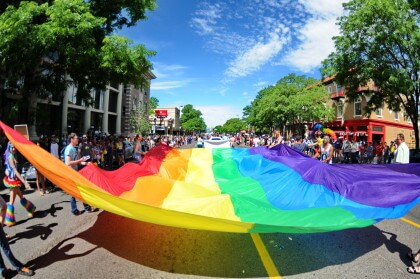 This parade is the CENTERPIECE of the entire festival. The parade is the opportunity for all segments of CO's LGBT community to colorfully and proudly celebrate their lives and accomplishments. The parade will be broadcast live in Denver on Channel 56 and online, and will be hosted by Chris Parente (KDVR FOX 31) & Larry Ulibarri (KS107.5)
 12pm – 40th Anniversary LGBT Pride Rally
Leaders from Colorado's LGBT community and leading politicians will speak on civil rights issues currently facing the community. The rally will take place at Center Stage.
3pm – Mya Concert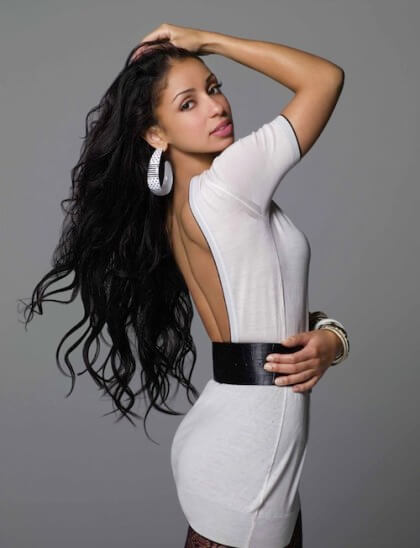 Grammy Award-winning artist Mya will take Center Stage.
Not to mention so much more such as a: 20-foot tall "Equality Cake" sculpture by Lonnie Hanzon, multiple stages with more than 20 acts lined up, a resource area, a 'Dogs in Drag' contest, a Kids Karaoke show, Largest Drag Show, vendors, exhibitors and even weddings!!!
PrideFest 2015 Map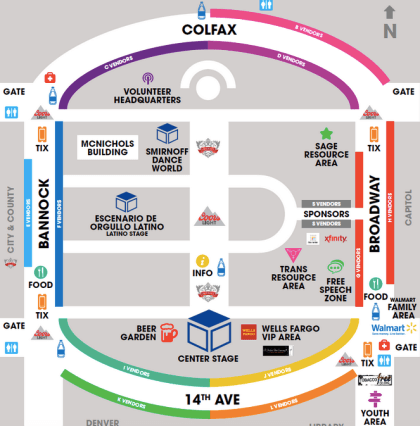 So come out to celebrate this weekend!
Denver PrideFest 2015
Saturday, June 20th 2015, 10am – 7pm
Sunday, June 21st 2015, 10am – 6pm
Civic Center Park, Denver