There is something quite magical about the notion of watching a movie in a drive-in movie theater. It could be all those great classic movies ( such as Grease) that make that experience feel very special.
In 2015 a brand new drive-in movie theater opened in Denver… the Denver Mart Drive-In.
The Denver Mart Drive-In features a 40 foot tall over a 90 foot wide screen, the largest screen in the region!
Along with a digital projection system that is largest outdoor screen in the area, they also provide an FM transmission to provide the ultimate viewing experience in the comfort of your own car. Conveniently located in an urban setting, the Drive In can cater up to 275 vehicles, and the snack bar provides movie theater favorites.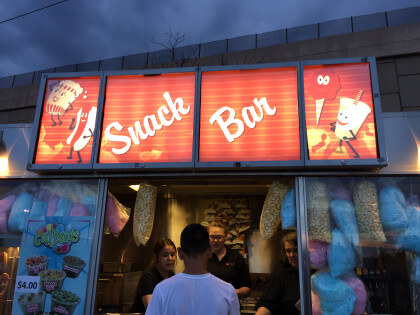 Their Fall Showcase Weekends are either DOUBLE FEATURE or a TRIPLE FEATURE.
Fall Showcase Weekends Schedule
September 18th & 19th 2015 at 7:30pm
Fast & Furious Trilogy ( Fast & Furious/Fast Five/Fast & Furious 6)
September 25th & 26th 2015 at 7:30pm
Classic Western Trilogy ( Butch Cassidy/The Good The Bad and The Ugly/High Plains Drifter)
October 2nd & 3rd 2015 at 7:30pm
The Bourne Trilogy ( Bourne Identity/Bourne Supremacy/Bourne Ultimatum)
October 9th & 10th 2015 at 7:30pm
Romantic Comedy Double Feature ( Sleepless in Seattle/The Princess Bride)
October 16th & 17th 2015 at 7:30pm
Die Hard Double Feature ( Die Hard/Live Free Die Hard)
October 23rd & 24th 2015 at 7:30pm
Spooky Films Triple Feature ( Beetlejuice/Casper/Practical Magic)
October 30th & 31st 2015
Halloween Horror Double Feature ( Friday the 13th:The Final Chapter/Halloween II)
November 13th & 14th 2015 at 7:30pm
"Reefer" Double Feature ( The Big Lebowski/Pineapple Express)
November 20th & 21st 2015 at 7:30pm
"Reefer Take II" Double Feature ( Fast Times at Ridgemont High/Wayne's World)

Ticket prices range from $10 – $54 (depending on how many people you have in your car) and include all movies for that night! Children under the age of 6 are FREE. To order tickets go to –> denvermartdrivein.com/get-tickets/
Enjoy a classic movie night!
Denver Mart Drive-In Movie Theater