We don't need a calendar to tell us that summer is here—the sun is high and the Denver weather is hotter than ever! And you know what that means. Patio season is in full swing! Due to the coronavirus, many are choosing to opt outside anyway, with many local neighborhoods shutting down their streets to allow for more outdoor dining.
There are also plenty of local restaurants and breweries with existing outdoor patios for you to enjoy—and to give you a few ideas of where to go, we rounded some of them up! So if you're looking for a place to sip on a nice cold beer outside and 6 feet away from other people, we've got you covered. Read on for 11 Denver brewery patios to check out this season, accompanied by a summery beer recommendation.
Please note, due to the pandemic, things are constantly changing. We recommend calling these breweries or checking them out on social media before visiting.
8855 West 116th Circle, Broomfield | COVID-19 Policies
4 Noses is Broomfield's best-kept secret, boasting a rustic taproom and a spacious outdoor patio perfect for enjoying a beer on a warm afternoon! We love spending time on their patio at twilight, enjoying the twinkling fairy lights and fire pit while we sip a cold beer and enjoy snacks from the many food trucks that set up shop here.
What you should drink: Raspberry Blonde
4 Noses' Raspberry Blonde is a summer classic, featuring fresh raspberries and a light, delightful finish. One of their most popular beers, Raspberry Blonde, is almost always on tap and is also available at local grocery and liquor stores if you'd rather sip at home.
3719 Walnut Street, Denver | COVID-19 Policies
Located in the heart of RiNo, Black Shirt Brewing is a Denver favorite, offering the perfect balance of great beer, music, crave-worthy pizza and spectacular service. Their patio is a must-visit during the summer, boasting several long tables and views of the neighborhood.
What you should drink: Alacrity Pilsner
This classic German Pilsner is razor sharp and is the liquid embodiment of a crispy baguette, morning dew and soft wildflowers. With a 5.1% ABV and a slew of fantastic reviews on UnTapped, this concoction will be your new favorite summer beverage.
470 Broadway, Denver | COVID-19 Policies
With family friends in Napa Valley and the access to wine barrels, Branded Oak's specialty is wine barrel-aged beers. But that's not the only thing that reminds us of California living at their brewery. You can also enjoy al-fresco drinking on their quaint and open patio, which is complete with several long picnic tables, plenty of shade, and wine country-esque greenery.
What you should drink: Experimental Pale Ale
A very different beer, this experimental brew is a unique take on the traditional pale ale style. Dry on the front with a hint of cherry and white grape to add a little sweetness, this beer represents an old-world look at what a pale ale could have tasted like in simpler times.
2990 Brewery Lane, Littleton | COVID-19 Policies
There's nothing so quintessentially Colorado than Breckenridge Brewery. With several locations throughout the state, this brewery is a local favorite. At their new Farm House Restaurant in Littleton, enjoy outdoor drinking at its finest with tables distanced at least 6 feet apart throughout the entire property. And the best part? The mountain views are practically unbeatable.
What you should drink: Mountain Beach
Mountain Beach, one of Breckenridge Brewery's newest creations, is a thirst-quenching sour that is basically vacation in a can. Enjoy vibrant flavors of tart lime and pineapple blended with sweet notes of guava.
2298 Clay Street, Denver | COVID-19 Policies
We can't get enough of rooftop bars here in The Mile High City and Briar Common's is one of the best. Enjoy your light and refreshing beer looking out over the park or downtown. No matter where you turn, you're sure to have a great view! And if beer isn't really your thing, they also have a fantastic selection of cocktails that you're sure to love.
What you should drink: The BelHop
The BelHop is a Belgian Golden Strong IPA showcasing hints of orange, grapefruit and spice—perfect for summer afternoon drinking.
1338 South Valentia Street, Denver | COVID-19 Policies
This locally owned mom and pop brewery has been wowing the Denver area since 2011. Unlike other Denver patios, Copper Kettle's is tucked away, offering a quiet, shaded oasis where you can enjoy your delicious brew. While you're there, try to meet our favorite brewer—Charlie, a loveable golden retriever who loves new friends.
What you should drink: Cherry Basil Blonde Ale
One of Copper Kettle's newest beers, their Cherry Basil Blonde Ale is packed full with loads of sweet and tart cherries and fresh basil. At 5.3% ABV, this brew is sessional and refreshing.
1695 Platte Street, Denver | COVID-19 Policies
Denver Beer Co. is one of Denver's most famous breweries—and for a good reason. Not only is the beer fantastic, but all of their locations are beautiful, friendly and approachable. On this list, we're highlighting the patio of their Platte Street location, which features several cozy tables, lush greenery, dog-friendly spaces and more.
What you should drink: Hubbabubbalicious Watermelon Sour
Denver Beer Company's most famous beer, Princess Yum Yum, is always a great choice, but today we're highlighting their new Hubbabubbalicious Watermelon Sour that features—you guessed it!—a ton of light, refreshing watermelon and a hit of sour goodness on the finish.
15120 East Hampden Avenue, Aurora | COVID-19 Policies
Dry Dock Brewing's South Dock location is one of our favorite places to spend an afternoon. Not only is it absolutely huge, packed full of rustic tables perfect for spending time with friends, a comfortable couch area, and a brewing school, but they also happen to feature a lovely outdoor patio. Covered and usually located in proximity to a delicious food truck, Dry Dock's patio is the place to be this summer.
What you should drink: Dayboard Lager
Dry Dock's 2020 summer brew is already a new classic. Dayboard Lager is a refreshing and sessionable lager perfect for those looking for something lighter (it's only 110 calories a can!) and is brewed with Munich malts and Ekuanot hops that give it a subtle crisp flavor.
7101 East Colfax Avenue, Denver | COVID-19 Policies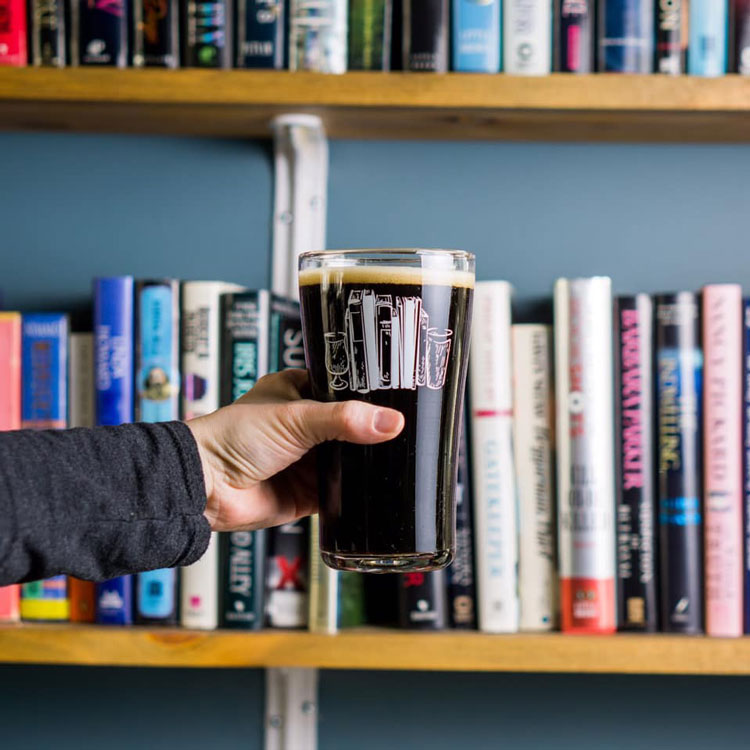 Fiction Beer Company is a personal favorite of ours, combining beer and literature together—creating new stories through craft beer! Their patio is definitely low-key, tucked off of Colfax and gives patrons a peaceful feel that is just as calming as the library vibe inside.
What you should drink: Alternate Present Dark Lager
Some of us like a dark and stormy brew on a warm summer day. If that's you, try Fiction Beer Company's Alternate Present Dark Lager which is similar to a stout and featuring flavors like chocolate and roasted marshmallows along with some fruity notes and a malty finish. Reminiscent of a summer campfire, we deem this beer warm weather approved.
5622 Yukon Street, Arvada | COVID-19 Policies
Located in Old Towne Arvada, New Image Brewing Company is a quiet and quaint brewery that we just can't get enough of. While their patio is hidden from the street, as you walk through the brewery you'll see it in the back. Featuring several picnic tables and shaded areas, this adorable oasis is perfect for enjoying on a warm day.
What you should drink: I'm Just Here to Dance
You can dance if you want to! And trust us, you'll definitely be dancing once you taste New Image's new brew "I'm Just Here to Dance," a collaboration with Hidden Spring Sale Works. This banana nut muffin-inspired sour ale clocks in at 6.7% ABV and comes to life with banana puree, almond flour, walnut meal, vanilla, lactose and Demerara sugar.
2920 Larimer Street, Denver | COVID-19 Policies
Ratio Beerworks, a local favorite microbrewery, embodies everything we love about RiNo—great music, colorful murals, industrial-chic decor and artsy ambiance. Their outdoor bar is "the" place to hang out in the summer, featuring a plethora of picnic tables, plenty of outdoor art, fairy lights (great for evening drinking) and more.
What you should drink: Repeater
Straddling the line between a pale ale and an IPA, Ratio Beerworks' Repeater is the perfect summer drink. Enjoy a slightly roastier taste and less hops then you're used to in an IPA.
Cheers!
We hope you have a great (and safe) summer! Where are you planning to drink this season? Let us know in the comments!