While podcasts have been around for a while, over the past few years, they've gained more popularity, with news outlets, journalists and small business owners delving into the audio-blogging world. Podcasts make it easier to get your news on the go, and since you can download them straight to your phone, you can listen whenever you have time.
Keep it local by tuning in to one of these Denver-area podcasts, which cover a wide range of subjects from our thriving creative community to trying to find the best pizza in town. No matter what you're interested in, there's a podcast for you on this list. Happy listening!
It's no secret that Denver is rapidly growing and changing. The city we know and love today is vastly different than the one that existed 20, 10, and even five years ago. Changing Denver is a podcast exploring all the changes taking place around the city, from the neighborhoods, streets and parks to the people who inhabit them. The host Paul Karolyi looks at different areas of Denver in each episode and even reaches out to actual Denverites to get an idea of how they are feeling about all of the changes. If you are interested in the evolution of Denver and want to know why and how the city's landscape is shifting, this pod is for you.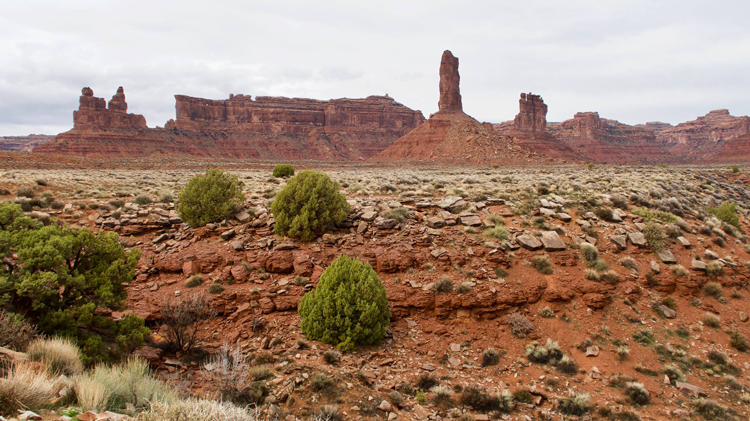 Photo courtesy of Nomad Ramblings
While this podcast isn't technically a specifically "Denver" podcast, it is a great podcast for anyone interested in exploring what Colorado has to offer outside of the big city. Led by Brian Galyon, Barron Link and Craig Coleman, this unusual podcast discusses aspects of outdoors life that go beyond the ordinary: loneliness when on solitary excursions, for instance, as well as dealing with aggressive dogs and even psychedelic therapy involving peyote.
Denver and Pizza are two things that we love very dearly, so it's no wonder that we adore this podcast from Megan Arellano and Paul Karolyi (from Changing Denver). The goal of this podcast is to "review every pie in Mile High" so be prepared to have your stomach growl during every episode. Though the podcast primarily focuses on reviewing pizza places in Denver, the hosts will occasionally head to Boulder and other surrounding cities to see what types of pies they offer.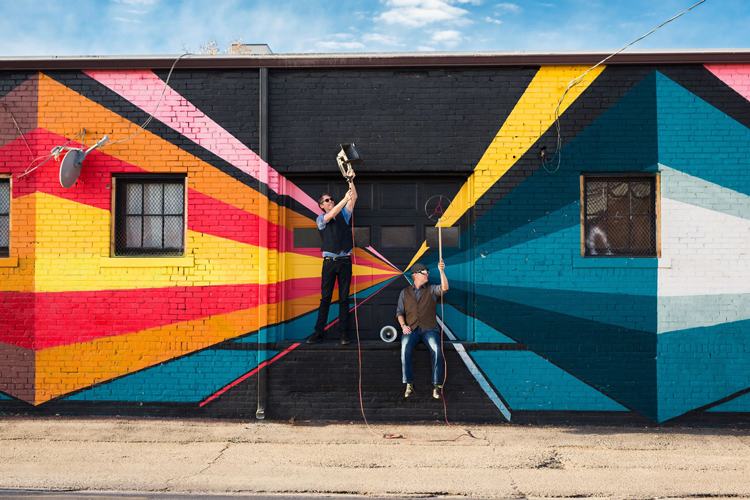 Photo courtesy of The Denver Podcast
One of Denver's most popular podcasts, The Denver Podcast, follows hosts Larry Elwood and David Adame as they explore Dever's vibrant community of creative professionals. Each episode delves into the lives of local musicians, artists, business owners, restaurateurs and philanthropists. "Unravelling Denver one story at a time," The Denver Podcast is definitely one to add to your podcast rotation.
If you're someone who loves staying informed on local news, The Denver Post's podcast is perfect for you! Each episode is just three or four minutes, recapping the most relevant daily headlines and giving you a brief weather report for the day. Hosted by Kyle Sauerhoefer, this podcast is an easy and convenient way to get your dose of local news first thing in the morning—and support local journalism while you're at it!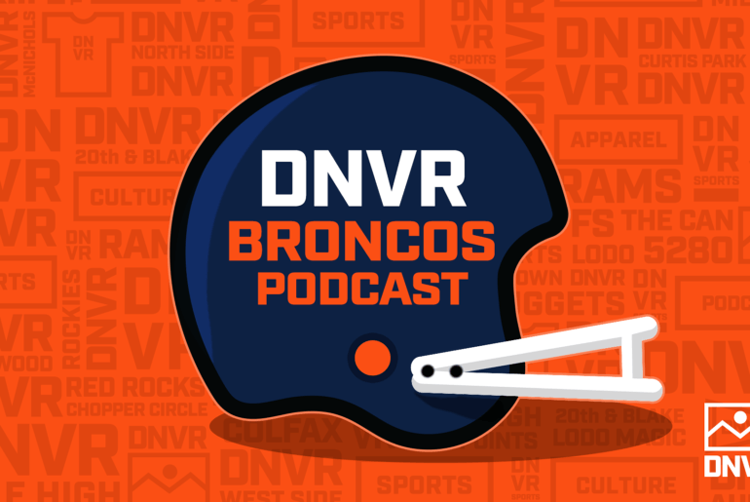 Graphic courtesy of DNVR Broncos Podcast
Broncos fans—don't worry! This one is just for you. Hosted by journalists Ryan Koenigsberg, Zac Stevens and Andrew Mason, the DNVR Broncos Podcast dives deep into all that is Broncos Nation. From team updates to answering submitted questions and breaking down specific moments from games, this football-centered podcast is for both diehard fans and newbies.
Produced by self-proclaimed "Denver-based comedian and moron," Matt Monroe, The Idiot Podcast is an exploration into what actually makes someone an idiot. Monroe asks his guests to recall whatever quirks, experiences and mistakes from their past that continue to make them feel like an idiot. The simple premise causes the pod to split off into dozens of interesting stories, from tales of grand-theft auto to youthful religiosity. At its core, this hilarious and interesting podcast proves week after week that everyone feels like an idiot sometimes.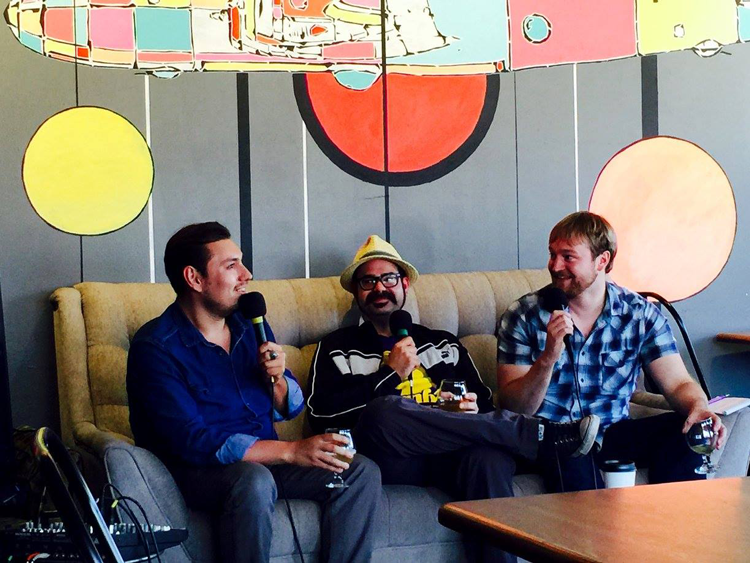 Photo courtesy of Left Hand Right Brain
Hosted by local comedian JD Lopez and brought to listeners by the Mutiny Information Cafe, Left Hand Right Brain is a popular pod that gives you an insight into the minds of Denver creatives. Each week, Lopez has a conversation with a local artist or maker, diving into their creative processes. This podcast is all about locals supporting locals in their creative pursuits and if that sounds like your jam—head over to your favorite podcast app and download a few episodes!
This award-winning podcast is more like an "audio-magazine" than a podcast, featuring the stories and music of local Denverites. Completely community-driven, the hosts look for stories, music, poetry, fiction pieces, comedy, odd soundscapes and more to feature. This wonderfully weird podcast has 40+ episodes banked, so if you're looking for something to binge while you're stuck at home, this one's for you!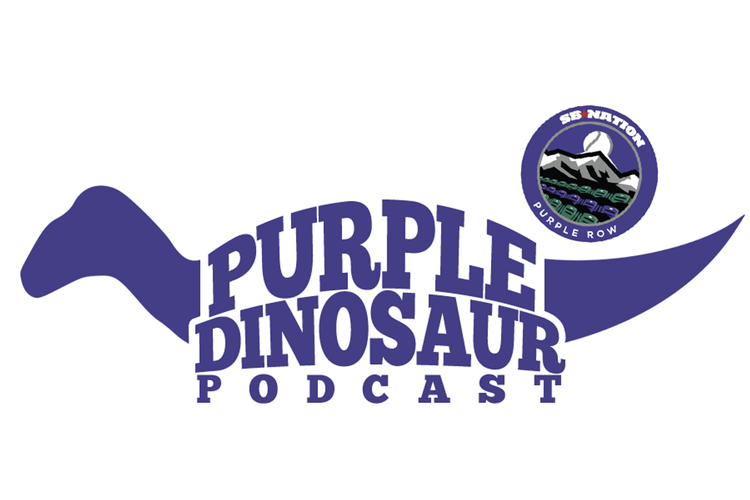 Graphic courtesy of The Purple Dinosaur Podcast
According to their website, the Purple Dinosaur Podcast is "the Internet's first and inarguably best Colorado Rockies podcast ever in the history of humanity" and we can't argue with that. If you're a Rockies fan, you'll want to check this one out. Each episode covers Rockies news and updates along with some fan questions about the ins and outs of Colorado's favorite baseball team.
In 2010, comedian and actor Andrew Orvedahl founded a small live storytelling show in Denver. In 10 years, that show has drastically transformed, becoming a weekly storytelling podcast called The Narrators. The goal? To showcase the "art of true storytelling." They have partnered with numerous organizations including Colorado Public Radio, the Denver Art Museum, Denver Museum of Nature & Science, Denver Music Summit, Denver Film Festival and so many more, bringing you the best and most interesting stories from people all over the Denver area.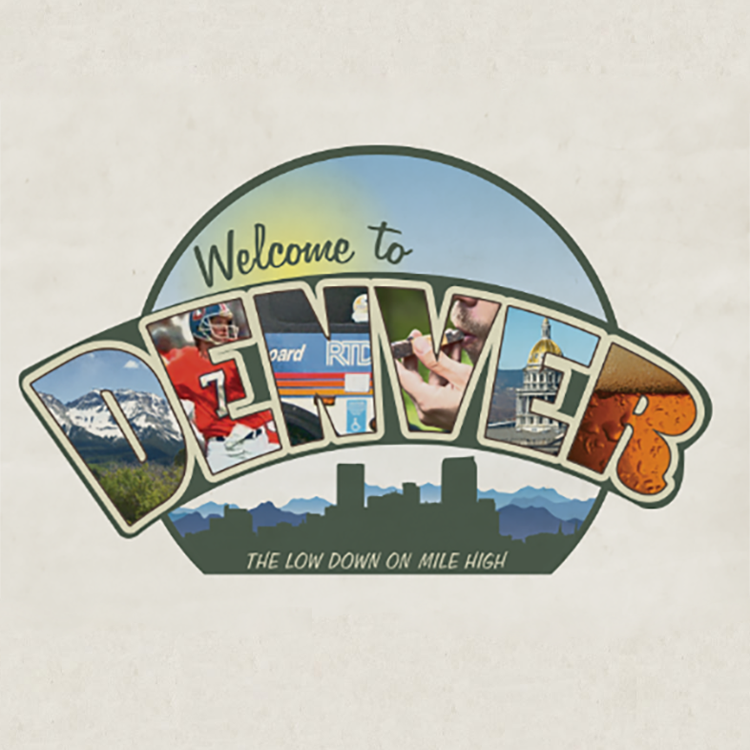 Graphic courtesy of Welcome to Denver
If we're honest, a lot of Denverites aren't actually from Denver. And if you're in the same boat, check out Welcome to Denver, a podcast hosted by Denver transplant Cory Helie. Each week, this easy-listening pod is centered around what makes this city so great. Acting as an unofficial guide to the Mile High City, Helie invites comedians, musicians, filmmakers, artists, writers and more to talk about their favorite spots in the city to find live music, comedy, food, beer, sports and more. If you're new to Denver (or even if you've been living here for a while) this podcast is basically essential.
A podcast about podcasts? Why not? Whiskey & Cigarettes is much funnier than the premise makes it sound, hosted by Jake Browne, Zac Maas and Jake Becker. It has even attracted high-profile guests like Robert Kelly, Paul Mercurio and Nate Bargatze. While the point of the show is to showcase clips of the best podcasts of the week, the real gem of this show is the back and forth between the hosts and guests.
What do you listen to?
Did we miss your favorite local Denver podcast? Let us know in the comments!