One of the most popular jogging, walking, riding and biking paths in the city, the Cherry Creek Bike Path offers a whopping 40 miles of paved trail from Denver's Confluence Park all the way to the small town of Franktown, just a few miles from Castlewood Canyon State Park. 
As it follows and oftentimes crosses over the winding creek, riders get the opportunity to eat, drink, laugh, play and relax at beautiful parks, local restaurants, award-winning craft breweries, modern coffee shops, huge event venues and impressive attractions. We rounded up more than 35 of our favorite destinations that are easily accessible from the trail in all of these categories. 
Jump Ahead to See:
Food + Drink | Parks | Things to Do
Food + Drink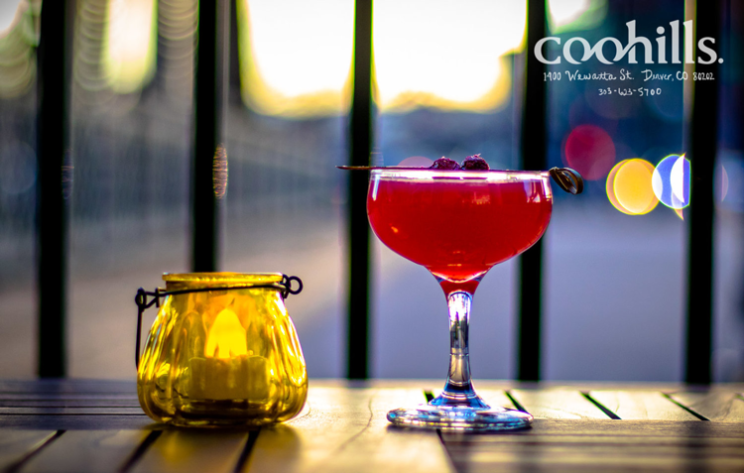 Photo courtesy of Coohills
Originally opened in 2011, Coohills has quickly become one of Denver's best dining experiences. With a focus on local, regional and farm-fresh ingredients, their menu is inspired by European sensibilities and includes fresh crudo salads, hot-from-the-oven breads, a variety of house-made pâtés, house-cured charcuterie, signature crab cakes and more. 
Considered one of the most charming streets in the city and the most historic, Larimer Square is lined with a number of local boutiques, breweries, wine bars and restaurants, all housed inside historic brick buildings. And while you're shopping, eating and exploring, you'll be doing so right where Denver was founded back in 1858! Some of our favorite bars and restaurants include Euclid Hall Bar & Kitchen, Green Russell and Tamayo.

Frequently named Denver's best bakery, the team at Gateaux creates custom desserts and cakes alongside daily offerings of breakfast pastries, cake pops, cupcakes, cookies, mini pastries, tortes, tarts and more.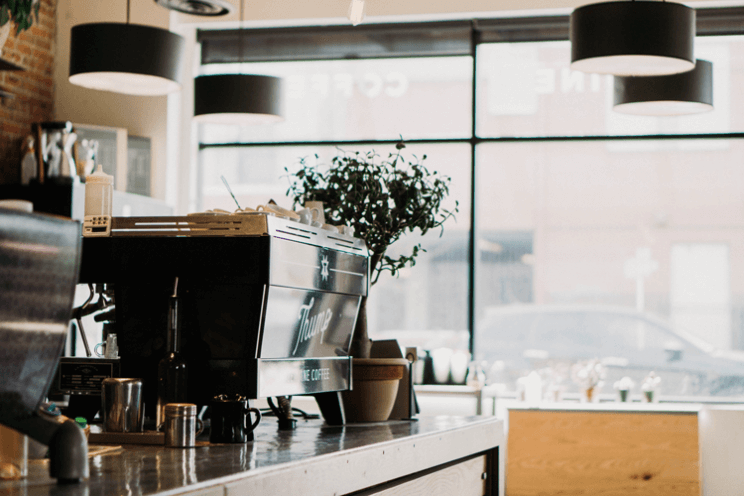 Thump was born in Bend, Oregon and has grown to include two Bend coffee shops, two Denver shops, and a Bend roastery and bakery. Driven by the unique experiences and the outdoors of Oregon, they strive to roast and brew their coffees with that same passion. And their team of adventure lovers and latte artists proves that dedication day in and day out. In their Denver shops, they've developed open, welcoming spaces for people to gather, to work, to enjoy coffee, and to build community. They also offer house-made pastries, sandwiches, salads, and local beer and kombucha on tap.
Pinche Tacos opened as a food truck and quickly became one of the city's best food trucks. Now, Tacos Tequila Whiskey is the team's brick and mortar and offers those same delicious street tacos alongside a huge lineup of tequila and whiskey and other Mexican specialties. 
DAIKON is both a food truck and a brick and mortar restaurant based in Denver. Inspired by the Banh Mi, they put together some of the best sandwiches filled with 18-hour braised pork shoulder, house mayo, fresh cucumber, pickled carrot, daikon, red onion and jalapeño, Thai basil, mint, cilantro and several other sauces. Swing off the trail to get yours! 
Racines has been a beloved eatery since opening in 1983. In addition to a spectacular patio, they offer a full bar and food menus for breakfast, lunch, dinner and weekend brunch as well as special gluten-free, kids and dessert menus. To see them, click here.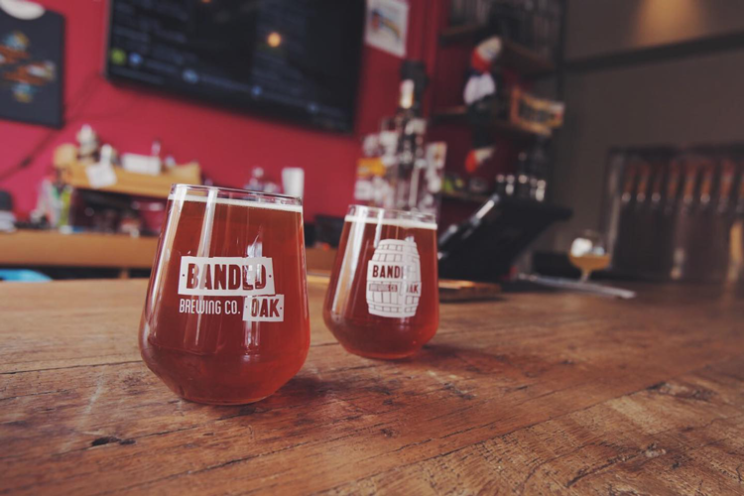 Photo courtesy of Banded Oak Brewing Company
At Banded Oak, the team specializes in wine-barrel-aged beers so they can utilize the unique and ever-changing flavor characteristics of those barrels, sourced directly from Napa Valley. But don't let that intimidate you! They have an impressive lineup of taps for hardcore beer geeks and patio drinkers alike. To see what's on tap now, click here. 
One of Denver's liveliest and most luxurious neighborhoods, Cherry Creek North offers boutique shopping, a wide variety of dining and drinking establishments, and services including floral boutiques, salons, fitness studios and more. Some of the district's most popular eateries include The Cherry Cricket, Cherry Creek Beer Garden, Blue Island Oyster Bar and True Food Kitchen. 
Dazbog Coffee is headquartered right here in Denver, but now has locations throughout the state and even into Wyoming. This location—at 3773 Cherry Creek Drive North—is located in a shopping center right off the Cherry Creek Trail. There, you can fuel up with a craft coffee in a comfortable, coffee shop setting. 
This hidden gem serves up some fantastic sushi from their humble, shopping center location. Just about a block off the Cherry Creek Trail, you can enjoy a huge menu of sushi rolls alongside noodle dishes, appetizers, desserts and more. To see the menu, check out their website here. 
CitySet has brought a vibrant entertainment district to the corner of Colorado and Cherry Creek South. Home to several national and local chains, CitySet helps you fuel up with a sandwich at Cuba Cuba, sit down for a meal at Next Door, and even grab a craft beer on the patio at Crazy Mountain Brewing Company. To see all the attractions of CitySet, click here. 
A beloved Denver institution since 1971, Bull & Bush is a craft brewery inspired by England's historic pubs and was even designed after the original Bull & Bush, a British pub located in Hampstead Heath near London that dates back to 1645. Today, you can get some fantastic, hearty, pub-inspired eats alongside an impressive lineup of beers brewed in-house.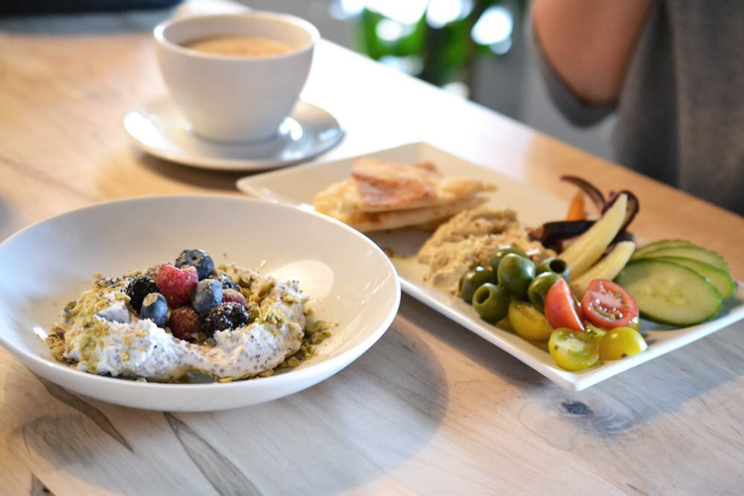 Photo courtesy Unravel Coffee
New to the Denver coffee scene, Unravel is just a few blocks south of the Cherry Creek Trail. In their Instagram-worthy coffee shop they brew outstanding coffee beverages from their beans roasted in-house on a zero-emissions roaster, mix marvelous matcha, and even offer an impressive menu of delectable eats. Located in the same shopping center, Detour Bakery is also worthy of a visit!  
Famous for their award-winning beers, the Superpower IPA and the spicy Yellow Fever brewed with jalapeños, Comrade is one of Denver's best craft breweries. And they're one of only three Denver breweries using American-made brewhouse equipment! You can stop by the dog-friendly brewery to enjoy the community atmosphere, the beer and nightly food trucks. 
A beloved Denver business, Sam's No. 3 is styled after the classic American diner. At locations in Denver, Glendale and this one in Aurora, you can order from the gargantuan menu that features more than 100 items, including options for breakfast, lunch and dinner. You can see that menu here. 
Often named the best brewery in Parker, this is one of the last stops on our Cherry Creek Trail ride. Barnett & Son was opened and is still operated by Andrew, an avid homebrewer for many years, who made the brick-and-mortar move so he could share his beer with his community. Stop by the taproom to become a part of that community and enjoy some fantastic brews! 
Parks
Confluence Park 
Confluence Park is where the Cherry Creek Trail begins, and it's one of the city's most popular commuter parks. It sits where the South Platte River and Cherry Creek meet and was originally developed in 1974. After renovations finished in 2017, new highlights include wider bike paths, pedestrian walkways and several ADA-approved, handicap-accessible ramps.
Sunken Gardens Park 
Sunken Gardens is a secluded, shaded park that offers a welcoming green space in the middle of the city. The quiet neighborhood park boasts a spacious open lawn surrounded by trees, a playground and picnic tables.
Open seven days a week through the spring, summer and fall, Gates Tennis Center is a public tennis center that operates on a pay-as-you-play basis. It's a great spot to stop on the trail and get even more exercise! For general pricing and information, click here. 
City of Brest Park 
This neighborhood park covers a quiet corner in a bustling neighborhood. It's the perfect place to ride through on the paved path, rest in the shade, or enjoy a picnic at one of the picnic tables. Directly across the street, you'll find CitySet Cherry Creek, the perfect place to pick up some food to go.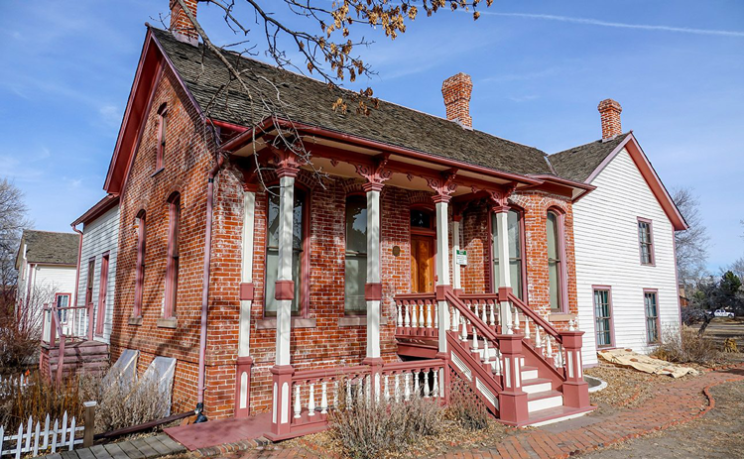 Photo courtesy of Four Mile Historic Park
This public park and the on-site museum are open for general visits five days a week, year-round with the exception of a few holidays. Because it's located right on the trail, Four Mile Historic Park is one of the best destinations on this guide for fun and education. The museum is Denver's oldest standing structure and the grounds include gardens and farm animals as well as exhibits, demonstrations and special programming. 
Garland Park 
Located right off the trail, this large community park is home to several baseball fields, tennis courts, basketball courts, a great playground, a pond, paved trails and open fields. 
John F Kennedy Park
A free open space option directly adjacent to Cherry Creek State Park, John F Kennedy Park boasts an off-leash dog park, a soccer complex, ballfields and a golf section with a 27-hole public course. 
Cherry Creek State Park covers a whopping 4,000 acres, including a 107-acre, fenced, off-leash area for dogs. Other park attractions and activities include biking on 12 miles of paved trails and 35 total miles of multi-use trails, boating and swimming on the lake, overnight camping, fishing and more. 
Maintained by Arapahoe County, this park is home to a 155-year-old farm which once served as an important resting stop for pioneers traveling on the Cherokee/Smoky Hill wagon trails in the 1860s. Today, you'll find a county-designated heritage area that includes a historic house, red barn, silo and milk shed restored to their early 1900s condition as well as two replica windmills and 30 acres of open space. 
Located a few miles from the southern end of the Cherry Creek Trail, you can get to Castlewood Canyon State Park using a quiet dirt road that continues from the paved trail. Once you arrive, you'll find beautiful paths winding through the canyon and historic exhibits with information about the dam that was once located in the park. 
Things to Do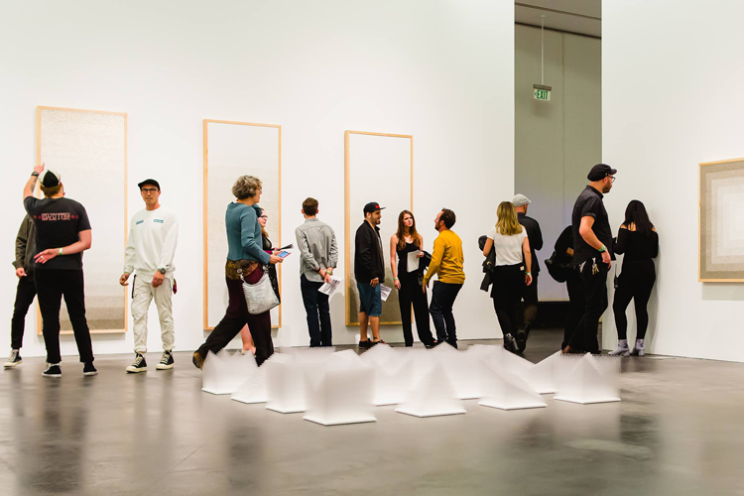 Photo courtesy of Museum of Contemporary Art Denver
The Museum of Contemporary Art Denver offers rotating exhibitions and public education programs that celebrate creativity, experimentation and cultural engagement through the works of regional, national and international artists. Founded in 1996, the museum has grown into one of the city's most impressive art facilities. Need refreshment? Head to the rooftop to grab a drink and take in the view!
One of the premier event venues in the country, the Pepsi Center hosts more than 250 events each year, including concerts, live shows, and Colorado Avalanche, Denver Nuggets and Colorado Mammoth games. If you want to skip the hassles of driving and parking, just hop on your bike and use the Cherry Creek Trail! 
Considered one of the most charming streets in the city and the most historic, Larimer Square is lined with a number of local boutiques, breweries, wine bars and restaurants, all housed inside historic brick buildings. And while you're shopping, eating and exploring, you'll be doing so right where Denver was founded back in 1858! Some of the best things to do include seeing a show at Comedy Works Downtown, shopping at Dog Savvy Boutique and much, much more.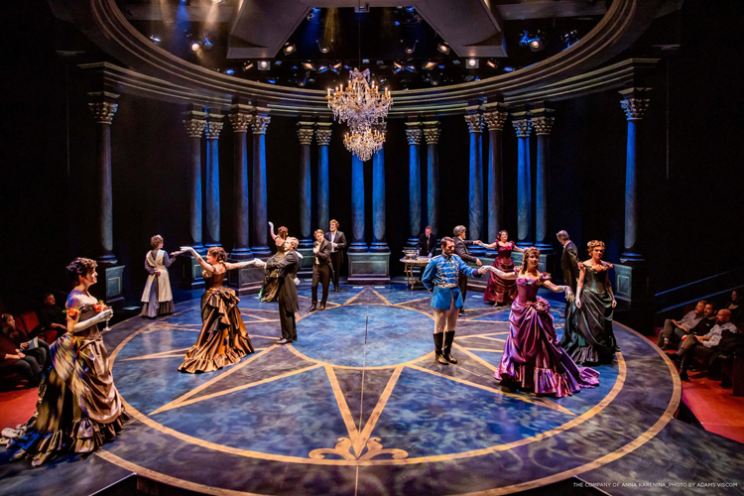 Photo courtesy of Denver Center for the Performing Arts
As the nation's largest nonprofit theatre organization, DCPA brings Broadway tours, DCPA Theatre Company productions, statewide education programs and other once-in-a-lifetime events to Denver. To see all the upcoming shows and events, click here. 
A venue for concerts, lectures, general sessions and family spectaculars, Bellco is a 5,000-seat venue designed as one of the most technically advanced theaters of its kind. To see upcoming events, including concerts, conventions, live comedy shows and more, click here. 
Located in a bustling Denver neighborhood right off the trail, Ella Bliss Beauty Bar is a luxurious, family-owned destination for nail treatments, massages, facials, waxes and more. And it all comes alongside a menu of coffee, wine, cocktails and beer! 
Denver Country Club is the oldest country club west of the Mississippi. The exclusive, invitation-only club offers an 18-hole golf course, indoor and outdoor tennis courts, an Olympic-sized swimming pool, a croquet and lawn bowling pitch, a skate house and skating rink, a fitness facility, and dining and banquet facilities.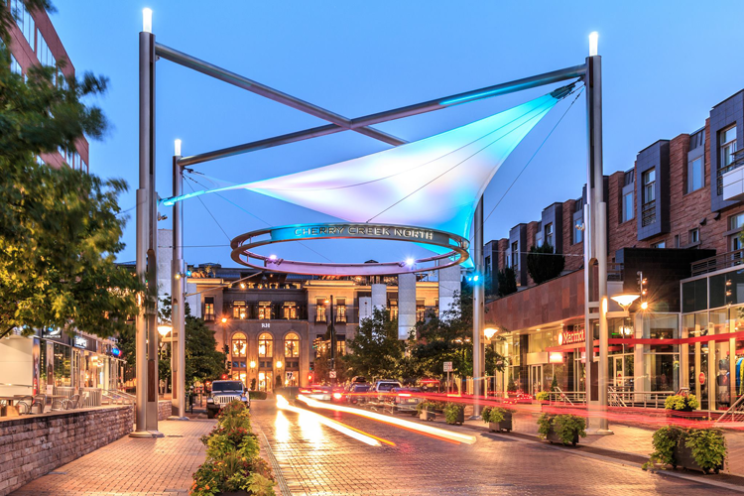 Photo courtesy of Cherry Creek North
One of Denver's liveliest and most luxurious neighborhoods, Cherry Creek North offers boutique shopping, a wide variety of dining and drinking establishments, and services including floral boutiques, salons, fitness studios and more. Check out Hydrate IV Bar for a great place to stop and get a rejuvenating treatment! 
At Cherry Creek Shopping Center, you can shop more than 160 brands and dine in style at more than 20 gourmet eateries. Because the bike trail goes right through the grounds, you can skip the parking garage (and the parking fee) and enjoy all the boutiques, anchor stores, restaurants and brands without typical mall hassles. 
This exclusive country club offers a magnificent clubhouse, exquisite dining, a therapeutic spa, an excellent fitness center and an outstanding, 18-hole golf course with five sets of tees and three sets of combination tees ranging from 4,981 to 7,450 yards. For membership information, click here. 
Boondocks has four total locations with two in Colorado and one right here in Parker along the Cherry Creek Trail. A great destination for your family bike ride, the entertainment facility offers bowling, laser tag, an arcade, go-karts, mini-golf, bumper boats and more. This location is open year-round and admission is free! 
Do you have a favorite stop?
Tell us about it in the comments below! And tag #TheDenverEar on Instagram so we can join in the fun.