The historic (and über chic) Confluence neighborhood in Denver, recently got an extra dose of chicness!
Carbon Beverage Café & Habit Doughnut Dispensary have taken up residence in the iconic former 'Paris on the Platte' location.
Carbon
Carbon is a sophisticated hybrid serving premium coffee alongside a custom beverage bar with a menu of inventive sandwiches, salads, munchies and bowls designed to tease your senses and satisfy your soul.
At the heart of Carbon is a high-tech "Modbar" tap system manned by knowledgeable "tap tenders" who prepare and serve your coffee, flavored soda and/or cellared, brewed or spirited drink, customized to your liking.  Size matters, so customers pay by size, not contents, at the streamlined counter before heading to the self-service carbon-ation station to add a blast of bubbles to their drink of choice.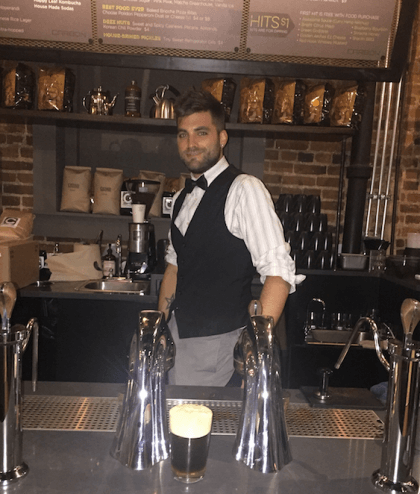 Carbon's renegade energy is reflected in the pop-culture inspired menu, with offerings like the Lil' Kim Bowl – a red hot Togarashi blazed brioche doughnut topped with slow cooked Korean BBQ pork and house made kimchi – or the Shake N Bake featuring farm-fresh devil-fried chicken, sriracha maple syrup, whipped butter and goji berries, topped with a gluten-free mini almond waffle or blazed doughnut.  Or maybe you'll go old school with the Mac Daddy – baked mac'n'cheese with a chicory buttered doughnut crumb or tender belly bacon crust, or grab a bag of savory, sneaker or sweet Wu Tang Tots with your choice of "hits" or dipping sauces, to stay or to go.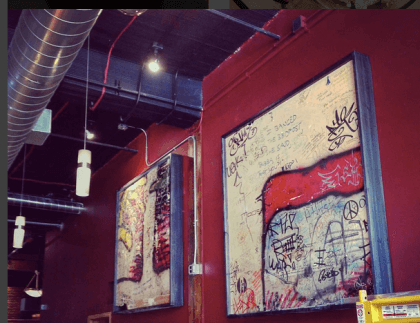 Some notable cool features: the former 'Paris on the Platte' was known for it's graffiti walls, the current owner of Carbon wanted to keep an element of Paris on the Platte by having artwork of graffiti hang on the walls of Carbon. Another cool feature to mention is that they have tables that were created from doors of the old Union Station in Denver!
Habit Doughnut Dispensary
Habit Doughnut Dispensary is a "badly behaved," chef-driven, premium doughnut shop and bodega featuring sweet, savory and seasonal creations made from fresh brioche dough.  The cheeky, urban doughnuts range from the Banana C.R.E.A.M., with roasted banana fluff, peanut butter glaze, brûléed banana and brittle to the savory Shorty Doowop fritter made with Haystack Mountain goat cheese, sharp cheddar, parmesan and thyme, dusted with Savory Spice Shop cheese powder.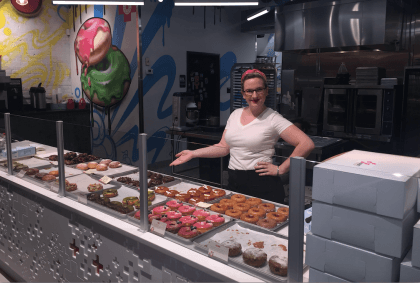 Habit not only provides indulgent doughnuts, but offers a mini bodega with all the habit-forming conveniences of an urban convenience store – Red Bull, bottle openers, breath mints, YooHoo chocolate drinks, condoms, lighters, batteries, pain killers, candy and more.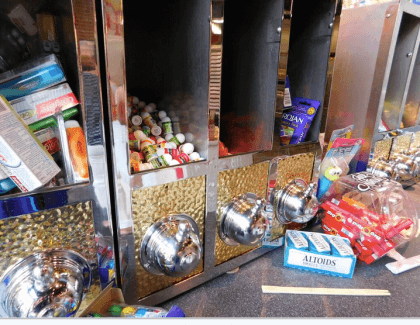 Habit customers who purchase a doughnut enjoy a complimentary cup of Carbon Coffee, a custom blend by Richesse. Every doughnut, every time.
Habit Doughnuts are sold individually ($2- $5 each) or in larger doses including the dozen hand-torched glazed Blazed dougnuts ($20), the Habit Dozen ($26) with six Blazed doughnuts plus any six doughnuts from the case. Or, go for the Dispenser's Dozen ($30) and enjoy any six doughnuts from the case plus any six items from the Bodega wall.
Those in-the-know can customize from the quirky secret menu with a selection of airplane size booze bottles to partake with doughnuts and coffee on-site.
Both Carbon + Habit Doughnut Dispensary are located side by side!
1553 Platte Street, Suite #130, Denver, Colorado 80202
Visit their webpage–> www.habitcarbon.com
Or check them out on Facebook!