Denver is a city famous for its views, whether you're looking to the city skyline, the Rocky Mountains or both. And when you throw in our growing foodie, craft beer and cocktail culture, you're setting yourself up for a perfect summer night in the city.
We rounded up Denver's best rooftop patios so you can enjoy every great meal, brew, cocktail and conversation with a view to match. Enjoy!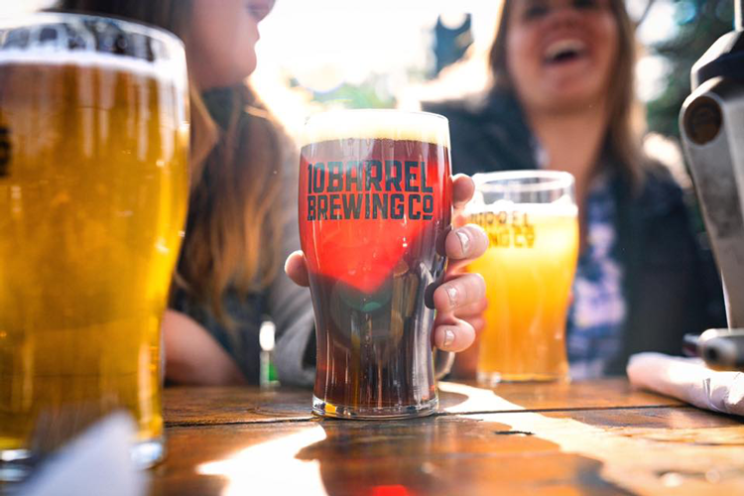 Photo courtesy of 10 Barrel Brewing Co.
The 10 Barrel Brewing Co. story begins in Bend, Oregon, continues through 2016 when they opened their Denver brewpub and gets even better on the rooftop patio in RiNo. This brewpub is home to a 20-barrel brewing system, 24 freshly brewed beers on tap, and a huge, two-story space with multiple bars including the upstairs bar that serves the patio.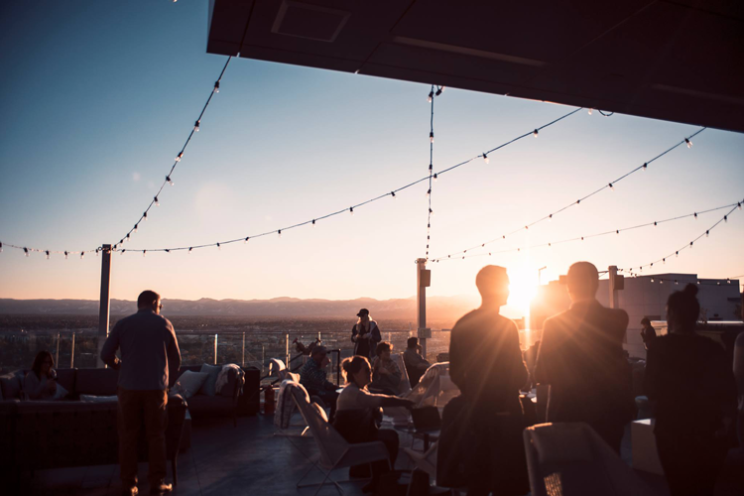 Photo courtesy of 54thirty
Located at the top of Le Méridien in Downtown Denver, 54thirty is the highest open-air, seasonal rooftop bar in the city. Views of the city and the front range can be enjoyed under string lights and stars accompanied by craft cocktails and globally inspired snacks.
As a tribute to the crafted character of Colorado, Ale House sources locally at every opportunity—from the craft beer to the cocktails to the meals. And the cherry on top of that Colorado atmosphere is a spectacular view of LoHi, the South Platte River, and Downtown Denver from the spacious rooftop patio.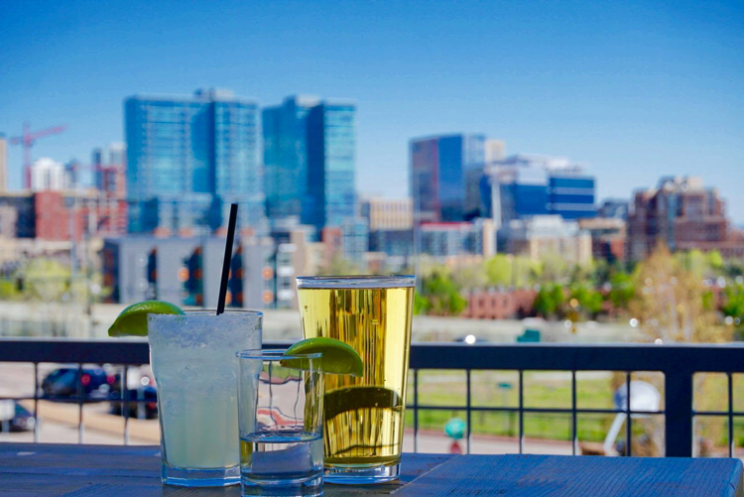 Photo courtesy of Avanti F&B
Inspired by European markets and food truck roundups, Avanti is an indoor food hall housing seven different restaurant concepts in modified shipping containers. A group dining here can satisfy every craving—from tacos and arepas to burgers and mussels. They also offer an impressive lineup of craft beers, ciders, wines and craft cocktails, all of which you can enjoy on the huge rooftop patio overlooking the heart of LoHi.
Briar Common officially began in 2013, but the idea was born more than 20 years ago thanks to a love of the American IPA. Brewers and owners Greg and Kent Dawson have now created a brewery and gastropub with balanced, drinkable beers and innovative comfort food. Their rooftop patio overlooks Jefferson Park just steps from Mile High Stadium.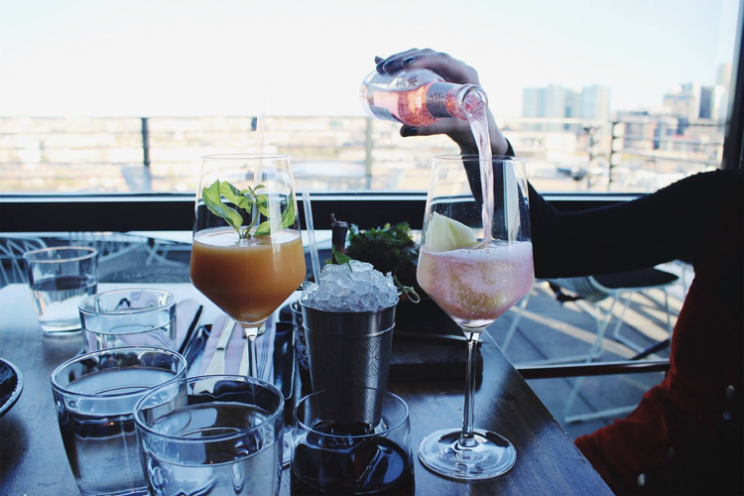 Photo courtesy of El Five
Nestled high above LoHi on the fifth floor of 2930 Umatilla, El Five offers some of the best views in Denver both inside the dining room and out on the open-air patio. Directly adjacent to another patio on our list at Linger, the space offers sweeping views of the Denver skyline and the Front Range, and it all comes alongside tasty tapas and spectacular craft cocktails.
The best place for views in Cherry Creek, Elevated is located atop Halcyon, a hotel. From their premiere rooftop bar, you can enjoy sweeping views of the Rocky Mountains and sip exquisite cocktails, wines by the glass and by the bottle, and a curated craft beer list all in a sleek, modern setting.
FIRE Terrace is the fourth-floor patio of FIRE, a restaurant overlooking Broadway in Capitol Hill. As part of The Art, A Hotel, the terrace itself is designed as a piece of art complete with fire pits, secluded lounge seating, landscaping and stunning views.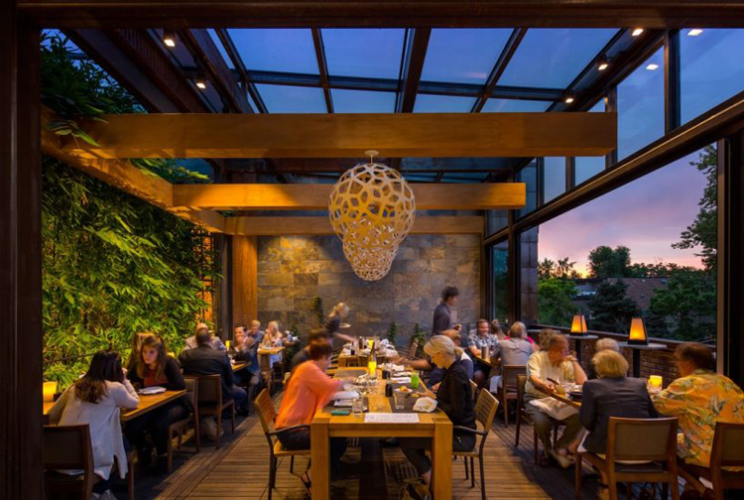 Photo courtesy of Izakaya Den
A sister restaurant to the famed Sushi Den, Izakaya Den is located at the heart of Old South Pearl Street. The restaurant has even won the American Architecture Award for its refined design with an homage to its Japanese roots, so when you snag a spot on the open-air patio, you're in an award-winning space. And with fresh-caught fish and expertly crafted sushi as accompaniment, every meal is memorable.
Once a mortuary in a quiet Denver neighborhood, Linger is now the landmark restaurant of one of the city's liveliest districts. Their food menu is designed to showcase global flavors in shareable style, and their cocktail list is made up of handcrafted cocktails and punch made with local ingredients. Their team also offers wines by the glass and bottle, craft beers and creative interpretations of classic drinks like Horchata and Lassi. Enjoy yours on the rooftop patio for one of the best views and atmospheres in the city.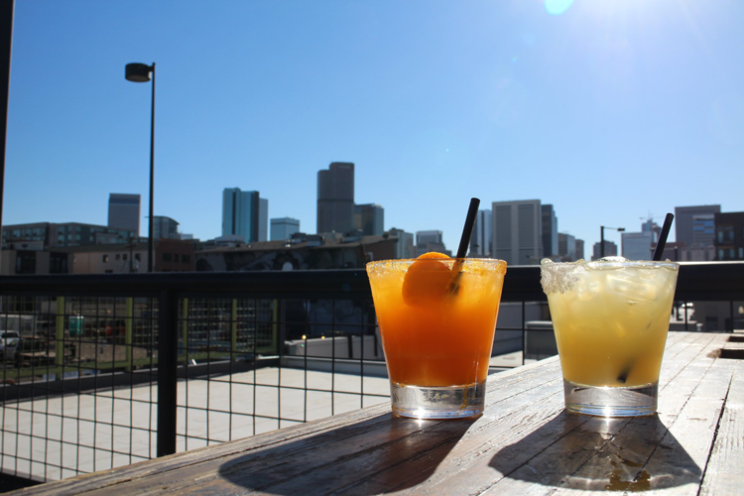 Photo courtesy of Los Chingones
Chef Troy Guard grew up in San Diego and has developed Denver's most badass Mexican restaurant inspired by the foods he grew up enjoying. What started as a lively spot in RiNo has now grown into five Colorado restaurants, but that RiNo headquarters is still one of the best spots for crafted food, margaritas and patio fun. Their open-air space overlooks the neighborhood with the skyline in the background and it has direct access to the bar.
Located just half a block from Coors Field, Tap Fourteen's Ballpark location offers 70 Colorado beers on draft, more than 50 Colorado whiskeys, a Colorado-sourced food menu, and amazing skyline views. That rooftop beer garden is one of our favorite places to get a taste of Colorado. And though it's not on a rooftop, the team's Uptown location boasts two patios—one that's dog-friendly—and four fire pits!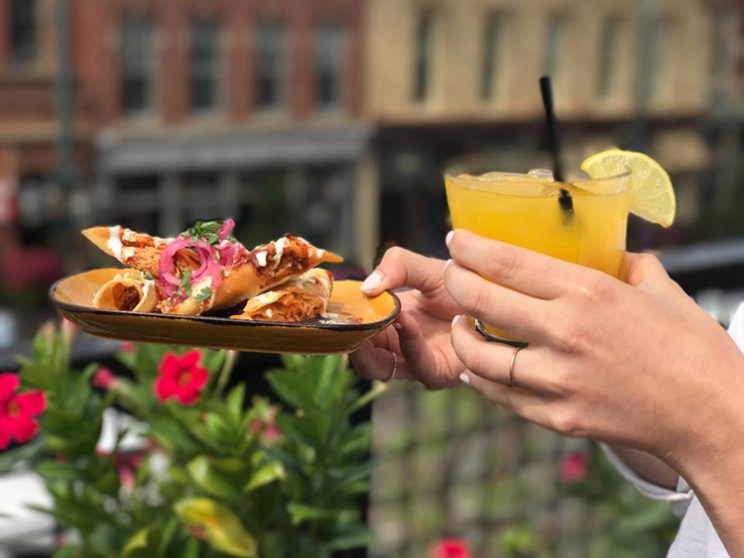 Photo courtesy of Tamayo
At Tamayo, Chef Richard Sandoval crafts dishes that are inspired by his native Mexico and driven by modern techniques. And their rooftop patio—unlike any other on our list—has landed on multiple round-ups of Denver's best. Offering both a sunny patio and an open-air terrace, the Larimer Square views come with delectable signature dishes and handcrafted cocktails.
Do you have a favorite?
Let us know in the comments below! And if you snap a photo atop a rooftop, tag #TheDenverEar to be featured on our Instagram feed.