Growing plants isn't always easy — and growing plants in our challenging Colorado climate can make things even more difficult. Luckily, we don't have to garden alone. The Denver Metro Area is home to several local, family-owned businesses that have been growing, cultivating and planting here in the Front Range for decades. Seriously, one of the businesses on our guide has been in operation since 1911!
So, whether you're a first-time gardener or a long-time pro, stop by these local spots to ensure your Colorado garden thrives season after season.
In 1911, the Lammermann family founded a greenhouse focused on cut flower production. Today, that greenhouse has grown to become City Floral Garden Center, the oldest remaining greenhouse in Denver. In the full-service lawn and garden center, you can find every category of gardening products and equipment, including annuals, perennials, herbs, vegetables, houseplants, trees, shrubs and blooming plants in the nursery.
7150 Leetsdale Dr #415, Denver + 17201 W 64th Ave, Arvada
With a location in Denver and a second in Arvada, Country Fair is a one-stop-shop center for all things Colorado gardening. The business has been owned and operated by the Gerace family for more than 70 years. That's the same family that operates Hardy Boy Plants, a brand known for specialty and success in the Rocky Mountain region. So, if you have questions about growing in our climate or need plants, flowers, trees or garden supplies, head to Country Fair!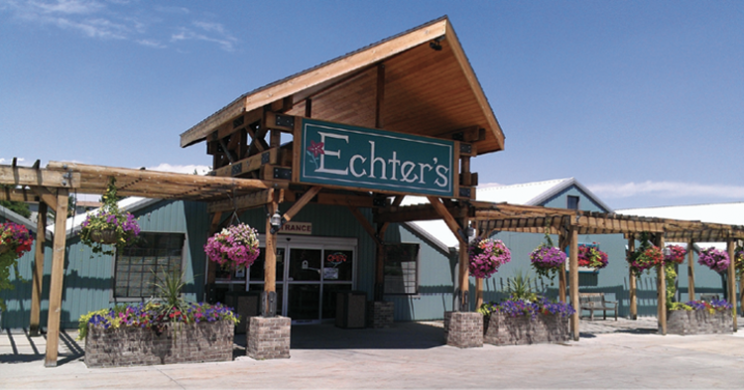 Photo courtesy of Echter's Nursery & Garden Center
Open year round, Echter's has been an award-winning, local, family-owned nursery right here in the Denver Metro Area for more than 60 years. Today, they're one of the largest retail plant nurseries and garden centers in the state at a whopping 70,000 square feet of display area, and they offer more than 2,500 varieties of flowers every year. They're a go-to destination for annuals, perennials, roses, trees, shrubs, patio furniture, bird items, houseplants, and even special holiday items and fresh-cut Christmas trees.
A true neighborhood garden center, Garden Patch has been a Denver staple since 1964 offering personal attention alongside annuals, perennials, hanging baskets, soils and fertilizers, tools, pottery, lawn equipment and more. Their team even operates the Recycling Program for Pots, which invites anyone to drop off plastic pots, trays, flower packs and hanging baskets to be recycled! To learn more, click here.
This local, family owned garden center has been in business since 1980. With decades of experience in our Colorado climate, they offer tools, plants and knowledge every local gardener needs to succeed—whether this is your first gardening season or your 100th! In the center, you'll find an extensive selection of annuals, perennials, shrubs, vegetables and herbs specially selected to thrive in our climate alongside a variety of unique plants, unusual rock garden specimens, shade plants and water-wise shrubs.
The Jensen's team began growing plants in their greenhouse more than 30 years ago. Today, they're still family-owned and they still grow some of the highest-quality plants, designed to thrive in our Rocky Mountain region. When you stop by, you can shop annuals, perennials, trees, shrubs, vegetables, herbs, roses, pots, tropicals and houseplants, seasonal Christmas trees, and more.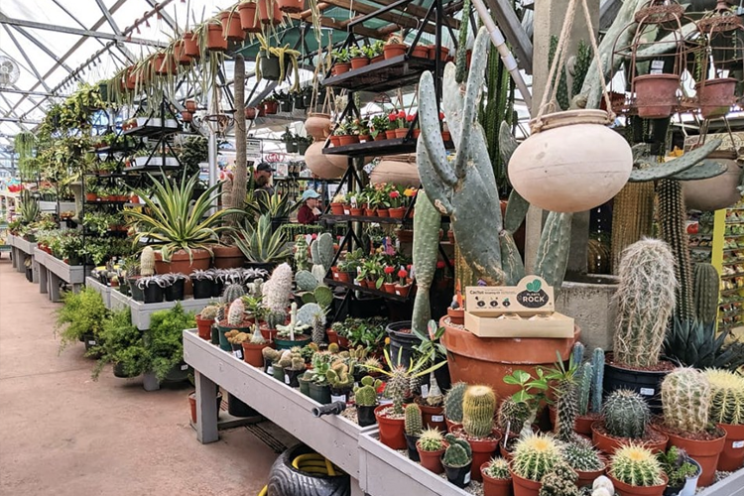 Photo courtesy of Nick's Garden Center & Farm Market  
Nick's has been one of Denver's best local and family-owned gardening centers since opening in 1987. With a huge inventory of superior quality trees, shrubs, perennials, vegetables, herbs, grasses and other plants, they have the products, tools and knowledge needed to grow a thriving garden right here in Colorado. They're also open year-round and can install purchased fountains, plant trees or shrubs, and deliver bulk soil, mulch and rock.
1404 Quail St, Lakewood + 5201 S Federal Blvd, Littleton + 9400 Wadsworth Pkwy, Westminster
This locally-operated, family-owned business has three Denver Metro locations: Lakewood, Littleton and Westminster. And for nearly four decades, their expert team has been providing the best gardening products at the lowest prices all year long. Those plants include annuals, perennials, ground covers, vegetables, herbs, berries, trees, shrubs, grasses, vines and other essentials like tools, soils, fertilizers, pest and weed controls, seed starting, decor and more.
The greenhouses at Tagawa gardens have been supplying the Denver area since the early 1960s. Then, in 1977, the Tagawa family purchased the greenhouses and quietly continued to grow beautiful roses for local florists. Today, Tagawa Gardens has grown to encompass more than 110,000 square feet of indoor space and more than an acre of outdoor nursery, and they grow much more than the wholesale roses of their past. The full-service garden center produces potted rose bushes, annuals, container gardens, hanging baskets, poinsettias and other crops in-house, and you can also pick up essential tools and take gardening classes.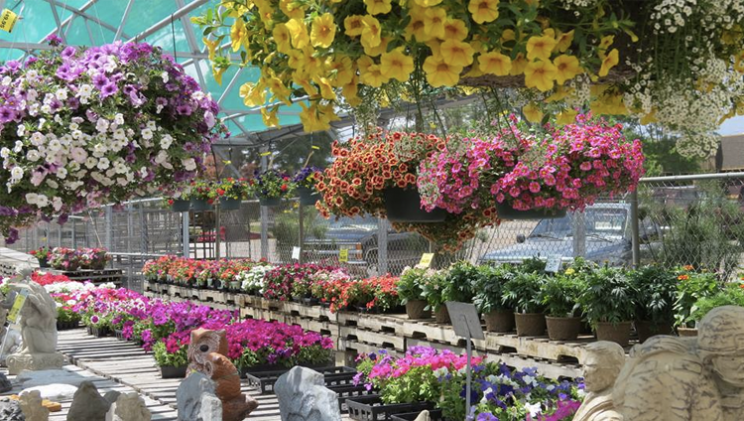 Photo courtesy of Wright's Nursery
Family owned and operated for more than 50 years, the Wright's team has decades of lawn and gardening experience spanning three generations. At the Arvada garden center, you can shop annuals, perennials, bedding plants, hanging baskets, vegetables, herbs, shrubs and ornamentals, bulk and bagged soils, lawn and plant fertilizers, and more.
Happy Planting!  
Wherever you decide to shop for your gardening essentials, be sure to tag us on Instagram using #TheDenverEar so we can join in the fun.