A dive bar can mean different things to different people: a lesser known neighborhood bar frequented by locals, a bar where the bartender knows your life story, a bar you can stumble to at 3 a.m. when the rest shout "last call," or simply a bar with affordable drinks.
Whether you're looking for one or all of these qualities on your next night out, our list captures the absolute best dive bars in Denver, from the neighborhood hotspots to the hidden gems you might have walked right past. Enjoy!
2375 Sheridan Boulevard, Edgewater
While a great view probably isn't on your list of needs in a dive bar, it definitely doesn't hurt! The Lakeview Lounge is perfectly divey with a cash-only bar, a jukebox, pool table, well-worn upholstery and affordable drinks ($8 pitchers!). And while we're perfectly happy sipping a brew in the dark interior, the patio with a quaint waterfront and downtown view is a great surprise.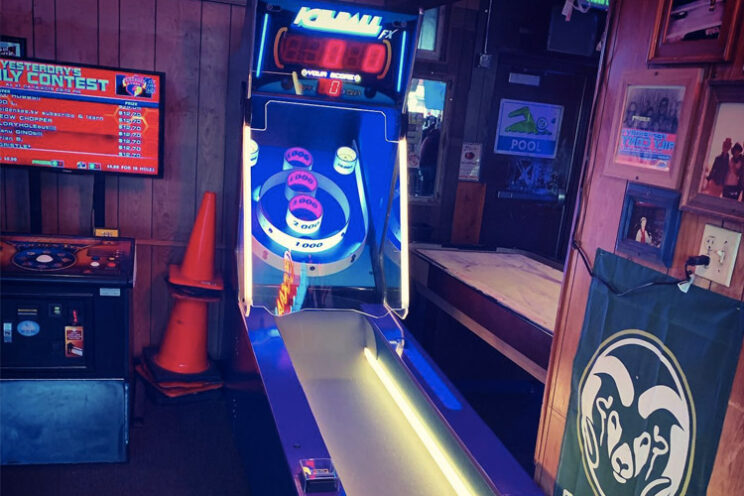 Photo courtesy of Don's Club Tavern
Since 1947, Don's Club Tavern has been providing cold brews, whiskey cocktails and friendly service in a relatively unchanged atmosphere. While the charm has enticed locals and visitors alike—including famed poet Jack Kerouac—and is far from undiscovered anymore, it hasn't lost it's "dive bar" ambiance. In fact, Westword's Readers' Choice list named it the best dive bar in Denver in 2019.
Located on the corner of Gilpin and Evans near the University of Denver, The Stadium Inn is, as they like to say, an "old standby". This historic dive bar is always reliable and full of affordable drinks, making it the perfect spot to avoid studying for finals or catching the game with a few friends. If you visit enough, you can get a "Degree of Bourbonology" upon filling up a stamp card after tasting a series of affordable whiskeys.  
Bar Bar, or the Carioca Cafe, is everything many of Denver's newest bars are not. Slightly dingy and dark, this spot in Five Points isn't shiny or Insta-worthy and you won't find a craft cocktail anywhere in sight. But we promise the cheap, boozy drinks, $2 beers, and random live music will have you coming back again and again.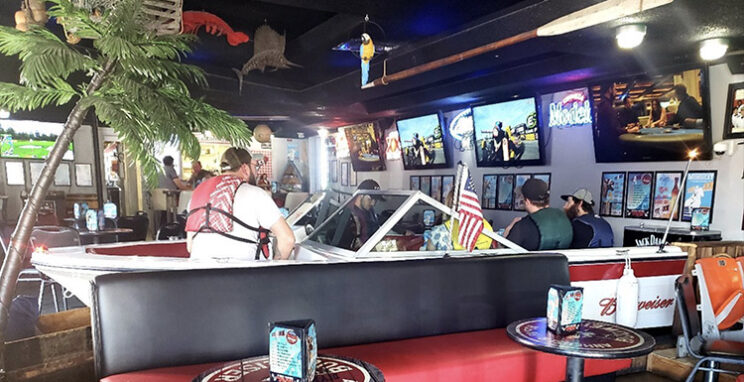 Photo courtesy of Dive Inn
99 types of tequila, all-day drink specials, Tex-Mex, cornhole and unique decor are just some of the things that make Dive Inn a special place to hang. It is located on Broadway and while it hasn't been around long enough to acquire tons of dust and grime, it still nabbed a spot on this list for its cheap drinks and the real-life motorboat decor where you can sit and enjoy your grub.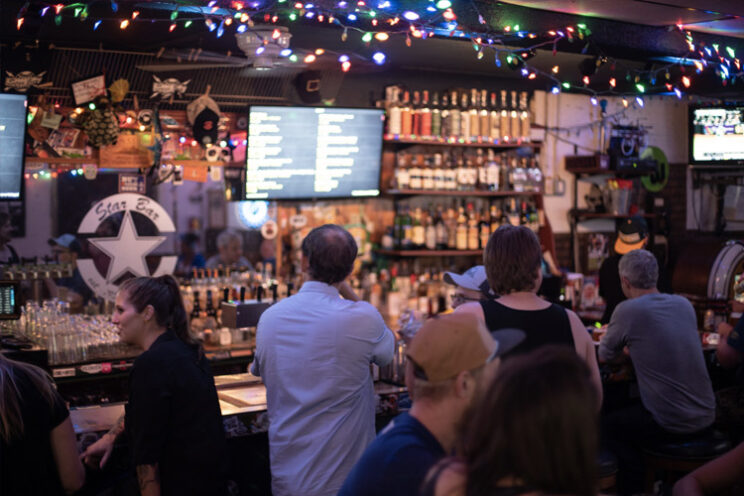 Photo courtesy of Star Bar
You can find this charming spot at 21st and Larimer streets, just around the corner from Coors Field. They maintain a strict "B.Y.O.F." (Bring Your Own Food) policy so you're free to bring in whatever snack your stomach desires and enjoy it while sipping on affordable drinks. They've been in their current location for more than fifty years but with a recent makeover and an excellent beer list, the Star Bar feels brand new. Don't worry though, we promise it still oozes old school charm what with their pool tables, arcade games and loyal regulars. 
Looking like something pulled straight out of the '80s, PS Lounge is a "Girls Bar", at least, that's what owner Pete Siahamis calls it. That means that every woman who crosses the threshold is handed a rose and a free, syrupy Alabama Slammer shot. Locals love to start pregaming here before hitting the rest of Colfax's many bars, but we're partial to cozying up at the bar.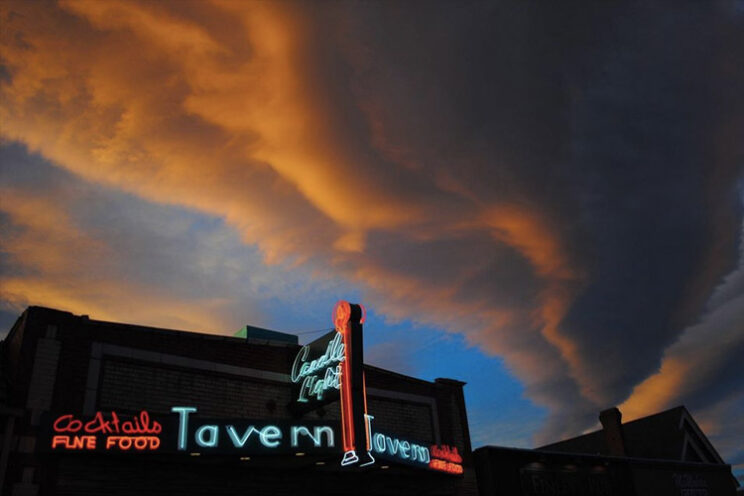 Photo courtesy of Candlelight Tavern
Home to one of the best burger specials in town, the Candlelight Tavern is a great dive where you can eat and drink all night—without spending a fortune. Their famed special features, deliciously greasy burgers for just $4 during select hours on Sundays and Mondays. Pair it with a $4 drink and a few games of shuffleboard or giant Jenga and you'll soon become just as obsessed with this south Denver spot as we are. 
Nestled on South Broadway, this Denver staple is well known as a fantastic music venue—no matter how unassuming it looks from outside. Each week, you'll find a lineup of local bands, DJ's, national acts and more performing in this intimate divey spot. Plus, they offer a wide selection of cheap drinks that you can enjoy while you're watching the show. 
As one of the oldest bars in Denver, Nob Hill has seen a lot. Inside, you'll find a labyrinthine layout with a cozy horseshoe bar that serves some of the stiffest drinks in town. Stop by anytime between 8 a.m. and 2 a.m. and strike up a conversation with one of the regulars who will probably talk about the time Bob Dylan partied at this quintessential Colfax spot. 
A horse walks into a bar…
We hope you have a great time exploring Denver's dive bar culture! Let us know how it goes in the comments or on Instagram by tagging #TheDenverEar.