Fall is here, the leaves are putting on a show, and autumn-themed drinks are finally back on the menu! Gone are the light, ice cold bevvys of summer. Instead, you'll soon see more hearty, pumpkin-flavored beers, chai-infused cocktails and tasty apple ciders popping up at bars and restaurants all across the city.
Denver bartenders and baristas have masterminded a ton of innovative, seasonal sippers for you to indulge in throughout the next few months. We've rounded up a few favorites here—both alcoholic and non. So read on for some local, fall-inspired drinks that are the perfect accompaniment to any cool autumn day. Cheers!
ALCOHOLIC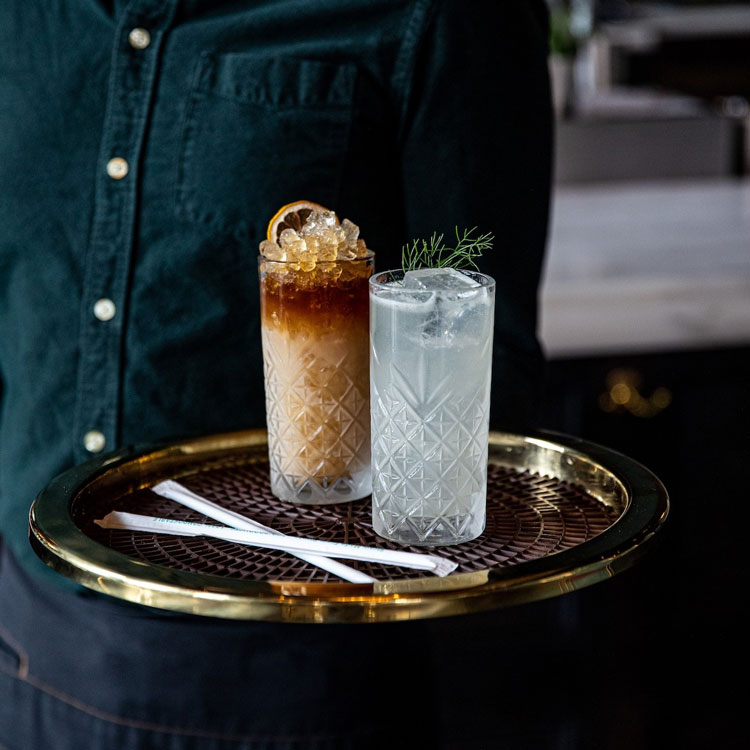 While the popular "Bat Country" cocktail can be found on Death & Co.'s signature cocktail list all year long, it really was made for fall. Creamy, smooth and versatile, this tasty beverage can be enjoyed both cold and hot. So if you're looking for a drink that can help transition you into colder weather, this is it! Featuring Pierre Ferrand Ambre Cognac, Batavia Arrack, Grand Marnier, Galliano Ristretto, milk syrup and a cold brew float, this is one you'll be drinking all season long—no matter the weather.
Middleman is a neighborhood bar whose purpose is in their name: to be a "middleman" by creating a space with the opportunity to make connections with others, from artists to creators to their knowledgeable staff. It doesn't hurt that they also make some pretty delicious cocktails! This fall, connect with friends over their popular "Chaiwala", a drink featuring chai infused Pisco, Curacao, lemon and nutmeg.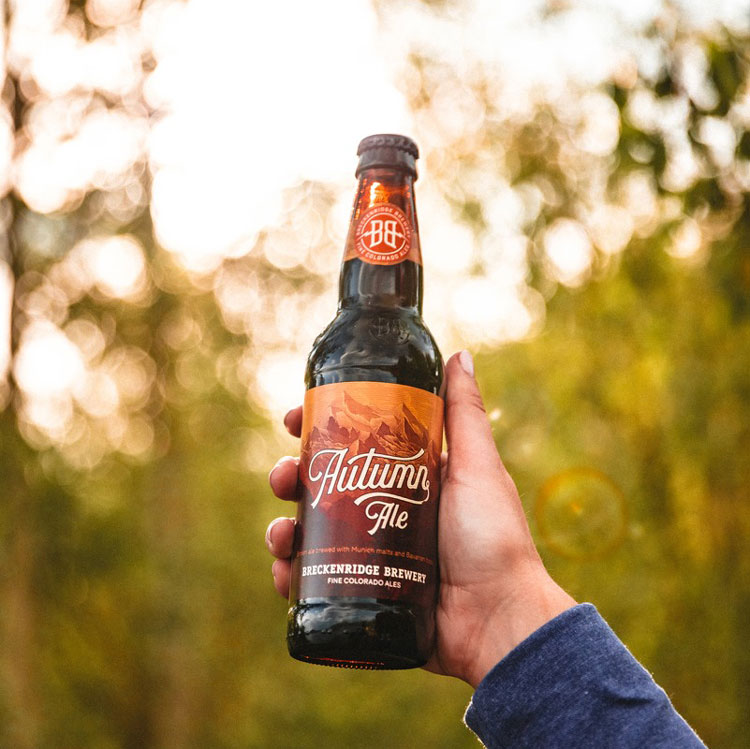 Denver is a beer city through and through, so we had to include at least a few incredible seasonal brews for you to try on this list! One of our favorites every year is Breckenridge Brewery's "Autumn Ale," which combines the malty goodness of a German lager with the clean crispness of an American ale. This tall, dark and handsome beer is brewed with Munich malts and a delicate blend of Bavarian hops to create a full-bodied treat with a nutty-sweet middle.
Improper City is always coming up with new innovative and tasty drinks, so we aren't at all surprised that they have one of the best fall drink menus in town! This year, they've got cocktails like the "Bolt & Kane" (dark rum, Mezcal, pineapple, Orgeat and bitters) and "It's a Little Chilly" (nitro cold brew, Ancho Reyes, rum and Kahlua). But if you only have time for one, you definitely don't want to miss the "Jack Pumpkin Royal", a draft cocktail made up of Amaro, pumpkin spice and topped off with plenty of champagne.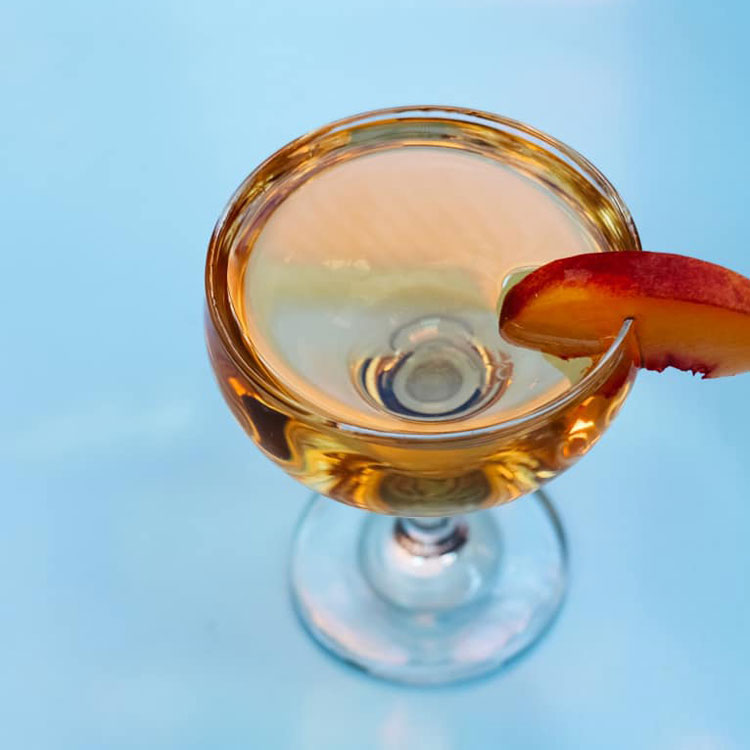 For Harvest Week this year, Steuben's created a list of masterful fall cocktails you'll definitely want to try—even once the special event is over. One of the most intriguing is the "Harvest Peach Mint Julep," which is made with Leopold Bros. Peach Liqueur, Bulleit Bourbon, house-made peach syrup and mint. While it isn't the most "fall" of the drinks on this list, it offers a classic Colorado taste that both summer enthusiasts and fall afficanados will enjoy.
Brewed specifically for sweater weather, Denver Beer Company's "Hey Pumpkin" offers a gorgeous copper hue and scents of cinnamon, nutmeg and spice. Coming it at a 5.4% ABV, this beer—which is packed full of bushels of real pumpkin—is a fall favorite of Coloradoans all across the state.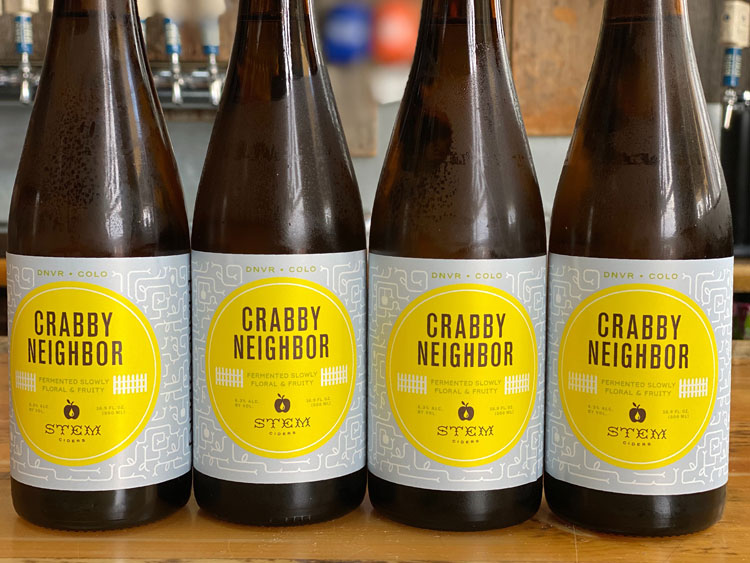 Fall means apple cider! Whether you're drinking it hot or cold, alcoholic or non, cider is just a must during the colder months. Luckily, Denver isn't just home to great breweries, but we also happen to have quite a few spectacular cideries as well! One of them is Stem Ciders, which has rolled out a 6.3% ABV creation just for the occasion. "Crabby Neighbor" is made from crab apples and Granny Smith apples and is fermented slowly to soften it. Incredibly tart and packed full of delicious apple flavor, this is the only apple cider you'll need this season.
When thinking about fall drinks, we often don't picture a margarita. But the masterminds at Kachina Cantina are here to change our minds. They've created an "Apple Spice Margarita" that will make you forget that apple isn't a normal marg ingredient. Featuring apple-infused house tequila, lime and agave, this drink is going to be your new fall go-to.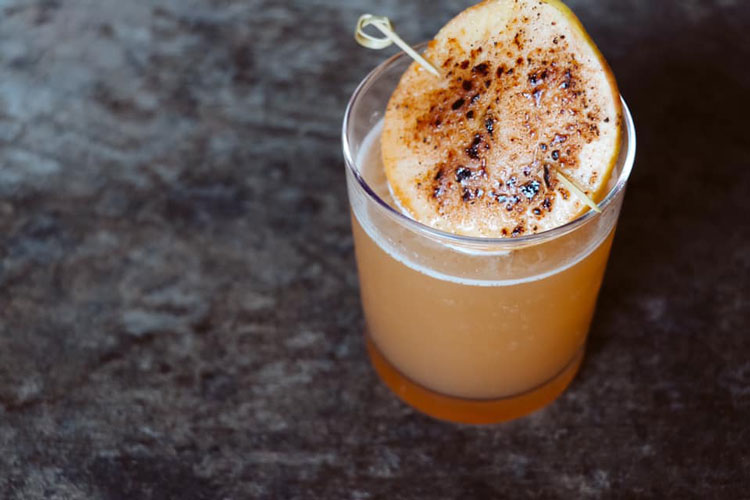 Speaking of things you absolutely have to try in Denver this fall, you definitely don't want to miss Ace Eat Serve's seasonal drink menu. Another Harvest Week imagining, "Falling for You" is a quintessential Denver fall cocktail. Leopold Bros. Maryland-style Rye Whiskey mixed with chai-spiced Colorado honey crisp apple cider? Yes, please!
Fallen Leaf — Mizuna
Sometimes, the best drinks are simple, like Mizuna's "Fallen Leaf" featuring just four ingredients. Made with rye whiskey, lemon, sage and fig, this cocktail is a great representation of Mizuna, a restaurant dedicated to food innovation, seasonal ingredients and simply prepared dishes. Because their menu changes monthly, you'll want to visit frequently to see what other genius ideas their chefs and bartenders come up with next.
NON-ALCOHOLIC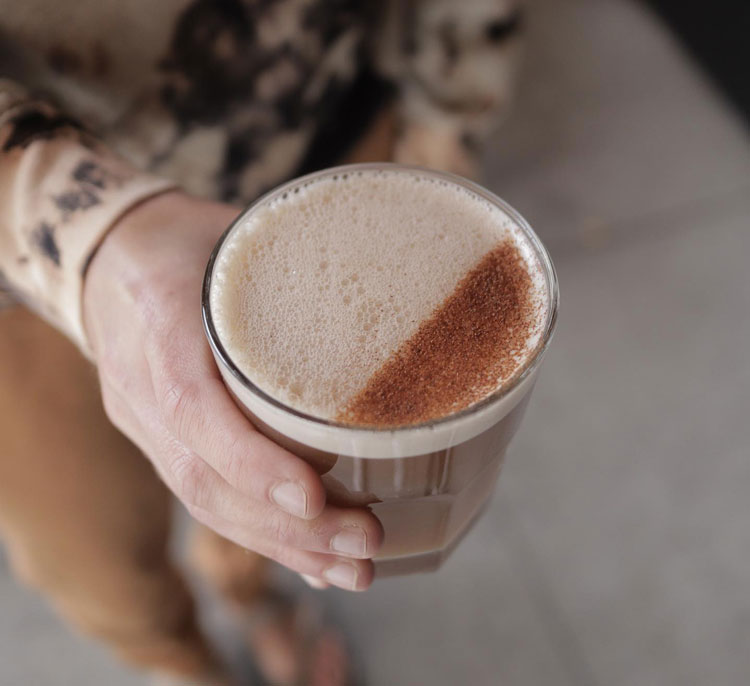 Little Owl Coffee, one of our favorite coffee shops in all of Denver, is always coming up with new and unique drinks for us to indulge in all year long. This fall, they've rolled out an innovative seasonal menu that you'll love trying. One drink that stands out is their "Hot Chaider," a mix of Sanctuary spicy chai and apple cider topped with a sprinkle of cinnamon. Yum!
We're the first to admit that we adore anything pumpkin spiced flavored. Coffee, tea, Twinkies—you name it and we've probably tried it. But when all else fails, we like to go back to the classic Pumpkin Spiced Latte that has become such a staple in all of our fall-loving hearts. Though, this year, instead of supporting large coffee chains, we're planning to keep our PSLs local. One of our favorites is made at Weathervane Cafe! You can have their house-made syrup added to any drink, from lattes to hot chocolate. And the best part? It's 100% vegan!
Drip Coffee with Cinnamon Foam — Generous Coffee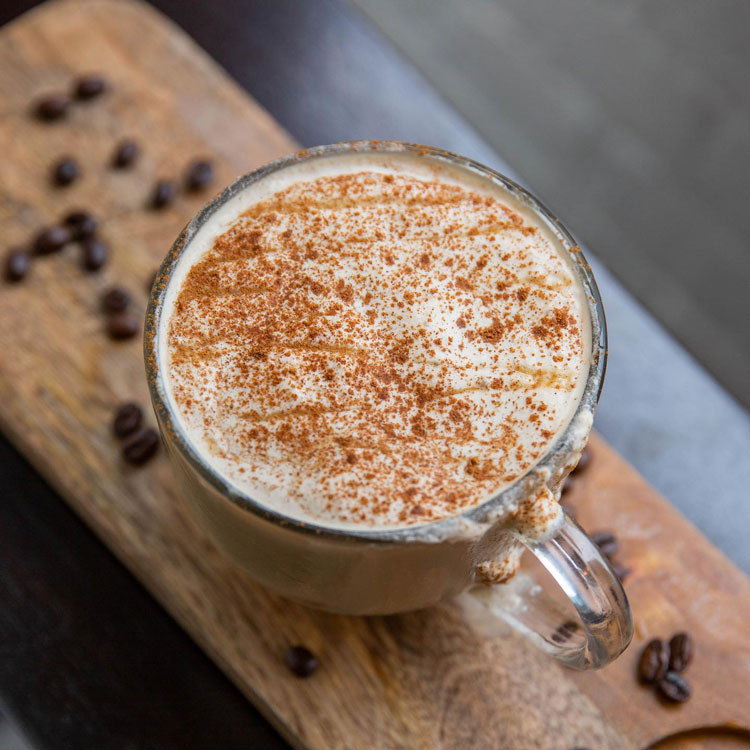 For those of you who are only looking to add a tiny bit of spice to your autumn morning, don't miss Generous Coffee's delectable cinnamon foam which can be added to your everyday drip coffee or anything else on the menu. Plus, if you don't feel like leaving your house, they've even posted the recipe on their Instagram! Click here to check it out and make it yourself the next time you have a hankering for a seasonal coffee drink at home.
Pumpkin Spice and boba are both all the rage these days. Why not combine them to create an incredibly trendy AND delicious drink for you to enjoy all season long? The genius tea makers at Teatulia Tea & Coffee are a step ahead of you, offering a Pumpkin Spice Chai Milk Tea packed full of tapioca pearls that both your mouth and your Instagram followers will love.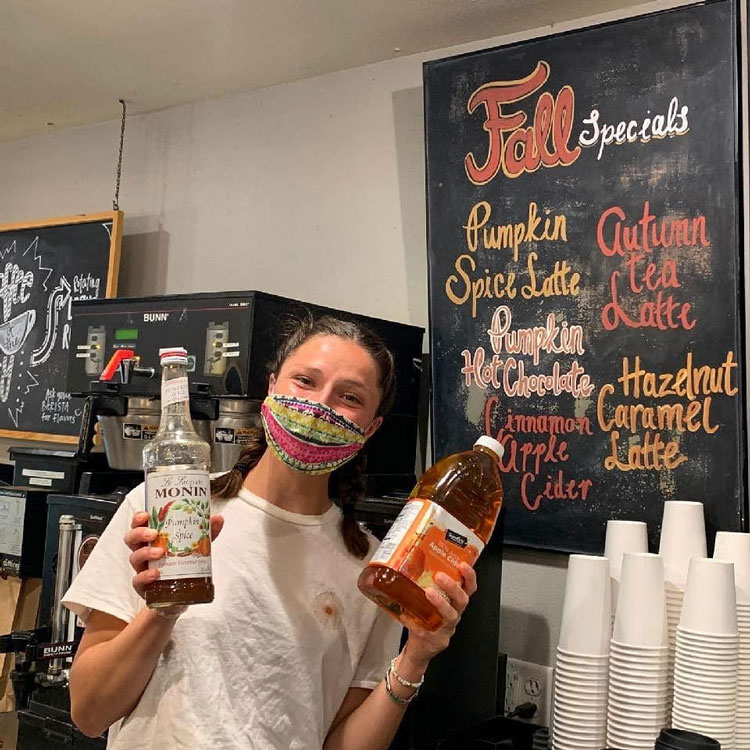 If you're looking for a non-caffeinated drink to sip on this season, don't miss Keith's Coffee Bar's Pumpkin Hot Chocolate! Creamy hot chocolate packed full of sweet, fragrant pumpkin flavor—this drink is perfect for kids who want to get in on the pumpkin spice action too.
The weather here in Denver is pretty unpredictable—just look at that snowy day we had in early September this year! So it's fair to say that we'll probably have a few unseasonably warm days mixed in with the cold waiting for us this fall. When that happens, take advantage of the heat to treat yourself to a Vegan Pumpkin Chai Milkshake from Little Man Ice Cream! Or, if you want something a bit more chocolatey, try a milkshake using their Pumpkin Chip Ice Cream instead.
We've FALLen in love with these great drinks!
What seasonal beverages are you planning to sip on this autumn? Let us know in the comments below!