Children look forward to summer break every year, but for many parents, putting their children in summer camps is an expense they can't afford. In fact, The New York Times, published an article stating many families can't afford the summer vacation.
Spending a fortune on summer camps isn't the only way you can entertain your children this summer, check out our list of 9 ways to entertain kids for free in Denver this summer!
9 Ways to Entertain Kids for Free in Denver this Summer
#1 
Take a Tour of the Colorado State Capitol
Enjoy a fun, educational and free tour of the Colorado State Capitol this summer with your children. The Colorado State Capitol features a 24-karat gold leaf dome plated to commemorate the Colorado's Gold Rush. Adults and children alike can enjoy a tour of the capitol building and walk up its famous "Mile High Steps". The Mile High Steps features three Mile High Markers: the famous "One Mile Above Sea Level" is located on 15th step, and two special brass benchmarks are located on the 13th and 18th steps.
However, walking up the steps of the Colorado State Capitol isn't the only thing you should expect. The Colorado State Capitol also features art and memorials such as paintings, quilts, tapestries, sculptures, artifacts and more. Tours are offered weekdays from 10am to 3pm, every hour and half hour. Tours last 45 minutes to an hour and include a trip to the dome. Groups of 10 or less do not require a reservation. If you will be taking a tour as a group, you can make a reservation ahead of time online. The Colorado State Capitol is located at 200 E Colfax Ave, Denver, CO 80203.
#2 
Visit a Museum on a Scientific & Cultural Facility District Free Day
The Scientific and Cultural Facilities District distributes funds from a 1/10 of the 1% sales and use tax to support local facilities. This monetary contribution allows local museums and facilities to offer special free days for the public. Visiting a local museum is possible for free on these upcoming summer vacation dates and locations for the year 2017:
Children's Museum of Denver at Marsico Campus Free Evening: June 6th, June 16th, July 11th, July 21st, August 1st & August 18th, 2017.
Clyfford Still Museum: Free Day: June 3rd, June 30th, July 28th, August 25th; Free Evening: June 2nd, June 9th, June 23rd, July 7th, July 21st, August 4th, August 11th & August 18th, 2017.
Counterterrorism Education Learning Lab (CELL): June 3rd, July 1st & August 5th, 2017.
Denver Art Museum: June 3rd, July 1st & August 5th, 2017.
Denver Botanic Gardens: York Street: June 14th, July 17th & August 29th, 2017; Chatfield Farms: June 6th, July 15th & August 1st, 2017.
Denver Firefighters Museum: August 19th, 2017.
Denver Museum of Miniatures, Dolls and Toys: June 4th, July 2nd & August 6th, 2017.
Denver Museum of Nature and Science: June 4th, August 6th & August 28th, 2017.
Dinosaur Ridge: June 10th & August 12th, 2017.
Four Mile Historic Park: June 9th, July 14th & August 11th, 2017.
History Colorado Center: August 1st, 2017.
Molly Brown House Museum: June 3rd & August 1st, 2017.
Rocky Mountain Quilt Museum: June 9th & August 19th, 2017.
#3 Enjoy a Swim in a Lake or Reservoir
Take your kids on a local "beach" or lake day this summer at one of the swimmable reservoirs and lakes near Denver! Local Denver area reservoirs that offer a designated swim area and swim beach include the Cherry Creek Reservoir, Chatfield State Park, Aurora Reservoir, and the Boulder Reservoir.
Psst… Check out our complete list of the '14 Most Swimmable Lakes in Colorado'!
#4 
Splash Around at a Splash Pad or Spray Fountain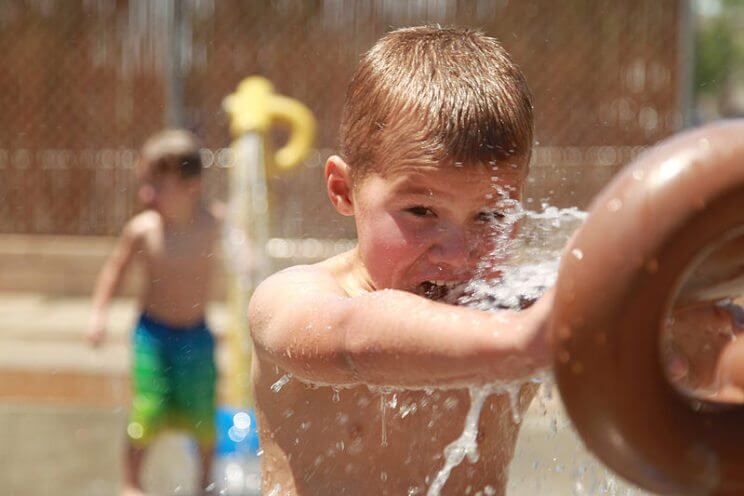 Put swimsuits on your kids, or simply let them splash around in their clothes, and take them to a local splash pad or spray fountain this summer! Splash pads and spray fountains are maintained by local municipalities during the summer months and are a great way to enjoy the hot weather for free. They have little or no standing water, which also eliminates the risk of drowning, allowing you peace of mind, while your kids have fun.
Psst… Check out our interactive map that lists all the splash pads and spray fountains in the Denver area, to find one nearest you!
#5 
Watch a Family-Friendly Movie Outdoors
There is no need to go splurging at the movie theater this summer. During the summer months many parks and locations, in and around Denver, offer free family-friendly movies that are projected onto a large screen for your kids to enjoy!
Psst… If you want a complete guide of where to watch outdoor movies this summer, including their line-up, check out our guide 'Where to Watch Outdoor Movies in Denver this Summer 2017'!
#6 Take a Pre-Historic Hike Along The Dinosaur Ridge Trail
Take a free and self-guided tour along the 1.5 mile Dinosaur Ridge Trail! The Dinosaur Ridge Trail, built by the City of Denver and maintained by the Friends of Dinosaur Ridge, has hundreds of dinosaur tracks, a quarry of dinosaur bones, and interesting geologic features. The trail has over 15 sites, each marked by an interpretive sign. Fossil sites, interesting rock sites, and scenic overlooks provide hints to the prehistory of Colorado's Front Range.
#7 
Sweeten your Day with a Hammond's Candies Factory Tour
Hammond's Candies offers free, fun and educational candy factory tours! Hammond's Candies continues to be a local Denver staple for over 95 years. Hammond's Candies' factory tour showcases how the company creates its famous, handcrafted candy canes, ribbon candy, and lollipops, which are all twisted, and shaped by hand, just like they were in 1920. Tours are offered weekdays from 9am to 3pm, and Saturdays from 10am to 3pm. Tours are available every half an hour and are approximately 30 minutes long. Groups of 10 or less do not require a reservation. If you will be taking a tour as a group, you can make a reservation ahead of time online.
Hammond's Candies is located at 5735 Washington St, Denver, CO 80216.
#8 
Visit a Local Farmers Market
Spend a few hours, or the entire day, at a local farmers market. Farmers markets offer locally grown, farm-fresh produce, prepared foods, spices, baked goods, gift items and more. Often these markets also offer live entertainment, kid-friendly activities and other fun and unique ways to enjoy the day. Not only are these markets free to attend, they also support local businesses too.
We have a special interactive map listing all the local farmers markets, their dates, days and locations for you available online. So next time you need to go grocery shopping, make it at a day at a farmers market!
#9 
Read, Play & Learn at the Denver Public Library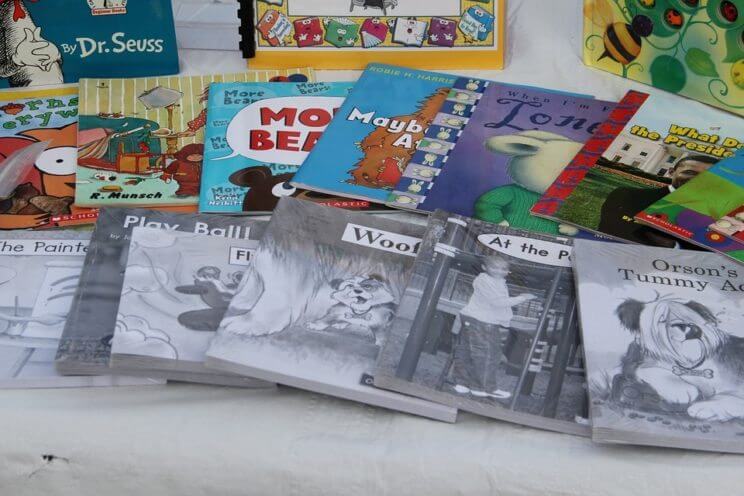 The Denver Public Library features over 25 locations throughout the city of Denver. Connect your children with the joy of reading and allow them to access their imagination. DPL also offers children and teens special workshops, exhibits and events throughout the summer and year-round, ranging from art to Lego and more! Find a local branch near you at: www.denverlibrary.org/locations.
Happy inexpensive summer Denver families!